Should the latest feel good underdog sports story get a red card for language?
Regarding movie reviews, I never go out of my way to find out what a movie is about before viewing it for the first time. This movie is no exception. I saw one trailer and really went into this movie blind. In this Next Goal Wins Christian Movie Review, I give you the information you need before viewing this movie with your children.
While this movie is a sports comedy, it should be noted that the release was planned during Transgender Awareness Week and highlights the first openly trans athlete to compete in a FIFA World Cup qualifier. While it is based on a true story, one does have to wonder how much creative license was taken, given the timing of the film.
Next Goal Wins Christian Movie Review
Studio Synopsis:
Directed by Taika Waititi (Jojo Rabbit, Thor: Ranarok), NEXT GOAL WINS follows the infamously terrible American Samoa soccer team, known for a brutal 2001 FIFA match they lost 31-0. With the 2014 World Cup Qualifiers approaching, the team hires down-on-his-luck, maverick coach Thomas Rongen (Michael Fassbender) hoping he will turn the world's worst soccer team around in this humorous and heartfelt underdog story.
My Synopsis:
Next Goal Wins a soccer film. Furthermore, it is inspired by true events surrounding Thomas Rongen and the American Samoa team.
In 2014, Thomas Rongen, a Dutch-American soccer coach, lost his job and was offered a position with the American Samoan team. The team has never won a game. Worse yet, they have never scored a goal. In fact, in 2001, the American Samoan soccer team had the worst loss in World Cup history (31-0) when they played Australia.
Rongen can either take the position or not coach soccer, which is all that he knows and loves. Can they score one goal under his leadership?
Christian Review of Next Goal Wins – What Parents Want to Know
Language:
While the language in this film is extensive, it is rated PG-13.
First, God's name is taken in vain with oh my g-d, oh g-d, and Jesus Christ.
Furthermore, there is one use of the f-word. There are also several times that the finger is given.
Additionally, there are repeated uses of sh-t (and variations), multiple a-s or a-shole, son of a b-tch, h-ll, pi-sing variations, cocky, and "screw those guys."
In addition to the foul language and misuse of God's name, the soccer team is berated and told they are bad repeatedly. They are also called losers. The word idiot is also used.
A man says that if the team loses, he will have "lady boobs drawn on my face." Later, he is shown with 11 sets of boobs on his face with a permanent marker. He is in several scenes with the drawings on his face.
Violence:
While crossing the road, a man is hit by a bus. Another man is shown with a knife in his abdomen. This was done for laughs as the man is calmly sitting there talking.
Another man is tackled and placed in a chokehold. Additionally, there are several scenes where players are hit with soccer balls, knocked over, and the usual soccer aggression.
The coach is shown throwing an ice cooler and a chair. He also kicks things. Moreover, he has some anger management books in his house.
A man gets hit with a paper by his mother.
Finally, Will Arnett's character tells a couple of stories that are disturbing. In one, he says that his mom made him take the dog outside and drown him in the pond.
In another story, he was told to kill the dog (a different dog) and shoot him. This was a metaphor for the team.
Spiritual Content:
There is plenty of positive spiritual content and some negative.
For instance, the beginning opens with a minister/priest wearing a white robe. On the robe is a soccer ball with a cross, and in the center is a depiction of Jesus. Later, he is shown with a robe with Mary (the mother of Jesus) on it.
Furthermore, it is stated that the island is deeply religious. Every day, at a specific time when they hear the bell toll, everyone stops and is silent for a moment.
Additionally, the residents of Samoa are shown praying several times throughout the movie. One man prays to score a goal, "Dear Lord,…Given that we go to church every Sunday and give 10%…"
There is also mention of not playing soccer on Sunday because they worship God on Sunday. The coach responds, "This is church. Soccer is church."
Also , a man says, "I'm not God, but I may as well be. I perform more miracles than Him."
In addition, a picture of Jesus (next to a picture of Dolly Parton) is hanging in a house. Additionally, there is a Holy Bible in a bin on a bus. Yoga is mentioned.
A man states, "Unhappiness is a curse."
Some Bible stories are mentioned, including David & Goliath.
Adult Content:
The wife of the man with the boobs drawn on his face says, "Drawings of boobs are a gateway to the real thing."
The main character drinks excessively. He drinks whisky from a paper cup, from the bottle, and while driving. He pays a young underage boy to get him whisky from the convenience store. His trash bin at home is overflowing with empty bottles.
Furthermore, beer, wine, and champagne are shown.
LGBTQ+ Content:
One character is transgender. Jaiyah Saelua is the first trans soccer player to compete in a FIFA World Cup qualifier. Originally, born a man, and in the midst of transitioning, much of the movie surrounds Jaiyah.
Furthermore, the movie explains fa'afafine which refers to men who identify as females. It literally means "in the way of a woman. It is part of Samoan culture and is considered a third gender. This gender is not based on sexual identity.
In the film, Jaiyah stops taking hormones to be able to compete in football at full capacity. The coach has a conversation with her about body parts "down there," and she responds, "Right now I'm legal…Let's just say I won't be eventually."
Racial Content:
Several slurs are made against whites. A person says, "we don't need a bilingual coach with white savior complex." Additionally, it is stated that, "white people love all that spiritual stuff."
Other Content:
One character talks about the loss of a loved one. Additionally, a married couple is separated, and the wife has a boyfriend.
Positive Content:
This is the classic tale of the underdog who goes on to win. It is also about a culture that adheres to their traditions and yet accepts the outsider's help.
The players competing and even the residents of the island sacrifice to have a soccer team even though they have never won a game. Their positive outlook and devotion to God are heartwarming.
Christian Review of Next Goal Wins – My Viewing Recommendations
While this isn't one of your typical underdog sports movies, it certainly checks a lot of the typical sports film boxes. Overall, Next Goal Wins had moments that were touching, but coupled with the Karate Kid tropes, "negative" pep talks, bizarre stories that Will Arnett's character tells, and the adult content, including excessive drinking, transgender character, and constant strong language, it is not a movie suitable for children. 
If you have decided that your child is going to see it, I would advise parents to watch the movie before their child views it.
Finally, the Rotten Tomatoes critic score is currently 42%. If you want a better sports movie for your child to watch, Rise on Disney+ is a great basketball film. Furthermore, The Hill is an inspiring baseball film.
Additionally, I have read that the British documentary from 2014 entitled Next Goal Wins is much better at telling this story of a team of underdogs.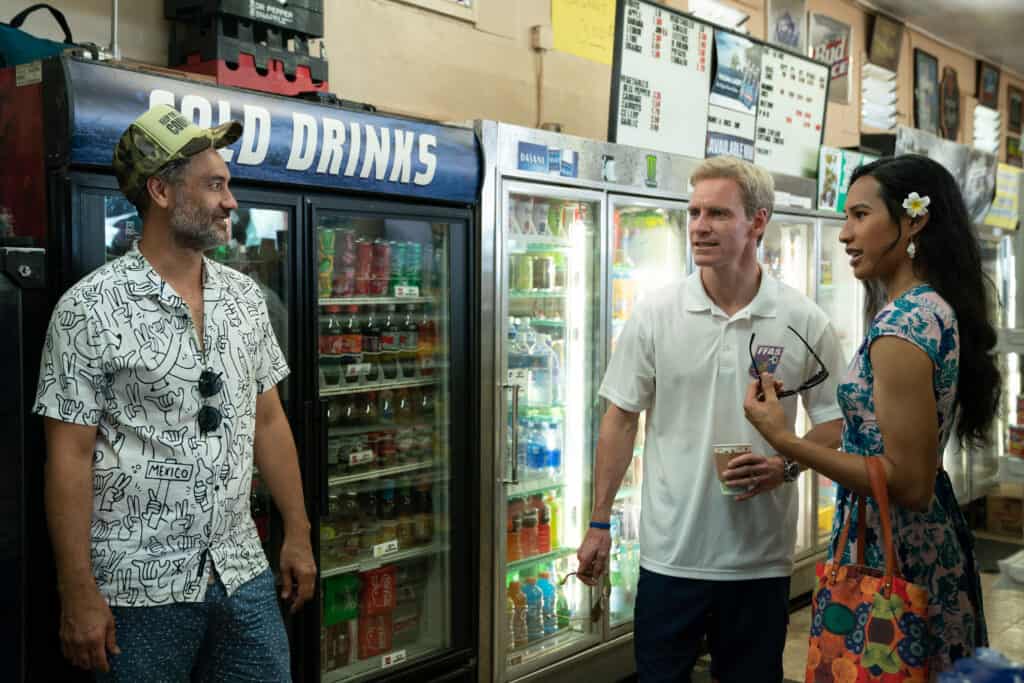 About the Movie Next Goal Wins:
Rating: PG-13 for some brief strong language and crude material
Release Date: November 17, 2023
Runtime: 1 hour, 44 minutes
Genre: Sports/Comedy
Studio: Imaginarium Productions, Defender Films, Garrett Basch Productions
Director: Taika Waititi
Written by: Taika Waititi, Ian Morris
Produced by: Taika Waititi, Mike Brett, Steve Jamison, Garrett Basch, Jonathan Cavendish
Editor: Nicholas Monsour
Music by: Michael Giacchino
Distributed by: Searchlight Pictures
The Cast of Next Goal Wins:
Thomas Rongen played by Michael Fassbender
Tavita played by Oscar Kightley
Jaiyah played by Kaimana
Ace played by David Fane
Ruth played by Rachel House
Daru played by Beulah Koale
American Samoan Priest played by Taika Waititi
Alex Magnussen played by Will Arnett
Gail played by Elisabeth Moss
Nicky Salapu played by Uli Latukefu
Convenient Store Cashier played by Sisa Grey
Rambo played by Semu Filipo
Jonah played by Chris Alosio
Pisa played by Lehi Makisi Falepapalangi
Smiley played by Ioane Goodhue
Samson played by Hio Pelesasa
Reporter (Who's on the Plane) played by William Kathleen
Rhys Marlin played by Rhys Darby
Frequently Asked Questions:
Where can I watch Next Goal Wins?
Next Goal Wins opened in theaters on November 17, 2023. However, at this time, it was not streaming online.
Is there an end-credit scene for Next Goal Wins?
Make sure to stay for the end of the credits, as there is a short scene.
Is there LGBTQ+ content in Next Goal Wins?
Yes. One of the major storylines centers around Jaiyah Saelua. In fact, she is the first openly trans athlete to compete in a FIFA World Cup qualifier.
Her character is played by Kaimana, who is a nonbinary actor.
Will Next Goal Wins stream on Disney+?
This is a Searchlight Pictures movie, and will most likely end up on Disney+ sister site, Hulu.
Will Next Goal Wins stream on Peacock?
Next Goal Wins will most likely stream on Hulu.
How much did it cost to produce Next Goal Wins?
The budget for Next Goal Wins was $14 million.
What is the meaning of fa'afafine?
The word fa'afafine literally means "in the way of woman" in American Samoan culture. This word is used to refer to a man who identifies as female. It is recognized as part of Samoan culture. Additionally, the male counterpart to this is fa'afatama and means "in the manner of a man."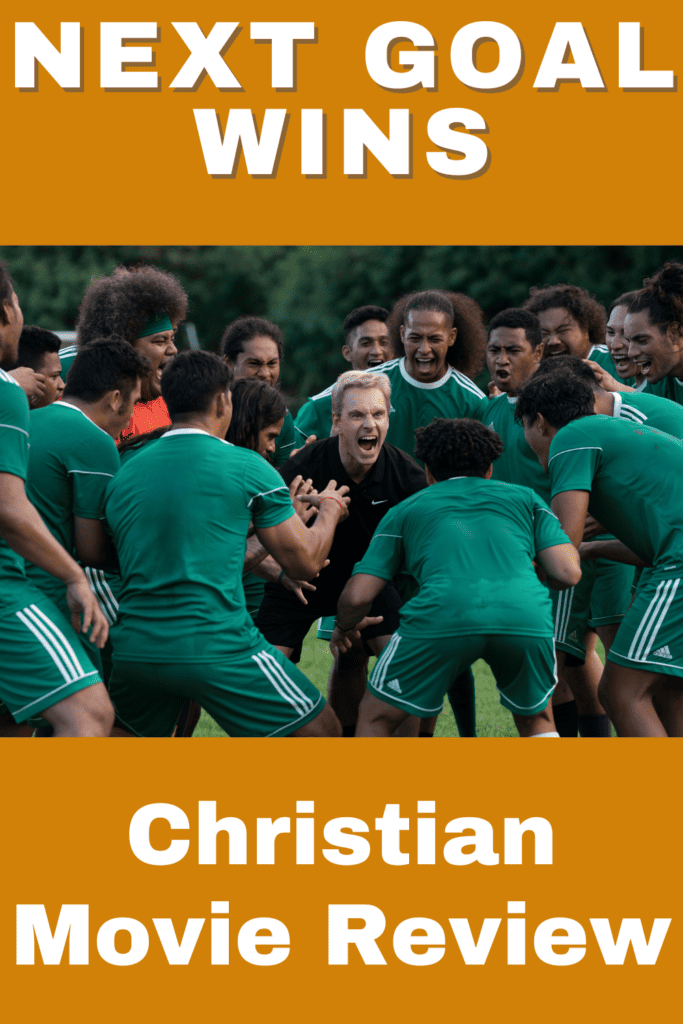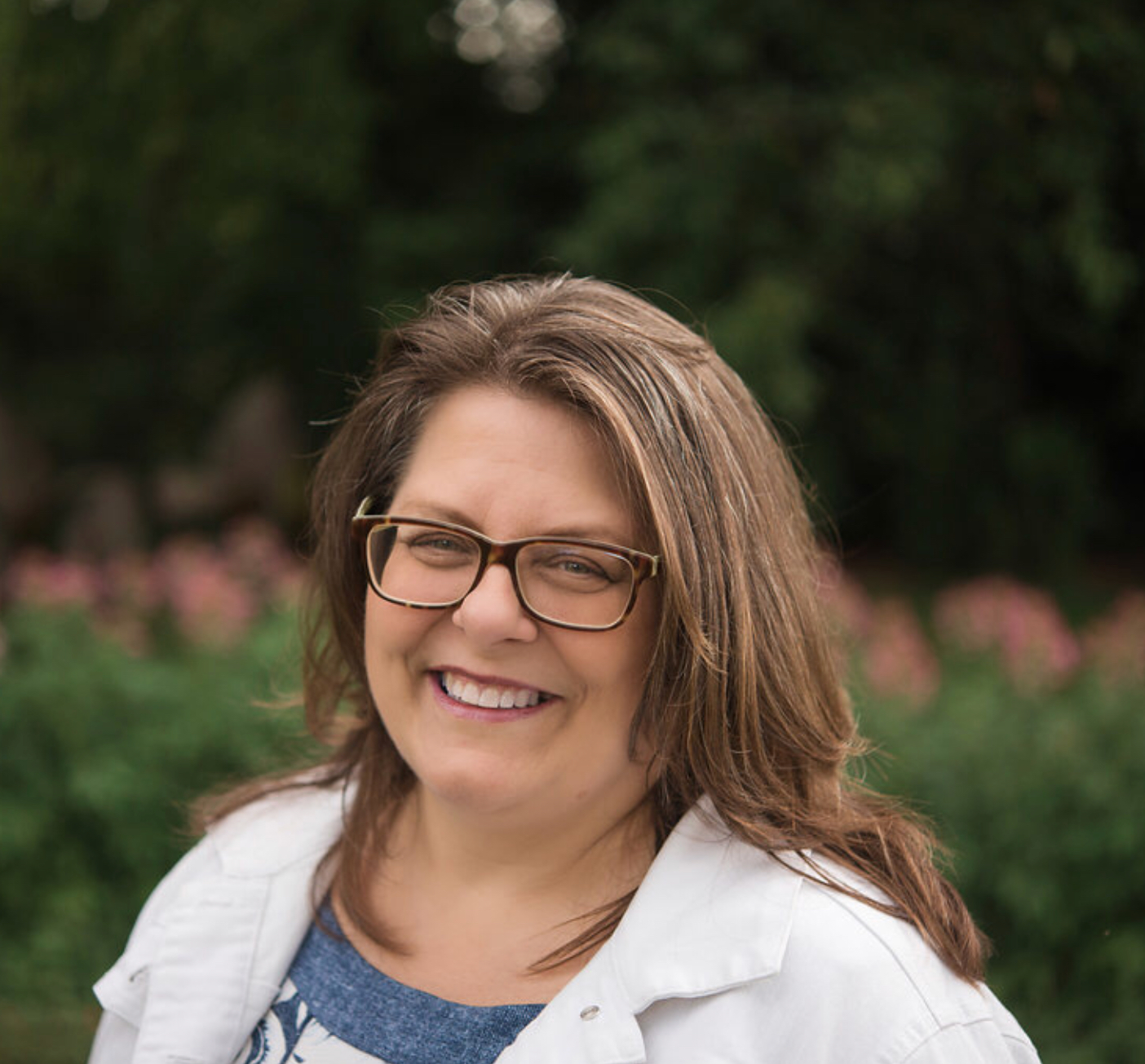 Homeschooling mom – 30 years and counting
Autism Mom
Movie reviewer/Travel blogger
Disney enthusiast