Cowabunga It's a TMNT Reboot
True confession time. I have never seen one movie or episode of Teenage Mutant Ninja Turtles, but I have seen commercials back in the day. So I am aware of the turtles. However, I have a movie buff in the house who wanted to see this movie, and I wanted to review this film for you. In this Teenage Mutant Ninja Turtles Mutant Mayhem Christian Movie Review, I give you the information you need before viewing this movie with your children.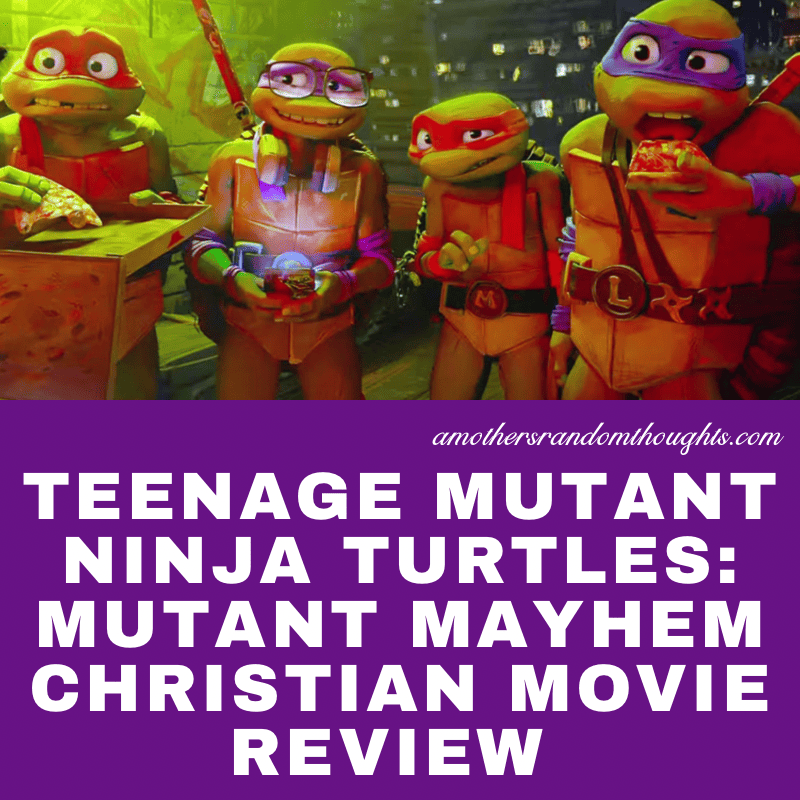 Teenage Mutant Ninja Turtles: Mutant Mayhem Christian Movie Review
Studio Synopsis:
In Teenage Mutant Ninja Turtles: Mutant Mayhem, after years of being sheltered from the human world, the Turtle brothers set out to win the hearts of New Yorkers and be accepted as normal teenagers through heroic acts. Their new friend April O'Neil helps them take on a mysterious crime syndicate, but they soon get in over their heads when an army of mutants is unleashed upon them.
My Synopsis:
A person rejected by society creates mutant animals in his makeshift lab with plans to create an entire family for himself. When the lab is blown up, the ooze that creates the mutants leaks into the sewers. Fifteen years later, four teenage talking turtles emerge in New York City as a byproduct of the ooze. They have been raised by their "father," a rat mutant that found them and took them in. He is convinced humans are demon scum of the earth and wants to shield Michelangelo, Donatello, Raphael, and Leonardo from the heartache he has experienced. However, the turtle brothers want to live in the human world, go to high school, and have "normal" teenage lives.
Teenage Mutual Ninja Turtles: Mutant Mayhem Christian Movie Review What Parents Want to Know
Language:
While this movie is rated PG, the language is more than I was expecting and include: several instances and variations of taking God''s name in vain with repeated uses of Oh my g-d, and dear Lord. Additionally, there are multiple uses of d-mn, h-ll, bite me, and p-ss.
Furthermore, there are also uses of crude phrases and words: Sucks, stupid, fat booty, shut up, bloody, and crap are spoken.
"Is it weird to have your head so far up Dad's butt?" Is uttered.
Violence:
If you have ever seen TMNT, you know the type of fighting involved. These turtles are ninjas with great ninja skills, so there are plenty of kicks, punches, shurikens (ninja stars), spears, nunchucks, gunshots, and other weapons.
Multiple explosions of buildings, cars, and trucks. In addition, there are several vehicle chase scenes.
One of the turtles licks a blade. Another has a knife plunged into his leg.
There is repeated talk of killing and murder, and someone says they want to "kill every human." There are several humans who are killed, although, you don't see the actual killing, but hear the people scream.
The turtles argue, fight, and occasionally swat at each other.
Several characters are electrocuted.
Additionally, there is a scene that is very Godzilla-like with a creature destroying New York City.
Spiritual Content:
The phrase, "humans are the demon-scum of the earth," is said.
Adult Content:
First, there are continuous comments made about "milking" the turtles. Their father says they will milk the turtles if the humans catch them. They say, "We don't have nipples."
Additionally, one turtle says about his brother, "I think all his hormones just kicked in all at once." One turtle twerks.
One of the turtles mentions having a champagne brunch.
On a bulletin board in the high school, there are flyers, and one reads, "LGBTQ+ History Month." Furthermore, there appears to be a rainbow flag.
Finally, one character says, "I'm really attracted to her." And then they kiss creepily.
Deception & Lying:
The turtles repeatedly lie to their father about where they are going and sneak around the entire movie.
A lot of stealing occurs throughout the movie from both the villains and the heroes.
Other Content:
On a locker, the phrase "puke girl" is written. She is shown vomiting profusely.
Positive Content:
Master Splinter is overprotective of the turtles he raised as his own. He tells them that he is proud of them and understands that they need to have lives that look different from what he has created for them.
These four reptiles try to do the right thing. They help out someone who has had their property stolen, and they believe that people can be good.
Teenage Mutual Ninja Turtles: Mutant Mayhem Christian Movie Review – Viewing Recommendations
First, you do not need to see the other movies in this franchise to view and understand this latest movie.
While this movie is rated PG, I do think it just skirts a PG-13 rating, especially with the language and violence, which doesn't come as any surprise with Seth Rogen at the helm. I have an issue with taking God's name in vain ( and I do wish Hollywood would be sensitive to Christians who want to see movies.)
While I expect many people to want to take their kids to this movie, especially since it is rated PG, I urge you to preview it before you take your children. 
Remember that the computer animation style is supposed to look hand drawn (a teenager sketching in their notebook), and some people may not appreciate the animation.
About the Movie: Teenage Mutual Ninja Turtles: Mutant Mayhem
Rating: PG sequences of violence and action, language, and impolite material
Release Date: August 2, 2023
Runtime: 1 hour, 39 minutes
Genre: Comedy/Sci-Fi
Style: computer-animated
Director: Jeff Rowe (co-director of The Mitchells vs The Machines and staff writer for Disney Gravity Falls and Disenchantment), & Kyler Spears
Screenplay by: Seth Rogen, Evan Goldberg, Jeff Rowe, Dan Hernandez, Benji Samit
Producer: Seth Rogen, Evan Goldberg, James Weaver, Peter Laird
Music by: Trent Reznor & Atticus Ross
Based on the characters by Peter Laird & Kevin Eastman
Production Companies: Nickelodeon Movies, Point Grey Pictures
Distributed by: Paramount Pictures
Cast of Teenage Mutual Ninja Turtles: Mutant Mayhem
Leonardo voiced by Nicolas Cantu (Rowan in "Lego Star Wars: The Freemaker Adventures", Prince James in "Sofia the First")
Raphael voiced by Brady Noon (Evan Morrow in "The Mighty Ducks: Game Changers", and Hector in "Crater")
Donatello voiced by Micah Abbey
Michelangelo voiced by Shamon Brown Jr.
Master Splinter voiced by Jackie Chan
Rocksteady voiced by John Cena (Ken in "Barbie;" Jakob in "Fast and Furious series)
Mondo Gecko voiced by Paul Rudd (Scott Lang in "Ant-Man")
Bebop voiced by Seth Rogen
Superfly voiced by Ice Cube
Cynthia Utrom voiced by Maya Rudolph
Baxter Stockman voiced by Giancarlo Esposito
Leather head voiced by Rose Byrne (Known for Brandy in Bluey and Bea in Peter Rabbit)
Wingnut voiced by Natasia Demetriou
April O'Neil voiced by Ayo Edebiri (Sydney in "The Bear")
Ray Fillet voiced by Post Malone
Genghis Frog voiced by Hannibal Buress
Frequently Asked Questions:
Where can I watch Teenage Mutual Ninja Turtles: Mutant Mayhem?
First, this film opened in theaters on August 2, 2023. After its theatrical release, it can be found streaming on Paramount+.
Is there an end-credit scene for Teenage Mutant Ninja Turtles: Mutant Mayhem?
While there is not an end credits scene in this film, there is a mid-credit clip.
What products or other series are mentioned or depicted throughout this film?
SpongeBob is shown in a crowd. There are cardboard cutouts of actors, including Chris Pine from Star Trek. Additionally, there is a Hey, Arnold! reference, as well as a mention of Avengers: End Game. Someone mentions Ratatouille.
Brands mentioned include: Doritos and Gogurt. Pizza Hut appears to be what is implied on the pizza boxes.
Will Teenage Mutant Ninja Turtles: Mutant Mayhem stream on Disney+?
No, this series will not be streaming on Disney+. However, it will appear on Paramount+.
Will Teenage Mutant Ninja Turtles: Mutant Mayhem be streaming on Netflix?
No. Teeenage Mutant Ninja Turtles: Mutant Mayhem will not stream on Netflix.
Will Teenage Mutant Ninja Turtles: Mutant Mayhem stream on Peacock?
No. TMNT Mutant Mayhem will stream on Paramount Plus. The soonest we can expect it streaming will be in September.
How much did it cost to produce Teenage Mutant Ninja Turtles: Mutant Mayhem?
It is reported to have cost $70 million.
How many Teenage Mutant Ninja Turtles movies are there?
In addition to the original cartoon series, there have been six previous movies.
Teenage Mutant Ninja Turtles – March 30, 19990
Teenage Mutant Ninja Turtles II: The Secret of the Ooze – March 22, 1991
Teenage Mutant Ninja Turtles III – March 19, 1993
Teenage Mutant Ninja Turtles (Reboot) – August 8, 2014
Teenage Mutant Ninja Turtles: Out of the Shadows – June 3, 2016
TMNT – March 23, 2007
Teenage Mutant Ninja Turtles: Mutant Mayhem – August 2, 2023
Is Shredder in the new Teenage Mutant Ninja Turtles 2023 movie?
No, Shredder does not appear in this version of TMNT.
Will there be a sequel to Mutant Mayhem?
Yes. Even before the the first movie in this reboot series, the sequel was already being planned. However, it is reported that there will be an animated series that will stream on Paramount Plus first. It is expected to have two seasons.
Can you watch Teenage Mutant Ninja Turtles: Mutant Mayhem if you haven't seen the original movies?
Yes. You can watch this show and understand what is going on even if you have never seen the adventures of the heroes in a half-shell.
History of Teenage Mutant Ninja Turtles:
The series and cartoons were created by Kevin Eastman and Peter Laird. The first TMNT comic book was published in 1984. Furthermore, it was published in black and white and financed by a family loan and tax refund.
Mark Freedman, a licensing executive, teamed up with TMNT and produced a television series that ran from 1987-1996, live-action movies, video games, and toys.
What weapons did the Turtles use in this movie? And what colors did they wear?
In the original series, all four teens wore red masks. However, they were changed to help distinguish the turtles. they have been trained in martial arts by their dad using YouTube videos.
Leonardo uses ninja stars and a katana (sword) and has a blue mask.
Michelangelo used Nunchucks and has an orange mask.
Donatello uses a bo staff and wears purple
Raphael used sai, which is a traditional stabbing dagger-type weapon and one is used in each hand. Raphael wears red.
Does James Mardsen appear in Teenage Mutant Ninja Turtles: Mutant Mayhem?
While it was rumored that James Mardsen had a role in the 2023 Turtle movie, he isn't listed as part of the cast.
Who owns the rights to the Teenage Mutant Ninja Turtles?
In October 2009, Peter Laird (one of the original creators) sold the rights to Viacom. Nickelodeon is owned by Viacom.
What does TCRI stand for?
It stands for Techno Cosmic Research Institute.
Who are the Turtles named after?
The four teenage turtles are named after Italian Renaissance artists: Donatello is named after the sculptor Donato di Niccolo di Betto Bardi known as Donatello. Michelangelo is named after Michelangelo Buonnarroti. Leonardo is named after da Vinci whose most famous work is probably the Mona Lisa. Raphael is named after the painter famous for his Sistine Madonna.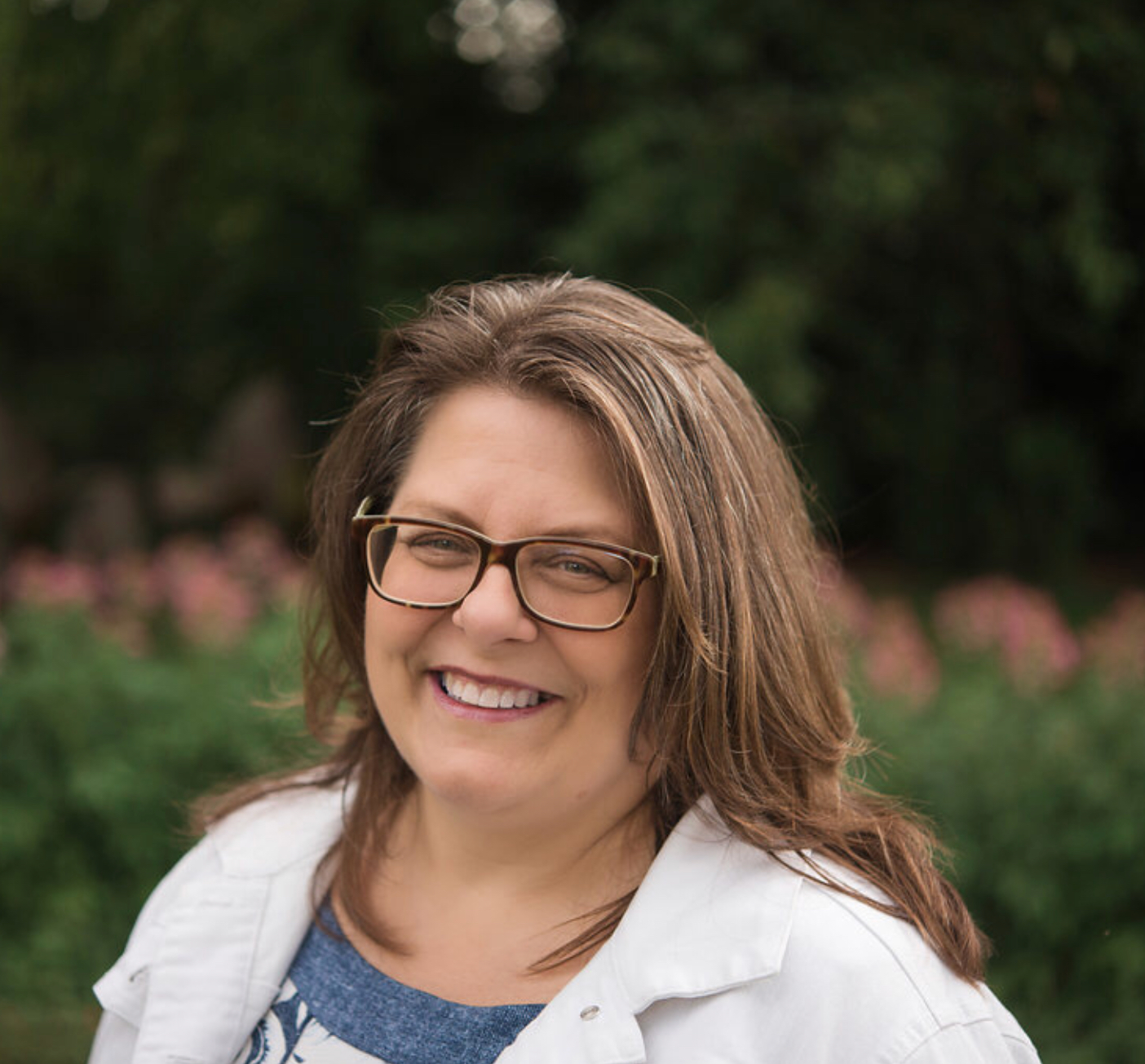 Homeschooling mom – 26 years and counting
Autism Mom
Movie reviewer/Travel blogger
Disney enthusiast