What happens when Kung Fu Panda meets Blazing Saddles?
Sometimes you watch the trailers for a movie and see the very best parts. However, sometimes you think you have seen the best and expect the worst out of the movie. In this Paws of Fury: The Legend of Hank Christian Movie Review, I will give parents the information they need before watching this movie with their family.
Additionally, I will make sure to let you know if the trailers are the best or worst of this movie. Be aware that there is plenty of stolen material from other films.
If you would like more information about how I review movies, visit HERE!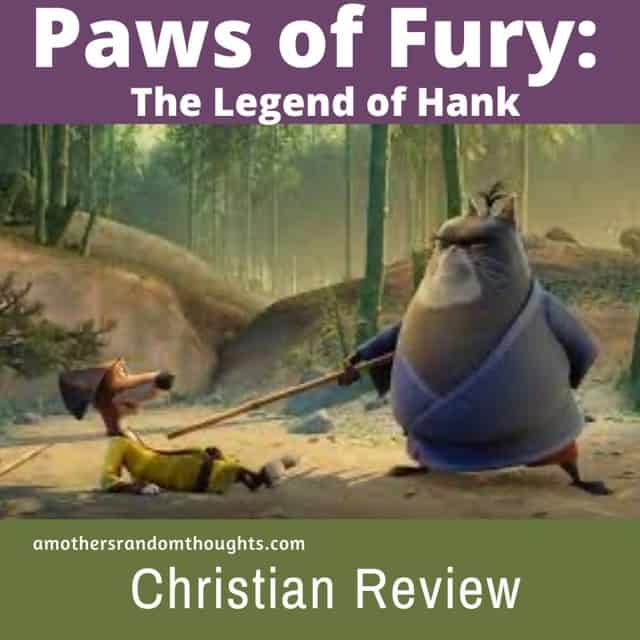 Synopsis of Paws of Fury – Christian Movie Review
From Studio: A hard-on-his-luck hound, Hank (Michael Cera) finds himself in a town full of cats who need a hero to defend them from a ruthless villain's (Ricky Gervais) evil plot to wipe their village off the map. With help from a reluctant teacher (Samuel L. Jackson) to train him, our underdog must assume the role of town samurai and team up with the villagers to save the day.
This movie focuses on Samurai cats living in the town of Kakamucho. They face annihilation to make a better view of the palace. (Emperor's New Groove). Ika Chu is preparing for a visit by the Shogun and wants everything to be perfect, which means getting rid of the town below. Kia Chu sends Hank (a beagle) because he believes that the townspeople will kill Hank, and then he can arrest them.
What Parents May Want to Know:
Language:
While most of the objectionable language is potty humor such as poop or phrases such as cut the cheese, there is one instance of the word suck. A character is called an idiot. Additionally, the phrase "doggone it" is spoken. Other negative words: imbecile, moron, total failure.
One line in the trailers that is obviously an attempt at harsher language, is "What the mother-father-cocker-spaniel is going on?"
There is a line some might be offended by: "Guns don't kill cats. Cars and curiosity kills cats."
There is a lot of talk of "hating dogs." We get it; cats hate dogs. But this obviously is directed at people and hating others who are not like you.
Violence:
There are explosions and sword fighting. People (cats) are pushed off a balcony, a horse is punched, horses fall over, and a water deluge threatens a town.
Spiritual Content:
There is a Ying/Yang symbol at the beginning of the film. Additionally, there are Japanese temples and other religious symbols.
The shogun is referred to as "my lord." "Oh my g-d" is spoken.
Other Content:
A cat sits in a zen sandbox and reads the newspaper. It is revealed the cat is going to the bathroom. One character sticks his tongue out at another character. Catnip is distilled, and a cat gets "drunk."
There are enough farts in this movie for every cat living in the town of Kakamucho.
Sexual content:
These are cats and a dog – however, one cat is shown in the shower. A character's robe falls off, and they say, "My eyes are up here." A cat sumo sits down and gets a dog stuck between his butt cheeks.
Hank is taken to a kitten club, where he is kissed. Obviously, to adults, this is a reference to a club with women, but this will probably go over the heads of the kids.
A cat talks about accidentally "spaying and neutering" other cats.
Viewing Recommendations: Paws of Fury Christian Movie Review
I went into this movie expecting to hate it based on the trailers. However, I was pleasantly surprised. I had already seen the worst of the movie, and the very best parts were a complete surprise. Although the movie is not as comical as I expected, it is still entertaining.
Additionally, most of the jokes or puns are references to other movies that your child will probably not understand. But they are not really harmful.
One last thought: The film centers around a dog versus cat theme, and it an attempt at depicting someone who looks different but may not be that much different. This theme will completely go over the kid's heads, and you will need to point it out.
Movie Facts
Rating: PG
Release date: July 15, 2022
Runtime: 1 hour, 43 mins
The cast of Paws of Fury
Michael Cera in the role of Hank
Ricky Gervais plays Ika Chu
Mel Brooks as Shogun
George Takei as Ohga
Aasif Mandvi as Ichiro
Gabriel Iglesias as Chuck
Djimon Hounsou voices Sumo
Kylie Kuioka as Emilio
Cathy Shim as Little Mama
Samuel L. Jackson plays Jimbo
Michelle Yeoh as Yukon
Directed by
Rob Minkoff
Mark Koetsier
Chris Bailey
Screenplay by
Ed Stone
Nate Hopper
Mel Brooks
Norman Steinberg
Andrew Bergman
Richard Pryor
Alan Uger
Story by Andrew Bergman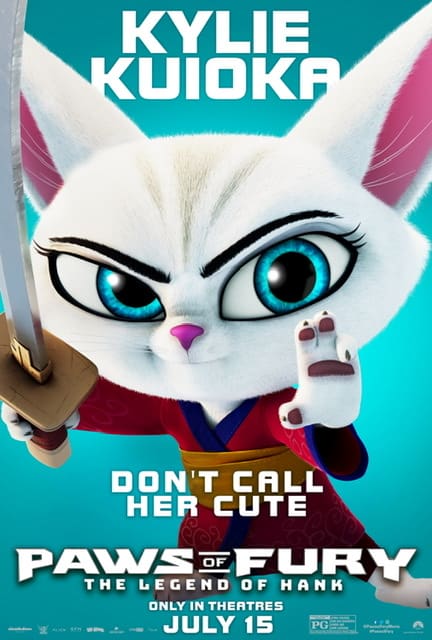 Paws of Fury Christian Movie Review: Frequently Asked Questions:
Is Paws of Fury on Disney+?
No. Paws of Fury is produced by Paramount Pictures in conjunction with Nickelodeon. It will eventually be streaming on Paramount+.
When will Paws of Fury be streaming on Paramount+?
There is not currently a date for streaming.
What was the short that played at the beginning of the film?
Big Nate is based on the best-selling book series.
Big Nate: Bad Hamster is the short that plays before the movie. (FYI: I haven't watched any other Big Nate shows, but this one was exceedingly weird and was not funny).
Make sure you watch until the end. There is a very short clip at the very end.
What was the population of the town?
There were 248 cats.
What was the towns name?
Kakamucho. Kaka=poop Mucho=poop
What was the giant jade toilet called?
The Super Bowl. Although, I still really haven't figured out the significance of it.
What other movie references (Easter Eggs) are present in this movie?
There are references to Blazing Saddles (Mel Brooks is in the movie so this is no surprise). In fact, this movie was once called Blazing Samurai.
Kung Fu Panda (and just about any other martial arts movie).
West Side Story in a flashback scene
Godzilla
Star Wars with references to the force. "I am your father."
Hank looks and acts a lot like Underdog.
Additionally, there are current cultural references, such as a blue bird for Twitter.
Teaching with Paws of Fury:
There is plenty in this movie that can be used to teach about Japanese culture from the architecture, origami, cherry blossoms, and other Japanese artifacts – ninja stars, nunchucks, samurai outfits, and more.
Lesson #1 is "it is not so important what you do, as it is important that you do something."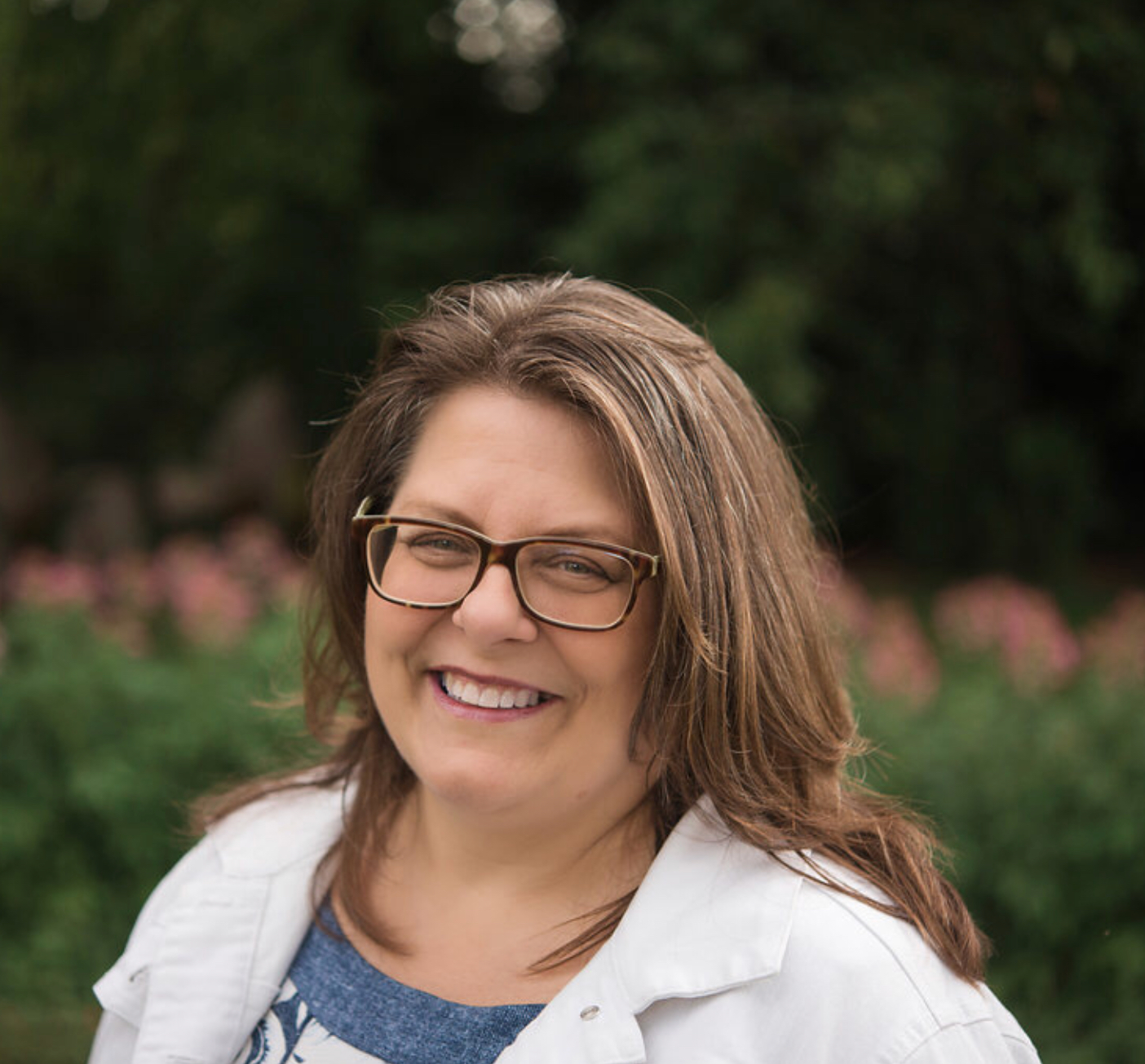 Homeschooling mom – 26 years and counting
Autism Mom
Movie reviewer/Travel blogger
Disney enthusiast