Should Christians see this Movie about the Supernatural?
I debated seeing this movie. From the previews, it is about ghosts and the paranormal, but there is also talk of possession, seances, and summoning the dead. These are things that the Bible says to have nothing to do with. In this Disney Haunted Mansion Christian Movie Review & Parent Guide, I give you the information you need before viewing this movie with your children.
Years ago, even after I was a Christian, I did not fully understand that we should be set apart from the things of this world. I knew not to play with a Ouija Board, but I didn't understand about the spiritual implications of rides such as Haunted Mansion. One year, when my husband and I went with our children to Walt Disney World, we rode the Haunted Mansion. Before this point, I thought it was cute. As I rode with my children, I thought about "bringing home" spirits.
I know that we are all on a spiritual journey, and hopefully, as Christians, we grow closer to God each year. Maybe you have not been convicted to avoid playing with spirits, so I write this review so you know the content before seeing the movie with your family. Although, my husband and I did view this movie, it was only after prayerful consideration.
Disney Haunted Mansion Christian Movie Review
Studio Synopsis:
Home is where the haunt is. Inspired by the classic theme park attraction, "Haunted Mansion" is about a woman and her son who enlist a motley crew of so-called spiritual experts to help rid their home of supernatural squatters.
My Synopsis:
When "foolish mortals" buy a delipidated but stately manor in New Orleans, strange things happen. A mom (Gabbie) and her son (Travis, played by Chase Dillon), move to a deserted mansion near New Orleans. When they hastily leave their new home, they are warned, "You'll be back." They get a priest, an astrophysicist, and a Professor of local history to help them in their quest to make their home free of spirits.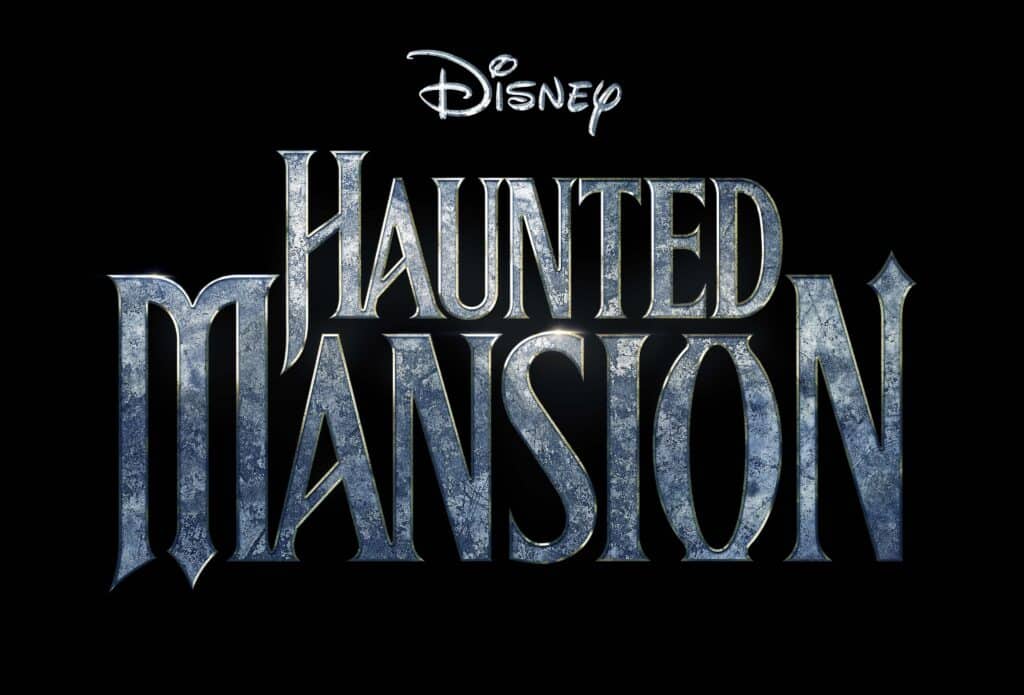 Disney Haunted Mansion Christian Movie Review What Parents Want to Know
Language:
Overall, the language is pretty tame for a PG-13 movie. God's name is taken in vain. Additionally there is the use of d-mn, and p-seed.
Violence:
While there are only a few actual "fights," ghosts chase the humans, and they do so with spears, guns, and hatchets. Many of the souls died gruesome deaths, and those are detailed.
The bride ghost who carries an axe is incredibly creepy, she has killed several husbands by cutting off their heads (she "chopped up 5 of her husbands"), and she is after the humans.
Furthermore, the previous owner of the mansion was an evil man. People disappeared from his dinner parties, but their bodies were never found. He was beheaded, and his hat and head were never found.
The stretching room turns into quicksand, and an alligator aggressively goes after people. Someone talks about a person with organs on the outside.
Spiritual Content:
The spiritual content in this movie is where I have the most problem. Especially during a seance when a person is then inhabited by a spirit. How this is done is unsettling. Additionally, the participants of the seance are told that if things get too bad with the person that has had the spirit enter them, ring the bell, and this will break the "spell."
Obviously, if you know the Haunted Mansion ride at Disney, you know the content of the ride. There are 999 ghosts (the line from the ride is "We have 999 happy haunts, but there is room for 1000.")
In this movie, they attempted to cram the entire ride into the movie from props, lines, songs, characters, the outside graveyard, a nod to the doom buggies, and more.
One person says in the afterlife; ghosts are unhappy souls. The people that died are at peace and they have moved on to a better place. Someone talks about "ghost winks" and how people who are happy in the beyond can send signs to us.
Even More Spiritual Content:
Additionally, doors open mysteriously; screams can be heard with no one there, there is talk about spectral photography, the ghost particle, banging on doors, an entire ocean in a house, burning sage, blood sacrifice, conjuring up a ghost army, and a spear thrown. One character says, "The power of Kent complies you…"
Then, they enlist the aid of a psychic who says she is a Medium to talk with a ghost. Also, the medium talks about crystal balls, recharging her crystals, seances, a reverse seance, Ouija board is shown, and other psychic mumbo-jumbo. A character says, "You need an exorcism."
Floating objects often appear, and there are sounds of knives, Madam Leota appears in a crystal ball. By the use of magic, she is released. There is a book of incantations.
Additionally, someone talks about having a seance at midnight every night for a year which opened the floodgates of the beyond. "We had summoned a terrible evil."
We have the ability to cast out demons, and we will live with Christ in the afterlife.
I believe in demons just as I believe in Jesus Christ. I know, based on Mark 3:15, "and have authority to cast out demons," that as believers, we are to have nothing to do with them. That includes movies that depict ghosts as "friendly."
Furthermore, this movie gives you the idea that the people who have died are living peaceful lives (unless they are haunting people). The Bible says in Romans 6:7-8 For one who has died has been set free from sin. Now if we have died with Christ, we believe that we will also live with him."
Adult Content & Other Content:
Several scenes depict people in a bar drinking. One character is depicted as "drowning his sorrows" and is completely drunk.
Some of the jokes are adult oriented. One person makes a comment about a cane and she says she uses it for "personal reasons."
When trying to get the 1000 ghost, it is mentioned that the person must die willingly. The implication is suicide.
Deception & Lying:
More than one character lies. One character pretends to be someone he is not. Another takes a person's money and pretends to help.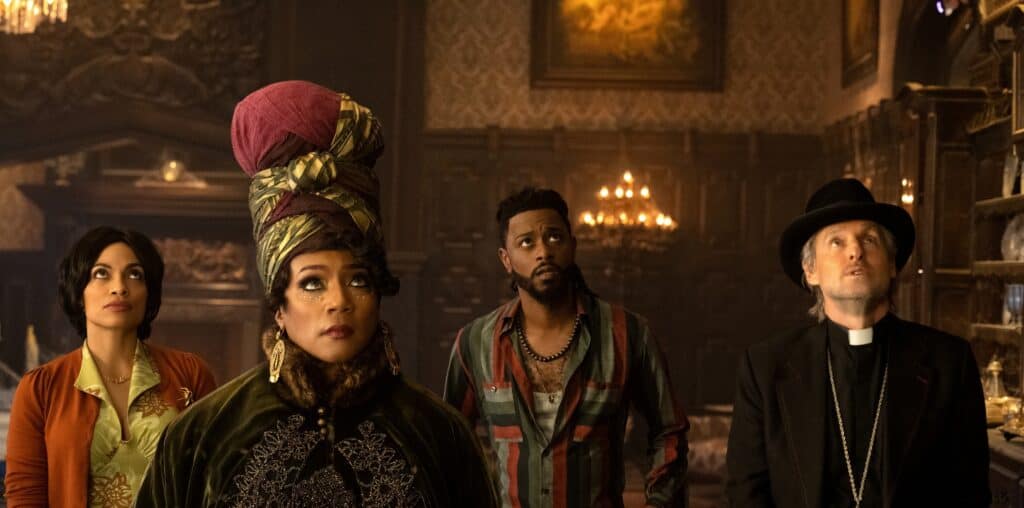 Additionally, one character pretends to help out but does nothing.
Many of the "lying" is done tongue in cheek, for example, when the priest says, "I have a bad back from all the feet I clean in Calcutta," he obviously was not telling the truth.
Positive Content:
A priest says: The treasures I seek are in heaven.
Disney paid attention to detail and most of the elements of the ride can be found in the movie.
Disney Haunted Mansion Christian Movie Review Viewing Recommendations
First, you will probably read reviews that tell you this latest version of Disney Haunted Mansion isn't that scary. And I would agree with the statement that this isn't a particularly scary movie. On the scariness level, it is pretty tame. While this movie isn't something that should cause an adult to stay up at night, it has a spiritual element that is unbiblical and ungodly. Therefore, as a Christian, I cannot recommend viewing this movie.
With talk of seances and possession, I prefer to steer clear of any spiritual entanglements or confusion, especially with children. In conclusion, this is not a movie for any children, and it is not a movie for Christian adults.
About Disney Haunted Mansion Movie 2023:
Rating: PG-13 for some thematic elements and scary action
Release Date: July 28, 2023
Runtime: 2 hours, 3 minutes
Genre: Supernatural Horror Comedy
Director: Justin Simien
Screenplay by: Katie Dippold
Editor: Phillip J. Bartell
Music by: Kris Bowers
Produced by: Dan Lin and Jonathan Eirich
Distributed by: Walt Disney Studios Motion Pictures
Based on The Haunted Mansion ride by Walt Disney
Budget $157.8 million
Director Justin Simien is known for his film Dear White People (2014 and Bad Hair.
Dan Lin and Jonathan Eirich, who recently teamed on Disney's live-action adaptation of "Aladdin," produced the film through their production company Rideback.
Screenwriter Kate Dippold was a writer on the sitcom Parks and Recreation. She also wrote The Heat and the Ghostbusters remake.
Cast of Disney Haunted Mansion 2023
Jared Leto is Alastair Crump (The Hatbox Ghost)
LaKeith Stanfield is Ben Matthias
Tiffany Haddish is Harriet
Owen Wilson is Kent (The Priest)
Jamie Lee Curtis is Madame Leota
Winona Ryder is Pat (a New Orleans tour guide)
Danny DeVito is Professor Bruce Davis
Dan Levy is Vic
Charity Jordan is Alyssa
Rosario Dawson is Gabbie
Chase W. Dillon is Travis (Gabbie's Son). Chase is a 13-year-old. However, in the film, he plays a 9-year-old.
Hasan Minhaj is a sketch artist
Frequently Asked Questions:
Where can I watch Disney Haunted Mansion?
When Disney Haunted Mansion releases on July 28, 2023, it will only be available to watch at movie theaters.
Is there an end-credit scene for Disney Haunted Mansion?
Unfortunately, there is not an end-credit scene for this movie.
Why is Disney Haunted Mansion rated PG-13?
It is rated PG-13 because of the scary images and talk of demon possession. Additionally, there are seances, ghosts, and violent scenes with talk of death, dying, and how people met their death.
Will Disney Haunted Mansion stream on Disney+?
Disney Haunted Mansion released into theaters on July 28, 2023. It is expected to release onto Disney+ in October 2023 in time for Halloween viewing.
Will Disney Haunted Mansion stream on Peacock?
No, Disney Haunted Mansion will not stream on Peacock. It also will not be streaming on Paramount+ or Max.
You will be able to find it on Disney+ when it leaves theaters.
How much did it cost to produce Disney Haunted Mansion?
Disney Haunted Mansion cost $157.8 million dollars.
How many Haunted Mansion Movies are there?
2003 The Haunted Mansion which starred Eddie Murphy, Marsha Thomason, and Marc John Jefferies.
2021 Muppet Halloween special entitled "Muppet Haunted Mansion
2023 Disney Haunted Mansion
In Disneyland, CA, Haunted Mansion is in New Orleans Square
In Walt Disney World, Florida, Haunted Mansion is in Liberty Square
Additionally, in Disneyland, Tokyo, Japan, Haunted Mansion is in Fantasyland
Finally, in Disneyland, Paris, France, the Haunted Mansion ride is in Frontierland
What is the Haunted Mansion ride?
This Disney theme park ride is a dark attraction that has "guests of the haunted house" take a tour of the stately manor in vehicles called Doom Buggies. When guests first enter the queue, the outside depicts a graveyard, ghostly sounds, and a musical crypt. When you walk into the house, you are treated to a room that changes before your eyes. As you enter your slow-moving vehicle, your Ghost Host guides you through the chilling scenes of manor filled with 999 spirits.
This is a popular attraction and usually has a longer wait time. While it is not a scary ride, it is dark and can frighten young children.
The ride also features a snappy tune entitled Grim Grinning Ghosts:
"When the crypt doors creak and the tombstones quake
​Spooks Come out for a singing wake
​Happy Haunts materialize
and begin to vocalize
Grim Grinning ghosts come out to socialize…
What other Disney films were based on rides in the theme park?
While most of the Disney rides with a Disney film were created after the movie, there were a few movies modeled after rides or attractions. One of the most famous movie franchises created after the movie is Pirates of the Caribbean, starring Johnny Depp.
Other feature films include The Country Bears, Tower of Terror, Mission to Mars (this attraction was located in Disney World and Disneyland and closed in the 90s), and Jungle Cruise. Additionally, the Jungle Cruise inspired the 2021 film of the same name starring Dwayne "The Rock" Johnson.
What are some of the product placements in Disney's Haunted Mansion movie 2023?
First, a man is seen eating Burger King. Moreover, there is mention of Amazon, Costco, and CVS. A Mercedes symbol is shown on a car. A U-Haul trailer is seen beyond a vehicle.
What is spectral photography?
Spectral imaging uses multiple bands across the electromagnetic spectrum. Can spectral imaging capture ghosts? That question hasn't been answered definitely.
Who is the Hatbox Ghost?
First, the Hatbox Ghost is an animatronic character that first appear at Disneyland, CA, before the movie opened. It was removed shortly after because the special effect was not working.
While Hatbox is an older gentleman ghost with a top hat, he can be seen leaning on a cane, and carrying a hatbox.
Additionally, he was added back the ride in 2015. At the D23 Expo, it was announced that the Hatbox Ghost character would be added to the ride in Walt Disney World Resort in 2023.
What is the actual line from Disney Haunted Mansion? Room for one more, or room for 1000?
While this line is quoted often, it is often quoted wrong. Many people say, "We have 999 happy haunts here, but there is always room for one more."
However, the actual Walt Disney World Haunted Mansion says, "They have all retired here to the Haunted Mansion. Actually, we have 999 happy haunts here, but there's room for one thousand. Any volunteers? If you should decide to join us, final arrangements may be made at the end of the tour."
Quotes from Disney Haunted Mansion:
When talking about Dr. Frankenstein, it is said, "One man's monster is another man's Halloween costume."
"My job is having faith. I have faith in you."
"The Lord moves in mysterious ways."
"God give us a break. We don't want to be haunted. There are so many bad people in the world. Haunt them."
"The living and the dead belong in different places. I believe that souls can send signs from beyond."
"Not today Satan."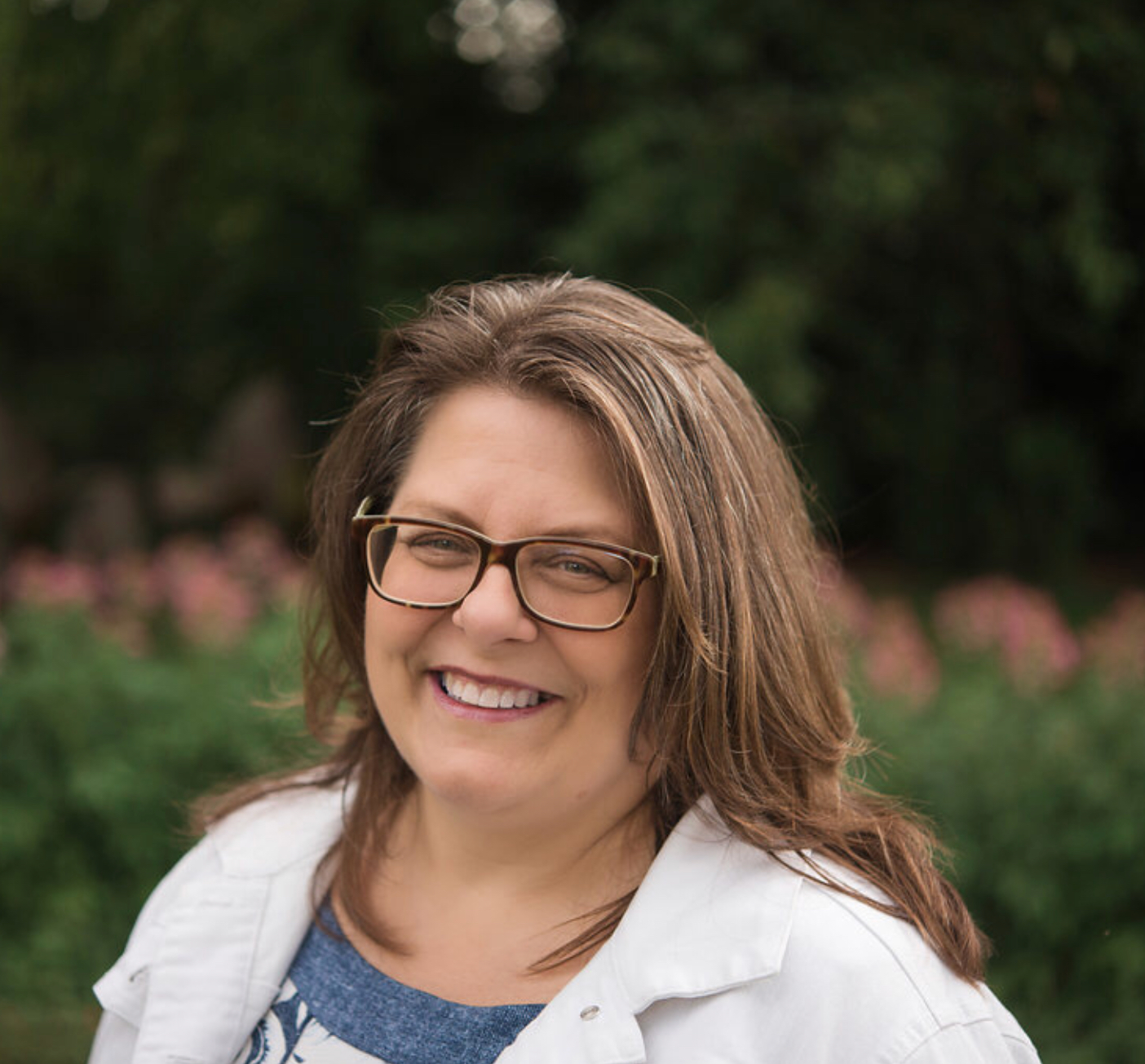 Homeschooling mom – 26 years and counting
Autism Mom
Movie reviewer/Travel blogger
Disney enthusiast