Plus THINGS TO DO AT THE FAIR
July 27 – August 7, 2022
There has not been a year since my birth that I haven't attended our county fair. And while our county fair is one of the top fairs in the country, our state fair is equally awesome. We live in the great state of Ohio, and The Ohio State Fair is a must-do as it is one of the largest state fairs. But before I tell you all about the fair, let me encourage you to make sure to read until the end to enter our Ohio State Fair Giveaway! In fact, we are giving away a family four (4) pack of tickets!!!!
This Ohio State Fair Ticket Giveaway is sponsored by The Ohio State Fair. My family and I have been invited to visit The Ohio State Fair. Make sure to watch for our visit!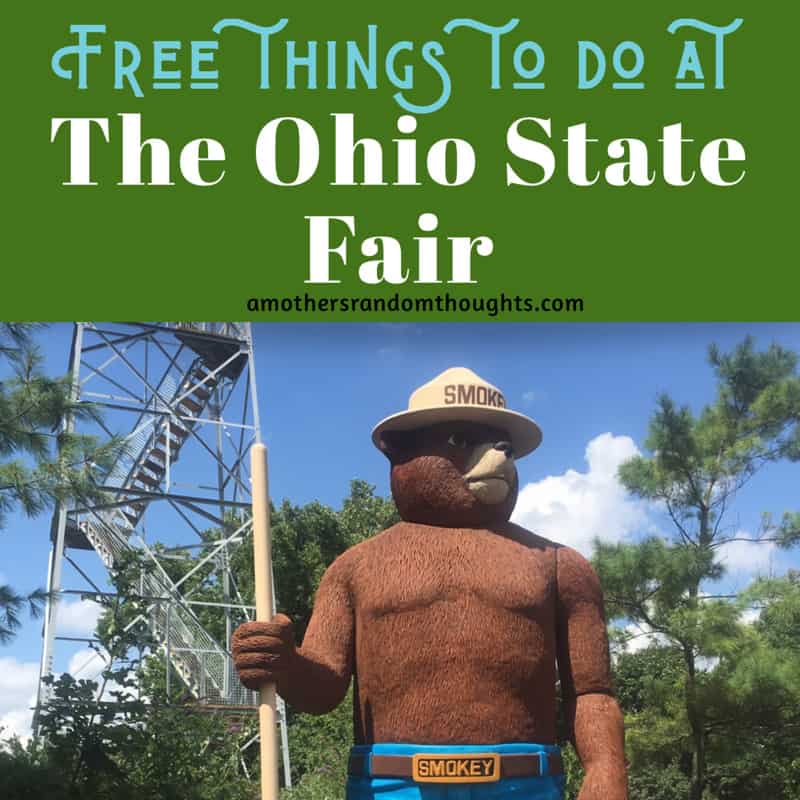 For My Readers with Children Who Have Sensory Issues
The Ohio State Fair is having a sensory-friendly morning on Wednesday, August 3, 2022. This means that the volume and lights have been lowered to make a more sensory-friendly atmosphere. Ride the rides with no flashing lights or music. Take a break in a quiet room. Print social narratives. Use the accessibility guide to find other Fair opportunities. Get a permit that will allow you to park in special area parking lots.
Admission Times & Building Openings
Gate Admission: Monday – Friday 10 am – 9 pm; Saturday & Sunday 9 am – 9 pm. (Gates close at 6 pm on Sunday, August 7).
Gate a mission prices:
Adults (ages 13-59) $10 ticket price
Youth (ages 6-12) $8 ticket price
Senior (ages 60+) $8 ticket price
Children 5 and under – Free
General Parking – Free
Commercial Exhibit Buildings are open from 10 am – 9 pm
Mountain Dew Midway & Meijer Kiddieland:
Ride-All Day Wristband $30
Advance Sale Ride All Day Wristbands $25 (available online through July 26th)
Individual ride tickets $1 each – All rides require 3 or more tickets.
Free Parking General parking is free in the main O'Reilly Auto Parts Parking Lot north of the Cardinal Gate. Reserved parking is not available to the general public. Accessible parking is available in the main O'Reilly Auto Parts Parking Lot.
THINGS TO DO AT THE OHIO EXPO CENTER & STATE FAIR
First, if you have ever attended your county fair, you will see exhibits from people living in your area. There is food, animals, art, concerts, rides, food, and more food. But at the State Fair, you will see the best of the best from the state. This is a great way to experience a little bit of everything from the Great State of Ohio! These are the best exhibits, the best animals, new foods, and unique shows.
Today I have some very special news for you. Not only am I going to talk about some of the awesome exhibits and attractions at the Ohio State Fair, but I also am hosting an Ohio State Fair Ticket Giveaway for tickets to the fair sponsored by The Ohio State Fair itself. Attending the Ohio State Fair is a favorite family tradition.
Some attractions that have a fee associated with them:
Camel rides
Carnival Rides including a Ferris wheel (is it even a fair without a ride on the Ferris Wheel?), giant slide, ski lift, and more.
Additionally, fairs (state and county) have great concerts. Make sure to check out the talent coming to the Ohio State Fair.
EXHIBITS at the Ohio State Fair:
My very favorite area of the Ohio State Fair is the Ohio Department of Natural Resources. This natural resources park is in the corner of the fairgrounds and is dedicated to natural resources which includes a fishing experience, a kayaking area, shooting and archery, and a nice cool area to relax. This beautiful eight-acre park has something for the whole family.
FOOD at the Fair:
I love fair food, but as a person who needs to be gluten-free, most of the items I love are not gluten-free safe food. But I remember how they tasted. Inky Dinky Donuts is one of our family must-stops. Make sure to check out the food Vendor Map which includes dietary-restriction friendly foods.
There are amazing food vendors, and many times "new fair foods" are first introduced at The Ohio State Fair or other state fairs. Some of the new tastes at the Ohio State Fair for 2022 include such delicacies as: 11" Pretzel Twists and Mini Pretzel Dogs, Alfredo Stuffed Turkey Leg, Bayou Fries (waffle fries served with queso cheese, diced bacon, sour cream, and green onions), Biscuit barn – biscuit options for breakfast, lunch and dinner, Cajun Waffle Dog, Cheese Curds Waffle Bombs, Cold Edible Cookie Dough, Cornbread Funnel Cake, Crack-N-Cheese, Deep-Fried Devil Dogs, Deep-Fried Olives, Mac and Cheese on a Stick, Meatballs, Monster Sampler, Nutter Butter Stuffed Funnel Cakes, Veggie Bowl and more.
CONCERTS:
Some of the top acts in the country perform at The Ohio State Fair. The 2022 Ohio State Fair Concert Series lineup includes Kidz Bop, Foreigner, Gabriel "Fluffy" Iglesias, Ice Cube, The Drifters, and more. There is an additional charge outside of your fair entry tickets for concerts, but make sure to get your concert tickets early. Previous years entertainment have included Toby Keith, REO Speedwagon,
In addition to the concerts, there are also various live music performances such as the All-Ohio State Fair Band. These free music performances can be found around the fairgrounds at various times.
ENTERTAINMENT:
The Butter Cow and other figures are absolutely amazing. Full-sized sculptures out of sweet cold butter! These butter sculptures are truly a sight to behold; besides the butter cow, there are new unique ones each year. Previous year's sculptures featured A Christmas Story, which was a big hit and included the leg lamp, Ralphy in the bunny costume, a Christmas tree, and even a cow and Flick who have their tongues stuck to a pole. They can be located in the Dairy Products Building – make sure to get some yummy ice cream.
Since there are so many things to do at the fair, I can't share them all with you. In fact, my post only includes a small snippet of all the amazing sites, smells, and a variety of activities. For example, magicians, musicians, comedians, a one-man circus, a popular lumberjack show, just to name a few. All this entertainment is free. Make sure to get a times guide to see when and where all the activity happens.
Iconic Smokey the Bear stands at the entrance to the Ohio Department of Natural Resources area. The animatronic figure stands 14 ft. tall, and greets visitors by their first name.
Before visiting, take a peek at some of the exhibits and attractions and make sure to check operating times because not all exhibits are open during the entire fair hours. Of course, there is so much to do at the fair that you will need more than one day to see it all!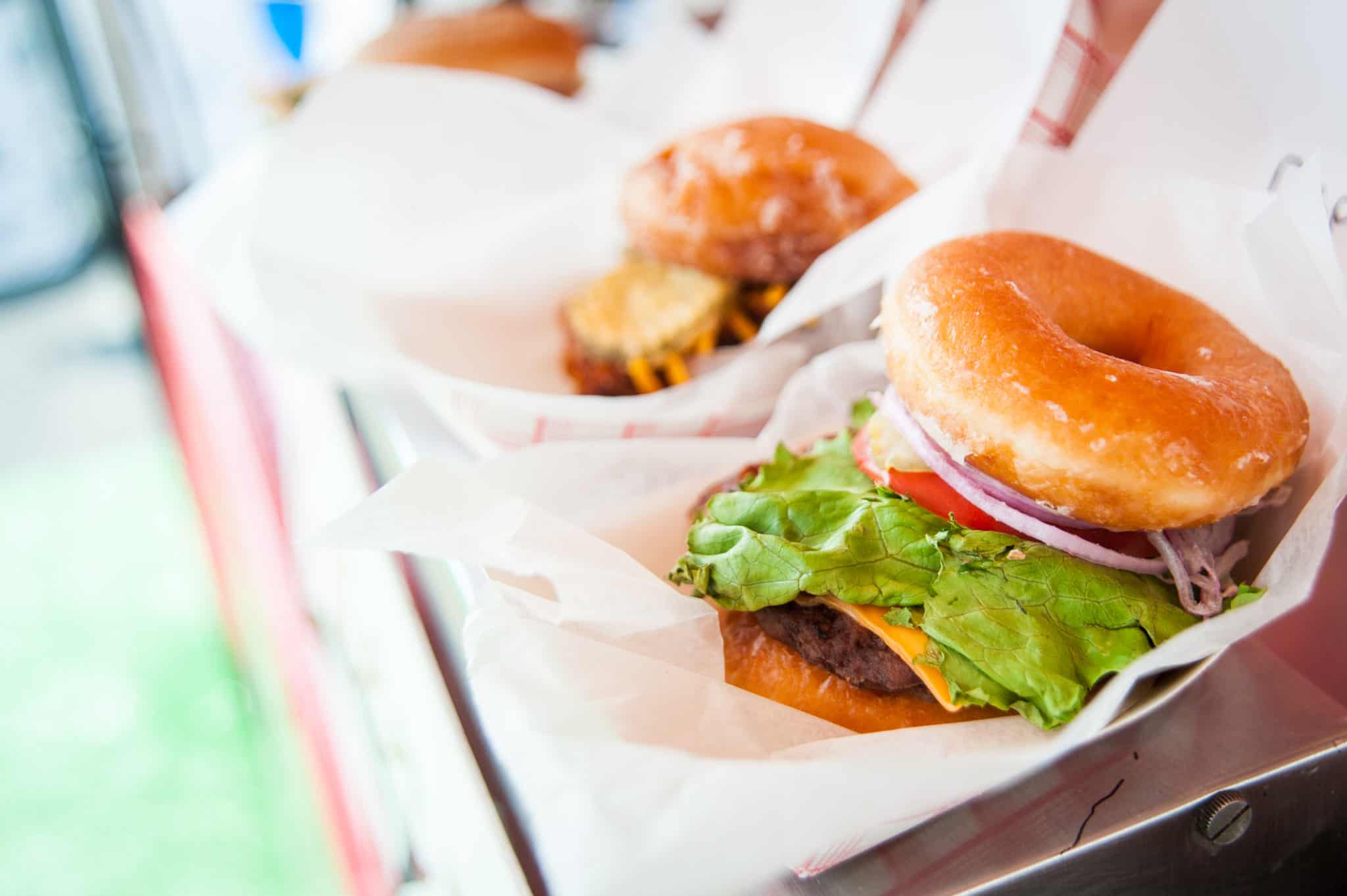 FREE THINGS TO DO AT THE OHIO STATE FAIR
OHIO DEPARTMENT OF NATURAL RESOURCES AREA
Free KAYAKING (and they even provide you with the life jacket)
Free ARCHERY
Free SHOOTING
Free FISHING
BUTTERFLY HOUSE
FIND YOUR COUNTY BENCH AND TAKE A PHOTO
WATCH THE INKY DINKY DONUTS BEING MADE (Warning: this will cause you to want to buy them to eat them).
TAKE A PHOTO WITH THE GIANT CARDINAL
LIVE BANDS INCLUDING THE OHIO STATE FAIR BAND AND YOUTH CHOIR
SEE THE LIFE-SIZED BUTTER COW AND OTHER SCULPTURES
Paint on the Monster Mural
Smokey Bear
Amazing Giants – Sky-high stilt walkers stroll the Fair
HUMAN CANNONBALL
Witness the miracle of birth and see a baby animal being born
CHECK OUT THE GRAND CHAMPION ANIMALS – STEERS, PIGS, LAMB
Lumberjack Show – A rip roaring family-friendly show
HANDS ON AGRICULTURAL EXPERIMENTS
MILK A COW
Free Petting Zoo
Pig Races
The Strolling Piano
A real escapologist Lady Houdini
The Marvelous Mutts
VISIT THE ANIMAL BARNS
Fair Mascot Butters D. Cow
Conduct Science Experiments
Other Educational Activities
And More family-friendly activities…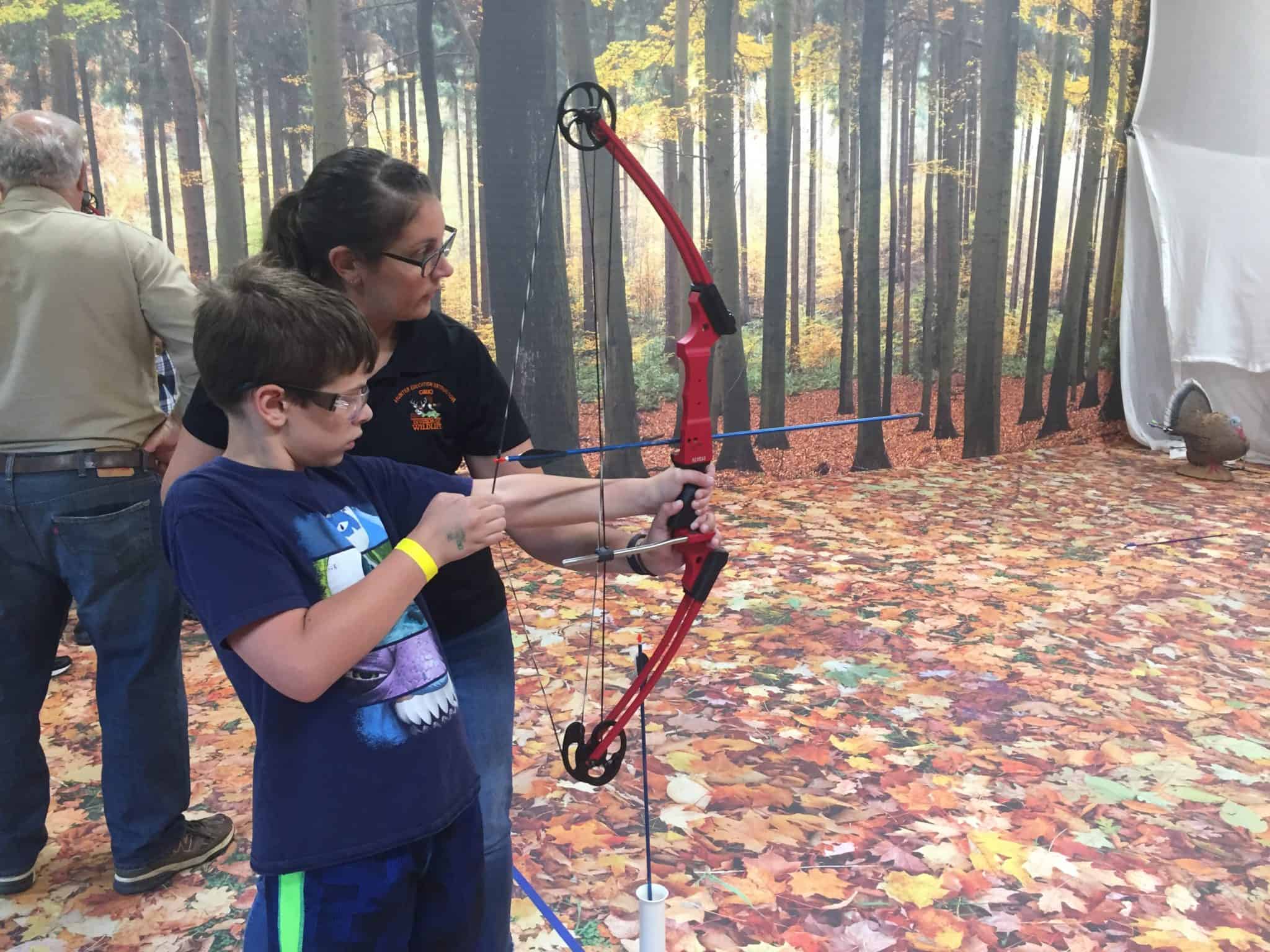 FREE LIMITED-TIME ATTRACTIONS:
As shown above, there are so many daily free attractions, but there are also limited time attractions such as July 27-August 1– The Groovy Guy Show
July 28 – WOSU Kids Day – Meet some of your favorite PBS Kids characters
July 29 – 31 – Leapin' Louie: Leapin' Louie's giant lasso & comedy
From July 27 – August 1 you can find Ron Diamond performing magic and hypnosis
August 3 – Sensory Friendly Morning 10 am-1 pm Rides will have the music turned down and the lights turned off for a sensory friendly experience. There is a QR code for accessing more information on your mobile devices.
August 7 – Sale of Champions: The grand champion animals will sell at 2 pm.
For the complete list of Limited-Time Attractions, visit The Ohio State Fair Website.
Additionally, make sure to enter to win a set of 4 tickets to the 2022 Ohio State Fair.
To Enter: You have up to 4 entries. After you enter your email or Facebook (which is not an entry), you can tweet, leave a comment on the blog below (keep scrolling), or follow on Facebook or Twitter. Some of the options you can do daily.
a Rafflecopter giveaway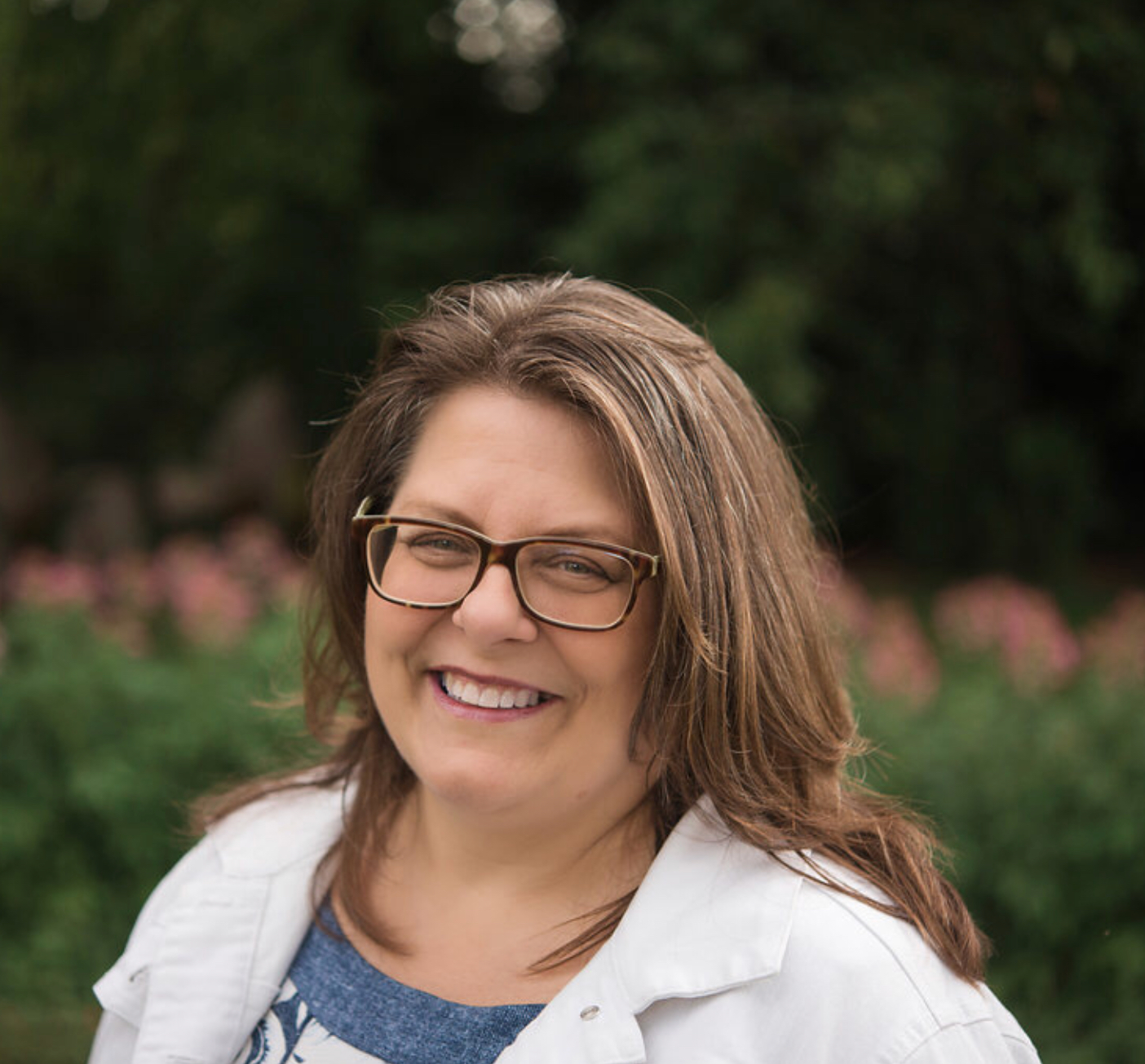 Homeschooling mom – 26 years and counting
Autism Mom
Movie reviewer/Travel blogger
Disney enthusiast