A Delightful Musical on Par with Hollywood Blockbuster Movies
Is Journey to Bethlehem worth seeing? Absolutely. Is this film entirely Biblical? No. I will detail why I still think this is a great movie to see with the family. I will also add a major spoiler (at the end of this review), so you can decide if that scene is a deal breaker for you. Additionally, in this Journey to Bethlehem Christian Movie Review, I give you the information you need before viewing this movie with your children.
In 2018, I wrote a movie review for a Christian movie (I Can Only Imagine) and said, "Run to see this movie. Send a clear signal to Hollywood that we are tired of the movies that they peddle. Let God's story of redemption be told over and over throughout the land. Supporting this movie will help bring other stories to light in this dark world."
While I have been doing movie reviews for a long time, I have also supported Christian movies. Our family almost always pays for their tickets. I do not want my audience to feel I have been "paid" for a movie review.
However, full disclosure: I did receive early screening passes for Journey to Bethlehem. But my relationship with Jesus Christ does not permit me to be untruthful with my movie review. I always craft an honest review. Additionally, we have already seen this wonderful movie in the theater a second time at our own expense.
Journey to Bethlehem Christian Movie Review
Studio Synopsis:
A young woman carrying an unimaginable responsibility. A young man torn between love and honor. A jealous king who will stop at nothing to keep his crown. This live-action Christmas musical adventure for the entire family weaves classic Christmas melodies with humor, faith, and new pop songs in a retelling of the greatest story ever told – the story of Mary and Joseph and the birth of Jesus. A unique new entry into the collection of holiday classic movies, this epic Christmas musical is unlike any before it.
My Synopsis:
The classic Nativity Story is told starting with the betrothal of Mary and Joseph, their journey to Bethlehem, and the birth of Jesus is told within a musical celebration. This is a fresh take on the Biblical account of the birth of the son of God. While it strays from the stories in the Bible and takes great creative liberties, it gives you a glimpse of the struggles and fears of a young pregnant Mary who must marry Joseph and give birth to the Savior. 
Journey to Bethlehem Christian Review – What Parents Want to Know
Language:
There is no foul language in this film. However, one person says to a donkey, "Stop being such an a—," and it is cut off before they say the word.
Mary is a "humble virgin."
A comment is made about sheep dung.
Violence:
A woman smacks her husband in the face with flowers.
Behind King Herod's throne is an evil-looking lion sculpture with glowing red eyes. This sculpture seems to come to life at times.
At one point, Joseph fights with himself between what he feels God is calling him to do and what others are telling him to do. This is portrayed as two Josephs, one dressed in white, one dressed in black, physically fighting.
Herod wakes up repeatedly after having nightmares.
A man is held in a prison.
Guards are told to "kill every pregnant woman and baby you find."
Spiritual Content:
This entire film is a spiritual celebration of the birth of Jesus. We watch two people who desire to follow God struggle with their own insecurities, wants, and needs and put that all aside for God's plan.
King Herod's adult son tells him, "When I was a boy, you were like a God I worshipped."
The Angel Gabriel appears to Mary. Later, he also appears to Joseph to tell him of God's plan. 
Adult Content:
A man flirts with a young woman in the marketplace.
King Herod is a raving madman who is either on drugs or crazy.
At one point, the three wise men begin dancing in a chorus line scene and kick their legs.
Mary is betrothed to Joseph. In the film, she hasn't met him yet, and she doesn't want to marry him. She says, "It's not my decision." And she struggles with the entire process. After they are married and Jesus is born, they share a kiss.
Positive Content:
Outside of the creative liberties taken with the Biblical account of the birth of Jesus, this is a fantastic film. The graphics, the music, the acting, and the dance scenes are all spectacular.
Furthermore, the comedy is great. Most Biblical accounts of the birth story of Jesus are stoic, and no one ever smiles. It is great to see humor being used.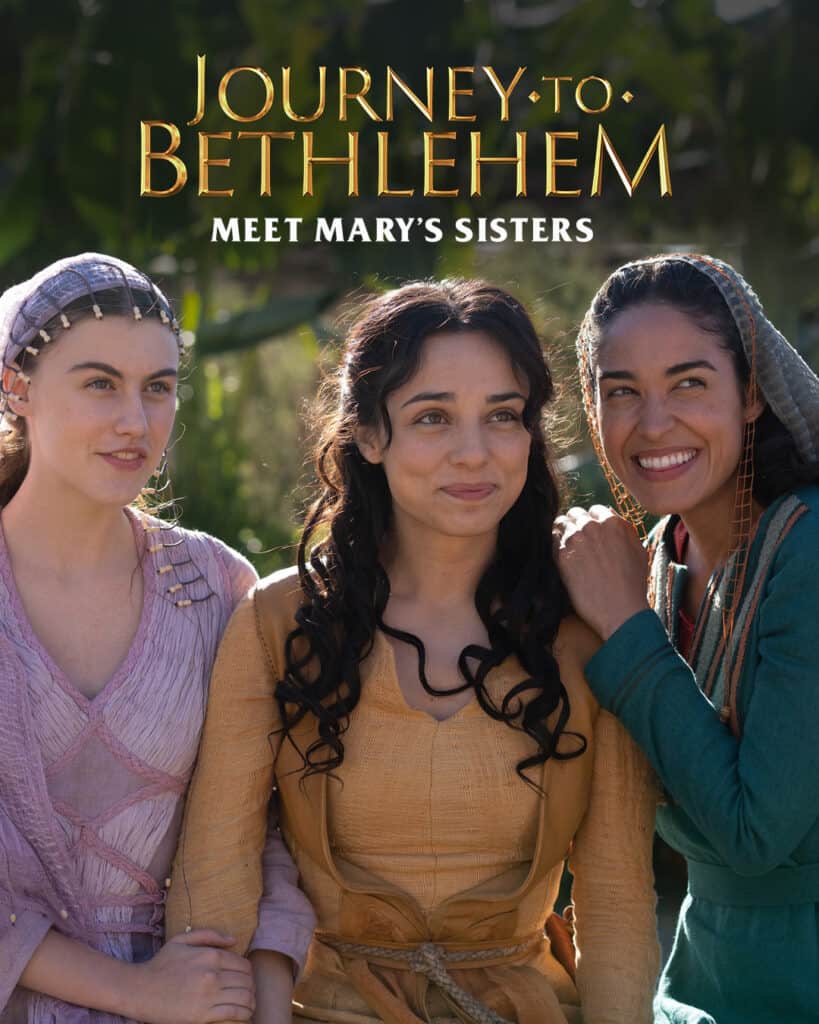 Journey to Bethlehem Christian Review – My Viewing Recommendations
How often have you seen your plans fizzle away and God's plan taking shape in your life? How often do you argue with God about your plans changing? When I began reviewing movies, it was for something fun to do. Never did I believe I would be writing movie reviews for Christian families on a regular basis. But God had other plans for my life.
This film is about God's plan for salvation and how he uses Mary and Joseph to carry out those plans. It gives you a glimpse of one group of people's ideas of how that might have looked.
While I believe this film of the Christmas story is amazing, and it is definitely worth seeing this holiday season, others may have reservations because of the deviation from the Biblical account of the birth of Jesus Christ. For an example of the deviation, see the Spoiler at the end of this review!
I can guarantee that you will laugh and you will cry. Antonio Banderas portrays evil King Herod in a unique way. Be warned that this film uses its creative license to stray from the Biblical account. The question is, how much creative liberties are you okay with?
I started this review by telling you about a Christian film I saw in 2018, and I believe that we vote with our dollars. I still think that today. There is a world of difference in the quality and quantity of Christian movies from 2018 until today. While Hollywood has not embraced Christian films, there are now more choices, and the moviemaking quality has improved dramatically. Vote with your dollars and see this film this Christmas season.
Teaching with Journey to Bethlehem
How can you use Journey to Bethlehem to teach your children? First, read the Biblical account of Mary and Joseph and the birth of Jesus. Then ask your children how the Biblical account differs from the movie. Next, ask them what has been added to the story.
Then, you can teach them about creative licenses. It is common when a movie is based on a true story to find differences in the real-life account versus the movie. Some movies that have done that are Titanic, Gran Turismo, and Flamin' Hot.
Finally, talk with your children about your views on creative liberties and why you have those views. Each family is going to view this film differently, and each child is going to grow up to develop their own beliefs.
It is important to expose your children to differing views and teach them critical thinking skills at home before they go out into the world.
Additionally, discuss arranged marriages. Research which cultures and countries still embrace the concept of an arranged marriage. What are the advantages and disadvantages of arranged marriages?
About the Movie Journey to Bethelem
Rating: PG for thematic elements
Release Date: November 10, 2023
Runtime: 1 hour, 38 minutes
Genre: Musical/Family
Studio: Affirm Films, Anders Media, Monarch Media, Space + Art Entertainment, Storry Collective
Director: Adam Anders (Award-winning music producer of Glee, High School Musical, and Rock of Ages
Screenplay written by: Adams Anders & Peter Barsocchini
Produced by: Brandt Andersen, Adam Anders, Ryan Busse, Stephen Meinen, Alan Powell, Steve Barnett
Distributed by: Affirm Films, a Sony Company – Sony Pictures
The Cast of Journey to Bethlehem:
Fiona Palomo as Mary
Milo Manheim as Joseph
Omid Djalili as Melchoir
Rizwan Manji as Gaspar
Geno Segers as Balthazar
Mōriah as Deborah
Joel Smallbone as Antipater
Rapper Lecrae as the Angel Gabriel
Stephanie Gil as Rebekah
Antonio Banderas as Herod
Antonio Gil as Jacob
Alicia Borrachero as Rachel
Maria Pau Pigem as Ana
Antonio Cantos as Joachim
Richard Serra as Census Taker
Favorite Quotes from the movie:
There were several quotes I wrote down because I just loved them.
"Sometimes God's plans for us are even bigger than you can imagine."
Mary sings, "Help me have the faith you have in me."
Mary says to Joseph, "I am not the only one who was chosen for this."
"Faith is trusting in your heart to be true."
"What does myrrh actually do?" (See below)
Frequently Asked Questions:
Where can I watch Journey to Bethlehem?
Journey to Bethlehem will have its theatrical debut on November 10, 2023, in theaters across the US. At this time, there is not a streaming date.
Some Affirm Films have streamed on PureFlix, and others have been on Hulu.
Will Journey to Bethlehem stream on Disney+?
Since Journey to Bethlehem is a Song Pictures production (Affirm Films), it is unlikely to be streaming on Disney+.
Will Journey to Bethlehem stream on Peacock?
At this time, Journey to Bethlehem does not appear to have a streaming date or place. However, when it does stream, it will be available to purchase or rent on VOD, such as Amazon Prime.
Is Journey to Bethlehem a musical?
Journey to Bethlehem is a live-action musical that is suitable for the entire family. This Christmas film obviously isn't Biblical. Mary and Joseph did not run around dancing and singing. Additionally, there were a lot of creative liberties taken throughout the film.
What other films has Mary (Fiona Palomo) starred in?
Palomo has been in "Outer Banks" which is a Netflix series. She has also appeared as Sister Maria in "Control Z" on Netflix.
What has Milo Manheim (Joseph) starred in?
Milo Manheim has appeared in School Spirits on Paramount+, and Disney's Prom Pact, and Doogie Kamealoha, M.D. Additionally, he has appeared in the Disney franchise Zombies as Zed. He also finished second place of Dancing with the Stars season 27.
What Songs are in Journey to Bethlehem?
The following songs are in the movie and on the soundtrack:
O Come, O Come, Emmanuel
Journey to Bethlehem
Mary's Getting Married
Good to Be King
Can We Make This Work
Mother To A Savior and King
The Ultimate Deception
Three Wise Guys
We Become We
In My Blood
The Nativity Song
Brand New Life
How long does it take to travel from Nazareth to Bethlehem on foot?
It is estimated that it would take four days to walk from Nazareth to Bethlehem.
What does myrrh actually do?
When the three wise men give gifts, someone says, "What does myrrh actually do."
Myrrh has been used medicinally since ancient times. It is used to treat wounds, manage aches and inflammation of joints, and help with parasitic infections and gastrointestinal diseases. It was also used for its fragrance.
Why did the three wise men give gold, frankincense and myrrh?
Gold was given because it signified wealth and Jesus is a King. Frankincense was given to represent the holiness of Jesus. Finally, myrrh was given because it was used as an embalming agent which would symbolize His death.
Who created the first Nativity Scene?
For more information about the first Nativity scene, read here!
MAJOR SPOILER ALERT – DO NOT READ BEYOND THIS POINT IF YOU DON'T WANT TO READ THE SPOILER
In the scene, after Jesus is born, King Herod's son shows up at the stable. He has been charged with finding Mary and Jesus and killing them. After seeing the Christ child, he lies to the guards with him, and he lets Mary and Joseph go.  
There is no Biblical account of anyone from Herod's household helping Mary and Joseph escape with Jesus. However, I do believe that King Herod's son represents us. He knew that Jesus was a King, and I think he struggled with his father's order to find Mary and Jesus and kill them versus acknowledging Jesus as the son of God in the same manner we struggle at times with who Jesus is and the place he has in our lives.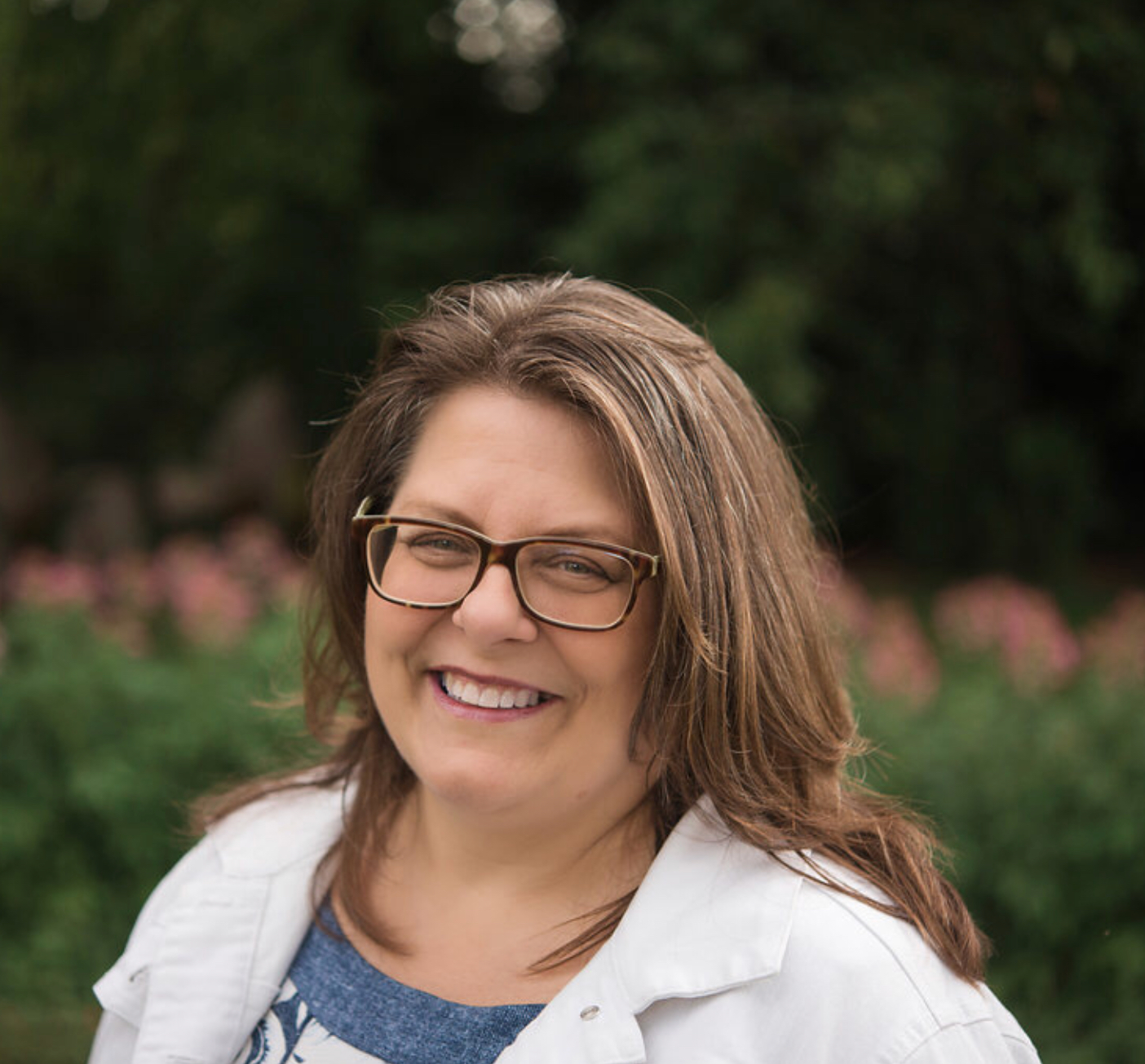 Homeschooling mom – 30 years and counting
Autism Mom
Movie reviewer/Travel blogger
Disney enthusiast