What Happens When a Barbie Girl Leaves Her Barbie World?
Barbie gave women the ability to dream about what they wanted to be when they grew up. Barbie dolls showed girls they could be a princess, a lawyer, a flight attendant, or President. While Barbie has been pushing the envelope since 1959, you have to wonder if this new Barbie movie will push it even more? In this Barbie Christian Movie Review & Parent Guide, I give you the information you need before viewing this film with your children.
Was there a need for the message that women could be anything?
Twenty-three years ago, my husband and I were building a new home. He was traveling a lot, so the majority of the phone calls and appointments were my responsibility. I tried to buy a furnace for our house. One heating and cooling contractor told me to have my husband call, and he would talk with him. I went with another contractor.
I also set up the electricity in our house. The bill was automatically put in my husband's name only. For years, every time I had to call the electric company, they refused to speak with me because his name was on the bill. For years, I replied, "I set up the electricity. You take the check that has my signature on it. You refused to put my name on the bill, and now you refuse to talk with me. Change your system already!" My name is still not on the account, but "my husband has given permission for them to talk with me." The system is still broken.
Now imagine if that was reversed. That is the Barbie movie! In Barbieland, women rule everything, and Ken feels rejected and left out.
I am not a feminist by any stretch of the imagination. I am a stay-at-home mom who has homeschooled for 30 years. But being told to have my husband call because "he would understand what they were talking about," is insulting. Therefore, I think every man over 45 needs to see Barbie.
Keep reading to to see the content before taking your children.
Barbie Christian Movie Review
Studio Synopsis:
To Live in Barbie Land is to be a perfect being in a perfect place. Unless you have a full-on existential crisis. Or you're a Ken.
From Oscar-nominated writer/director Greta Gerwig…comes "Barbie," starring Oscar-nominees Margot Robbie (…"I, Tonya") and Ryan Gosling ("La La Land," "Half Nelson") as Barbie and Ken, alongside America Ferrera ("End of Watch," the "How to Train Your Dragon" films), Kate McKinnon ("Bombshell," "Yesterday"), Issa Rae ("The Photograph," "Insecure"), Rhea Perlman ("I'll See You in My Dreams," "Matilda"), and Will Ferrell (the "Anchorman" films, "Talladega Nights")…Gerwig's creative team behind the camera included Oscar-nominated director of photography Rodrigo Prieto ("The Irishman," "Silence," "Brokeback Mountain"), six-time Oscar-nominated production designer Sarah Greenwood ("Beauty and the Beast," "Anna Karenina"), editor Nick Houy ("Little Women," "Lady Bird")…with music by Oscar winners Mark Ronson and Andrew Wyatt ("A Star Is Born").
My Synopsis:
Barbie can be anything, and Ken is her devoted boyfriend. But when stereotypical Barbie has a crisis which includes flat feet, she seeks the advice of Weird Barbie. She is advised to find the girl in the real world who is playing with her. Maybe this girl's thoughts are projected onto Barbie. So Barbie (and Ken) travel to the real world, and everything is the opposite of what they experience in Barbieland.
When Barbie travels back to Barbieland, she finds Barbie's dream house is not as dreamy as it used to be.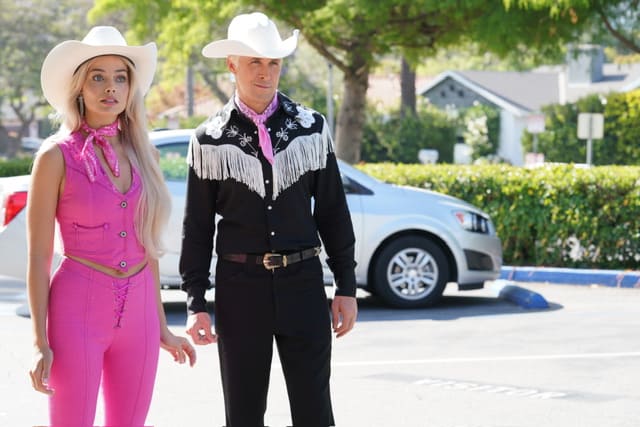 Barbie Christian Movie Review What Parents Want to Know
Language:
There is some foul language, including the phrase "mother ____" which is bleeped out. D-mn and h-ll are used. God's name is taken in vain multiple times. Furthermore, someone says "for Chr-st sake." As a Christian, I find this highly offensive and wonder why Hollywood thinks it is okay to use the name of Lord with intentional blasphemy.
Additionally, the word bimbo is used as well as "frickin." A dog poops and someone says "dog crap."
In the closing credits, "It's Barbie B-tch" is sung.
Violence:
Young girls smash baby dolls into tea cups and tea pots. In the real world, Barbie is smacked on the buttocks by a man, and she punches him. She is arrested for this.
Furthermore, there is a fight scene between the Ken dolls, but no actual weapons are used. One Ken has his nipples tweaked.
Ken smacks himself. Someone hits a man.
There is a car chase scene.
Adult Content including Sexual Content:
Vagina and penis are mentioned. Barbie says, "I do not have a vagina. He does not have a penis. We have no genitals." Furthermore, a comment is made about wanting to see the "nude blob he's packing under those jeans."
When Barbie enters the real world, men treat her like a sex object and make crude comments to her. Barbie says about the men in the real world, "Men look at me like I'm an object."
Ken was shown drinking from a beer bottle, but nothing comes out because it is all fake. A reference is made to a six-pack in the refrigerator. Another scene shows people having what appear to be alcoholic drinks.
Several times Ken is depicted without a shirt on. Barbie has a bare midriff and a low cut top. A man says, "she looks even better in more clothes."
A running joke is about having a "beach off."
Barbie says, "I'm here to see a gynecologist."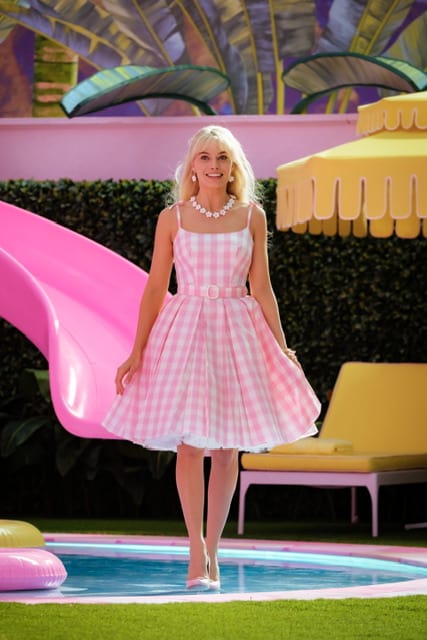 Spiritual:
Barbie begins entertaining thoughts of death.
Someone mentions that Barbie has opened a portal to the real world. "It takes two to open a portal."
A reference is made to "white savior Barbie."
A person is called a Jezebel.
Other Content:
Barbie says she is having thoughts of death. There is also talk about anxiety, OCD, depression and panic attacks.
There is a comment, "I'm a man without power. Does that make me a woman?"
One man says, "Some of my best friends are Jewish."
There are plenty of comments about the patriarchy. After traveling to the real world, Ken comes back changed, and he manages to change all the other Ken dolls. They also manage to "brainwash" the Barbies to serve them and give them foot massages.
A comment is made about Barbie and "rampant capitalism." Ironically, this movie continues to contribute to rampant capitalism.
Furthermore, Barbie is called a Facist.
There is a Kenmaid (played by John Cena) complete will a mermaid outfit.
Positive Content:
Gloria gives an impassioned speech about how women are expected to look and act a certain way. Furthermore, we are criticized by both men and women for not living up to standards that are impossible to live up to.
While the majority of the movie explores Stereotypical Barbie and her feelings, the overall theme of the movie is that we all impose our wants, needs, and feelings on others. In Barbieland, women rule everything and Kens are left feeling rejected and left out. In the real world, the patriarchy have ruled and left women to feel left out. Neither place has it perfectly figured out.
Teachable Moments in Barbie:
There is one moment in the film that is particularly powerful. Ruth (the creator of Barbie) takes Barbie's hand, and asks her what she was made for. It was at this moment, I envisioned God holding our hands and asking us this question. What did God make us for? Obviously, the Bible teaches we were made to glorify God, and to love God and others.
However, we all question what our secondary purpose is. What are we going to be/do when we grow up? For some of us, that answer comes easily, but for others, they struggle to find their path here on earth.
There are many moments throughout the film to use for discussion. For example, discuss the treatment of men in Barbieland, and the treatment of women in the real world in the film. Additionally, discuss how the Bible says to treat others. No one wants to feel ignored or less than.
Additionally, Greta Gerwig says, "There's this shot where Ruth hands Barbie a cup of tea, and the way we lined it up is the exact way that God is touching Adam on the Sistine Chapel."
Barbie Christian Movie Review Viewing Recommendations
Overall, this is a visually pretty movie, but some of the content is too adult for children. However, the themes of women running everything versus men running everything and seeing that things aren't perfect in Barbieland and they aren't perfect in the real world is an overall good message.
About the Movie:
Rating: PG-13 for suggestive references and brief language
Release Date: July 21, 2023
Runtime: 1 hour, 54 mins.
Genre: Fantasy Comedy
Style: Live-Action
Studio: Warner Bros.
Director: Greta Gerwig
Written by: Greta Gerwig & Noah Baumbach
Producer: David Heyman, Margot Robbie, Tom Ackerley, Robbie Brenner
Editor: Nick Houy
Music by: Mark Robson and Andrew Wyatt
Produced by: Heyday Films, LuckyChap Entertainment, NB/GG Pictures, Mattel Films
Distributed by: Warner Bros. Pictures
Based on Barbie by Mattel
The Star-Studded Cast of Barbie:
Barbie: Margot Robbie
Ken: Ryan Gosling
Additional Barbies: Issa Rae, Kate McKinnon, Alexandra Shipp, Emma Mackey, Hari Nef (a trans woman), Sharon Rooney, Ana Cruz Kanye, Rita Arya, Dua Lipa, Nicola Coughlan, Andy an, Margot Robbie Emerald Fennell
Additional Kens: Simu Liu, Kingsley Ben-Adir, Nautica Gatwa, Scott Evans, John Cena
Allan: Michael Cera
Gloria: America Ferreira
Sasha: Ariana Greenblatt
Ruth: Rhea Perlman
Narrator: Helen Mirren
Mattel CEO: Will Ferrell
Aaron Dinkins: Connor
Old Woman on Bench: Ann Roth
Frequently Asked Questions:
Where can I watch Barbie?
Barbie is released in theaters on July 21, 2023. 
As of September 12, 2023, the Barbie movie is available for rental or to purchase on Amazon. Furthermore, it became available to purchase on DVD and Blu-ray and Ultra 4K on November 14, 2023.
Is there an end-credit scene for Barbie?
No. There are no end-credit scenes for Barbie. However, during the closing credits, filmgoers are treated to different Barbie, Ken, and Friends dolls which are no longer made. I wish they would have put the dates these dolls were manufactured.
Find out how Barbie dolls looked through the years!
Is Barbie suitable for children?
This movie is not suitable for children. While it is pink and pretty, and anyone who loves Barbie should like it, this film is rated PG-13. The overall themes of this movie are for a older audience.
Is there LGBTQ+ content?
There are actors appearing in the film that are a part of the LGBTQ community. However, it does not appear that there are any LGBTQ characters portrayed in the movie. Additionally, Margot Robbie confirmed that none of the Kens or Barbies have sexualities.
However, one of the Barbies is portrayed by a trans woman. Hari Nef plays one of Barbies. Furthermore, the movie also includes queer actors Kate McKinnon, Alexandra Shipp, and Scott Evans.
Is the Barbie movie a Disney film?
No. Warner Bros. Pictures is the distributor of this film.
Will Barbie stream on Disney+? Will Barbie stream on Peacock?
Barbie will not be streaming on Disney+. Barbie will most likely be streaming on Max which is Warner Bros. streaming service.
Is the Barbie movie for adults?
This is an adult movie with a PG-13 rating. While children may enjoy the movie, the theming of the movie is geared toward adults. Many of the movie goers appeared to be women in their 30s-50s.
Who created the original Barbie doll?
Barbie was created by Ruth Handler in 1959. Barbie was named after Ruth's own daughter, Barbara. Furthermore, Ruth and her husband Elliot Handler were co-founders of Mattel toys. Ruth died in 2002.
Ken was named after Ruth's son, Kenneth.
Why is the Christian Movie Review site, MovieGuide warning not to go see this movie?
Movieguide staff posted the following: "Warning: Don't Take Your Daughter to Barbie." They claim the Barbie movie forgets its core audience while catering to nostalgic adults and pushing transgender character stories.
I seriously was unaware of the transgender character. I read no reviews before seeing a movie, and know very little about a movie besides one or two trailers seen in the movie theater before other movies. I did not know which character was a trans woman until I came home and started to write my reviews.
Barbie has produced 43 movies over the years. Only one of them is rated PG-13 and while it is not for kids, it is for nostalgic adults.
Additionally, other Christians have called for a boycott of this new film featuring Barbie. Ivan Tuttle, founder of Ivan Tuttle Ministries International located in Murfreesboro, Tennessee, has warned that this new Barbie movie, "is full of demonic influences and do not be surprised if your child suddenly starts to behave differently! The Lord showed me the millions of demons that will be released on your children! Don't take this lightly. They are coming for your children."
What dolls were portrayed or mentioned in the movie?
Dr. Barbie
President Barbie
Judge Barbie (Supreme Court Justices)
Physicist Barbie
Lawyer Barbie
Princess Barbie
Mermaid Barbie
Journalist Barbie
Midge (Barbie's best friend)
Skipper (Barbie's little sister)
Growing Up Skipper
Ken
Allan (Ken's best friend who wears the same size clothes as Ken)
Sugar Daddy Ken (Sugar was the name of the dog)
Earring Magic Ken
What movies are highlighted in Barbie? (Easter Eggs)
First, in the opening scene, the giant Barbie is a nod to 2001: A Space Odyssey. In Stanley Kubrick's movie, a monolith appears, and primates discover how to use tools. In the Barbie movie, a huge Barbie appears and little girls evolve from playing with baby dolls to Barbie.
A Barbie beach scene shows a giant winged horse (Pegasus). There was a Barbie animated film (2005) entitled Barbie and the Magic of Pegasus.
A dance sequence scene depicts Barbies and Kens dancing in homage to John Travolta in Saturday Night Fever.
Furthermore, when Barbie goes to Weird Barbie's house, she is given two options. In one hand, she holds a pink high heeled shoe depicting Barbie Land, and then in the other hand she holds a Birkenstock which depicts the truth. This is a play on the red pill or the blue pill from The Matrix.
Wizard of Oz: While driving her pink Corvette, Barbie drives past a movie theater that is showing The Wizard of Oz, complete with a yellow brick road leading inside the movie theater.
The Kens have a dance off in a scene reminiscent of Greased Lightnin' in Grease complete with Ken in all black.
The fight between Kens at the beach definitely gave off West Side Story vibes.
Who else was considered to play the role of Barbie?
Actress Gal Gadot was considered for this iconic role.
Is Barbara Handler in the Barbie film?
No! Barbara Handler, the daughter of Barbie creator Ruth Handler, is not in the Barbie movie. There are rumors that she has a cameo in the movie. Additionally, some fans think she is the old woman on the bench. But, that is not the case.
Who is the old woman on the bench?
The old woman on the bench is Ann Roth. Ann is 91 years old and is an Oscar-winning costume designer for the films, The English Patient (1996) and Black Bottom (2020).
Who was being considered for the role of Barbie before Margot Robbie?
Amy Schumer was the first Barbie to be cast when Sony had the rights to make the movie, but there were "creative differences" which caused her to bow out.
Additionally, Anne Hathaway was considered for the lead role.
Why is Barbie banned in Vietnam?
There is a map in the movie that depicts the nine-dash line which China uses when drawing their borders in the South China Sea. Vietnam and the Philippines disagree with the line.
What happens at the end of the Barbie movie?
Barbie decides to become human.
Is the Barbie Movie anti-men?
There have been many that have said the Barbie movie is anti-men. While I did not view it as anti-male,, but instead as an absurd view of a world run entirely by woman or by men, and how those worlds lack what we need as a society.
However, right-wing commentator Ben Shapiro ranted about Barbie being a "flaming garbage heap of a film" and that it was one of the most woke movies he had ever seen. On his YouTube show, he continued the bashing of the movie, and even went so far as burning a pair of Barbie and Ken dolls in a trash can.
Additionally, I have received backlash from men who have accused me of being a feminist. Ironically, as a Conservative Christian woman who has homeschooled, I am not Conservative enough. Is it because I use my voice?
Is the Barbie movie Rated R?
No. The Barbie movie received a PG-13 rating.
How much did Barbie cost to produce?
Barbie had a budget of $145 million dollars.
Will there be a Barbie 2 Movie?
When Mattel CEO Ynon Kreiz was asked about any potential sequels or a Barbie 2 movie, he responded, "It could go a million different directions from this point. But I think you fall into a bit of a trap if you try to set up a first movie whilst also planning for sequels."
Considering the success at the box office, I think we can count on several sequels with an adult Barbie movie, including her Barbie friends. Furthermore, it wouldn't surprise me if Ken gets his own movie.
Are there gender-neutral Barbie dolls?
In 2020, Mattel launched a line of "gender-inclusive dolls." The dolls were named Creatable World and allows children to experiment with clothes and hairstyles outside of "gender norms." These Kits come with 1 doll with short hair, a wig, 6 pieces of clothing, 3 pairs of shoes, and 2 accessories. They are available in different skin tones, and curly, straight or braided hair.
However, Mattel has said they are not "gender-neutral."They were created to be relatable and are not supposed to be adults but rather have a "youthful gender-neutral appearance."
Sounds like a load of double-speak to me.
How many Barbie movies are there?
There are 43 Barbie movies as of 2023. For a complete list, visit How to Watch All the Barbie Movies in Order.
What color is Barbie Pink?
First, there is some debate over the actual colors of the pink for Barbie. However, there is more than one shade of Barbie pink. In fact, there are different shades of pink ranging from bubble gum pink to a bright magenta.
The colors (Pantone) of Barbie Pink is color code #e0218A which is a shade of magenta pink. The next shade is #Ed5c9b Raspberry Pink, #F18dbc Amaranth Pink, #f7B9D7 Cotton Candy, and #Facde5 Classic Rose. (None of the shades are actually called bubble gum pink!
What is Barbieheimer?
Barbieheimer or Barbenheimer is counterprogramming. Ironically, these two different films were released on the same day. In fact, the word is a mix of Barbie and Oppenheimer. Both of these films opened in theaters on July 21, 2023, and the internet came together to call this the "movie event of the year." People discussed watching both movies as a double feature. There were debates about which movie to watch first. Of course, memes were developed for this event!
Why is Barbie so controversial?
First, remember that many of the posts and reviews you read are written by men who just don't understand Barbie and the little girls that play with Barbie dolls. Women have been trying to have a voice at the table since time began, and yet, it appears we are still at the same place that we have always been.
It seems Barbie speaks for everywoman. Gloria gives a speech in the movie, "It is literally impossible to be a woman. You are so beautiful and so smart, and it kills me that you don't think you're good enough. Like, we have to always be extraordinary, but somehow we're always doing it wrong.
You have to be think, but not too thin. And you can never say you want to be thin. You have to say you want to be healthy, but also you have to be thin…You have to be a boss, but you can't be mean. You have to lead, but you can't squash other people's ideas…You are supposed to stay pretty for men, but no so pretty that you tempt them too much or that you threaten other women because you're supposed to be a part of the sisterhood…You have to never get old, never be rude, never show off, never be selfish, never fall down, never fail…It's too hard!…I'm just so tired of watching myself and every single other woman tie herself into knots so that people will like us…"
Did you have a Barbie or any Barbie toys as a child?
The Barbie Soundtrack includes the following songs:
Requiem: Kylie Written by Gyorgy Ligeti
Atmospheres written by Gyorgy Ligeti
Also Sprach Zarathustra written by Richard Strauss
Pink written by Melissa "Lizzo" Jefferson, Mark Robson, Andrew Wyatt and Ricky Reed
Dance the Night written by Mark Robson, Andrew Wyatt, Dua Lipa and Caroline Allin
Silver Platter written by Khalid Robinson, Jason Keller, Chase Worrell and Denis Kodiak.
Girls Just Want to Have Fun written by Robert Hazard. Performed by Cyndi Lauper
Spice up Your Life performed by Spice Girls
Closer to Fine performed by Indigo Girls
Barbie Girl by Aqua – Who doesn't know this iconic song. "I'm a Barbie Girl, in a Barbie World. Life in plastic. It's Fantastic."
Barbie Christian Movie Review: Quotes from Barbie:
"It is the best day ever. So was yesterday, and so is tomorrow, and every day from now until forever."
"Barbie has a great day every day, but Ken only has a great day if Barbie looks at him."
"…actually my job is just Beach." – Ken
"I would never wear heels if my feet were shaped like this." – Barbie
"We mothers stand still so our daughters can look back and see how far they have come." -Ruth
"Women hate women. And men hate women. It's the only thing we all agree on." -Sasha
Ken names his house, "Ken's Mojo Dojo Casa House."
"Humans have only one ending. Ideas live forever." – Ruth
"I have no difficulty holding both logic and feeling at the same time."
"Every night is girl's night." -Barbie
What is the Meaning of the Barbie Movie? Plus, the Ending Explained.
One movie I highly recommend is Sound of Freedom. If you are going to see one PG-13 movie, make it count! Remember, God's children are not for sale.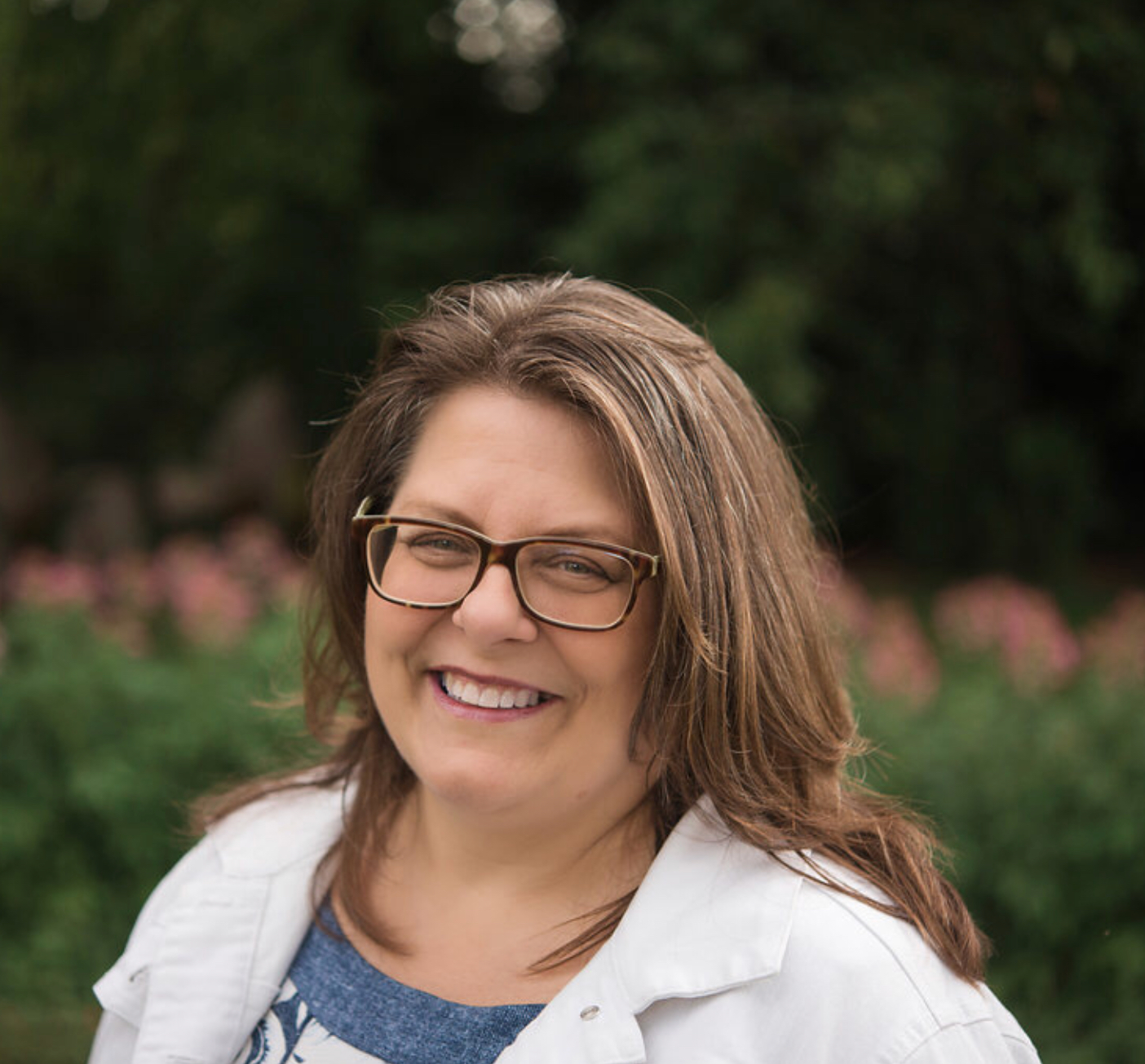 Homeschooling mom – 30 years and counting
Autism Mom
Movie reviewer/Travel blogger
Disney enthusiast