Sonic Meets Knuckles and Tails
I remember thinking that I didn't have high hopes for the original Sonic movie. I hated Sonic with a passion. The little blur furball has been in my household for decades. I can still hear the "SEGA" when the system started up. However, I kept an open mind and find that I actually enjoyed Sonic. But could Sonic the Hedgehog 2 pull it off a second time. In Sonic the Hedgehog 2 Christian Movie review, I tell you (as a parent) what you want to know before taking your kids, and I also will let you know if I will see this movie a second time! (The sign of a winner in my book).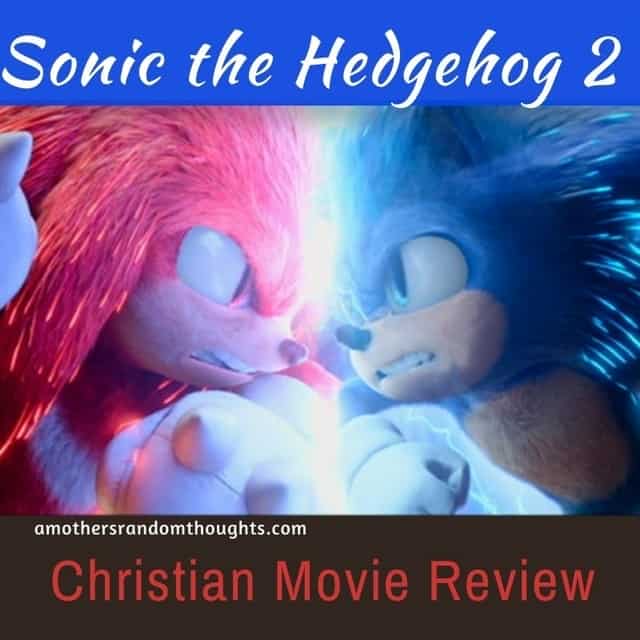 Synopsis of Sonic The Hedgehog 2
When we last saw Sonic, the little blue anthropomorphized hedgehog (voiced by Ben Schwartz), he was living in Tom's home (James Mardsen), and his archnemesis, Dr. Ivo Robotnik (Jim Carrey) is sent to the Mushroom Planet. When Sonic 2 opens, we see Dr. Robotnik living "in mushroom purgatory" and trying to perfect the perfect cup of mushroom coffee. On day 243, he manages to escape with the energy harnessed in a single blue quill from Sonic. Together Robotnik, with the help of his new friend, Knuckles (a red echidna), set out to find Sonic.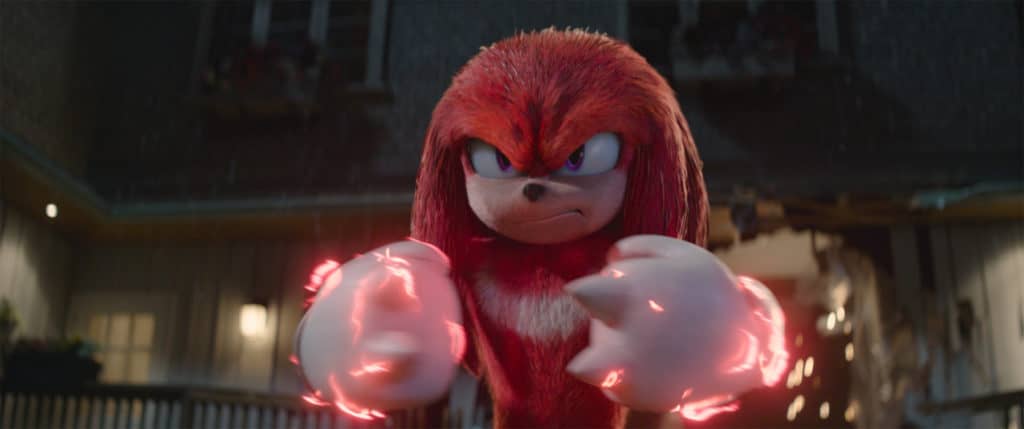 Dr. Robotnik and Knuckles will find the mystical emerald that harnesses all power. When Miles Tails Prower, or Tails for short, sees that Knuckles is coming after Sonic, he travels to earth to warn Sonic. Tails is a two-tailed fox (Japanese Kitsune). A race ensues. Will Sonic and Tails be able to save the emerald from evil Dr. Robotnik and Knuckles?
Sonic 2 Christian Movie Review: What Parents Want to Know
First, if you are going to see this movie, make sure to stay to see the mid credit scene.
When the original Sonic movie came out in February 2020, nobody expected to be entrenched in a worldwide pandemic. In fact, the release was delayed in China because of the pandemic. Overall, Sonic the Hedgehog did exceedingly well in spite of the circumstances. Sonic 2 is expected to perform well at the box office.
The little blue hedgehog is still a kid and still as ornery as ever. This movie is delightful to watch and entertaining. Again, I had to defer to my son for him to fill me in on who Knuckles and Tails were and some of the background of the video game storyline. It isn't necessary to know these things to watch the movie, but I prefer to have some knowledge.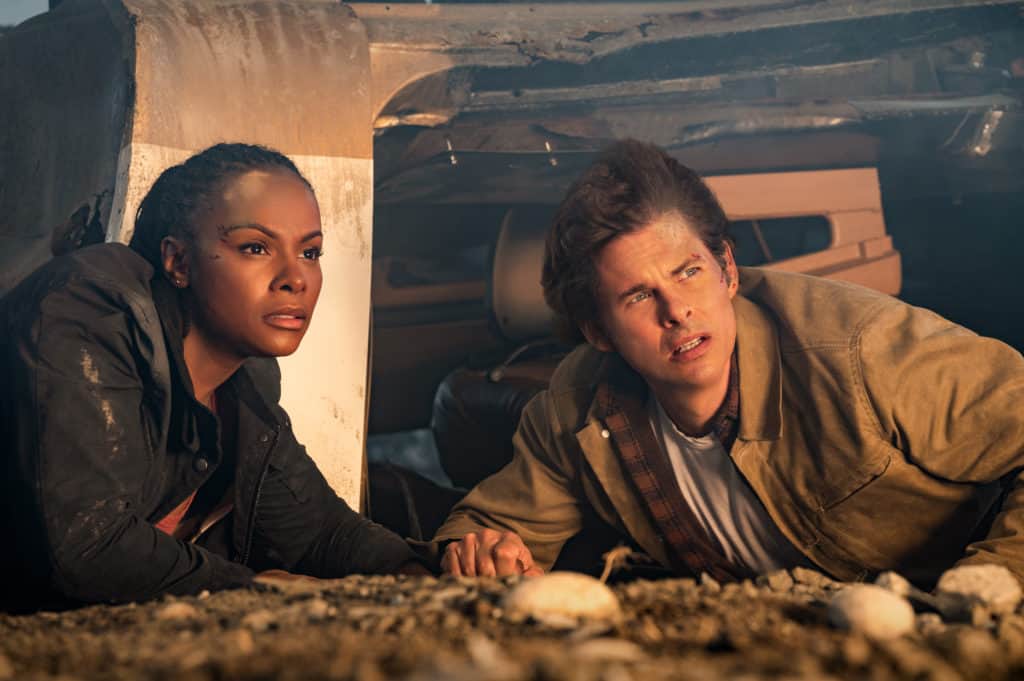 The Good:
Fast-paced, fun, and energetic with all the cuteness of the original movie. Plenty of unexpected twists and turns make Sonic 2 fun to watch. This movie will delight children and Sonic fans of all ages.
Language:
Mild language includes some language puns such as "shittake planet," reference to "holy sherbet, and "kick blue buttikiss, and Tails tail is called a "butt copter" Additionally, the use of h-ll, and multiple "oh my g-d," and holy crap.
Sexual Content:
There is a man who dances without a shirt on and part of the movie takes place on a beach – men are playing volleyball with just swim trunks on. Additionally, a bride makes a comment about getting waxed – the implication that she got waxed in the bikini region. Wade makes a reference to a "Wade cave" and wants to someday bring a woman to it who isn't his mom.
Violence:
There is plenty of violence, but there is no blood or death that occurs. Crashes, bombs, things blowing up, explosions, and police chases happen frequently.
A taser is used on two people. A man gets hit repeatedly with a volleyball. A robot fires lasers and destroys a lot!
Sonic and Knuckles fight multiple times and destroy whatever is before them.
Did I mention there were explosions?
The groin was mentioned as a weak spot to attack.
Spiritual Content:
Someone comments, "We did not order a poltergeist."
Sonic is called a "golden god."
Additionally, the emerald that everyone is looking for is a collection of chaos emeralds. These gems all put together make the all-powerful emerald. Whoever has these gems holds all the power to control all universes.
Other Content Parents May Want to Know About:
Be aware, Sonic and Knuckles find themselves in a bar where people are drinking. People are drinking in Hawaii. Someone opens a bottle of champagne and sprays the people in the scene.
Tom and Maddie are gone and Sonic has a party. He lies when asked what he is doing. He makes a complete mess of the house. Furthermore, He uses a ring to grab cookies off the shelf of a grocery store, but he does leave money behind.
Teachable Moments: Sonic the Hedgehog 2 Christian Movie Review
Since I do use movies to teach, I am always looking for ways to use the newest movie to teach about people, places or Biblical lessons.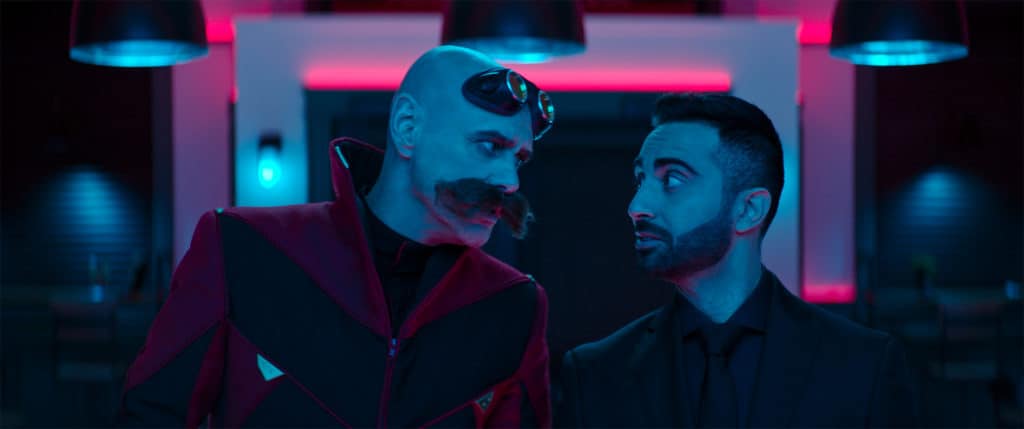 Bible: For Such A Time As This:
One of my favorite quotes from this movie is "You're still just a kid. Trust me, there will come a moment when your power will be needed. But you don't choose that moment, that moment chooses you." This is an excellent time to teach the story of Esther. In Esther chapter 4, Mordecai tells Queen Esther: "For if you remain silent at this time, relief and deliverance for the Jews will arise from another place, but you and your father's family will perish. And who knows but that you have come to your royal position for such a time as this?" Queen Esther approached the King and ended up saving her people.
Character Development: Kindness/AntiBullying
Another favorite theme in this movie is that Tails thinks he is "weird" or odd because he has two tails. Sonic tells him that maybe being weird isn't so bad. Children feel weird or odd for many different reasons – having to wear glasses, having a disability, being the only one who can't sing, or so many other reasons to feel like you are singled out. Teaching children about differences is a great way to raise awareness and stop bullying.
Geography:
Sonic 2 was filmed in Vancouver and Hawaii. In the movie, Tom and Sonic live in Montana. Sonic goes to Seattle to help with crime there. Sonic travels to Siberia. Locate all these places on a map.
Viewing Recommendations for Sonic 2 Christian Movie Review
This movie is rated PG due to the violence. However, the violence is similar to what you saw in the first Sonic movie. Although, Sonic 2 may have more fighting and explosions. If you or your child liked the first movie, you most certainly will like this installment.
Easter Eggs in Sonic 2
Guardian Units of Nations (GUN) is a fictional secret organization found in the Adventure series.
Mean Bean Coffee Shop is a nod to Dr. Eggman's Mean Bean Machine game.
One of Dr. Robotnik's weapons is a nod the Death egg – the metallic monster at the end of the movie.
Sonic's top speed ever recorded is 761 miles per hour. That number can be found on the plane.
Some of the levels found in the classic Sonic game can be found throughout the movie: The Mushroom Planet is Mushroom Hill Zone. Knuckles collides with a water truck with the name of Splash Hill Zone. The Labyrinth Zone is found in the game.
More Easter Eggs:
Furthermore, Ben Schwartz who voices Sonic plays Jean-Ralphio on Parks and Recreation. Sonic says that the movie was "the worst" in the same voice that he uses in Parks & Rec.
Additionally, Sonic mentions that Knuckles and the owl's feud is similar to what happened between Vin Diesel and the Rock.
There is a reference to Ghostbusters and the Stay Puft Marshmallow Man. A person mentions that if you think something it will become reality similar to the scene from Ghostbusters.
There is also a scene that is taken out of Indiana Jones. Knuckles and Robotnik run through a series of mazes similar to the temple scene with Indiana Jones. They are followed by a giant boulder, shooting arrows, and other booby traps.
Additionally, Sonic says, "water. Why'd it have to be water?" in a nod to Indiana Jones, "Snakes. Why'd it have to be snakes?"
In addition, there is an instruction manual for Dr. Robotnik that has been made to look like the Sega Genesis Box Art.
The theme song from The Natural, with Robert Redford, plays as Knuckles hits a home run at the end of the movie.
Finally, Sonic stands on top of a building at night with the moon behind him in a very Batman type pose.
Movie Info and Rating
Rating: PG for Rude Humor, Mild Language, Action, and Some Violence
Runtime: 2 hours, 2 minutes
Release Date: April 8, 2022
This post contains affiliate links. As an Amazon Affiliate, I do earn a small commission from qualifying purchases.
CAST of Sonic the Hedgehog 2
Director Jeff Fowler
Producer: Neal H. Moritz, Toby Ascher, Toru Nakahara, Hitoshi Okuno
Writer: Pat Casey, Worm Miller
Tom Wachowski: James Marsden
Sonic: Voice of Ben Schwartz
Knuckles: Voice of Idris Elba
Tails: Voice of Colleen O'Shaughnessey
Dr. Ivo Robotnik: Jim Carrey
Maddie: Tika Sumpter
Rachel: Natasha Rothwell
Wade: Adam Pally
Randall: Shemar Moore
Agent Stone: Lee Majdoub
Sonic 2 Christian Movie Review: Frequently Asked Questions
Where Can I watch Sonic the Hedgehog 2?
Currently, Sonic the Hedgehog can only be viewed in movie theaters. When Sonic is available for streaming, I will post. It is expected to release on Paramount Plus on May 24.
When was the original Sonic video game released?
Sonic the Hedgehog video games were developed by Sega. They originally debuted in 1991 for the Mega Drive game console named Sega Genesis. Sonic also had some games on third-party home consoles. There were also handheld game consoles. Sonic the Hedgehog is a racing, action, fighting game. There are/were games available on the Sega Genesis, Sega Game Gear, Sega CD, Sega Saturn, Sega Dreamcast, Sega Master System, Game Boy Advance, GameCube, Arcade games, Microsoft Windows, Nintendo DS, Nintendo3DS, Nintendo Switch, PlayStation 2, PlayStation 3, PlayStation 4, PlayStation 5, Portable PlayStation, Leapster, Wii, Wii U, Xbox, Xbox 360, Xbox One, Android, iOS, and more.
Are there games available in the app store?
Sonic Dash Endless Runner Game is available in the app store with in app purchase available. There is also Sonic Dash 2: Sonic Boom Sonic The Hedgehog Classic, Sonic Dash+, Sonic at the Olympic Games (available for purchase).
Who is Dr. Eggman?
Doctor Ivo "Eggman" Robotnik is the main antagonist of Sonic. Robotnik is the character's last name. Eggman is a nickname given because of his shape. He is a human mad scientist.
What is the first film in the Sonic franchise?
The first Sonic The Hedgehog movie is a two-part 1996 Japanese original video animation (OVA) film based on Sonic the video game.
What is the Master Emerald?
The Master Emerald is a huge green emerald and holds great power. It possesses the ability to control the Chaos Emeralds' energy. In the video game, the Master Emerald keeps Angel Island floating in the sky.
Will there be a Sonic 3?
Paramount has confirmed that there will be a third installment to the live-action Sonic movies. The planned release is February 2023.
Where can I watch Sonic the Hedgehog movie from 2020?
You can stream Sonic the Hedgehog on Paramount+ via Amazon Prime.
Will Dr. Robotnik be in Sonic 3?
As of this time, it is not decided. Paramount has said they will not recast Dr. Robotnik if Jim Carrey goes ahead with his plans to retire. However, stay tuned to find out if Dr. Robotnik returns!
Are red echidna real?
Echidnas are usually black or brown in color. Additionally, there are also albino echidna with pink eyes and white spines. The creator of Knuckles is Takashi Thomas Yuda.
What type of animal is Tails?
Tails is a kitsune which is the Japanese word for fox. In Japanese folklore, kitsune possess abilities that increase as they get older. They have the ability to shapeshift into human form. The more tails a kitsune has (as many as nine) the older, wiser, and more powerful it is.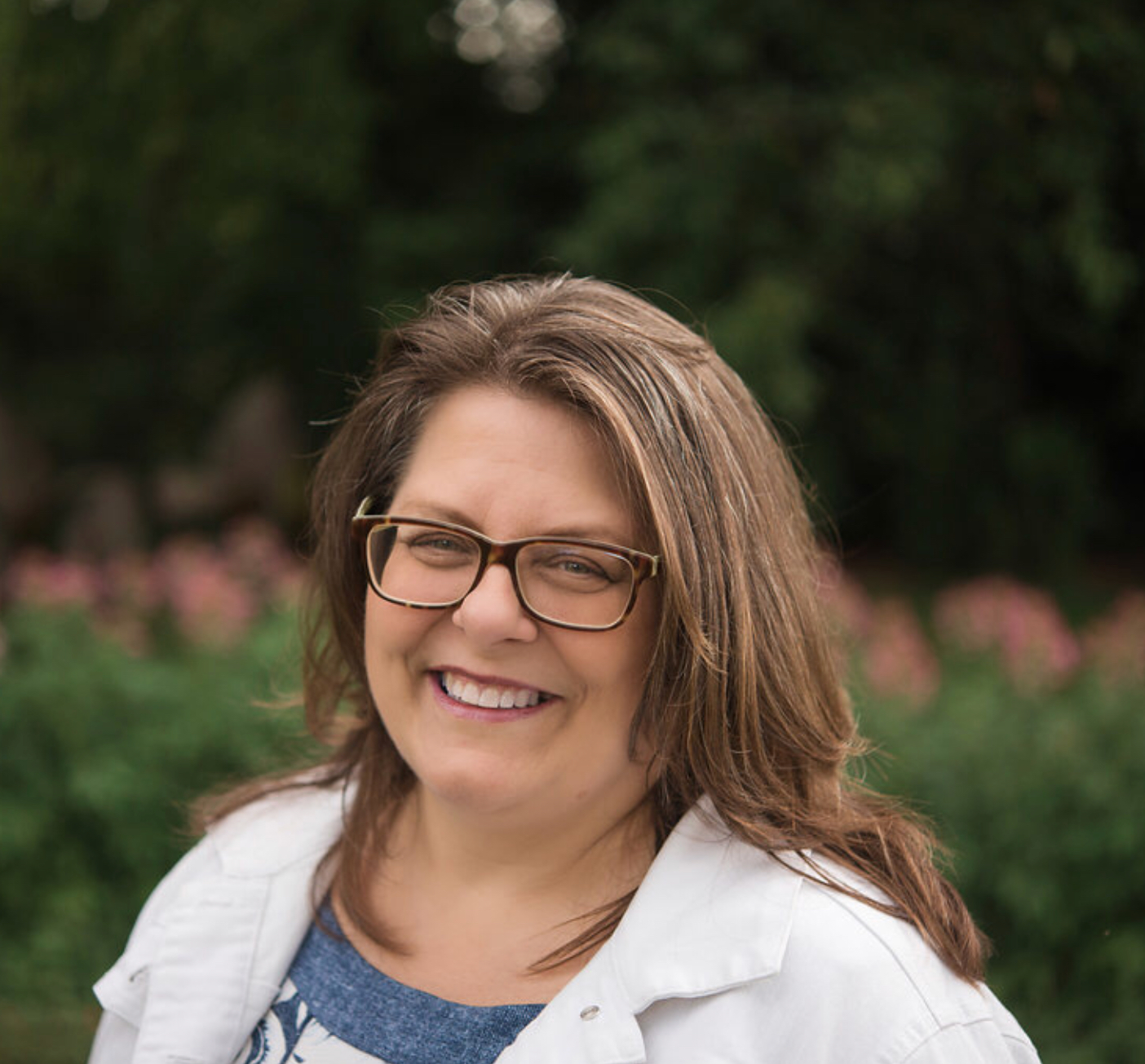 Homeschooling mom – 26 years and counting
Autism Mom
Movie reviewer/Travel blogger
Disney enthusiast