Memories are Made of This
Dolly Parton's Stampede Dinner Attraction
Stomp Your Feet, Clap Your Hands, and have a rip-roaring good time at Dolly Parton's Stampede Dinner Attraction…But before you visit The World's Most Visited Dinner Attraction, here is what you need to know.
Disclaimer: I was invited to a media event at Dolly Parton's Stampede Dinner Attraction, Branson, MO. All thoughts, opinions, and ideas are my own!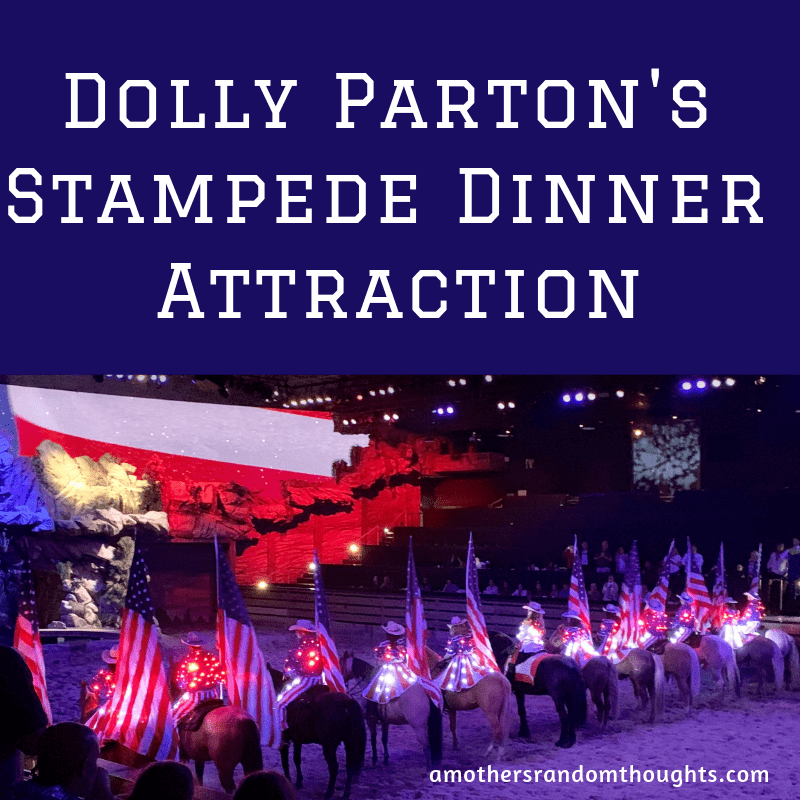 MEMORIES THAT MAKE A LASTING IMPRINT
From start to finish, Dolly Parton's Stampede Dinner Attraction will leave you with memories that last a lifetime. Think back to a moment that left an impression on you. It most likely wasn't a present. For me, it was a family trip I took with my parents and siblings. Those memories will forever stay with me. Parents often stress about getting the perfect present for their children. However, most children just want the gift of time spent with loved ones.
The memories created at Dolly Parton's Stampede will remain well after your kids are grown. When you gift your child an adventure at The Stampede this will dwell in their hearts forever. The memories of travel, family, and sharing experiences will outlast presents that are broken or discarded.
I had never visited the great city of Branson, Missouri, before my press trip. I honestly believed this was a "visit one-time" place. However, after spending a few days there, our family is already planning a trip back. The people, shows, and attractions are wholesome fun designed for a multi-generational experience. Branson appeals to all ages, and Dolly Parton's Stampede Dinner Attraction will delight your entire family.
WHEN YOU ARRIVE AT DOLLY PARTON'S STAMPEDE DINNER ATTRACTION
Be prepared to be wowed!!! Dolly Parton's Stampede Dinner Attraction has two locations: Branson, Missouri, and Pigeon Forge, Tennessee. Branson has been entertaining audiences for 25 years with high energy antics that will keep you mesmerized.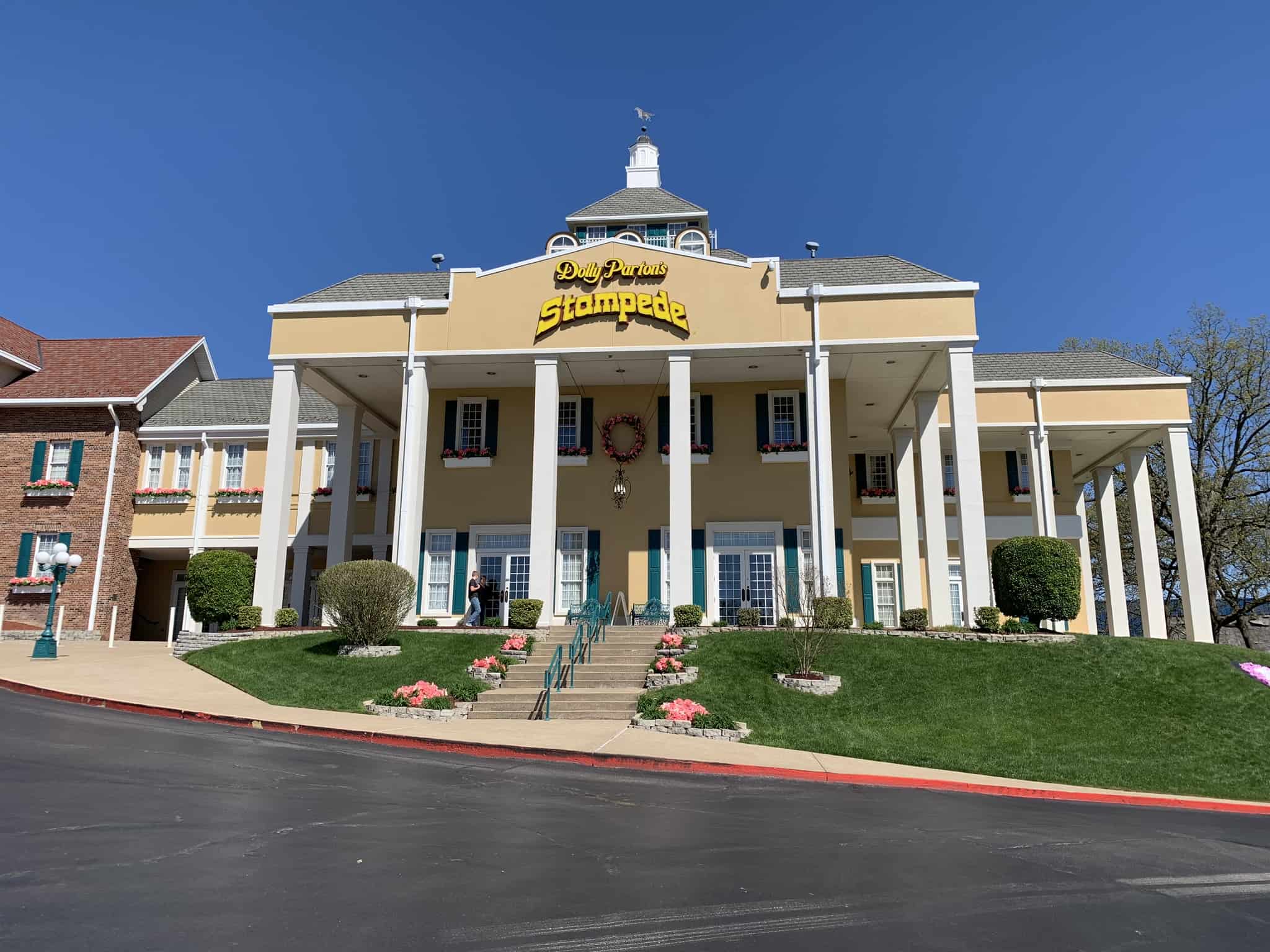 When you drive up to the spacious mansion that sits up on a hill overlooking the city of Branson, you have found southern hospitality at it's finest. After parking, as you stroll along the brick corridor of the World Famous Horse Walk, you are greeted by some of the gorgeous horses that perform in the show, and there are plenty of them in the Stampede. Say hello, take some photos, breath in deeply to make an imprint of the barn.
For me, the smell of horses takes me back to my childhood when I had my own horse. And what child can resist the majesty of a horse? 
When you enter the southern mansion, you will have your photo taken. I happened to encounter a true Southern Belle in the charming gift shop. Don't worry if you don't get to purchase items before the show; you will have an opportunity to get all your souvenirs afterward.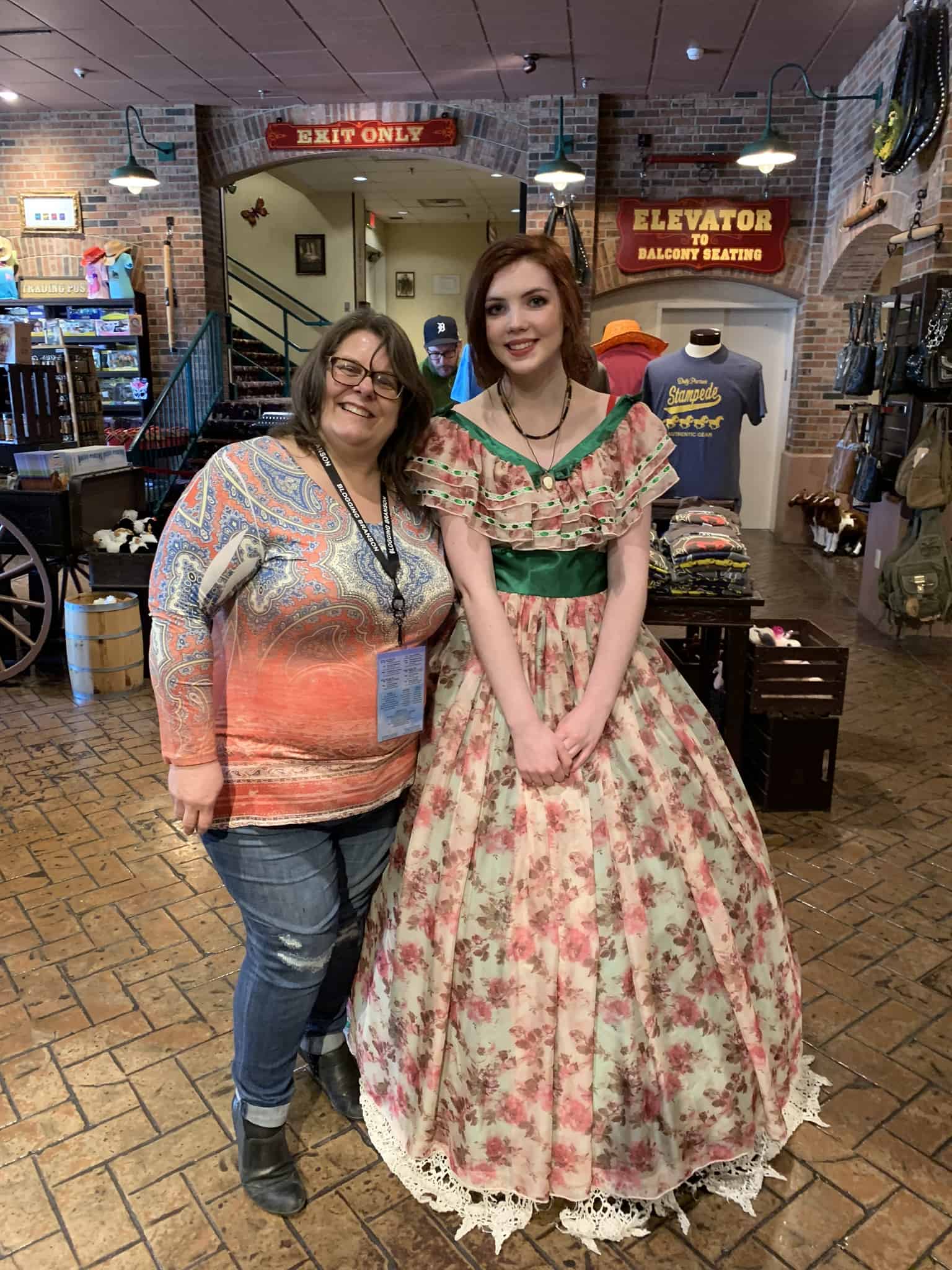 Pre-Show
The Pre-Show is held in the spacious Carriage Room. Purchase popcorn and a drink from a boot-shaped souvenir mug filled with tasty concoctions designed to whet your appetite for the dinner that is coming. Sit back, relax and be entertained by the White River Wranglers as they perform country, bluegrass and gospel music with plenty of humor mixed in.
DINNER and THE MAIN EVENT:
The stadium-style arena ensures that all the seats have a fabulous view of the show. While dining, guests are encouraged to eat with their hands, but there is an optional fork provided for those who want to be a little more refined.
The Menu
Come hungry. There is plenty of delicious tasting food available, and this food is served efficiently and fast! The Four-Course Feast includes all of the following:
Original Creamy Vegetable Soup
Hot Homemade Biscuit
Tender Whole Rotisserie Chicken
Hickory Smoked Barbecue Pork Loin
Buttered Corn on the Cob
Herb-Basted Potato
Apple Turnover
Coca-Cola, Tea (Hot or Cold), Coffee or Lemonade
Since I am gluten-free, I could not have the creamy vegetable soup, the biscuit or the turnover, but I did eat them once upon a time, and they were absolutely delectable.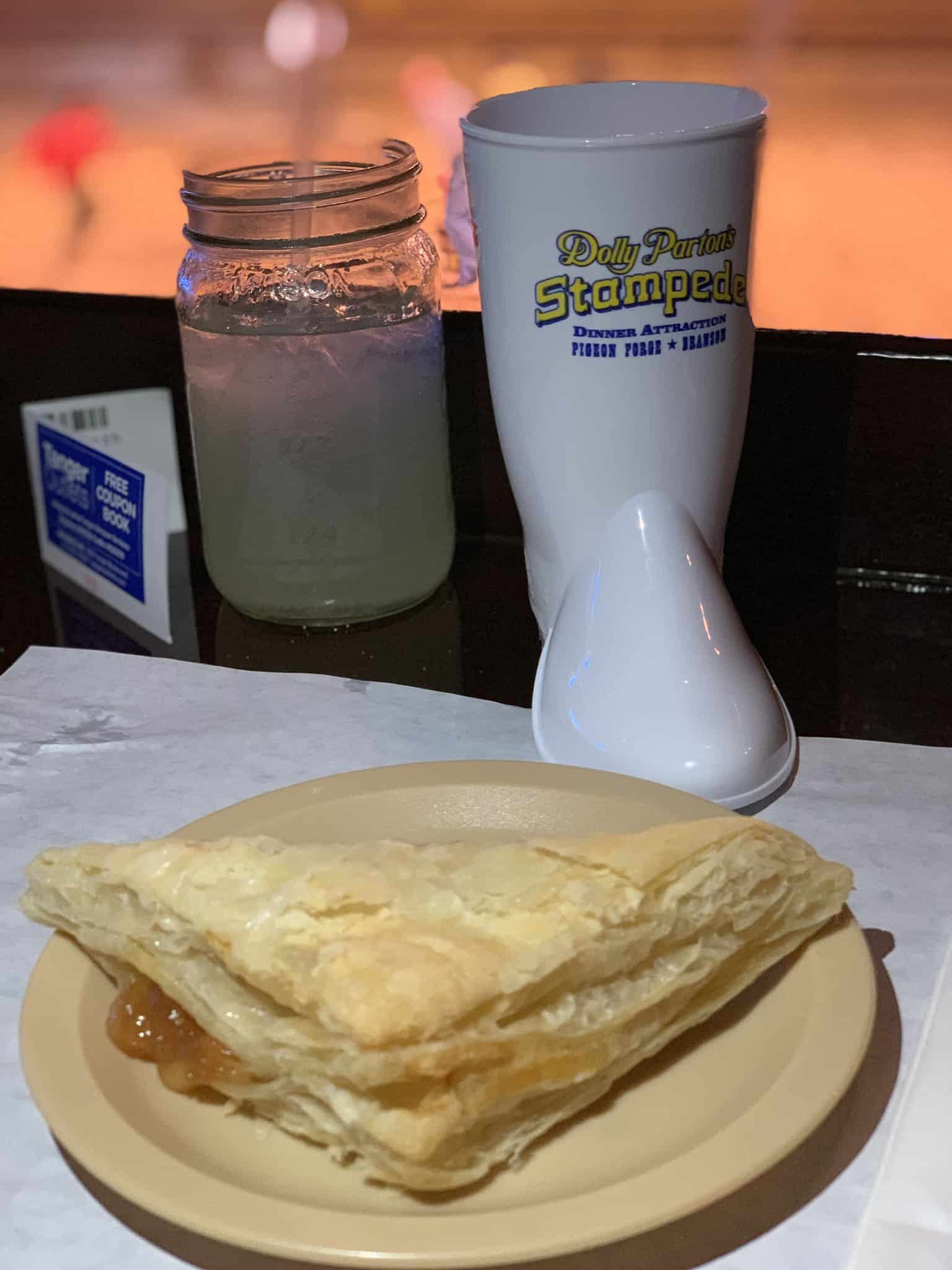 Gluten-Free Menu
Vegetarian, gluten-free and other allergy accommodations are available. Make sure to let Dolly Parton's Stampede know when making your reservation of any personal dietary considerations.
Most of the food that my husband ate, I got to eat too! There were only a few minor adjustments. Dining with my food allergy was very positive, and my fantastic meal consisted of the following:
Hot Mixed Vegetables
Whole Rotisserie Chicken
Hickory Smoked Barbecue Loin
Buttered Corn on the Cob
Herb-Basted Potato
Udi's Snickerdoodle Cookie – served warm
Unlimited Coca-Cola, Tea or Coffee
Our server told me to be prepared to love the Snickerdoodle cookie – and as much as I loved the apple turnovers in the past, the cookie was incredible!!!! Many times gluten-free items tend to be less than stellar, however, this cookie was soft, warm and OH SOOOO Tasty!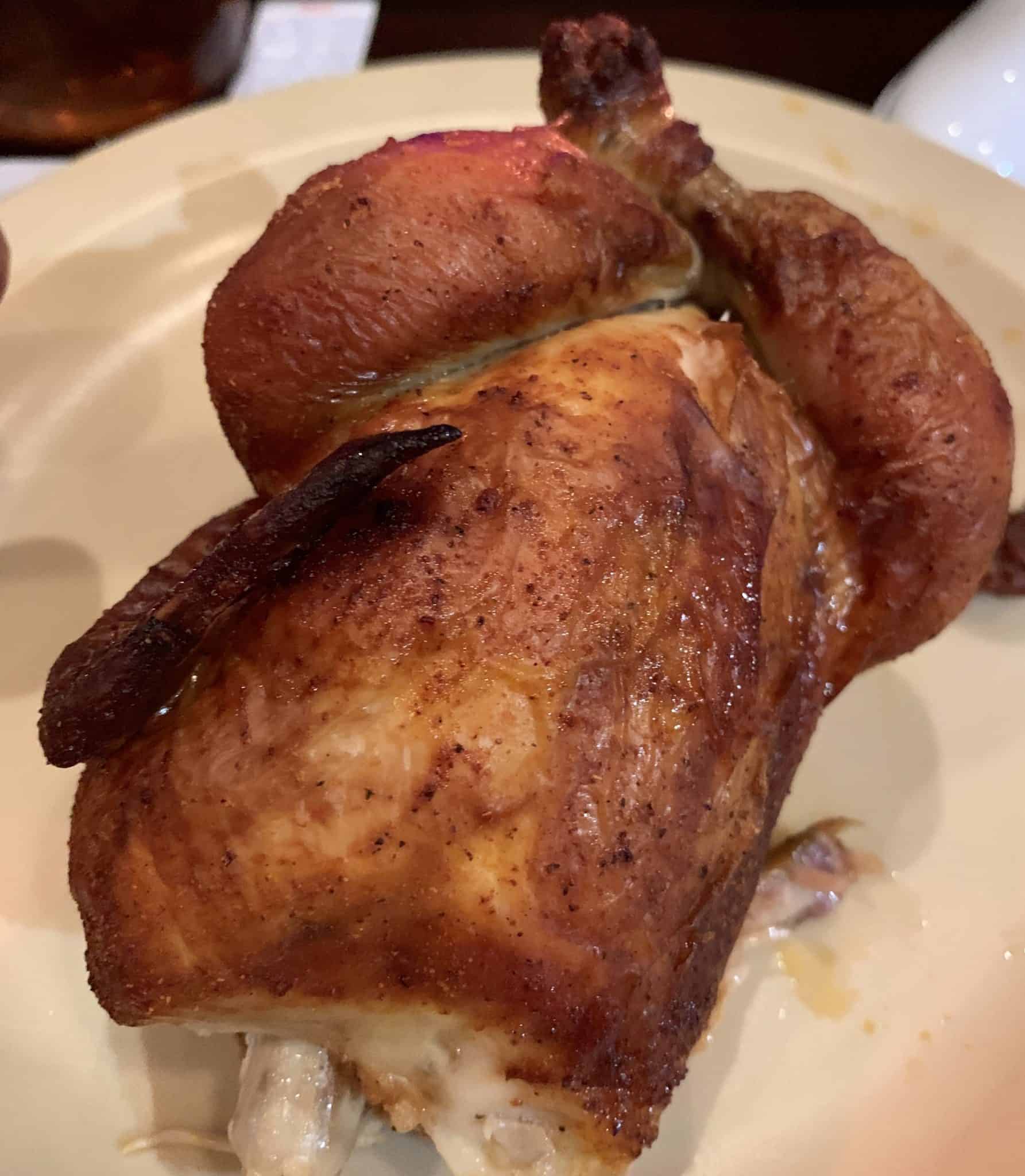 The Show
Entertaining and awesome! Audience participation is encouraged, and you may even get to be a part of the show as some guests are selected for games and activities in the arena. Speaking of arena – it is 35,000 square feet, and the performers (both human and animal) use every square foot of it in a spectacular show. The cast includes stunt riders, 32 horses, music and comedy, chickens, buffalo, and even dogs and pigs. The show is fast-paced, exciting, and lives up to the title of "Branson's Most Fun Place to Eat!"
Much of the show encompasses days gone by with "stampeding bison" and a "cattle drive" featuring longhorn steer. Additionally, you are treated to a wagon train of settlers and Native Tales of the Thunderbird which is an overhead aerial act. This act involves neon paint and blacklight which makes for a stunning display.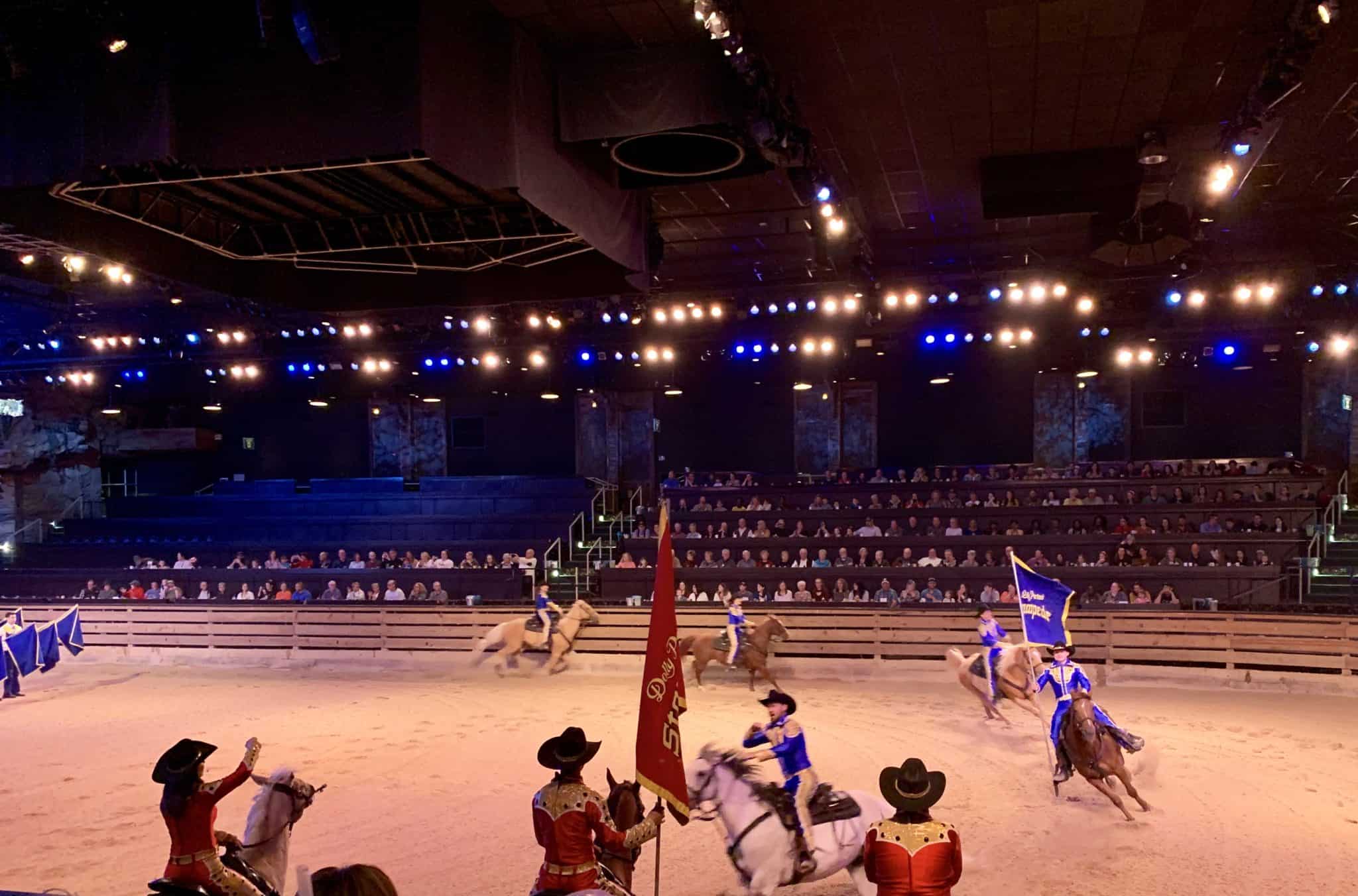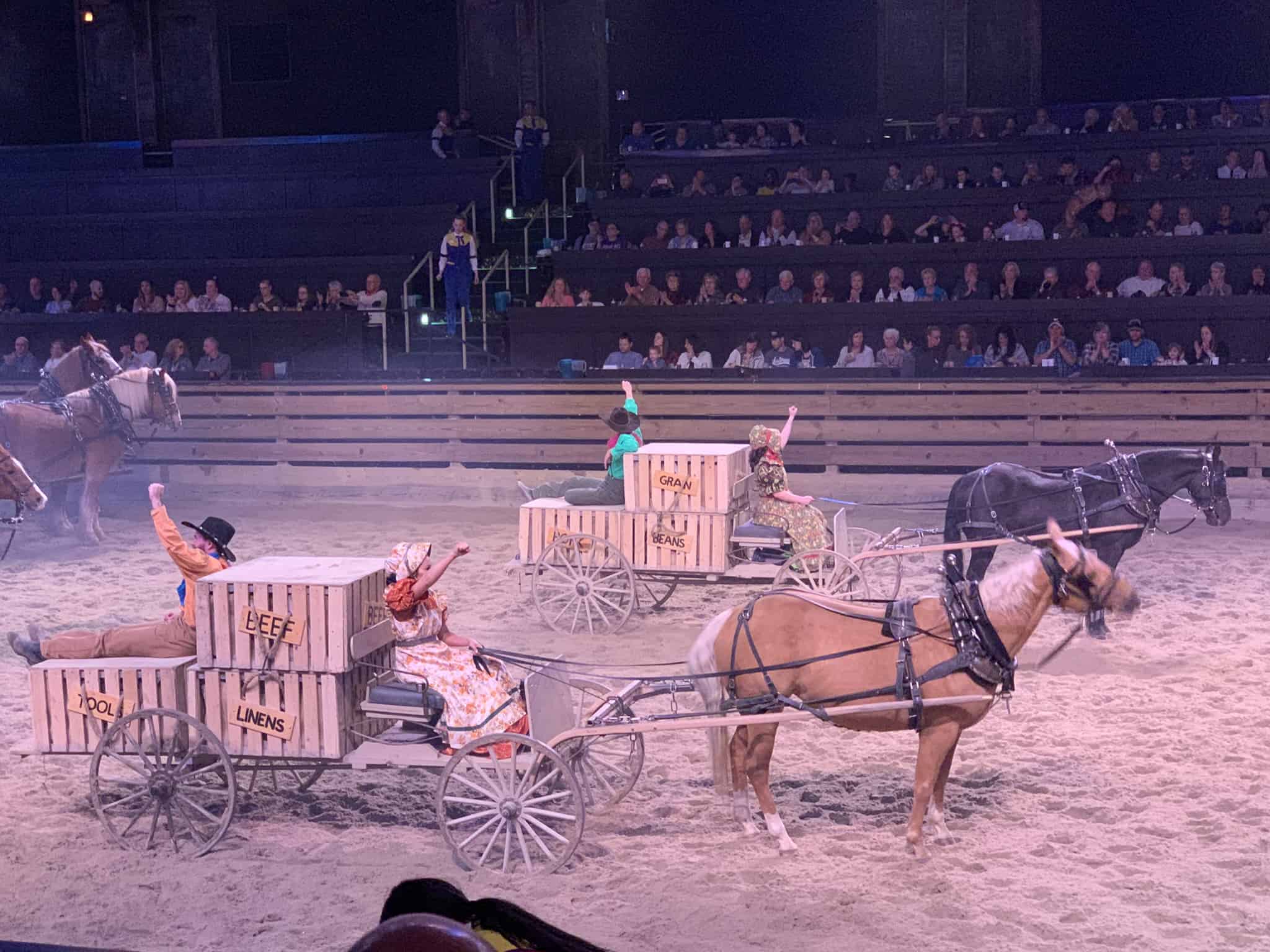 My Favorite Part of the Show
There are so many entertaining segments, but my hands-down favorite part of the show is the finale when the horses and riders come out arrayed in red, white and blue, and carrying our American Flags. As a child, I didn't understand the significance of this, but as I have aged, this proud display of American Spirit always brings tears to my eyes. And knowing that others value and love our country as much as I do makes me proud to be in their company. 
What you may want to know as a parent with a child on the autism spectrum
As a mom with a child on the autism spectrum, I always try to mention items that you may want to know. However, I believe in the power of travel and experiences to help our children on the spectrum. I write often about the importance of traveling with autism. While you may encounter some obstacles, planning ahead for those helps tremendously. Before attending Dolly Parton's Stampede, be aware of the following:
The show does have:
Loud noises

Dramatic Lighting

Fireworks on a screen

Fire inside the ring

Smells associated with horses and barns

Stomping and clapping 

Smoke
You may want to consider bringing noise cancelling headphones. Don't let the noise or visuals stop you from going.
At one point in the show, you will be asked to pass a flag from one end to the other. You are to take the flag, stand up and salute, and then pass the flag. The flag can be passed over your child if needed.
TIPS
When making your reservations, please mention any dietary or physical needs or accommodations you may have. The staff will be happy to provide you with assistance in making your time at Dolly Parton's Stampede Dinner Attraction an outstanding experience!
Don't forget to check out the restrooms. The attention to detail is amazing throughout the property, including the bathrooms.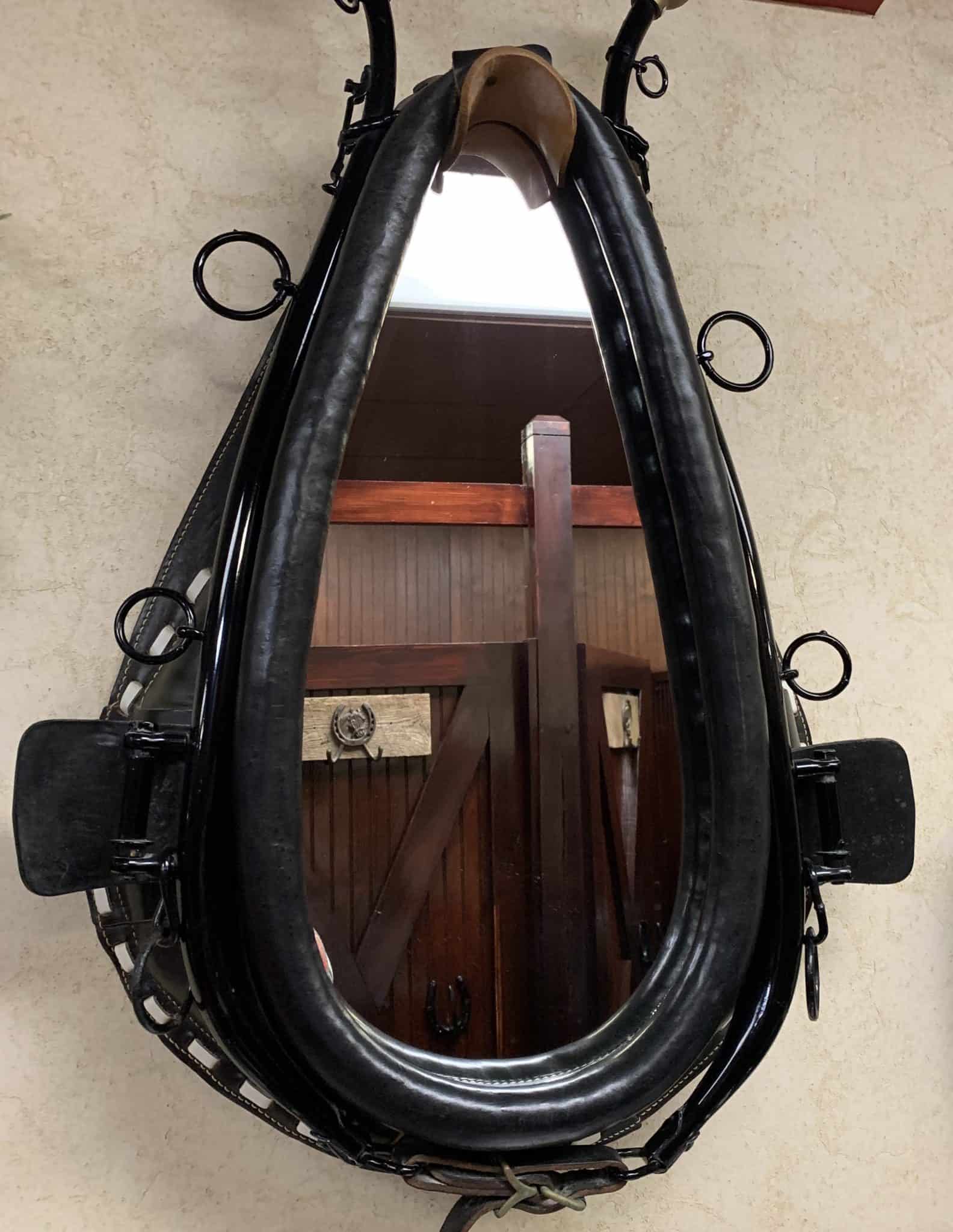 Make sure to arrive early – spending time in the barns, capturing photographs and watching the pre-show which begins 50 minutes before the Main Event. Your ticket price includes pre-show, the main show, and your dinner.
Don't forget to bring your spirit with you. Participation in cheering for the north or south isn't mandatory, but you will enhance your experience (and your child's) by bringing your enthusiasm with you! Be prepared to take home memories that will last a lifetime!
LOCATION and TICKETS
Dolly Parton's Stampede Dinner Attraction
Phone: (800) 520-5544
Email: [email protected]
Group sales and Special Events are available: Contact (800) 520-2101 or email Ronda Shannon at [email protected] for more information.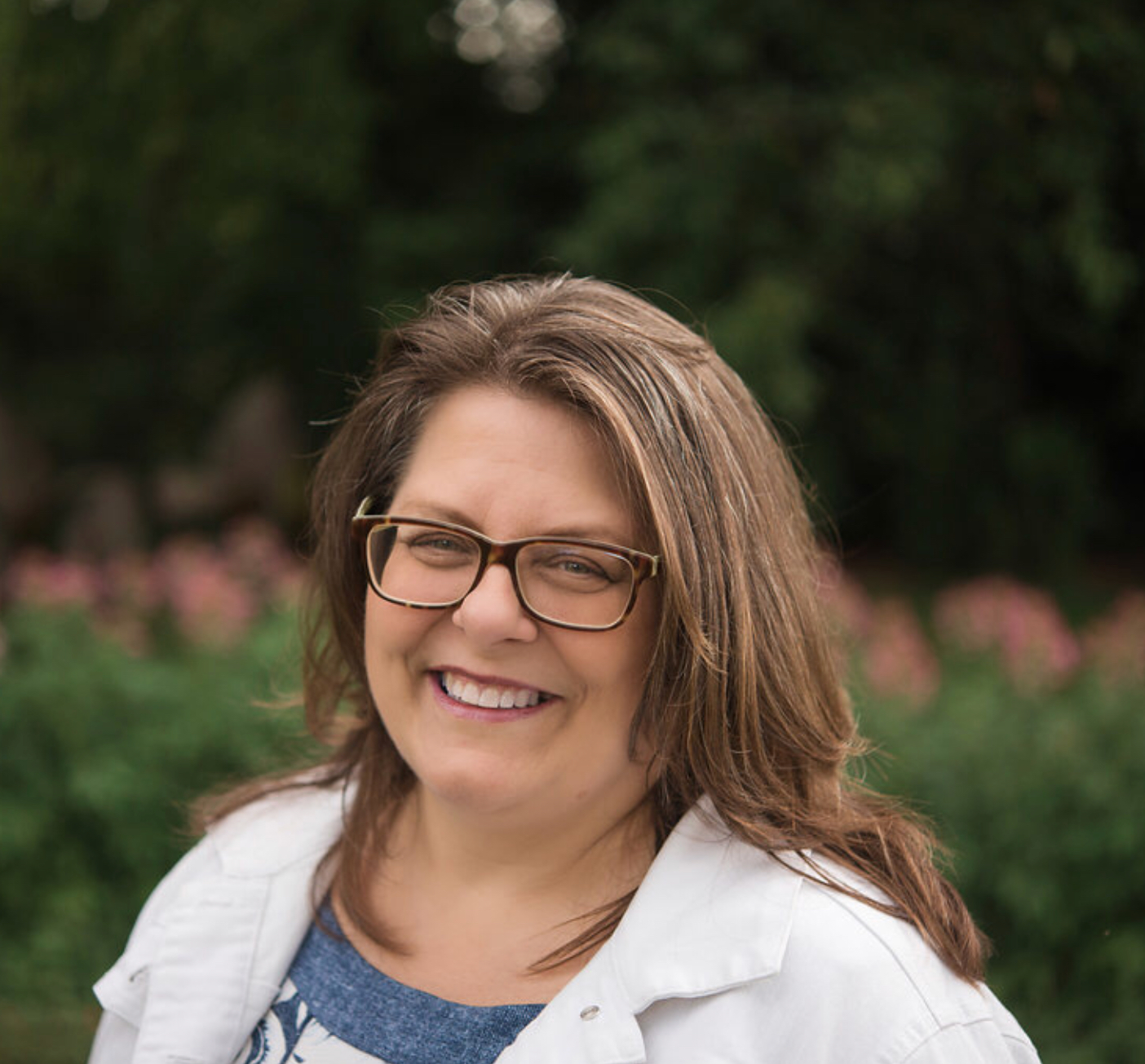 Homeschooling mom – 26 years and counting
Autism Mom
Movie reviewer/Travel blogger
Disney enthusiast