DIY: Make Your Own Toy Story 4 Craft Forky
Toy Story 4 introduces a whole new line of characters to the iconic storyline. One of those characters is Forky. Bonnie makes the Toy Story 4 Craft Forky at kindergarten and brings him home. He becomes her new favorite toy. And Woody understands how much her favorite toy means to her. He is willing to sacrifice everything to ensure Bonnie's happiness. However, with a new toy from Toy Story comes the scrambling to get my son those that we know he loves to play with. We have already been on the hunt for a white spork locally, but he decided to "settle" for a Taco Bell spork. Meanwhile, I ordered white sporks. Below is: DIY Forky tutorial to make your own. And while your children wait to make Forky, download Toy Story 4 Activity and Coloring Sheets!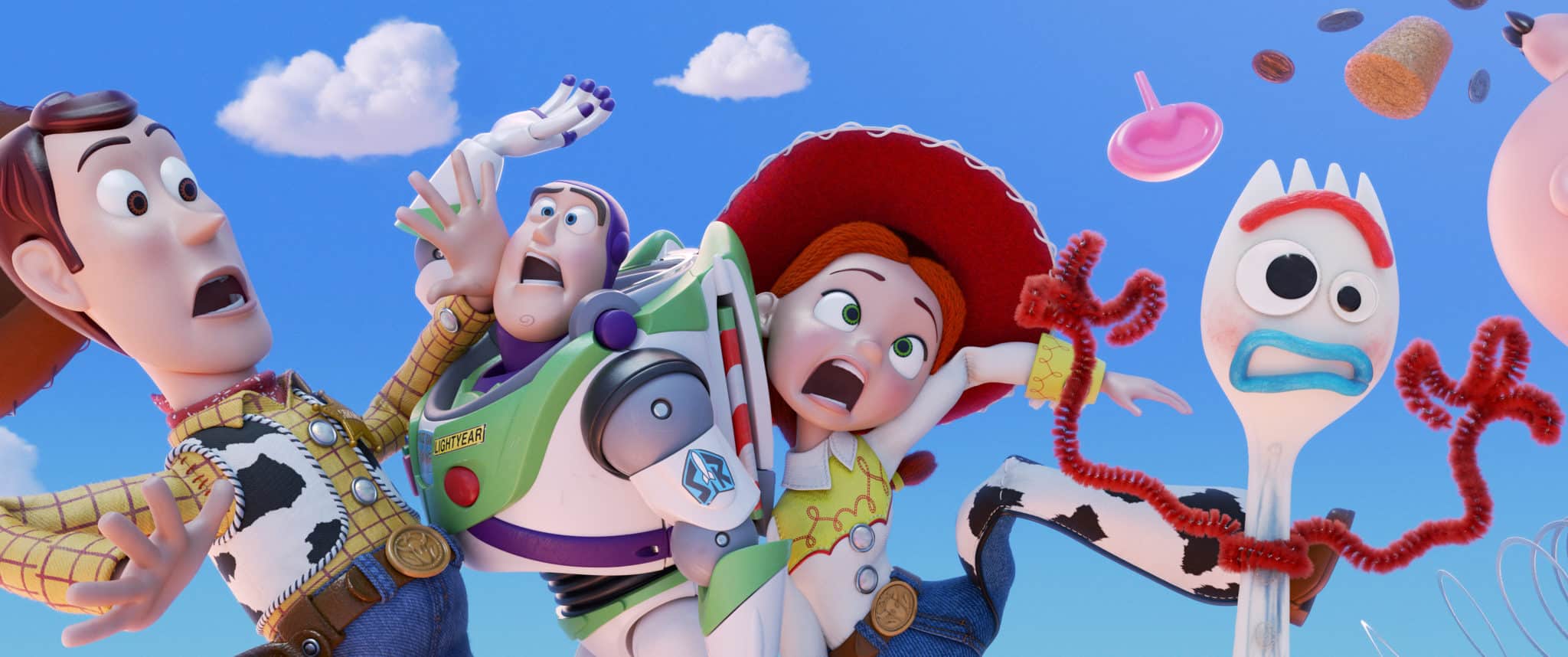 To keep receiving more awesome craft ideas, Subscribe to our newsletter.

THE SEARCH FOR THE TRUE FORKY:
We searched high and low for a white spork, but I finally broke down and ordered them off of Amazon. And then Jack-Jack determined he didn't want to wait the 2 days to get the sporks, so we made one using a Taco Bell Spork. In fact, we made more when we got our Amazon order. We also made one with a spoon.
However, don't get hung up on what Forky looks like, but let your child create what they want. This fun Toy Story craft is designed to be special and unique.
Additionally, make sure to have enough extra pieces that they can make their own creations. Jack-Jack is a Disney toy purist and wants everything to look EXACTLY like it does in the movie, so we made Forky to exact movie specifications! Jack-Jack absolutely loves Pixar movies and Toy Story is his #1 Favorite!
Watch the Toy Story 4 Trailer:
This post does contain affiliate links. As an Amazon Affiliate, I do earn from qualifying purchases.
TOY STORY CRAFT: FORKY
Steps to Make Forky – DIY Forky and Friends
SUPPLY LIST:
Assemble the needed materials:

 
White Spork (or settle like we did and get a Taco Bell one).
Tongue Depressor or Craft Sticks
Red pipe cleaner for the arms
Plasticine – blue and white
Red yarn – I used white for Forky's eyebrows
2 different sizes of googly eyes
White Tacky Glue
Green Marker to write Bonnie's name
Rainbow sticker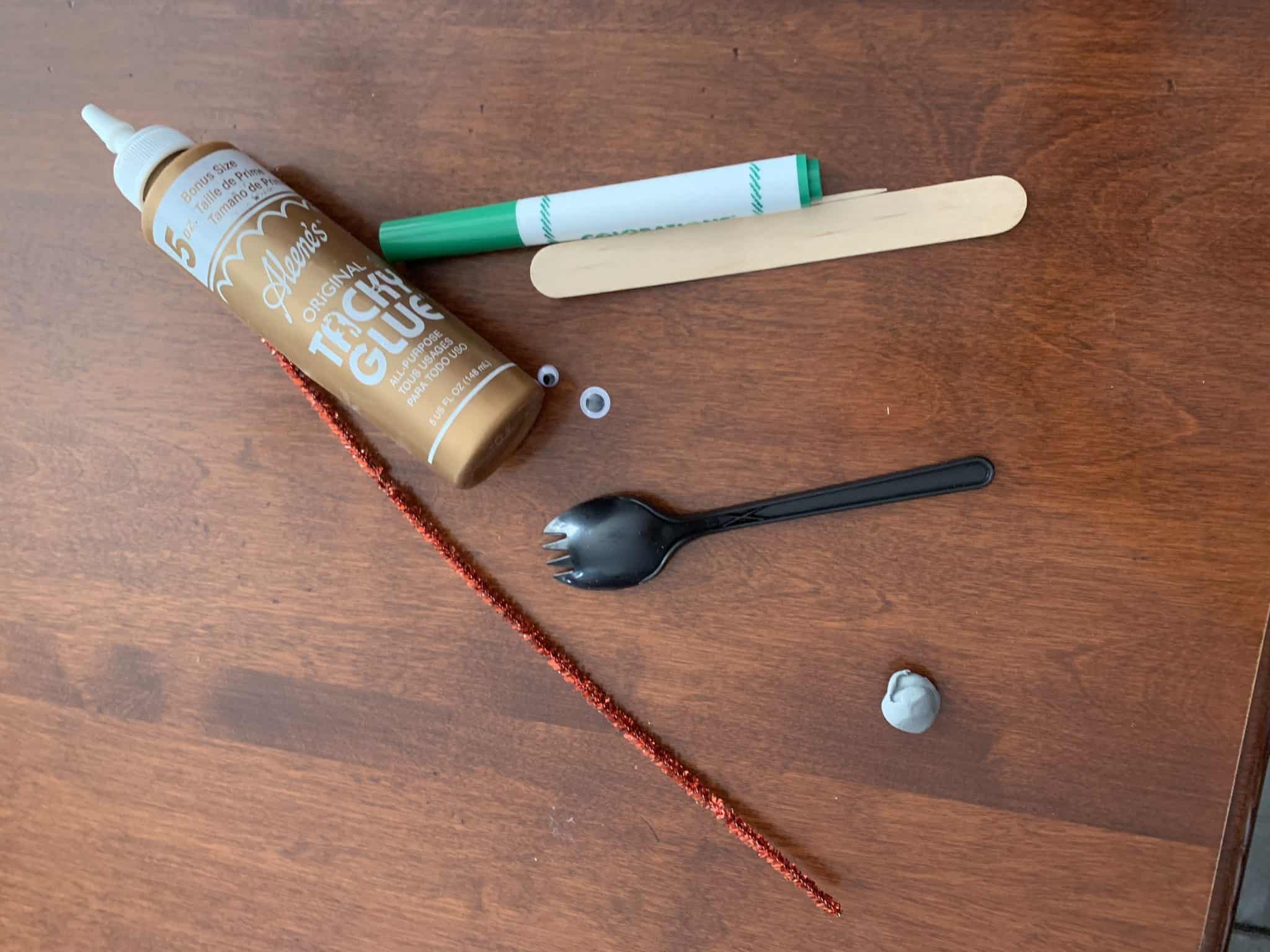 Forky Tutorial: Make Your Own Toy Story 4 Toy
First, on one side of the tongue depressor write the name "Bonnie" or have your child write their name in green marker.

Snap the tongue depressor in half. These are the feet.

Attach the two googly eyes to the backside of the spork, below the tines using the white glue. I use a toothpick to spread the glue.

Place the center of the pipe cleaner underneath Forky and cross each side over the front and around the back again making each arm wrap around the fork 1 time. Pull tight.

Arrange the ends of the pipe cleaner into fingerlike projections.

Next, using plasticine (clay), fashion Forky's mouth. Glue the mouth on. However, if you want your child to be able to move it, consider just pressing it in place.

 

Then using yarn make an eyebrow.

Set the feet (the tongue depressor sections) next to each other. Place a mound of plasticine on the two sections near the snapped ends.

 

Finally, insert the bottom of the spork or fork/spoon into the plasticine and push it up around it. Add a sticker to one of the feet. It appears there is a rainbow stick

er.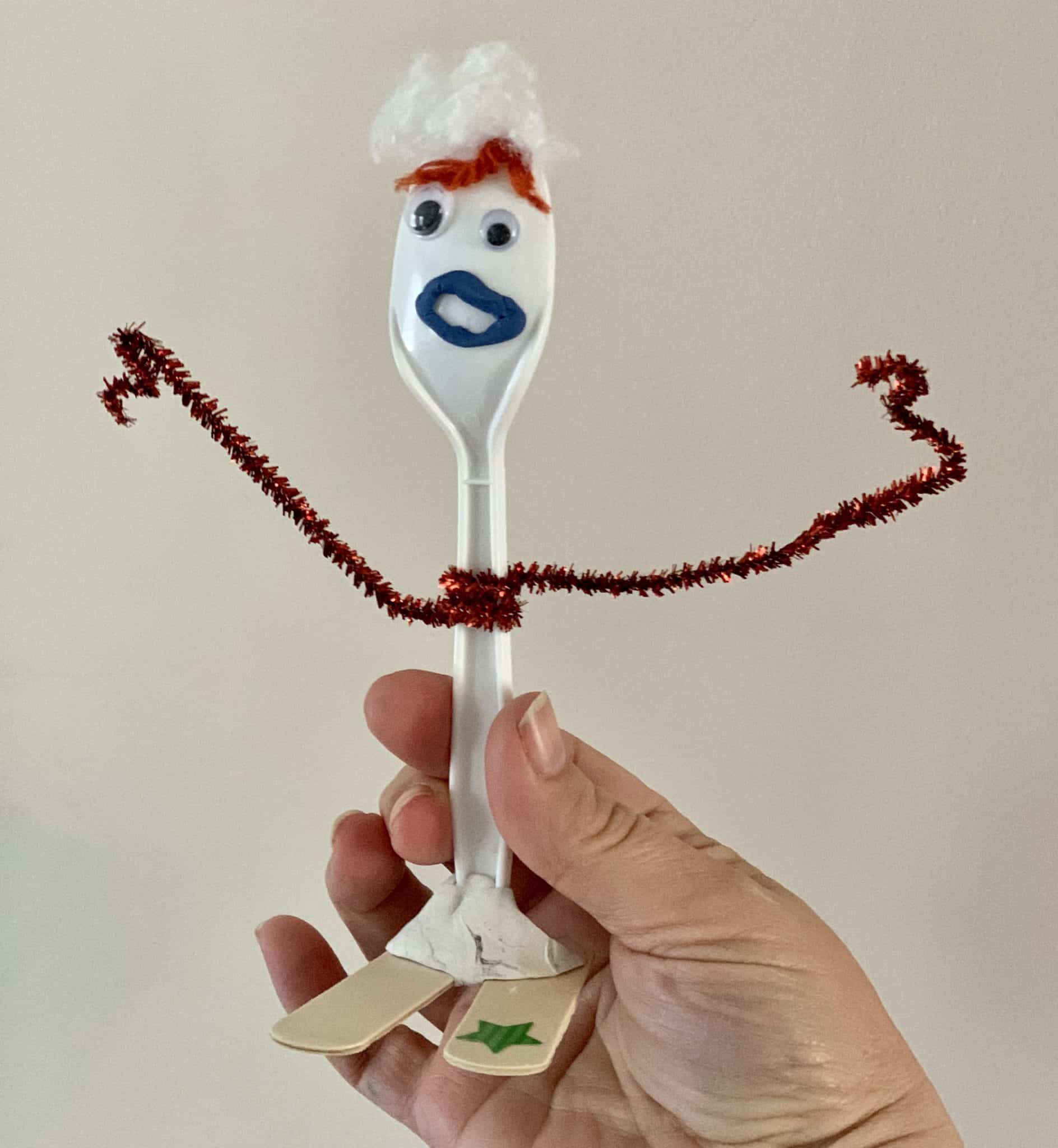 VIOLA! Those are the simple steps to make your own homemade Forky as seen in the movie. You now have Forky (or any other name you would like to give your character).
This makes a great craft activity for a Toy Story themed birthday party, and is quite easy for even little hands to make.
ADDITIONAL TIPS FOR MAKING FORKY:
Don't have a white spork? Get a black one at Taco Bell!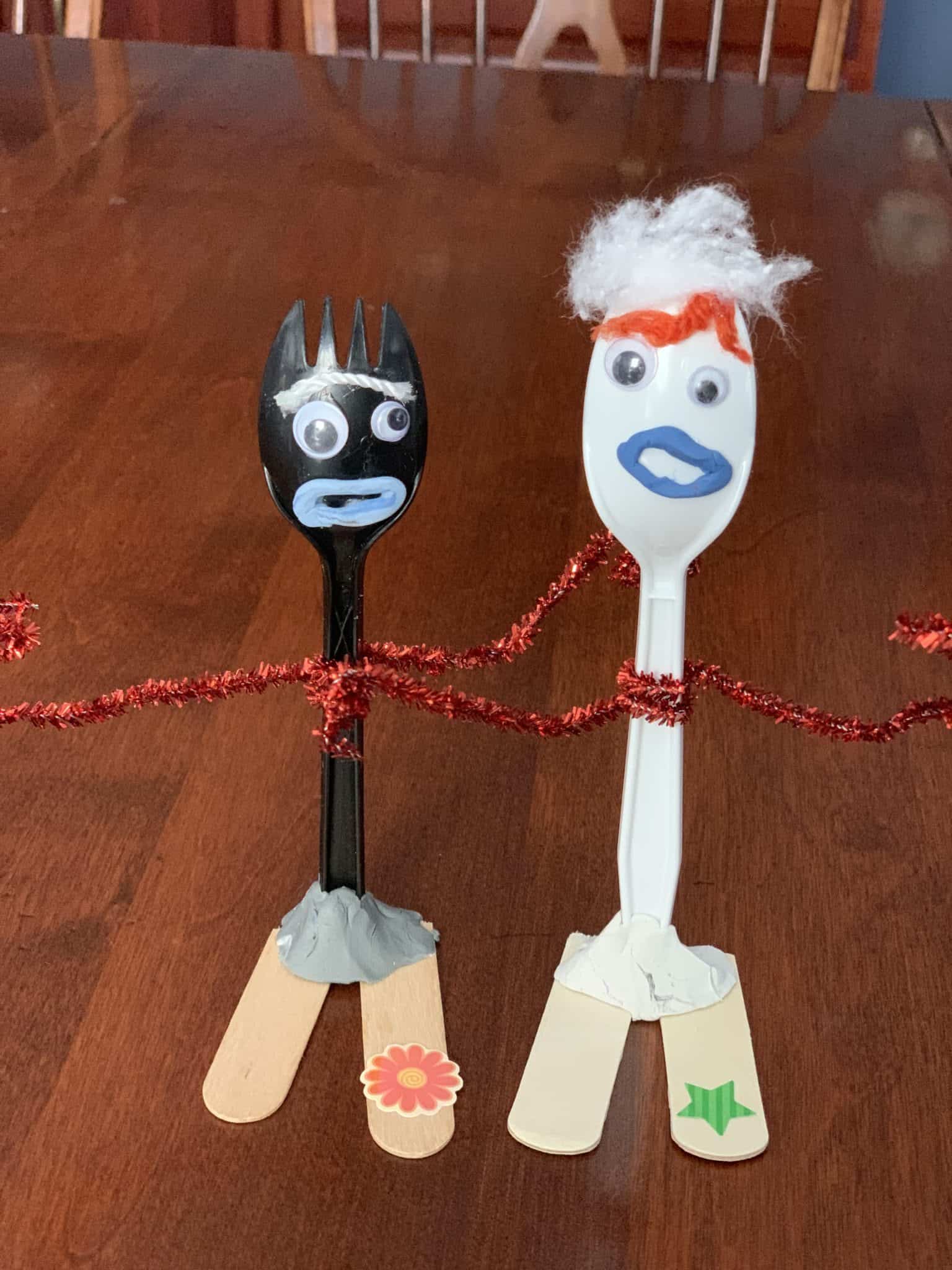 Don't have a spork? Use a spoon and attach a little bit of cotton ball on the head.
Don't have a spoon? You could use a plastic fork, but there is less surface area to make a face.
Don't have a fork? Look, I am not a miracle worker here! I suppose you could use a plastic knife if you wanted to! And in fact, Knifey sounds like a delightful character to create.
Get creative and make an entire family of plastic utensils each with their own personalities. I hope you enjoy making Forky and his friends! Get your Toy Story 4 Coloring and Activity Sheets too!
And after making forky, make sure to watch all the Toy Story Movies!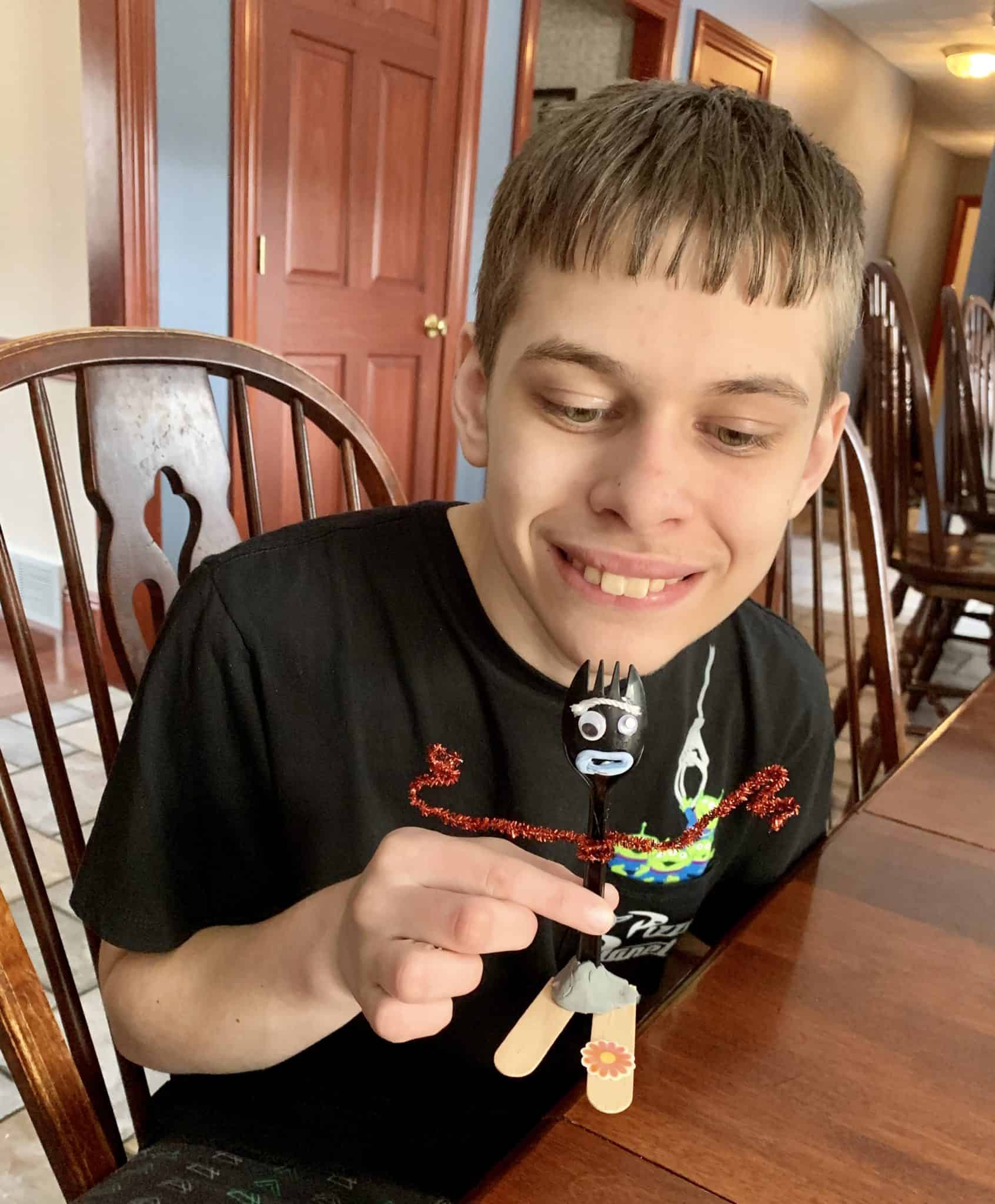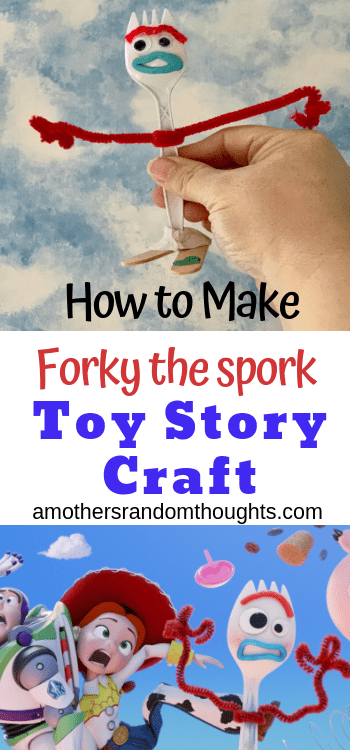 More Toy Story and Disney Ideas:
Have You Ever been Disneybounding: Make these Toy Story Forky Shoes
Toy Story 4 Movie Review – Everything You Need to Know
SUBSTITUTIONS FOR PRODUCTS with THINGS YOU HAVE AROUND THE HOUSE:
What if you don't have or can't find some of the supplies. There are things you can substitute.
White Plastic Spork – Another color spork, or a plastic fork, spoon, or knife
Tongue depressor or craft sticks – wooden popsicle stick.
Red pipe cleaner for the arms – other color pipe cleaners or Wikki Stix
Plasticine – air dry clay, homemade clay, blue and white modeling clay, or Play-doh. However, Play-doh dries and cracks. Small blue rubber bands for the mouth.
Red yarn – I used white for the eyebrows. Wikki Stix, clay, red paint
2 different size googly eyes – black magic marker, stickers
White Tacky Glue – hot glue gun and glue sticks. However, I would not recommend this for small children.
Green Marker to write Bonnie's name – your child's favorite color marker
Rainbow sticker – your child's favorite item in a sticker
MAKING OTHER DISNEY PIXAR TOY STORY TOYS
Now that you have made Forky, try making other favorite characters and complete your Toy Story family. Bo Peep out of felt. Mr. Potato Head (or Mrs. Potato Head) out of foam. Woody and Buzz can be made this way too. Slinky Dog can be made out of a Slinky and foam or felt.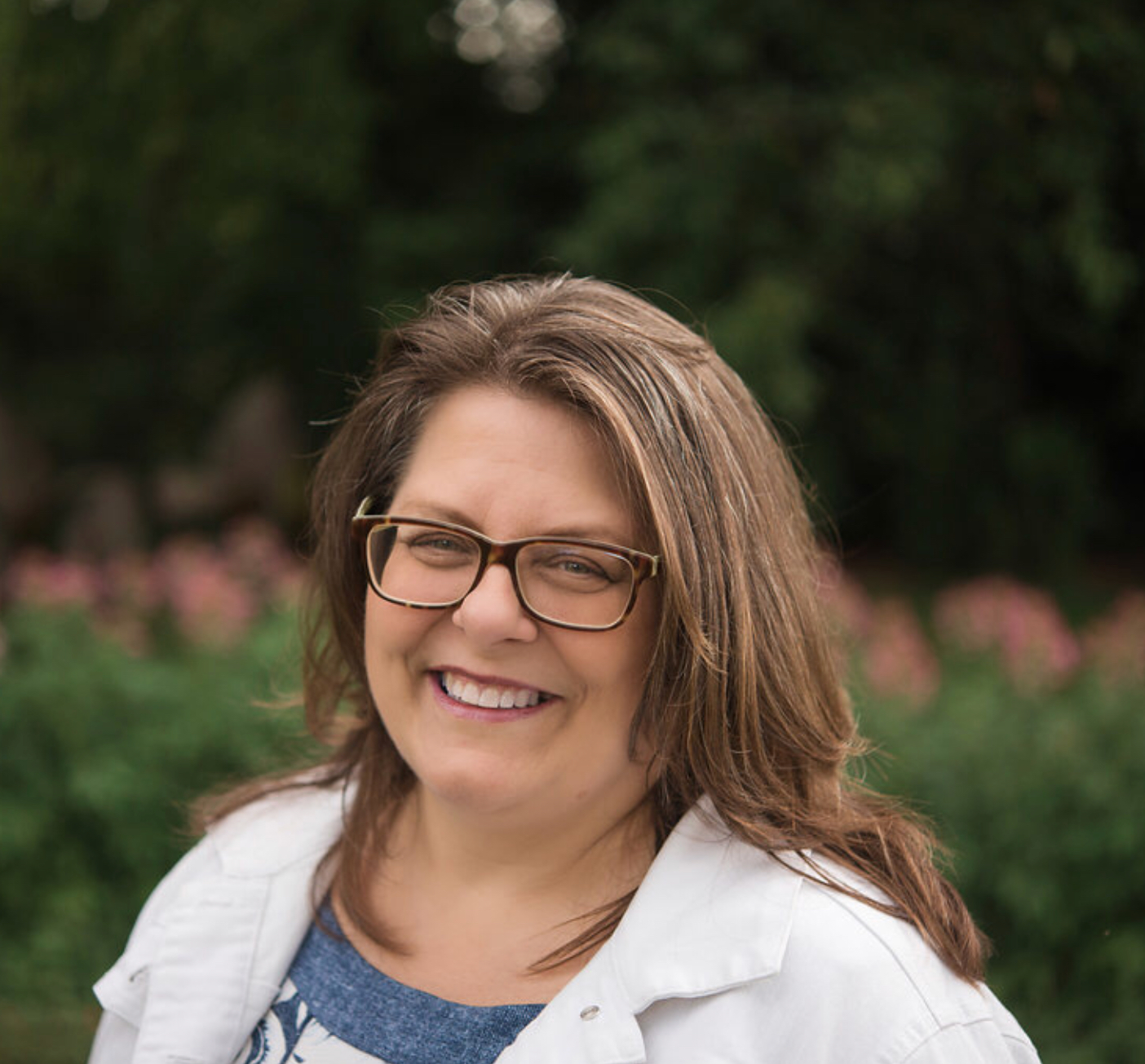 Homeschooling mom – 26 years and counting
Autism Mom
Movie reviewer/Travel blogger
Disney enthusiast