Make At Home – There won't be leftovers
A few years ago, I subscribed to a meal plan where I got to choose three meals a week, and all the ingredients were sent to me. The only problem was that I needed to be gluten-free; many of their items weren't. I would get those meals and have my husband and son make them when I wasn't home. One week I selected a Korean Beef Bulgogi recipe. However, I knew it wasn't gluten-free.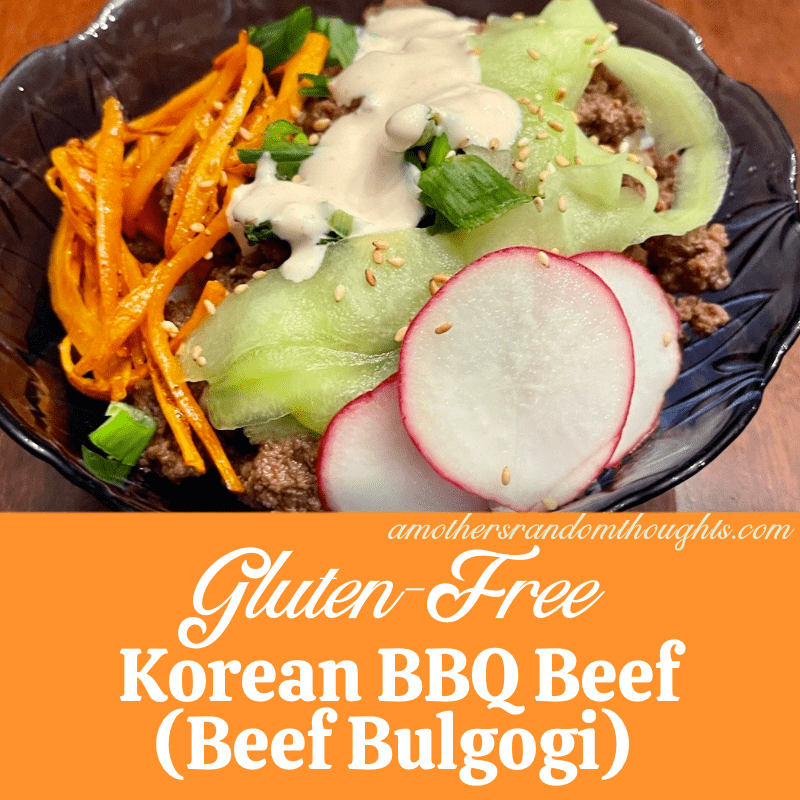 My solution proved to be great for the whole family all around. If they found a meal that they enjoyed, I would then engineer it so we could make a gluten-free recipe. On the week that I the Korean Beef Bulgogi, I had an evening meeting. My husband and son made dinner. When I came home, they were raving about dinner.
The closest thing we ever had to Korean food was at the Yak & Yeti at Disney's Animal Kingdom. My family had never made Korean food before that evening. And they were hooked. However, I had never made a traditional Korean dish before. So, learning how to make this (and other dishes) was an adventure.
I set out to make the best gluten-free Korean Beef Bulgogi Recipe. In addition to the regular soy sauce having gluten, there was also the problem with the bulgogi beef sauce having gluten also. I found two recipes online that I tried. One I liked, and the other I sort of liked. Using the best parts of both, I created my own Bulgogi sauce.
The only other problem with making a Bulgogi sauce is that I cannot marinate the meat beforehand since my youngest son (who is autistic) does not like sauces or marinades on anything. We usually cook the meat and add sauce only after removing his food. The best part of cooking this way is that it doesn't require additional pans or bowls.
This family-friendly dinner can be adapted easily. If a family member doesn't like one of my chosen vegetables, substitute another one. Another ingredient to try is bok choy.
INGREDIENTS for the Very Best Gluten Free Beef Bulgogi
While traditional beef bulgogi is made with thinly sliced cuts of meat such as sirloin or ribeye, it can also be made with round or cube steak. However, we prefer ground beef for our Very Best gluten-free Korean Beef Bulgogi. The best way to make yummy ground beef bulgogi is to experiment with your favorite flavors.
To make the recipe truly gluten-free, I use Tamari Soy Sauce.
The other ingredient that I use is Gochujang. Many brands of Gochujang have gluten. I have selected this specific brand because I like the results, and it is gluten-free.
Frequently asked Questions:
What is beef bulgogi?
Many people call bulgogi Korean BBQ beef. Bulgogi means "fire meat" and is made of marinated thin slices of meat, usually beef. While many people use expensive cuts of beef such as sirloin or ribeye, others use cheaper cuts such as round steak and marinate it to produce a tender dish. These Korean beef bowls are a great meal for the entire family.
In fact, making a Korean Beef Bowl can be a work of art.
Can I make this recipe without Soy Sauce?
Yes. Just substitute coconut aminos.
Can I make this recipe without all the rice?
Yes, you can take the same ingredients and make lettuce wraps instead of piling it on a bed of rice. This will eliminate the rice. You can also make lettuce wraps with a little rice if you prefer some rice but not all of them. Additionally, you can also use cauliflower rice to reduce the amount of carbs.
How can I make healthy beef bulgogi?
One of the best ways to make this healthier is to use lean ground beef. Additionally, using lettuce wraps instead of putting the beef on top of the rice will make this recipe healthier. Consider swapping brown rice for white rice and using a low-sodium soy sauce.
Following a keto diet, you will want to avoid rice, pears, and sugars for a lower-carb option. Instead of putting the sauce in the meat, sprinkle some of the Bulgogi Sauce on your bowl. This will greatly reduce the number of carbs and sugars.
If you want to make healthy foods, use more vegetables and less meat. Consider very thin slices of beef.
If you are on any weight loss plan, avoid the sour cream on the top to reduce calories.
This is a great recipe to make when you have company. I love giving my guests unusual foods they won't get often. Your guests will be raving about the delicious food you served them.
How should I store leftovers?
Use an airtight container for any leftover beef and sauce. I store the veggies in plastic bags in the crisper.
What if I don't have sesame oil?
If you have sesame seeds, you can combine the sesame seeds with a light oil such as light olive oil or avocado oil. If you don't have sesame seeds, you can use olive oil.
What if I don't have pears?
While I prefer the taste of pears in the bulgogi sauce, you can substitute apples or applesauce in the Bulgogi sauce.
I don't like spicy food. Can I make it with the spiciness?
Yes, absolutely. If you don't want the spice, do not add Siracha sauce to the sour cream, and use 1/2 the gochujang.
I made this recipe, and it wasn't spicy enough?
Simply add Siracha or red pepper flakes to the beef. Additionally, you can purchase a spicier Gochujang paste.
Is there a correct way to build the rice bowls?
No. I prefer my rice on the bottom with the beef (and sauce) on top of the rice. Then I add the broccoli, carrots, green onions, radishes, and sesame seeds. Finally, I drizzle the sour cream/Siracha sauce over the top.
How can I reduce the time to make this recipe?
I do not mince my garlic. I also don't cut up the items for the marinade in tiny pieces. Furthermore, I stick the peeled and sliced pears and quartered onion in my Ninja blender and let it do the work. You can also use your food processor.
Furthermore, if you meal prep for the week, you can cut all your vegetables ahead of time or buy pre-cut veggies.
What are all the ingredients you use to make this recipe?
I used 2 lbs. ground beef, flank steak, or sirloin steak
3 stalks green onions
sesame oil
sesame seeds
Sushi Rice or Jasmine Rice (your favorite white rice)
2 carrots
1 cucumber
white vinegar or apple cider vinegar
sugar
radishes
broccoli
Marinade Ingredients (Korean BBQ Sauce)
medium onion
Gluten Free soy sauce
brown sugar
Pears – I prefer red (Asian pear) or brown pears. Yellow or green pears are not the right consistency or taste.
Rice Wine – Mirin
fresh ginger
garlic
Gochujang Sauce
Some people will use sesame oil in their sauce, but I prefer adding it to the beef while it cooks.
Sour Cream Drizzle
sour cream
Siracha
What is Gochujang?
It is a sweet, salty, and spicy Korean red chili pepper paste. This chili paste makes this recipe!
What other dishes can you make with Beef Bulgogi?
Make Korean-inspired tacos. Bulgogi tacos can be made with a soft shell.
Serve over noodles for gluten-free bulgogi pasta.
Add the toppings to baked potatoes.
Can I use this sauce over other meats?
Absolutely. You can make pork bulgogi or chicken bulgogi. We have had chicken before, but I have not tried pork. I think that a pulled port bulgogi would be fantastic. Add a fried egg to the top, and some Kimchi, and you have a fantastic meal!
Can I make this dairy free?
Yes. Just eliminate the sour cream drizzle over the top for a true dairy-free meal.
More great gluten-free recipes can be found here!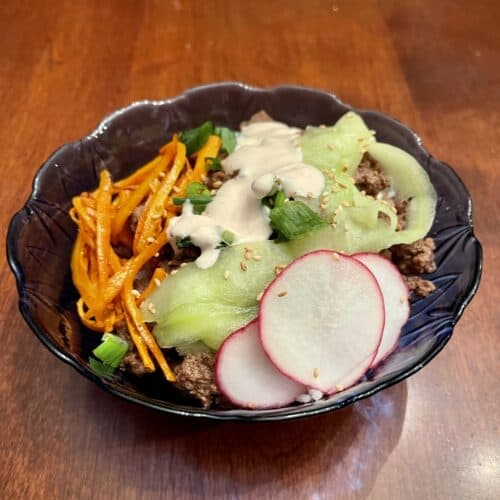 Very Best Gluten Free Beef Bulgogi
This tasty Korean BBQ Beef Recipe will delight your senses
Ingredients
Ground Beef & Rice
2

lbs.

ground beef

1

Tbsp

olive oil

1

Tbsp

sesame oil

2

cups

Rice
Carrots
2

Large

Carrots

Matchstick cut

1

tbsp

sesame oil
Cucumbers
1

large

cucumber

1

tbsp

sugar

2

tbsp

white vinegar or apple cider vinegar
Radishes, Broccoli, Green Onions
10

radishes

sliced

1

head

broccoli

3

stalks

green onions
Bulgogi Sauce
12

tbsp

gluten free soy sauce

5

tbsp

brown sugar

2

red or brown pears

peeled, cored, and cut in chunks

1

medium

onion

peeled and quartered

2

tsp

Gochujang sauce

Add more or less depending on spice level you want

4

tbsp

mirin (rice wine)

1

clove of garlic

2

tsp

minced ginger
Sour Cream topping
1/2

cup

sour cream

2

tbsp

water

1

tbsp

Siracha

sesame seeds
Instructions
Vegetables
Most the vegetables can be prepared in advance. Using a vegetable peeler, peel long thin slices of cucumber until you get to the center core. Save the core for salad on another day. Mix the vinegar and sugar and add the cucumber slices.

Cut carrots into matchstick sized pieces. Set aside. When you begin to fry the beef, then it is time to saute the carrots. Heat sesame oil and add carrots. Fry on medium-low heat until soft.

Wash radishes and cut into thin slices. Slice the green onions into pieces.

Cut Broccoli into pieces and roast at 350 degrees for 20-25 minutes.
Bulgogi Sauce
I cook my rice in my instant pot. Before I make my Bulgogi Sauce, I start the rice and set the pot for 10 minutes. The rice may finish before the rest of the meal, but I allow the rice to manually release. It is perfect every time.

Add all the ingredients into your blender or food processor and blend until mixed well. Set aside.
Ground Beef
Add sesame and olive oil to frying pan and preheat pan. Add the ground beef and cook until browned.

While browning meat, mix the sour cream, water and Siracha sauce. Set aside.

Build your bowls and enjoy.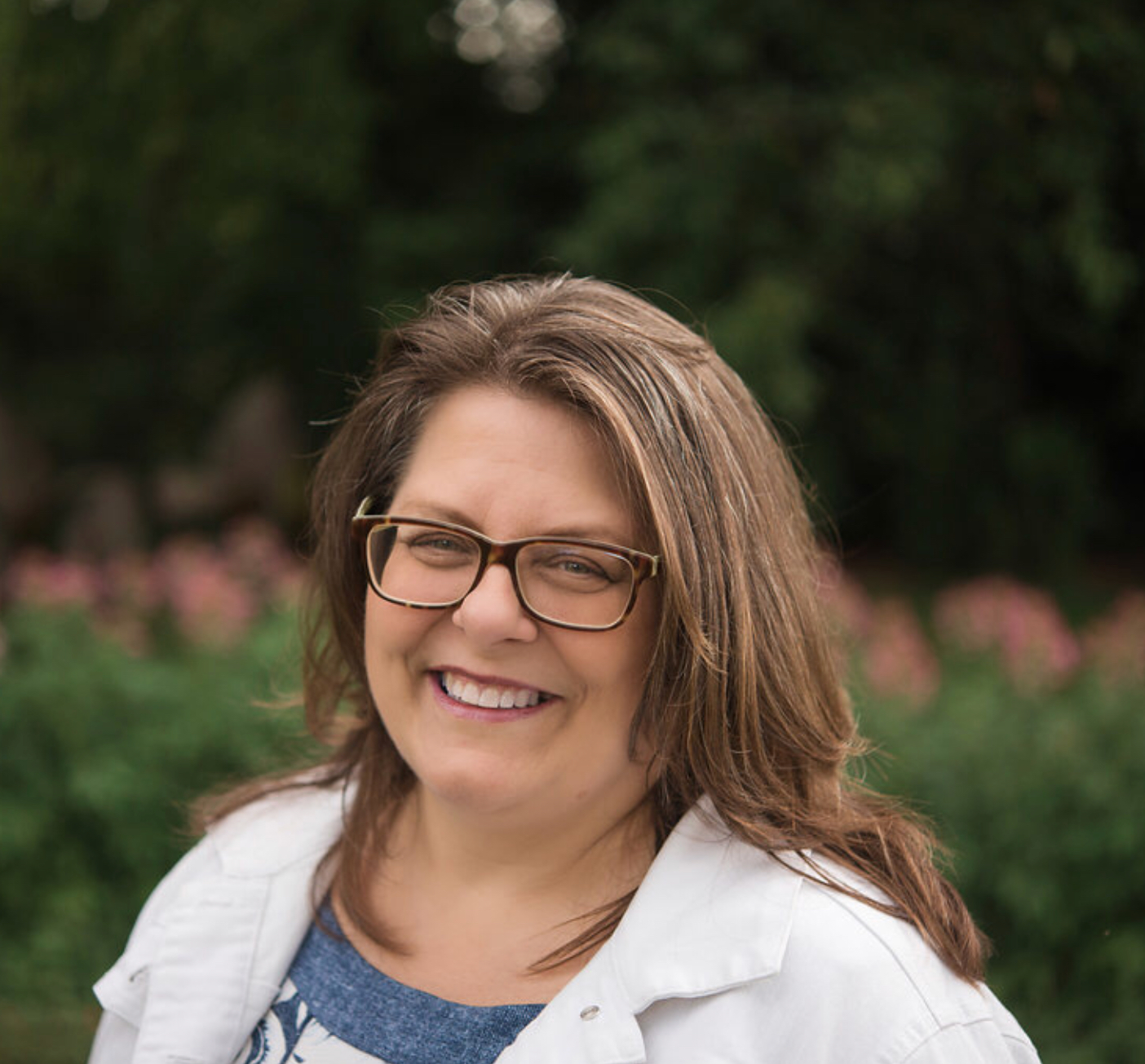 Homeschooling mom – 30 years and counting
Autism Mom
Movie reviewer/Travel blogger
Disney enthusiast