Are Great Graphics and Catchy Music Enough to Make a Blockbuster Movie?
Everyone seems to know Mario and Luigi, and while I have played a few games of Mario Kart in my life, I haven't ever really paid attention to the other characters or any backstory. So I truly went into this movie with "fresh eyes." In this Super Mario Bros. Movie Christian Review, I will tell you what you need to know as a parent before taking your children.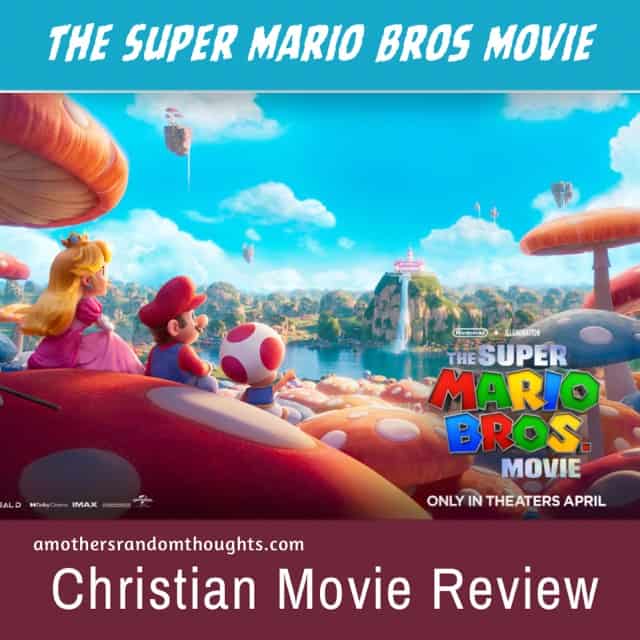 It is worth noting that this computer-animated film is a long time coming. The last Mario movie was in 1993 and was a flop. For years, it was doubtful that Shigeru Miyamoto, video game designer and game director at Nintendo, would ever let Hollywood touch his beloved characters again. It wasn't until he met Chris Meledandri from Illuminations Studios that he considered another Mario movie.
Miyamoto had a lot of control over what was created for this movie, and he has high standards. But will the movie live up to viewers' standards?
Synopsis: The Super Mario Bros. Movie Christian Review
Mario and Luigi are two Italian-American brothers living in Brooklyn, New York. These twin brothers are plumbers. They look like their video game counterparts, complete with mustaches; however, gone are the thick accents. The traditional red cap ith a white M on it is worn throughout the movie!
Mario and Luigi are working on a water main break when they are sucked into a pipe and transported to another world.
Mario lands in Mushroom Kingdom, whose leader is Princess Peach, a pretty pink princess. However, Luigi is taken captive by the Koopas and King Bowser. Bowser is a sadistic fire-breathing ruler set on marrying Princess Peach. And he is sure that she will want to marry him.
Meanwhile, Mario wants to rescue his brother, and with the help of Princess Peach, the two set out to get the aid of Cranky Kong and the Kong Kingdom.
From the studio:
"From Illumination and Nintendo comes a new animated film based on the world of Super Mario Bros. The film will be released in North America on April 5, 2023, and in Japan on April 27, 2023.

Directed by Aaron Horvath and Michael Jelenic (collaborators on Teen Titans Go!, Teen Titans Go! To the Movies) from a screenplay by Matthew Fogel (The LEGO Movie 2: The Second Part, Illuminations's Minions: The Rise of Gru), the film stars Chris Pratt as Mario, Anya Taylor-Joy as Princess Peach, Charlie Day as Luigi, Jack Black as Bowser, Keegan-Michael Key as Toad, Seth Rogen as Donkey Kong, Fred Armisen as Cranky Kong, Kevin Michael Richardson as Kamek and Sebastian Maniscalco as Spike.

The film is produced by Illumination founder and CEO Chris Meledandri and by Shigeru Miyamoto for Nintendo. The film will be co-financed by Universal Pictures and Nintendo and released worldwide by Universal Pictures.
What Parents Want to Know – The Super Mario Bros. Movie Christian Review
Language:
This is a very clean movie as far as language. There are a few phrases and words, such as stupid and dumb, but that is as bad as it gets as far as foul language. However, there are threatening phrases.
One character says, "I am going to break every bone in your tiny body."
"Pain is the best teacher" is spoken. It may be true that we can learn from painful experiences. However, the character speaking that line is inflicting pain on another character.
One character in a cage says negative lines such as "the only hope is the sweet release of death" and other similar pessimistic verbiage.
Violence:
This is where the PG rating comes in. Remember, this is all animated comic book violence. Things blow up, and fighting is similar to what you see in video games. On the big screen in the theater, it always seems more than on the television at home.
There is a floating monster island with glowing eyes that could be scary to some children.
Characters are locked in cages, and at one point, they are shown being lowered into a pit of lava. Bowser says, "I'll be ritualistically sacrificing them in your honor."
A character slams a piano cover onto another character's hands.
There is a flashback in one scene where a child is bullying another child.
Some characters are "burned" and become animated skeletons. These skeletons are called Dry Bones.
Bowser and his army of Koopas, Dry Bones, and Boos (floating ghosts) are set on destroying Mushroom Kingdom and anyone who gets in Bowser's way. Later in Brooklyn, Bowser throws cars, smashes things, and breathes fire in a frenzied attempt to destroy Mario.
A character becomes a cat and scratches another character.
Mario is has an injured eye in one scene.
Negative Elements:
Mario and Luigi's dad is disappointed in them. This is spoken both to them and they also repeat it about themselves. Donkey Kong expresses the same sentiments about his relationship with his father.
In a few scenes, there was constant yelling and screaming.
Donkey Kong flexes his pecs.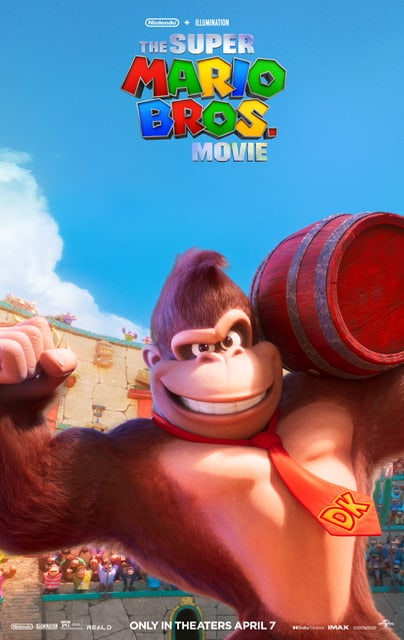 Spiritual Elements:
There are powers that characters get to aid in their fight against the opposing team. To get these powers, they eat super mushrooms. Powers from these magic mushrooms include growing bigger or smaller. There is also a Tanuki leaf that gives the ability to become a raccoon, an ice flower gives icy powers, the fire flower gives the ability to throw fireballs, and although unshown, a cat bell turns you into a cat.
Peach exclaims that there are a lot of galaxies out there. She doesn't know where she is from or how she got to Mushroom Kingdom as a young girl.
Positive Elements:
Mario believes that if he and Luigi stick together, things will go well. Mario says, "Nothing can hurt us as long as we're together." This message of teamwork and sticking together is shown throughout the entire film.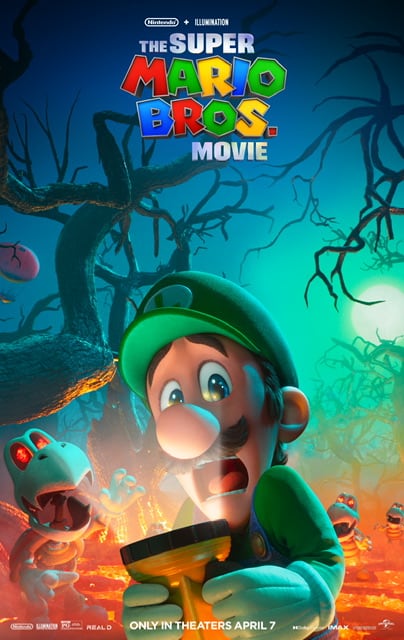 Mario also never gives up. He risks his life over and over to help others.
At the end of the movie, Mario & Luigi's dad and Donkey Kong's dad recognize their son's strengths and good qualities.
The Super Mario Bros. Movie Christian Review – Viewing Recommendations:
This is a cute movie that the entire family can see. With fun and colorful graphics, it is sure to hold the attention of even the younger children, and it is fast-paced. There are great references for the Nintendo enthusiast. Personally, I will watch this movie again. With all the fun references to Nintendo and NES games from the past, it will be fun to try to find them all.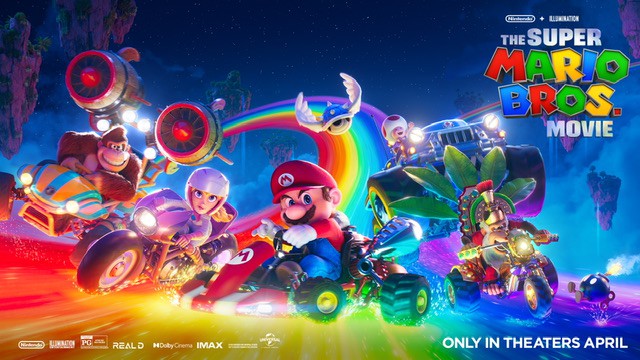 About the Movie:
Runtime: 1 hour, 32 min.
Rating: PG for action and mild violence
Release Date: April 5, 2023
Cast of The Super Mario Bros. Movie:
Chris Pratt as the voice of Mario
Anya Taylor-Joy as Princess Peach
Charlie Day as Luigi
Jack Black as Bowser
Keegan-Michael Key as Toad
Seth Roger as Donkey Kong
Fred Armisen as Cranky Kong
Sebastian Maniscalco as Foreman Spike
Charles Martinet as Mario & Luigi's dad
Kevin Michael Richardson as Kamek
Khartoum Payton as the Penguin King
Rino Romano as Uncle Tony
John DiMaggio as Uncle Arthur
Jessica DiCicco as Mario's mom
Scott Melville as Koopa General
Eric Bauza as Toad General
Juliette Jelenic as Lumalee (a Luma)
Charles Martinet voiced Mario and Luigi since Mario's Game Gallery to the present.
Director: Aaron Horvath
Michael Jelenic
Writtten by: Matthew Fogel
Producer: Chris Meledandri
Shigeru Miyamoto
Music by Koji Kondo's (original Nintendo themes)
Brian Tyler
Based on Mario by Nintendo
This post contains affiliate links. As an Amazon Affiliate, I do earn a small commission from qualifying purchases.
Frequently Asked Questions:
Where can I stream The Super Mario Bros. Movie?
It will be available to stream on Peacock mid-late May on Peacock. It should be available on Netflix late 2023.
Is The Super Mario Bros. Movie streaming on Disney+?
No. Because this is not a Disney movie it will not be streaming on Disney+. Illuminations and Universal Pictures produced it. It will be streaming on Peacock and Netflix.
Should I stay until the end?
Yes. There is a mid-credit scene and a post-credit scene.
If I don't know any of the characters, will I still enjoy the movie?
Yes. The storyline is an easy one to follow, and even if you have know knowledge of the characters or have never played the games, you will still enjoy the movie.
Easter Eggs from The Super Mario Bros. Movie:
First, most scenes have musical cues from the video games.
Such as Super Mario Bros. 3: The AirShip theme as they are going to take over the penguin kingdom. When Mario first meets Toad, Captain Toad's theme is playing.
Multiple themes from the original NES game can be heard throughout the entire movie.
When approaching the Jungle Kong Kingdom the original Donkey Kong Country music is playing.
Brooklyn, NY is filled with classic references to NES games. For example, there is an entire Punch-Out pizzeria dedicated to Punch Out and Punch Out memoriabilia. Inside the pizzeria was a knock-off Donkey Kong arcade game. Little Mac's gloves and champion belt are on the wall.
There were references to Duck Hunt, and even Nintendo's earliest game system, The Game and Watch, LCD handhelds.
Additionally, make sure to watch for a glass Pikman in an upscale apartment. In this apartment, a post-modernist painting shows the dog from Duck Hunt.
Mario's room is filled with references to old Nintendo and NES games. He is shown playing Kid Icarus on an NES. There is a poster of F-0. There is also a poster of Marathon.
Expect to find Bowser's Moving Lair and Bowser's Castle.
Koopa Paratroopa – say that ten times fast: One is shown turning into the Blue Shell from Mario Kart.
They briefly pass through an area with apples, and many Yoshis are seen (from Yoshi's Island).
In addition, they build carts in reference to Mario Kart 7 and 8.
Last, but not finally, the ad from the plumbing company shows Mario and Luigi flying with yellow capes – super capes. This is a reference to Super Mario World's Super Feather item.
Other Thoughts:
With the opening of Nintendo Land at Universal Studios Hollywood, and the upcoming opening of Super Nintendo World in Florida expected in 2025, I do think we will see more movies featuring Mario, Luigi, and the Nintendo World characters.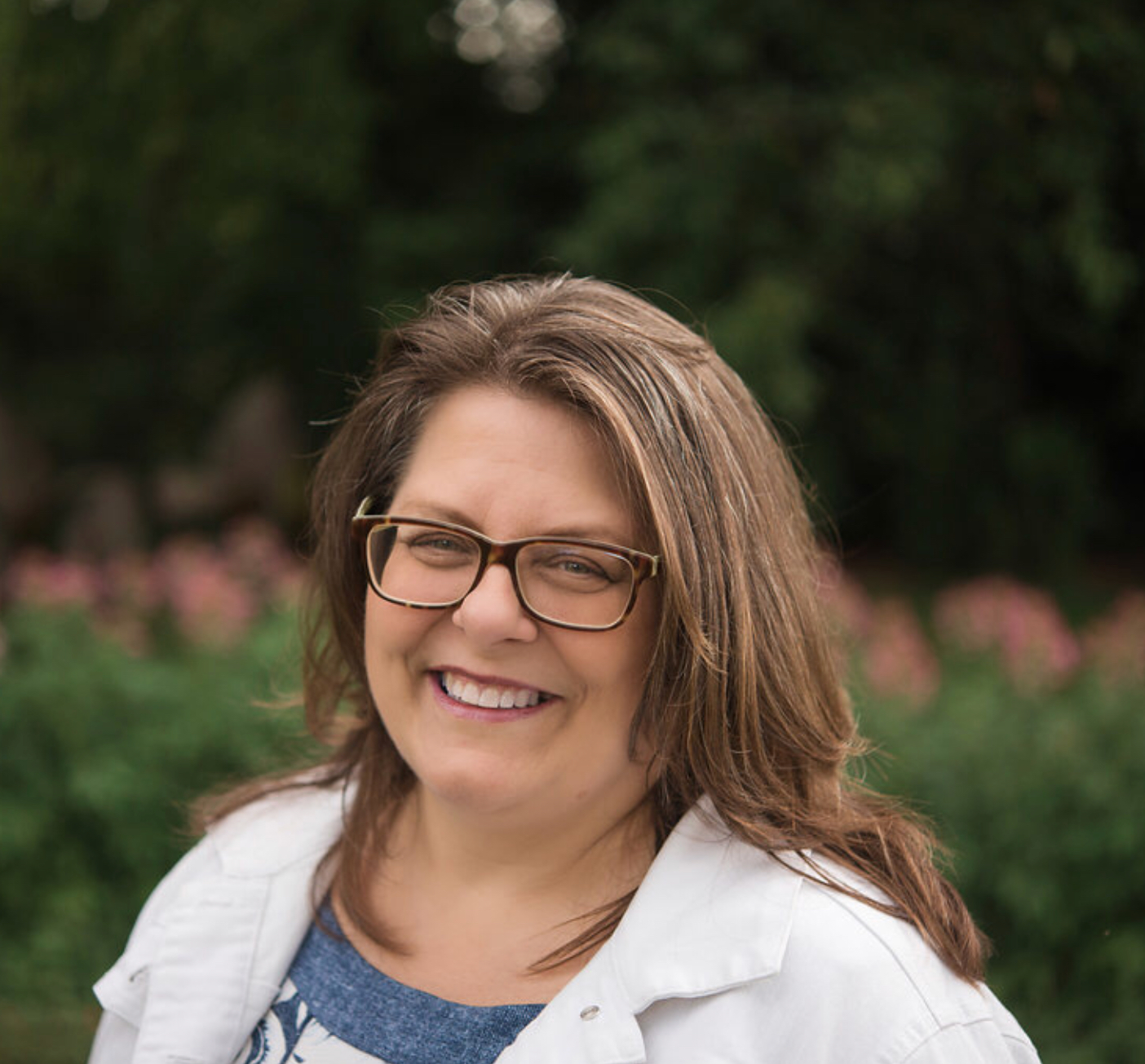 Homeschooling mom – 26 years and counting
Autism Mom
Movie reviewer/Travel blogger
Disney enthusiast