This post does contain affiliate links.
St. Patrick's Day Rainbow Craft with a Pot of Gold
Paper Plate Crafts
You want to celebrate the holiday that is best known for the patron saint of Ireland, but you aren't sure how. Besides teaching your kids about St. Patrick using clovers, how else can you celebrate St. Paddy's Day without drinking green beer? I have a simple easy St. Patrick's Day Rainbow Craft that is fun for all ages.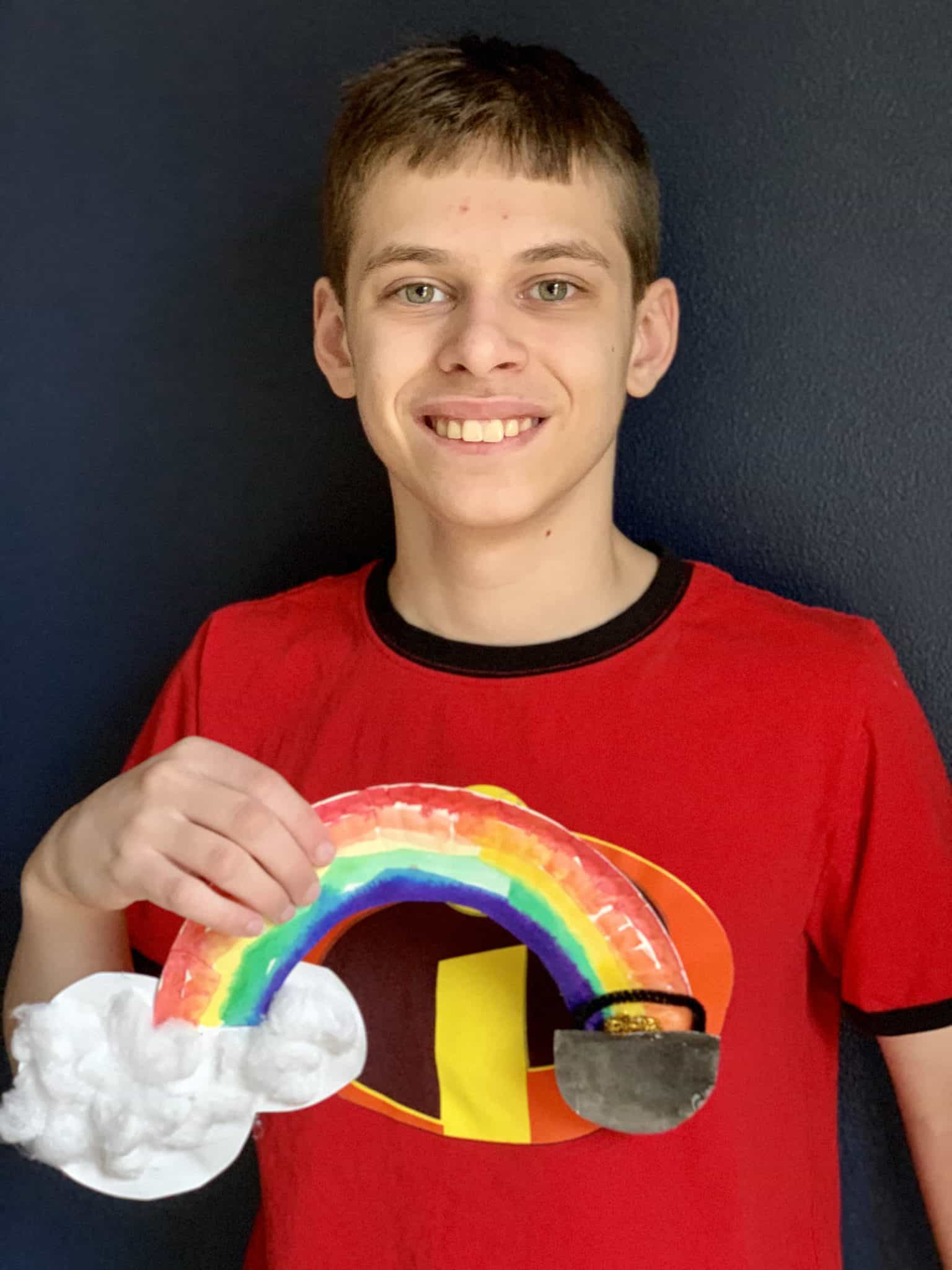 What is the connection between St. Patrick's Day and Rainbows
But how are St. Patrick's Day and Rainbows connected? Read a brief history of how rainbows became connected to St. Patrick.
And then read about the history of the other symbols of St. Patrick's Day: Celtic Cross, the color green, leprechauns, the color green, and more.
Steps for Making a St. Patrick's Day Rainbow Craft from a Paper Plate:
Now that you know about St. Patrick and Rainbows. Let's get down to making the St. Patrick's Day Rainbow craft.
First gather the necessary supplies: Paper plate (you will use 1/2 per child), heavy white paper (construction paper), glue, watercolors, cotton balls (3-4 per child), black pipe cleaner, and gold – I used a gold pipe cleaner, but you can use glitter or gold paper.
Next cut the paper plate in half
After cutting the plate in half, keep the center "ring" out of the paper plate.
Next, cut the center ring that you just cut out of the paper plate into a "pot of gold"
Cut a cloud shape out of the construction paper
Pull cotton balls into fluffiness – you are basically pulling it thin.
Take your cloud shape and apply a layer of glue to it.
Attach the cotton to the cloud , and set aside to dry
Using the half paper plate "rainbow" paint the colors of the rainbow. Paint the backside of the paper plate. Most paper plates have a shinier side and a dull side. For the paint to stick, you will want to paint the duller side
Remember, to change the water frequently. If your child is younger and cannot paint without lines, draw light lines on the paper plate making sure they are arched like a rainbow.
ORDER OF THE RAINBOW:
HINT: Order of the rainbow acronym – ROY G BIV which stands for Red Orange Yellow Green Blue Indigo (blue/purple, but closer to the blue end) and Violet. We did not use both Indigo and Violet. So our rainbow only has 6 colors.
Additionally, you can just use Red, Yellow, and Blue and mix the colors to form orange, green and violet. This can be a lesson about colors and mixing colors together to form other colors.
Another activity to teach with this rainbow craft is the primary colors – Red, Yellow, and Blue.
Allow rainbow to dry. Paint pot black.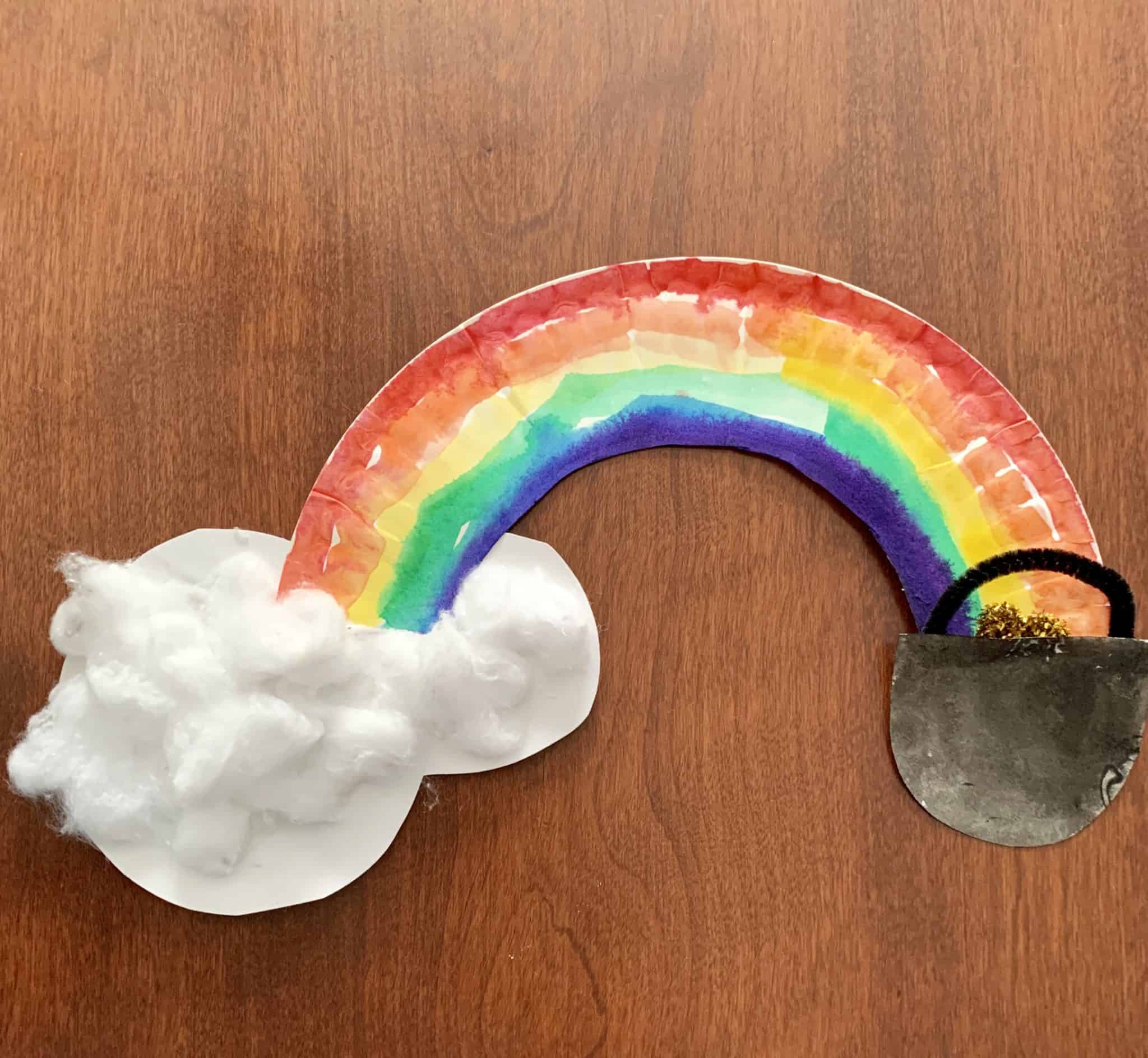 After rainbow dries, glue cloud to one side, and black pot to the other side.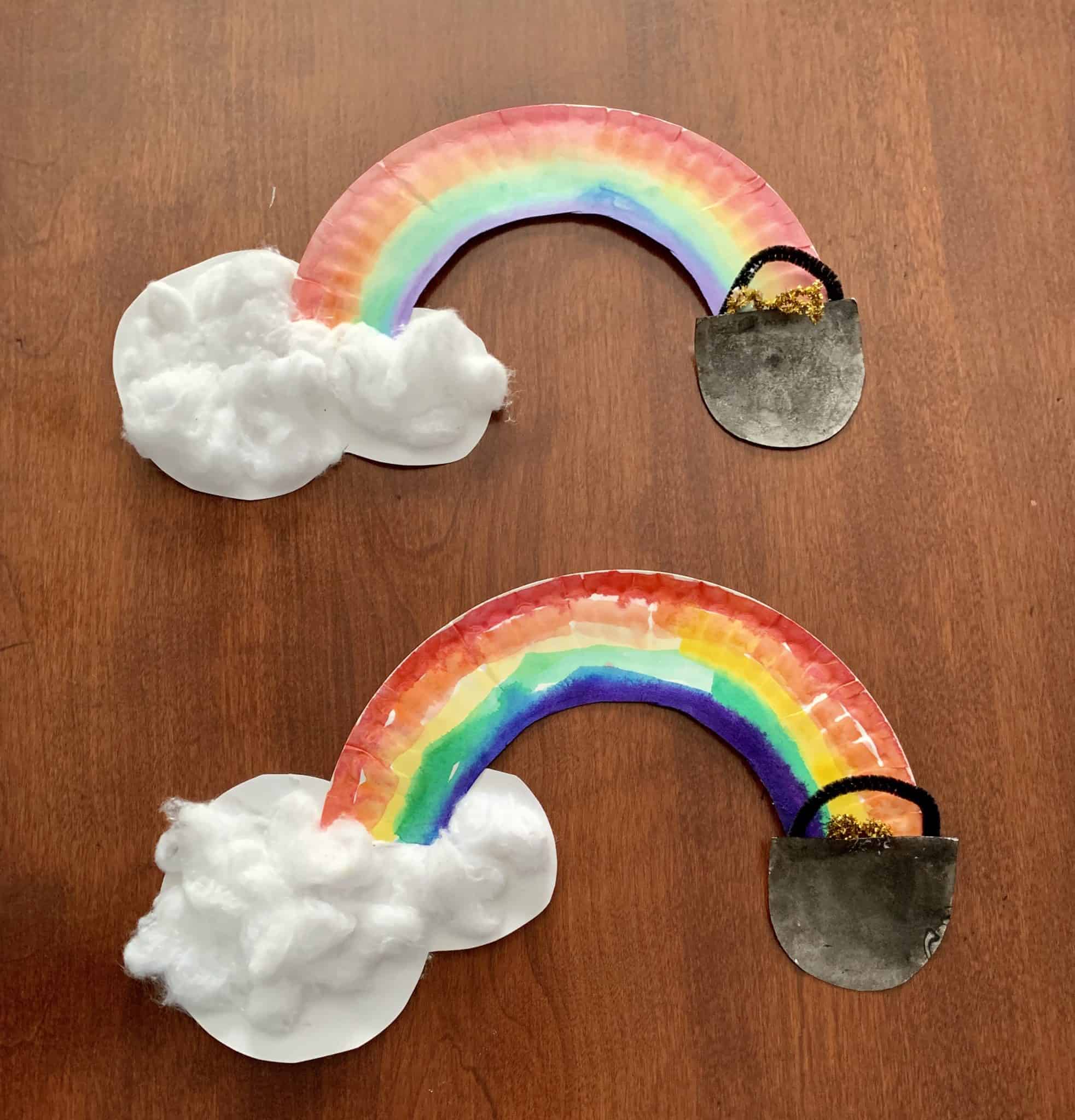 Finally, cut pipe cleaner and attach as a handle – add "gold to pot."
ADDITIONAL SCIENCE IDEAS FOR TEACHING THE RAINBOW:
This craft can also be completed as a spring rainbow craft. Use the above instructions for the St. Patrick's Day Rainbow Craft, but just omit the pot of gold.
For additional learning along with the Rainbow, you can teach about why we see rainbows. It is always fun to teach about rainbows using prisms. Often times a diamond can project a rainbow if the sun shines through it. Additionally, there are other fun rainbow experiments.
This experiment will help children understand how light bends and forms a rainbow. And using videos to teach about how rainbows form.
Here is another awesome experiment with rainbows. Making colors walk!
Supplies for the St. Patrick's Day Rainbow Craft using a paper plate.
BOOKS ABOUT RAINBOWS:
BOOKS ABOUT ST. PATRICK'S DAY

and Leprechauns
RAINBOW SCIENCE KITS:
Looking for more crafts?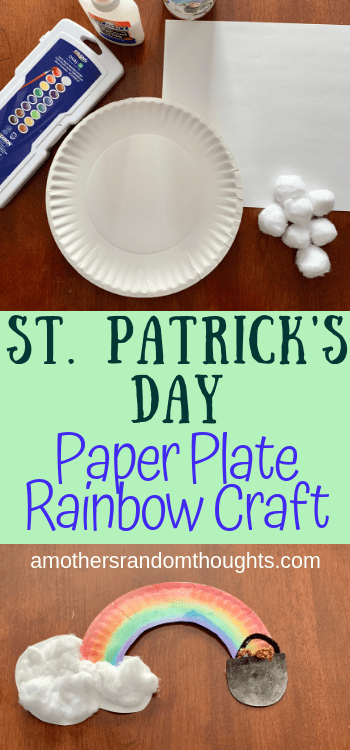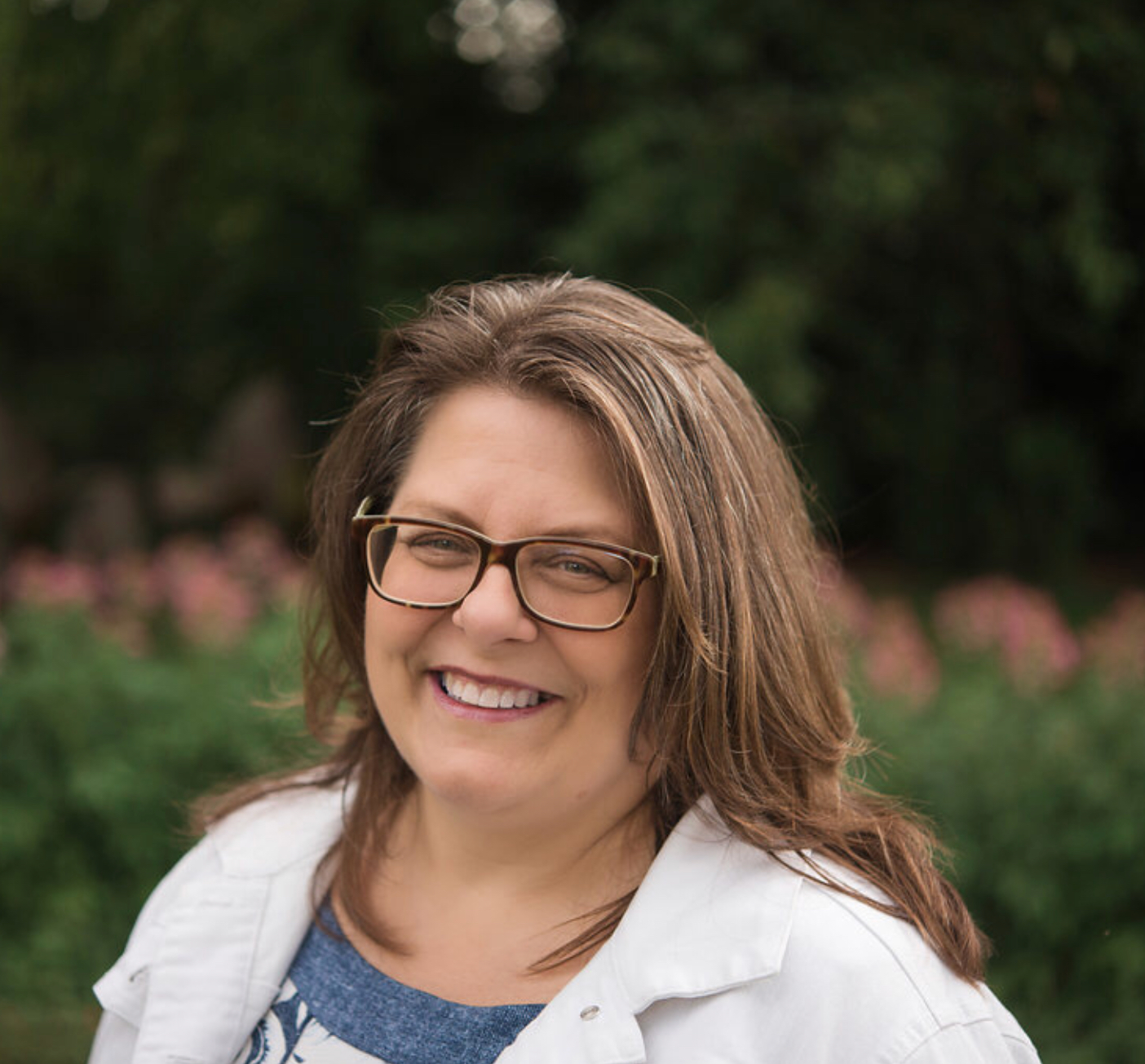 Homeschooling mom – 26 years and counting
Autism Mom
Movie reviewer/Travel blogger
Disney enthusiast