Swashbuckling Adventure with a Purr-fectly Suave Hero
Dreamworks Animation brings us another sequel in the Shrek series. Is this series overdone? Can Puss in Boots bring us a new story that entertains and revives interest in the Shrek universe? This Puss in Boots: The Last Wish Christian Movie Review will give you the necessary information before taking your children to see this movie. Our Parent Guide helps you navigate the film's content beforehand without spoiling the movie for you.
Synopsis: Puss in Boots The Last Wish Christian Movie Review
Puss in Boots is back after a long hiatus, and he has found himself in a precarious position. He has used eight of his nine lives and is now paralyzed with fear. This causes Puss to go into hiding. However, there is a bounty on his head, which means he is being hunted. Where can our superhero hide without being discovered?
Puss buries his past and becomes an average cat in Mama Luna's cat sanctuary. However, Puss discovers that if he finds the Wishing Star, he can get back his eight lives. When he sets out in a race with a dog named Perro and his former partner, Kitty Softpaws, they each have their own agendas. Can the trio get to the Wishing Star before Goldilocks and the three bears or Jack Horner?
Synopsis from the Studio: "For the first time in more than a decade, DreamWorks Animation presents a new adventure in the Shrek universe as daring outlaw Puss in Boots discovers that his passion for peril and disregard for safety have taken their toll. Puss has burned through eight of his nine lives, though he lost count along the way. Getting those lives back will send Puss in Boots on his grandest quest yet. In their quest, Puss and Kitty will be aided—against their better judgment—by a ratty, chatty, relentlessly cheerful mutt, Perrito (Harvey Guillén, What We Do in the Shadows). Together, our trio of heroes will have to stay one step ahead of Goldi (Oscar® nominee Florence Pugh, Black Widow) and the Three Bears Crime Family, Jack Horner (Emmy winner John Mulaney, Big Mouth) and terrifying bounty hunter, the big, bad Wolf (Wagner Moura, Narcos).
What Parents Want to Know – Puss in Boots: The Last Wish Christian Movie Review
Language:
Some foul and crude language including h-ll, heck, dingleberries, crap, pooping, and butt nugget. Additionally, there are comments such as "you are horrible" and "you are an unredeemable monster." One word is cut off before it is fully uttered – bullsh—.
One character utters a string of words that are all bleeped out. You cannot hear any of the words, just a lot of bleeping.
Violence:
This movie is filled with cartoon violence. One scene shows how Puss lost of his eight lives in violent ways. There are plenty of fights and battles. A plethora of bad guys chase after Puss. There are also lots of weapons used such as swords, axes, flame thrower, flaming arrows, etc.
Goldilocks and the Three Bears Crime Family are not your typical fairytale characters. They are sinister, mean and wanting to collect the bounty on Puss.
A flower sucks off the skin and flesh of a man and leaves behind a skeleton.
A wolf is shown several times with glowing red eyes. This is not your "little red riding hood wolf," but a sinister evil-looking figure.
Jack Horner's henchmen are entirely expendable to him. He shows absolutely no regard for their lives.
A grim reaper appears repeatedly and battles with Puss. All of the dialogue surrounding these battles are about death and the grim repeat will not stop until he gets Puss.
Spiritual:
The word namaste is said.
Jack Horner collects magical items which include a crystal ball, magic wand, a unicorn horn, and other similar artifacts.
There is a doctor who is also a dentist and a witch doctor.
The characters want to find the magical wishing star. The wishing star map and the terrain in the Black Forest magically change depending on who is holding the map.
One scene involves a wedding and shows a church and another depicts a cemetery.
Adult Content:
One character eats something that causes him to grow (think Alice in Wonderland).
A character drinks cream at a bar and acts drunk.
A character begins to have panic attacks. These can be triggering for some individuals.
However, the central theme in the film surrounds fear and death, and these are heavy concepts for children. The anxiety and fear that Puss in Boots feels can be scary and very real for children. When Puss is gripped with fear he tends to run in a panic. Furthermore, Puss is chased by evil and sees sinister figures in the dark.
While his epic journey through the Black Forest seems to be about finding the mythical Wishing Star to get his last eight lives back, the real journey in this film is Puss realizing what is important and how we live our one life that we have.
Viewing Recommendations: Puss in Boots The Last Wish Christian Movie Review
Our family thoroughly enjoyed this film. However, due to the elements involving fear, death, and violence, Puss in Boots may not be for suitable for all children. Due to this content, I would recommend viewing for ages 8-10 and up.
I do view this movie as one of the top films in the Shrek franchise. It is funny and unique and brings in elements of many different films. While watching the film, see how many references to other movies and fairytales you can spot.
Cast of Puss in Boots: The Last Wish
Puss in Boots: Antonio Banderas (Academy Award nominee)
Kitty Softpaws: Salma Hayek
Perro: Harvey Guillén
The Big Bad Wolf: Wagner Moura
Doctor: Anthony Mendez
Jack Horner: John Mulaney
Goldilocks: Florence Pugh
Mama Luna: Da'Vine Joy Randolph
Papa Bear: Ray Winstone
Mama Bear: Olivia Colman
Baby Bear: Samson Kayo
Baker's Dozen Gang Member: Paul Fisher
About the Movie:
Director: Joel Crawford
Producer: Mark Swift
Executive Producer: Chris Meledandri
Screenplay by: Paul Fisher
Runtime: 1 hour, 40 mins.
Release Date: December 21, 2022
Rating (MPAA): PG for action/violence, rude humor/language, and some scary moments.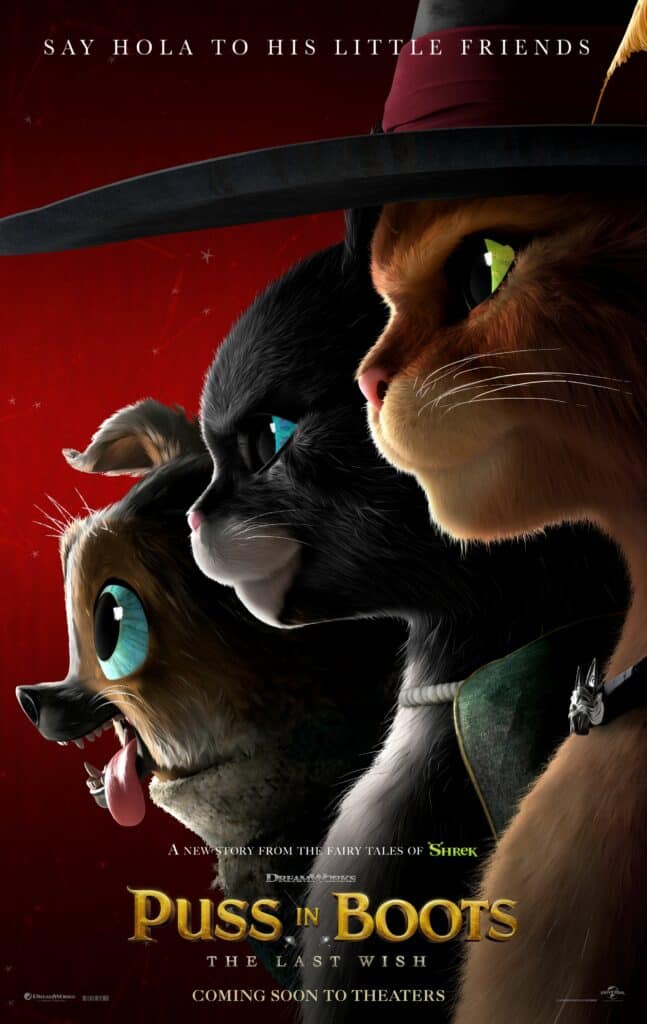 Frequently Asked Questions:
Where can I watch Puss in Boots: The Last Wish?
Puss in Boots: The Last Wish was released in theaters on December 21, 2022.
It was not streaming on any of the major platforms at that time – Netflix, Disney+, Amazon, or HBO Max.
Because Puss in Boots is a Universal Pictures film, it will likely stream on Peacock.
When will Puss in Boots: The Last Wish be streaming?
It is estimated to start streaming on or around March 2023. After a period of time, it may release to Netflix.
Where can I watch the original Puss in Boots?
Puss in Boots can be watched on Freevee, which is a free streaming app. It does have commercial interruptions.
You can also watch Puss in Boots on Peacock with a Premium subscription.
What other films featured Puss in Boots?
The Dreamworks Studio character of Puss in Boots first appeared in 2004's Shrek 2. Because people adored Puss, he co-starred in two other Shrek sequels and his solo film, Puss in Boots. Furthermore, he has also been in multiple DreamWorks Animation videos and TV series.
Where did Puss in Boots originate?
Puss in Boots is an Italian fairy tale about a daring and adventurous cat who is deceitful. He uses his talents to gain wealth. The story was written by Giovanni Francesco Straparola and was part of The Facetious Nights of Straparola, published circa 1550.
Later, Giambattista Basile published another version under the title Cagiliuso in 1634. Charles Perrault, best known for Sleeping Beauty and Cinderella, wrote a French version in late 1600-early 1700.
Antonio Banderas, who has played Zorro, is really the embodiment of Puss in Boots. Puss is part Zorro, part Three Musketeers. Banderas classic Spanish accent gives life to PiB.
Teaching with Puss in Boots:
Read the original story to your children, or have them read one of the adaptations. Compare the original Puss in the storybook with the Puss in the Dreamworks movies.
Talk about the nine lives of cats. Where did that saying come from? Furthermore, discuss the Bible verse, "And just as it is appointed for man to die once, and after that comes judgment." ESV Hebrews 9:27.
Study fear and anxiety. Talk about the different types of fear and the names of those fears. For instance, the fear of spiders is arachnophobia. What is the word for fear of heights, bridges, the dark, dogs, and other common fears? Ask your children to identify their fears. What does the Bible say about fear? How can you overcome everyday worries or common fears?
Find and identify references to other fairytales or movies. There are plenty of them, and many of them are found in Jack Horner's home.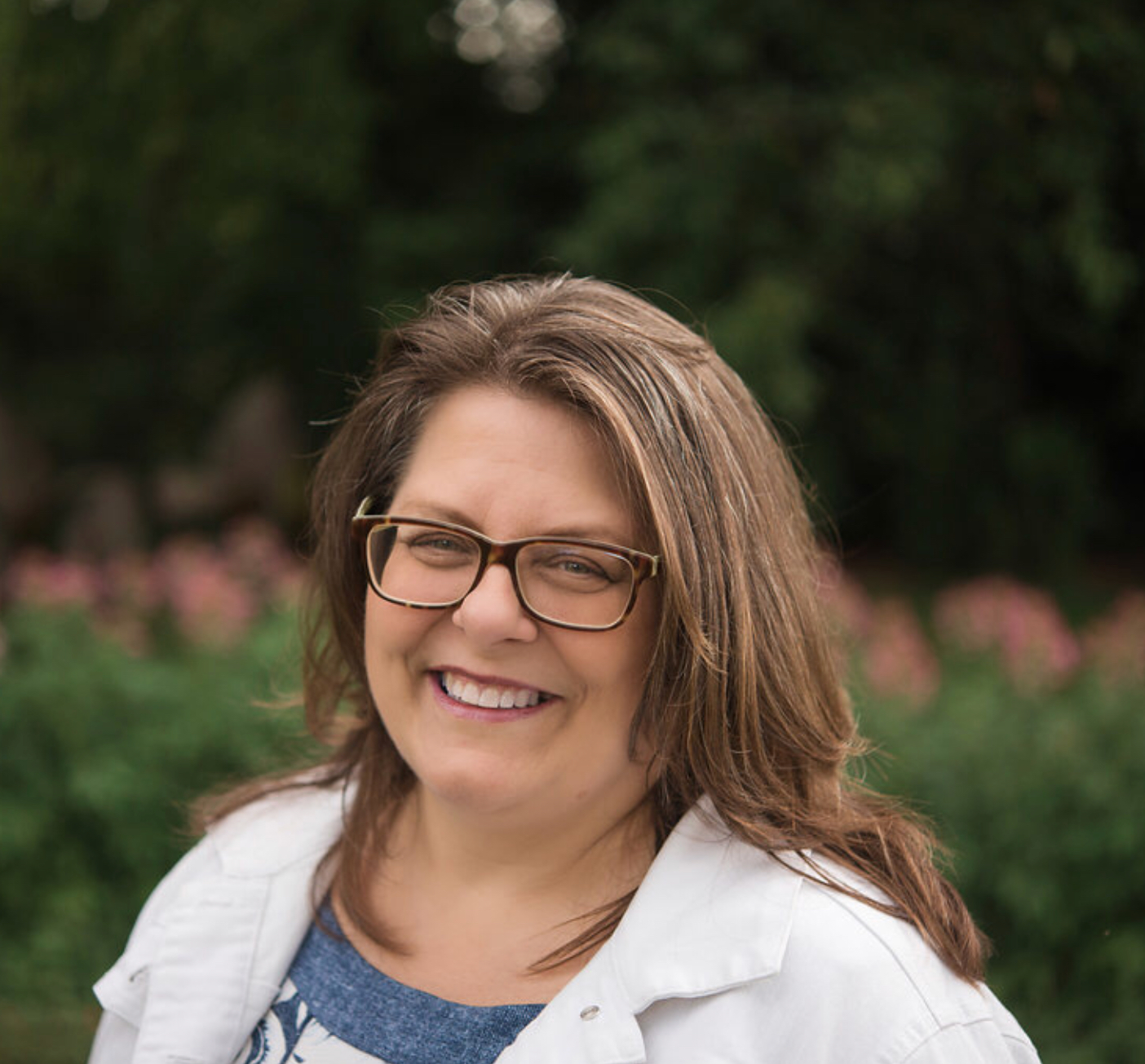 Homeschooling mom – 30 years and counting
Autism Mom
Movie reviewer/Travel blogger
Disney enthusiast