Regular and Gluten-Free Recipes Below
This recipe (even the gluten-free version) will have your friends and relatives saying, "This is the best carrot cake I have ever tasted." I know because I have been making this recipe for almost 4 decades – that is a long time. However, I don't make it often – maybe once a year or so, but everyone always raves about it. This old-fashioned carrot cake recipe with pineapple (don't worry, I have modifications for making it without pineapple for those who are allergic) will have your family requesting this recipe over and over.
This flavorful carrot cake is an excellent Easter Cake or birthday cake. This is not my great-grandmother's recipe. I don't remember my mom or grandma ever making carrot cake. (My mom did have great cake recipes, but sadly I don't think I have any of her cake recipes. I do have her kolachi recipe which I keep saying will get posted someday.)
Back to the carrot cake recipe.
Jump to Recipe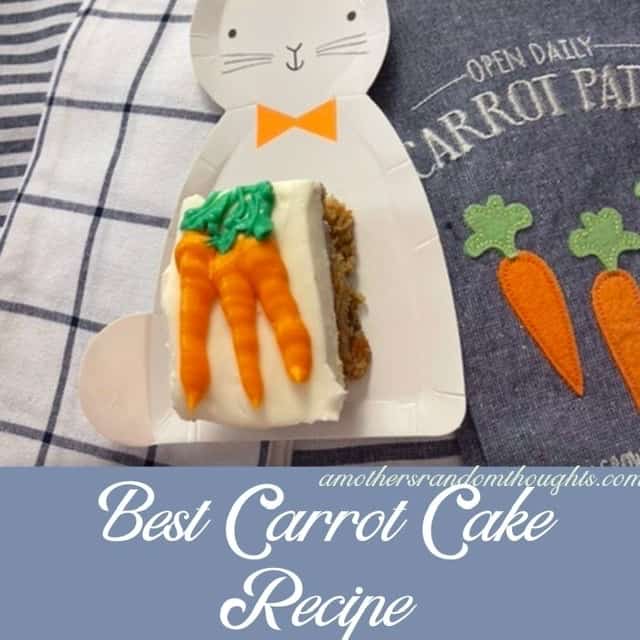 I have made this recipe in a 10 X 13 pan, as cupcakes, as an 8" round layer cake, and as mini loaf cakes. Each and every version is delicious. However, I like any version where the cream cheese icing is plentiful!
Tips for making a delicious old fashioned carrot cake recipe with pineapple
Mix all the dry ingredients in one bowl. Mix the wet ingredients minus the carrot and pineapple pieces in another bowl. You will be adding the dry to the wet ingredients. But you add in the carrot and pineapple pieces last.
You can use a mixer until you add the grated carrots and crushed pineapple.
Stir in the grated carrots and crushed pineapple by hand (with a spoon). If you use a stand mixer, mix all the ingredients (besides the pineapple and carrots) at medium speed. Reduce to low speed after adding in the pineapple and carrots.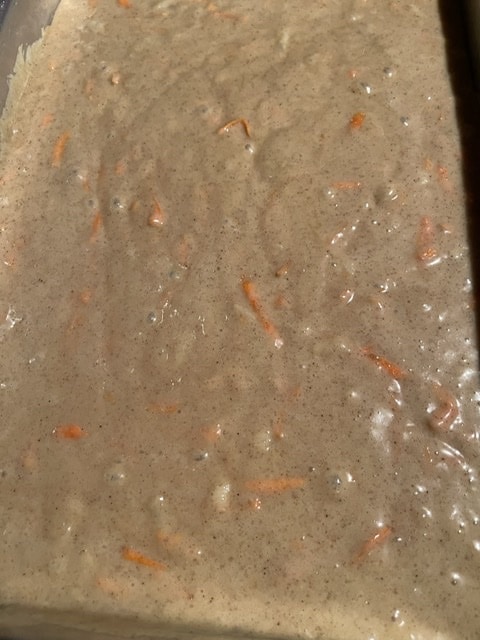 Do not use fresh pineapple. Do not use pineapple chunks. I use canned crushed pineapple.
Use room temperature eggs
Use real vanilla extract. It is so worth the extra money.
When checking this cake to see if it is done, insert a toothpick to the center of the cake. While you do not want it to be dry as a bone, you also don't want batter dripping off of the toothpick.
When making the cream cheese icing, do not use off-brand or store-brand cream cheese. Philadelphia Cream Cheese yields the best results with creamy frosting. Other off brands do not mix the same way.
If you cannot use pineapple, use a cup of applesauce or an extra cup of oil.
Make sure to use a prepared pan when baking – grease and flour the pan or use cooking spray.
To make carrots on the top of the cake, I use Wilton Tip 6 and just create a carrot with the top being fuller than the bottom.
For the green at the top, I never use the same tip twice, sometimes I just create long strands, and other times I use a leaf tip. Do what makes you happy.
FREQUENTLY ASKED QUESTIONS:
What if I can't eat pineapple?
Substitute a cup of apple sauce or a cup of vegetable oil. I personally use extra light olive oil. My daughter and her husband cannot eat pineapple, so I make the carrot cake with pineapple, but I make a mini loaf pan for her without the pineapple. The last time I made it, both she and her husband said it was wonderful.
What if I can't have gluten?
I have been gluten-free for almost 10 years. For the last several years, I have made this cake, I have used King Arthur All-Purpose Gluten-Free Flour. While I prefer to use King Arthur Gluten-Free Flour for the best carrot cake recipe, you can use any cup for cup gluten-free flour. However, I do not know how other flours will react.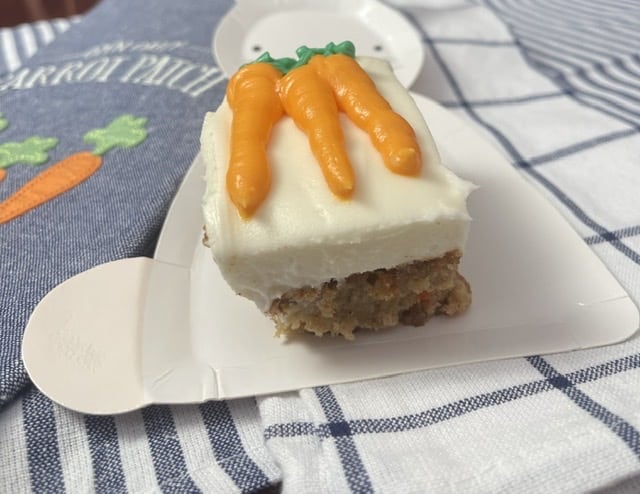 Can I use canned frosting?
Absolutely not! In fact, this is a barbaric question! This is the best moist carrot cake recipe that you will ever have and it is absolutely essential to make homemade cream cheese frosting. Do not make the mistake of substituting an inferior product.
How do I make the perfect carrot cake?
Make this cake the day before your event and let it cool. Once this ultimate carrot cake is cooled, make the frosting recipe. Frost the cake and then refrigerate. You may be tempted to try the cake now, but resist the temptation. Refrigerating this cake overnight will yield the best results.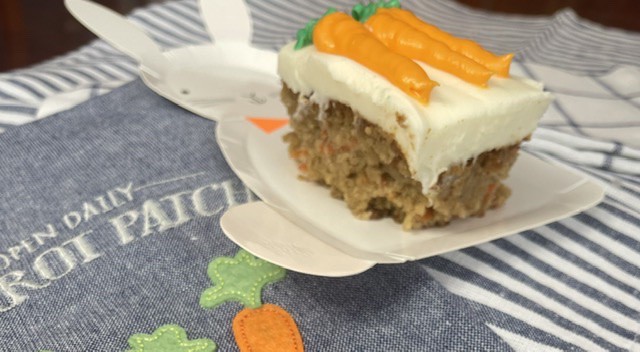 Do I have to make a cake?
No. With this recipe, you can make it in one 10 X 13-inch pan or a single-layer sheet pan. After frosting cut into carrot cake bars.
You can also make cupcakes. See these adorable Easter Bunny Cupcakes at the Savvy Mama Lifestyle.
You can also make carrot cake cookies by reducing the amount of oil. Top with cream cheese frosting.
Make a single round cake layer (10″ pan) and create an Easter Basket.
Obviously, if you change the pan, you need to adjust the baking time. Cupcakes bake quicker than a cake.
Let me know if this is the best pineapple carrot cake recipe you have ever had. I have always had rave reviews with this moist delicious old-fashioned carrot cake recipe with pineapple.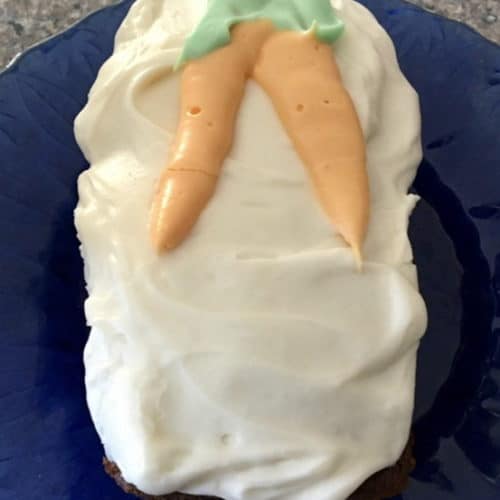 Old Fashioned Carrot Cake with Pineapple (Gluten Free Version too)
Best ever carrot cake with pineapple and cream cheese frosting
Ingredients
3

cups

all purpose flour

For gluten-free, substitute King Arthur Measure for Measure All purpose flour

1 1/2

cups

granulated sugar

1/2

cup

brown sugar

2

tsp

cinnamon

1 1/2

tsp

baking soda

1

tsp

baking powder

1 1/2

tsp

salt

1

8 3/4 oz can

crushed pineapple in light syrup

Do not substitute slices or pieces. However, you can put the pineapple in a blender and "crush" it. Do not use the liquid if you choose to do this.

3

large

eggs (beaten)

1 1/2

cups

oil

2

tsp

vanilla

2

cups

loosely packed grated carrots

Grate carrots on the largest openings of a stand grater.

1 1/2

cups

walnuts (optional)
Cream Cheese Frosting
2

8 oz

Philadelphia Cream Cheese

1/2

cup

butter

4

tbsp

heavy whipping cream

You can use milk if you do not have heavy whipping cream.

2

tbsp

vanilla

8

cups

confectioners' sugar
Instructions
Combine dry ingredients in a bowl – flour, sugar, cinnamon, baking soda, baking powder, and salt.

Drain pineapple and save the liquid.

Beat eggs. Add oil and vanilla to beaten eggs.

Add pineapple liquid and egg mixture to the flour and beat.

Stir in crushed pineapple and grated carrots.

Add walnuts (optional)

Pour into greased and lightly floured 10 X 13 pan.

Bake at 325 degrees for 45-50 (depending on the size of your pan, you may need to adjust the time.)

Check cake with a toothpick. If it comes out with moist cake sticking to it (not batter), it is done.

Cool pan on wire rack for 10 minutes. Remove cake from pan.
Cream Cheese Frosting
Allow Cream Cheese and Butter to soften

Cream softened cream cheese and butter until blended

Add vanilla to the creamed cheese and butter mixture.

Alternate adding milk and powdered sugar. Allow to beat on high speed until well blended (4-5 minutes).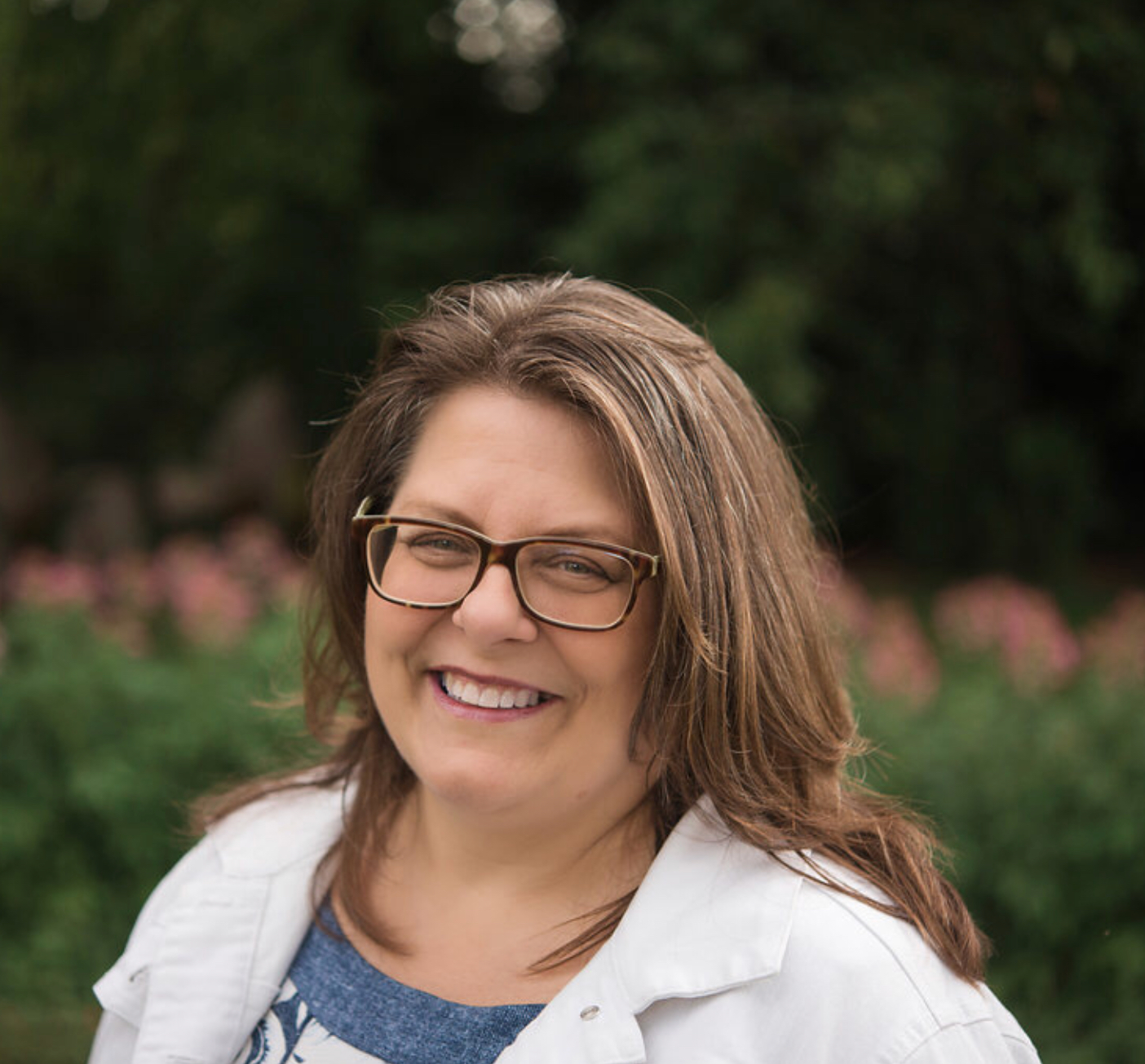 Homeschooling mom – 30 years and counting
Autism Mom
Movie reviewer/Travel blogger
Disney enthusiast