Homeschooling & Enrichment Language Arts and Grammar Program
This is my sponsored review of Night Zookeeper. As a follower of Christ, I strive to be honest in all my blog posts, online interactions, and daily life. I pray that you are blessed by what you read!
I cried when my 16-year-old autistic son wrote his first-ever paragraph.
It may surprise you, but I didn't love writing when I was in school. One of the reasons was that I was forced to write things that I had no interest in. It wasn't until my junior year of high school that I finally had a teacher that sparked the love of writing. What did she do differently? She allowed us to be creative.
As a homeschool mom, are you constantly plagued with how to teach writing? Or does your child have a hatred of writing? While I tried hard not to have my children hate writing, we struggled to find a writing program we all loved.
I am constantly on the lookout for a good writing program. And by good, I mean a writing program that engages your child and actually teaches something. As a mom who tries to bring fun into everything – for every job that must be done, there is an element of fun – writing, and fun do not go hand-in-hand for most children.
When Night Zookeeper contacted me, I thought, "What do I have to lose?" We can try again to get our son interested in writing, but I have learned that I move on if something doesn't work. Would NightZookeeper be an amazing tool to spark writing?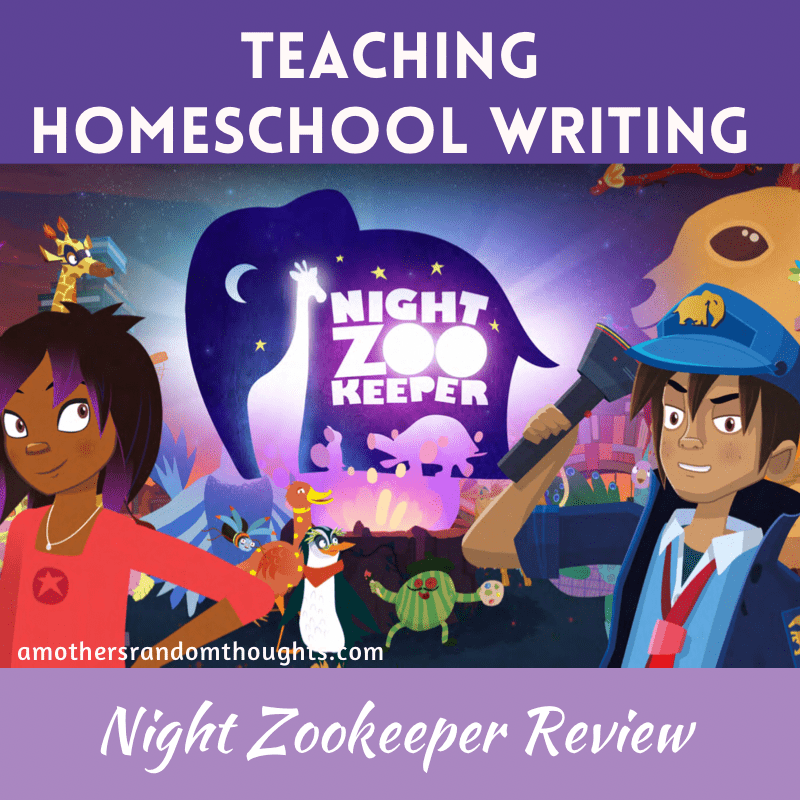 WHAT IS NIGHT ZOOKEEPER?
First, what is Night Zookeeper? The short answer is that it is an online interactive writing program. This game-based educational curriculum uses the theme of a zoo, and your child gets to be a night zoo keeper. It is designed to be used for ages 6-12+. However, I am using it with my 16-year-old autistic son.
TIP: When choosing a curriculum, consider your children's skill level and not their age.
We also are using Night Zookeeper with our 6-year-old granddaughter.
DOES NIGHT ZOOKEEPER DELIVER WHAT IT PROMISES?
Night Zookeeper says that they have helped over 1 million children develop their reading, writing, and creative thinking skills. Can it help your child?
The game begins with your child creating their own zookeeper avatar. I'm not going to lie – this is truly magical! While Night Zookeeper is not a video game or series of video games, it certainly has interactive lessons with fun games to play.
Next, they enter their zoo, where there is an egg, and create their own magical animal. After creating and naming their animal, your child then writes their first "report."
This was the moment that I cried. Jack-Jack has never written a story. This paragraph was like gold to me.
Not only will your child create paragraphs, poetry, and reports, but they will also learn nouns, adjectives, the difference between common nouns and proper nouns, capitalization of words, and so much more. (This is just what we have encountered so far).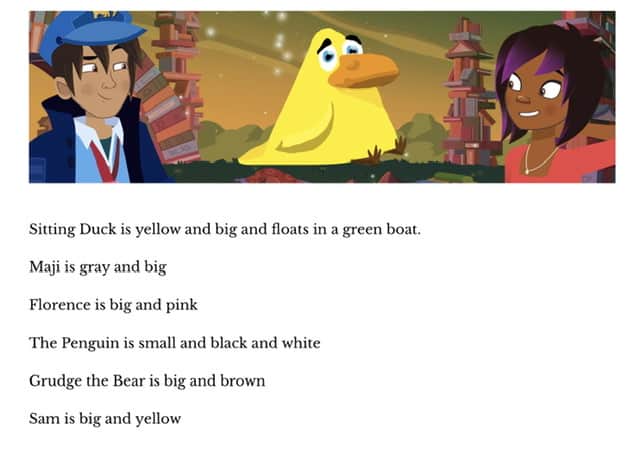 The goals for each child are individualized for their level. If you, as the parent, feel that the goal is too easy or hard, it's easy to change your child's level in the parent portal.
OTHER AWESOME FEATURES OF NIGHT ZOOKEEPER
The ability to save the draft of your child's writing and come back to edit is such a great feature. Additionally, being able to submit your child's work and have it assessed by a tutor from Night Zookeeper takes the guesswork out of your hands.
A selection of word games enables your child to learn without them even knowing it.
Another great feature is being able to read and comment on other "teammates" writing. However, rest assured that Night Zookeeper monitors all content that comes through, including drawings, to keep your child in a safe and child-friendly learning environment.
I also love the randomly generated user name, so my child is not identified online.
As your child works through Night Zookeeper, the program gets progressively harder. However, if they cannot complete a learning goal, that concept will keep reappearing until they can complete it.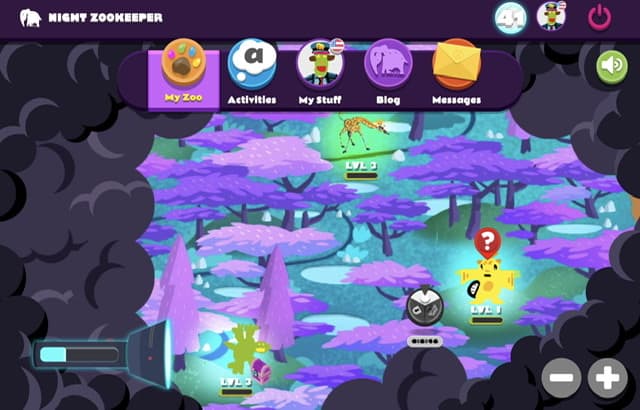 SKILLS LEARNED WITH NIGHT ZOOKEEPER
Vocabulary
Grammar Skills – parts of speech (nouns – proper and common, verbs, adjectives, adverbs, synonyms, homophones, etc.)
Reading
Writing Skills
Spelling
Punctuation
SO MANY FEATURES
In this Night Zookeeper homeschool review, I found so many great details, but the beauty of this program is that you can select precisely what your child needs to work on. One feature is Star Writing & Competition. Each month NZK runs competitions with prizes. The International Writing Cup will have a prompt for your child. This is an optional activity but one that your child may want to participate in. These writing challenges are fun and great for a child who wants some friendly competition and the opportunity to win prizes!
Furthermore, children love the fact that they get to draw their own magical animals. These fun drawings go with your child through the zoo. The animals of the zoo live in dens. It is from the dens that your child can see the animal, its level, and treasure chests won.
RECOMMENDATIONS ON NIGHT ZOOKEEPER USE
It is recommended that your child log in at least twice a week.
This program is based on a series of storybooks. These books look delightful, and they are on my list of items to get.
Not sure where to start. We have started Jack-Jack at the lowest level because he has holes in his language skills. Check out the Parent Guide to get an idea of where to begin. This Parent Guide is full of wonderful information and is perfect for helping you get started. The online parent dashboard is a wonderful place to start learning about all the fantastic features of Night Zookeeper.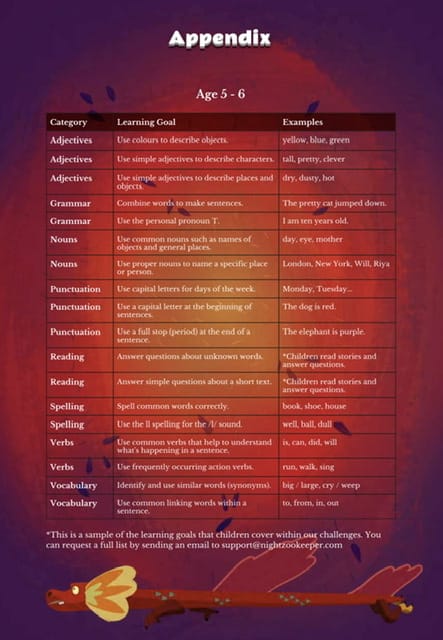 ADDITIONAL PRODUCTS AVAILABLE
My children always loved having products that lined up with what they were learning. A book that corresponds with the lesson is a great way to reinforce that lesson. A T-shirt or backpack is even better. Night Zookeeper has great products to motivate your child even more, ranging from Night Zookeeper books, shirts, backpacks, and even teacher resources.
NIGHT ZOOKEEPER REVIEWS: FINAL THOUGHTS
After using Night Zookeeper, I am encouraged by what my son has already done. This IS the program we have been looking for. My granddaughter loves it too, and this is what learning should look like. If your children aren't asking to learn, and you have to force them to learn, it probably is time to find another curriculum.
This program is so much fun that your children won't even know they are learning!
Why don't you check out Night Zookeeper? If you use my link, you will save money! You will get a free 7-day trial and then 50% off your annual subscriptions, which is $59.99/year for a single child subscription and annual subscription price of $77.99 for 2-3 children.
Frequently Asked Questions:
Is Night Zookeeper free?
Night Zookeeper is a paid online application for language arts.
What Grade level is the Night Zookeeper program aimed at?
Night Zookeeper is a reading, writing, grammar, spelling, and punctuation curriculum for Grades 1-6.
Can Night Zookeeper be used for any age?
While the suggested age range is 6-12 years old, However, older and younger children can benefit depending on the skill level of your child.
Can You Use Night Zookeeper as a complete curriculum?
Night Zookeeper can be used as a complete language arts curriculum and it covers reading, grammar, and writing. It can also be used as a supplement to other programs. Some people do not feel that it is a full language arts curriculum. However, there are even monthly themed printable resources to do handwriting lessons.
Does Night Zookeeper work on an iPad?
Night Zookeeper will work on an iPad. laptop, Chromebooks, and Desktop computers. You can access it through your web browser. Google Chrome or Safari browsers are recommended.
How Do I cancel my Night Zookeeper Subscription?
Canceling can easily be done within the parent dashboard.
Are there handwriting exercises?
Yes. In addition to the monthly printable resources for handwriting, there are also other printables that focus on capital letters and other grammar issues.
What type of writing assignment will my child be given?
There are different skills and themes your child will explore. Different genres are introduced depending on the grade level. These include creative writing, persuasive writing, reports, poetry, newspaper articles, and essay writing.
Can I use Night Zookeeper with my reluctant writer?
Absolutely! This program is a fun way for reluctant writers to practice English skills.
What skills will Night Zookeeper help develop?
In addition to reading and writing, Night Zookeeper helps with all language arts skills, including thinking and reasoning, communication, and organizational skills.
Is Night Zookeeper a US-based company?
No! Night Zookeeper is based in London, England.
While do homeschool families love Night Zookeeper?
Some of the features that homeschooling families love is that it is a safe, moderated environment. Your child can participate in online learning that is safe. Night Zookeeper is engaging and motivating. It was developed by experienced education. Additionally, it is a Cathy Duffy Top Pick for Homeschool Curriculum. It is proven to improve results. Your child will get feedback from real Night Zookeeper tutors. (This helps free up your time while knowing that your child receives the feedback they need). 
How much does Night Zookeeper cost?
If you use my link, you will save money! You will get a free 7-day trial and then 50% off your annual subscriptions which is $59.99/year for a single child subscription and annual subscription price of $77.99 for 2-3 children. You read that correctly. A wonderful free trial for seven days before paying for a subscription.
What are the titles of the Night Zookeeper books?
The following titles are in the book series – both a physical copy and ebooks.
First, in Book 1: The Giraffes of the Whispering Wood – Will creates a portal and is transported into the Night Zoo.
Book 2: The Lioness of the Fire Desert – Will is joined by his friends, Sam & Riya as they journey to the Fire Desert.
Book 3: The Penguins of Igloo City – Will arrivals at Igloo City where the animals have strict rules. The city is run by Circles the owl.
Check out Book 4: The Elephant of Tusk Temple – Will and friends travel to Tusk Temple in search of the time-traveling elephant, Maji.
Book 5: The Bear of Flying Mountain – Will, Riya, and Sam (the spying giraffe) travel to a flying mountain. They are looking for someone to protect the Night Zoo from the evil Lord of Nulth.
Is Night Zookeeper a Christian company?
No, this company is not Christian. I, however, am a Christian. Therefore, this is a Night Zookeeper Christian Review as all my reviews are done from a Christian worldview.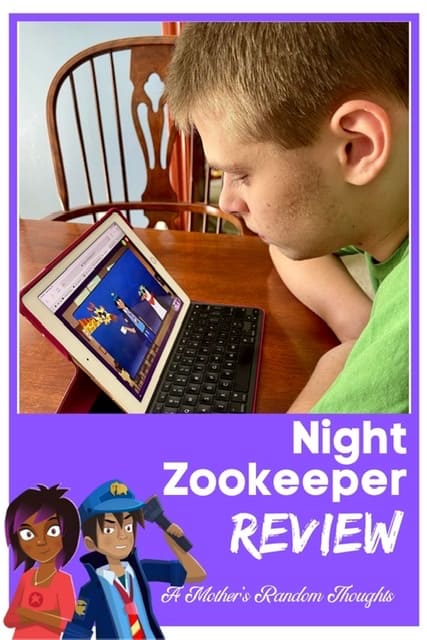 If you want more information about homeschooling, read What You Need to Know About Homeschooling!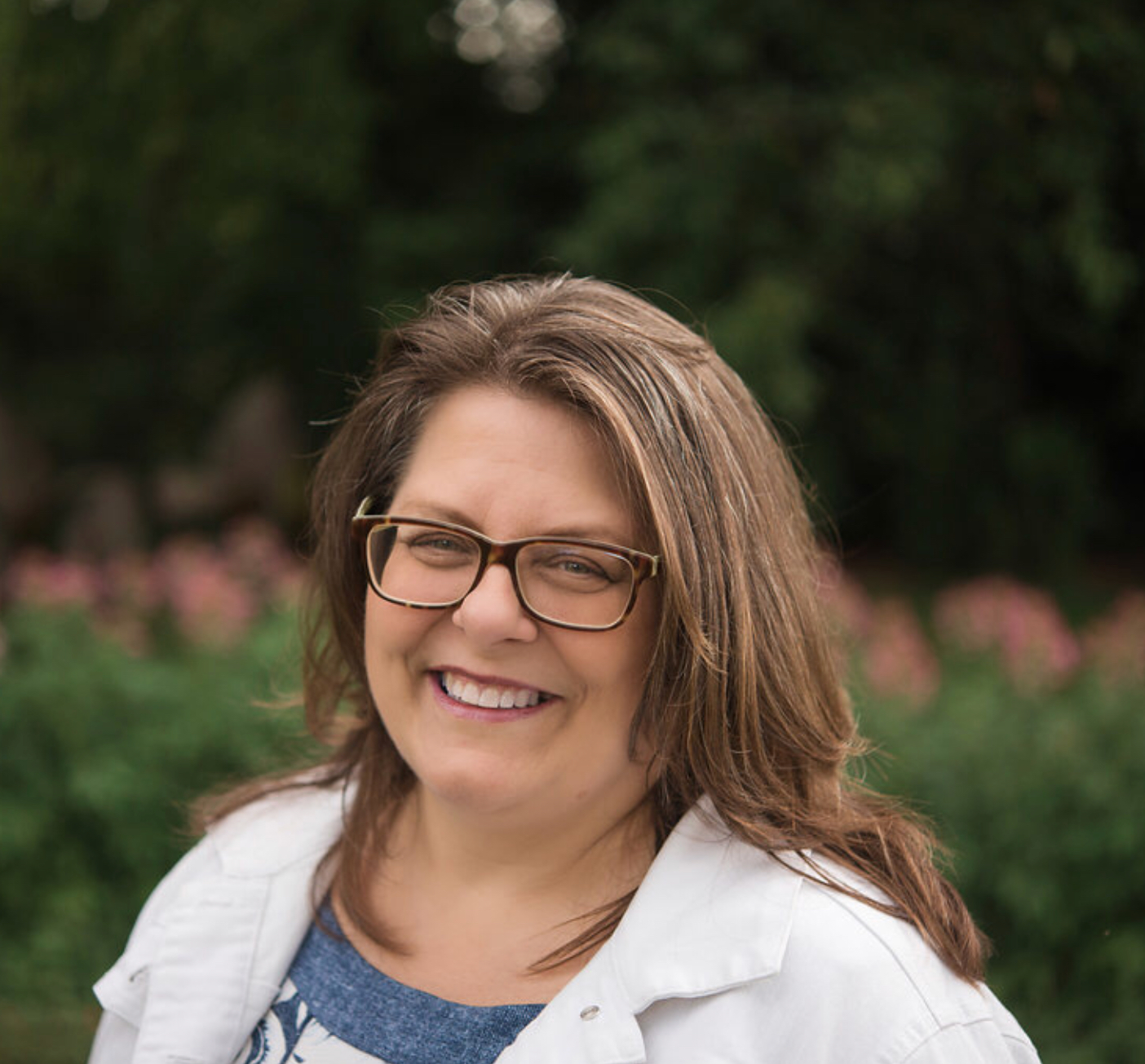 Homeschooling mom – 26 years and counting
Autism Mom
Movie reviewer/Travel blogger
Disney enthusiast