Is the Potential for Laughs Enough to Power this Disney Streaming Series?
Monsters, Inc. was first released in 2001 – hard to believe it has been that many years. It would take Pixar another 12 years to release the prequel, Monsters University which told the fraternity tale of the days before Mike & Sulley went to work for Monsters, Inc. (2013). Most children I know love the furry Sulley (James P. Sullivan) and the one-eyed wonder, Mike Wazowski. However, monsters are very real to children. Can the latest Pixar-inspired offering hit it out of the park with a straight to Disney+ series? This Monsters at Work Christian Review examines the episodes from Season One streaming on Disney Plus.
"There are monsters in my closet or under the bed." What mom or dad hasn't heard those words at some point in their parenting career? Those monsters are very real to our children. Sometimes monsters are products of overactive imaginations and sometimes monsters are things they have seen and heard throughout their day. In this review, I will give you a brief synopsis of each episode. Additionally, I will let you know if any content may be objectionable in an episode. To read more about my method for reviewing, visit My Movie Review Guidelines.
MONSTERS AT WORK CHRISTIAN REVIEW
Synopsis of Monsters at Work:
From Disney: "Monsters At Work" takes place the day after the Monsters, Incorporated power plant started harvesting the laughter of children to fuel the city of Monstropolis, thanks to Mike and Sulley's discovery that laughter generates ten times more energy than screams. It follows the story of Tylor Tuskmon, an eager young monster who graduated top of his class at Monsters University and always dreamed of becoming a Scarer until he lands a job at Monsters, Incorporated, and discovers that scaring is out and laughter is in. After Tylor is temporarily reassigned to the Monsters, Inc. Facilities Team (MIFT), he must work alongside a misfit bunch of mechanics while setting his sights on becoming a Jokester."
"This latest endeavor is produced by Disney Television Animation and inspired by the world of Disney and Pixar's Academy Award-winning "Monsters, Inc.,"the series introduces new monster characters alongside returning favorites."
Season one (Rated G) features 10 weekly episodes with 2 episodes released in week one.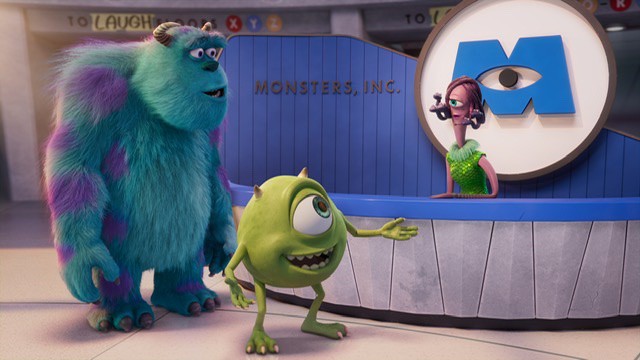 EPISODE ONE: Welcome to Monsters, Incorporated
Time 27 minutes
Released to Disney+ on July 7, 2021
SYNOPSIS:
This episode begins in the scare simulator. The bedroom is dark, a door opens, and a scary monster enters the room. Tylor Tuskman is taking his scare exam and passes with a higher score than even the great James P. Sullivan. Tylor's professor already has a letter of intent to hire him at Monsters, Incorporated. Tylor is in the surprise of his life as he enters Monsters, Inc. to find that they are removing their tagline of We Scare Because We Care. He finds that even though he was the top scarer, he already has to reinvent himself.
Meanwhile, with Waternoose gone, Mike and Sulley take over as head of Monsters, Incorporated.
Content Parents May Want to Know About:
This series is rated G. However, there may be some content you want to be aware of. If your child has never seen Monsters, Inc., they may be scared of the monsters. Immediately as episode one starts, a monster enters a dark room. There is a boy in bed, and the monster roars. This scene may scare small children and may give them an image that they remember when they are in their beds at night in the dark.
Both Celia and Roz briefly appear in episode one. Roz can be scary to some children. My son was always afraid of Roz when he was younger.
The word "cosmic" is used to describe something happening. Additionally, the phrase "shut up" is said.
A monster drinks lubricant unaware of what is in the coffee cup.
Tylor is taken in a maintenance room and verbally threatened by a co-worker.
Overall this episode is cute and continues where Monsters, Inc. left off.
Teachable Moments:
This episode is all about reinventing yourself. Often we find that when we have completed the requirements for something either 1) We no longer want to go in that direction, or 2) The opportunity no longer exists. How we handle situations like Tylor's determines what kind of person we are. Talk to your child about disappointment. How do we handle it when we don't get what we wanted?
The headlines in the newspapers are all designed to shock and get attention. In Monsters at Work, the scarers are scared when they read the papers. Discuss how the news makes money – selling ads in top-producing spots. The more shocking or scary the news, the more people watch, the more they can charge for ads.
Christian Review of Monsters at Work EPISODE TWO: Meet Mift
Time 25 minutes
Released to Disney+ on July 7, 2021
Monsters at Work Christian Review: SYNOPSIS:
In Episode, Tylor Tuskman continues to try to find a way to be a jokester and escape the maintenance group. Mike works day and night trying to keep the power running and train new recruits for the laugh floor.
Content Christian Parents May Want to Know About:
Language: While there is no language, there are comments made about the group that Tylor finds himself working with such as "they're weird."
Coffee is used to keep a person up. Additionally, a 36-hour energy drink is used to keep a person awake. 
A reference is made about an emotional support animal.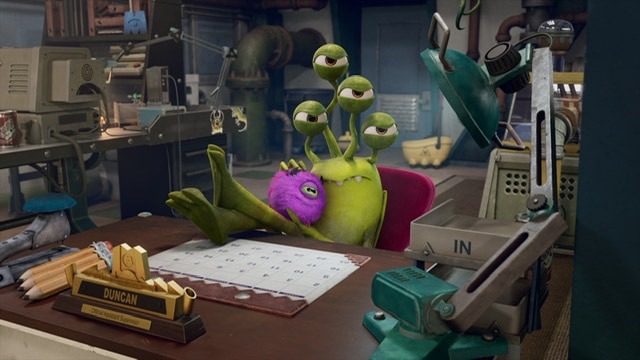 Teachable Moments:
Discuss stimulants such as coffee and energy drinks and the effects they have on the body.
Watch videos about emotional support animals and why people use them.
The weight of our words. Ask your child if they would like to be called "weird?" How do words like that impact people?
Cast:
Billy Crystal – Mike
John Goodman – Sulley
Ben Feldman – Tylor
Mindy Kaling – Val
Henry Winkler – Fritz
Lucas Neff – Duncan
Alanna Ubach – Cutter
Recurring Cast:
Bonnie Hunt – Ms. Flint
John Ratzenberger – Yeti and Bernard
Jennifer Tilly – Celia Mae
Bob Peterson – Roz/Roze
Aisha Tyler – Millie Tuskmon
Stephen Stanton – Smitty and Needleman
Developed/Executive Produced: Bobs Gannaway
Supervising Director: Steve Anderson
Kat Good
Producers: Sean Lurie
Ferrell Barron
FREQUENTLY ASKED QUESTIONS:
Where Can I Watch Monsters at Work?
Monsters at Work is streaming on Disney+
Is Roz in Monsters at Work?
Roz appeared at the beginning of Episode One and then leaves. She is replaced by her "twin sister," Roze. 
Is Celia in Monsters at Work?
She is also listed in the recurring cast.
Is Monsters at Work scary?
Monsters at Work is mildly scary, and the opening image of episode one is the scariest so far.
Is Monsters at Work any good?
Monsters at Work is not Monsters, Inc., but it does have entertaining moments. Imagine the cast of The Office meets H.R. Pufnstuf. It would seem odd and you might not be sure what to make of it.
Additionally, the new monsters lack the Pixar charm. The new designs lack the depth of Pixar animation. This is fine for a Saturday morning cartoon, but don't expect the Pixar quality.
How Old is Billy Crystal?
In 2021, Billy Crystal is 73 years old. He has been married one time (1970) to Janice Goldfinger. They have two children and live in Los Angeles, CA.
How Old is John Goodman?
In 2021, John Goodman is 69 years old. He has been married once to Annabeth Hartzog (1989) and they have one child. He and his wife live in New Orleans, LA.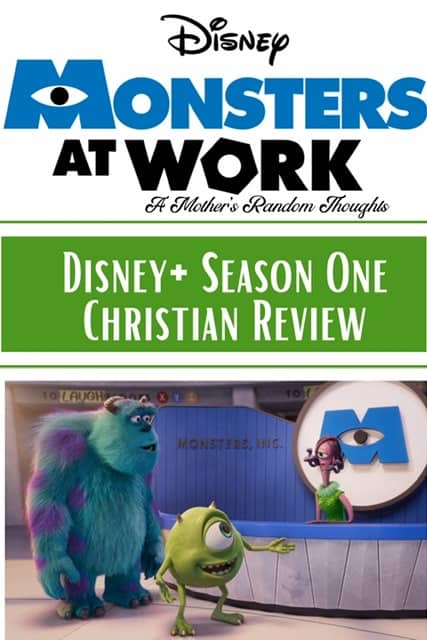 This post contains affiliate links. As an Amazon Affiliate, I do earn from qualifying purchases.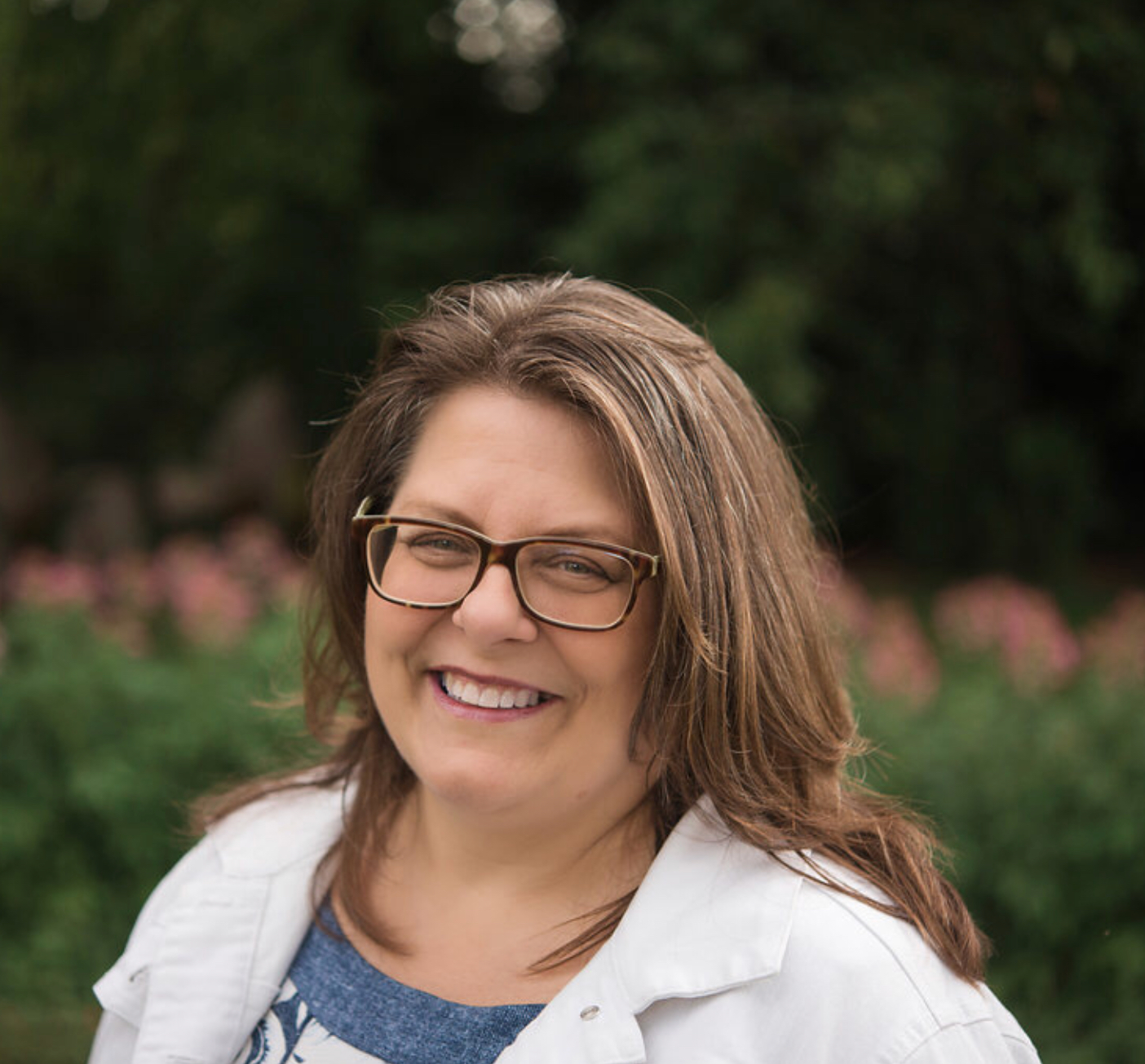 Homeschooling mom – 26 years and counting
Autism Mom
Movie reviewer/Travel blogger
Disney enthusiast