How many Minion movies have there been?
First off, outside of two of the Despicable Me movies, I have not gone to see the other movies in this franchise. (Please don't hate me, but I really don't see the appeal of the minions). I mostly see and review Disney movies with an occasional other movie thrown in for good luck, but with Disney declaring war on the Christian family, my youngest son, (Jack-Jack 17 and autistic) is one of the casualties caught in the crosshairs. He desperately wants to see movies in the theater. So in an attempt to broaden our horizons, we decided to see Minions: The Rise of Gru. Here is my Christian Movie Review, and visit here to see how I review movies.
I attempt to answer your questions regarding this movie, and let you know any content that may be troublesome before you see it yourself.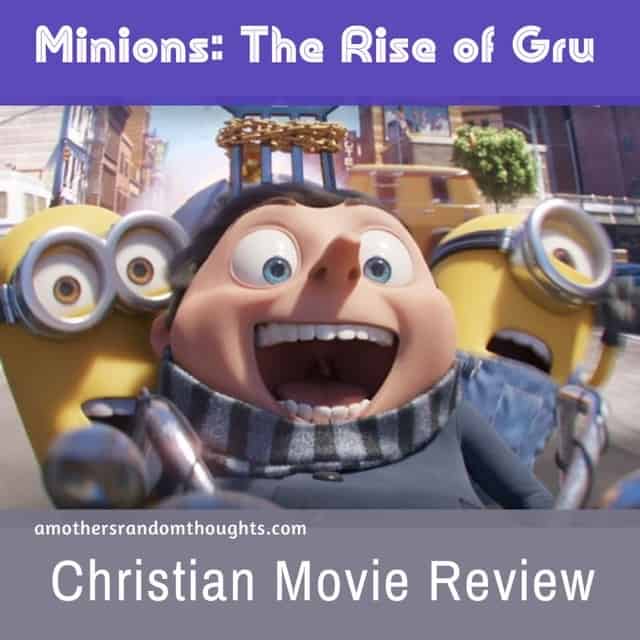 Minions: The Rise of Gru Christian Movie Review Synopsis
From Universal Pictures: When the infamous supervillain supergroup, the Vicious 6, oust their leader—legendary martial arts fighter Wild Knuckles (Oscar® winner Alan Arkin)— Gru, their most devoted fanboy, interviews to become their newest member. The Vicious 6 is not impressed by the diminutive, wannabe villain, but then Gru outsmarts (and enrages) them, and he suddenly finds himself the mortal enemy of the apex of evil. With Gru on the run, the Minions attempt to master the art of kung fu to help save him, and Gru discovers that even bad guys need a little help from their friends.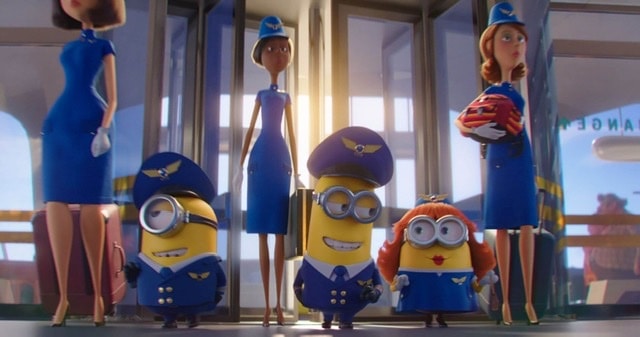 Gru (Steve Carell) is an 11-year-old boy. When asked in school what he wants to be when he grows up, he quickly answers "a super villain." While most little boys are hoping to be firefighters, police officers, or superheroes, Gru is drawn to the criminal life. 
Before you say, 11-year-old boys don't want to be firefighters or astronauts anymore – remember this movie is set during the 1970s. 
Gru has his own team in the Minions, but he doesn't have cool gadgets or formal training. Kevin, Stuart, and Bob are the main minions we see in this movie. Otto is a braces-wearing minion. 
When he fails to impress the leader of the Vicious 6, who demands that he doesn't return until he has done something evil to impress her, Gru steals the Zodiac Stone. Then when he is almost caught, he gives the stone to one of the Minions who trades it for a pet rock. When Gru goes looking for the stone, he ends up getting kidnapped by his favorite super villain.
Will the Minions find Gru? Will Gru become the ultimate villain? Because this is a prequel, you obviously know the answer to these questions! 
Minions: The Rise of Gru Christian Movie Review
What Parents May Want to Know
The Good: Overall this movie was pretty tame content-wise. The animated violence was nothing extreme. This movie is so similar to other movies within this franchise, so there really is not much that you won't expect.
Even villains have a sweet side, and Gru is mostly kind and caring with his minions. 
Potentially Objectionable Content:
Language:
While there is very little in the language department, there is plenty of innuendos. Furthermore, there is plenty of words such as stupid, idiot, heck, and sucker. "Holy Guacamole" is stated.
The song from KC and the Sunshine Bank, "Get Down Tonight" plays – "Do a little dance, make a little love, get down tonight."
Violence:
There is plenty of violence and yet nobody is really hurt. A man falls a very far distance into a river. It is presumed he is dead. Later you see the character alive.
In an Indiana Jones or Romancing the Stone moment, a man is almost killed by spikes, and you do see skulls from previous people.
A man is attacked by golden evil statues.
There are car wrecks, vans flipping over, crashed vehicles, and high-speed chases through the streets. A house is destroyed. A minion is set on fire and one is hit with a hammer.
Furthermore, there are many fights throughout the movie.
Gru is tied to a clock on a clock tower. He is also tied to a giant record player with a spinning blade that inches toward him. He is dangled over the edge of a balcony.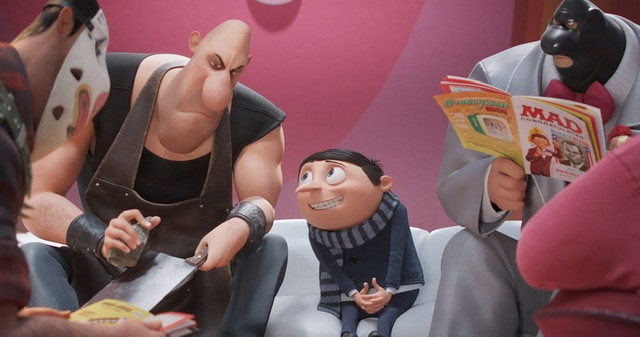 Sexual Content:
Gru gets out of the bath and his towel drops below his butt crack as he is drying, and you see him put on his underwear. You see Minion butts too.
Minions dress as women and put tennis balls in their dresses for look like women.
Other Content – Spiritual:
One of the Vicious 6 is dressed as a nun and named Nun-Chuck. Her nunchucks are in the shape of a cross.
Someone calls a person a demon child. A woman does yoga and meditates.
The Zodiac Stone is based on the signs of the zodiac. Furthermore, it is mystical and it's powers allow people to transform into supernatural beasts. Animal spirits are depicted several times. 
An acupuncturist/kung fu master teaches the Minions how to "channel their inner beast" which causes glowing red eyes and they blast people with their voices.
The minions dress as angels.
Cheating/Lying: Gru cheats to get what he wants. The minions also do some deceitful things.
A man fakes a heart attack to rob a bank.
Gru releases a fart bomb in a movie theater so he can watch the movie without others in the theater.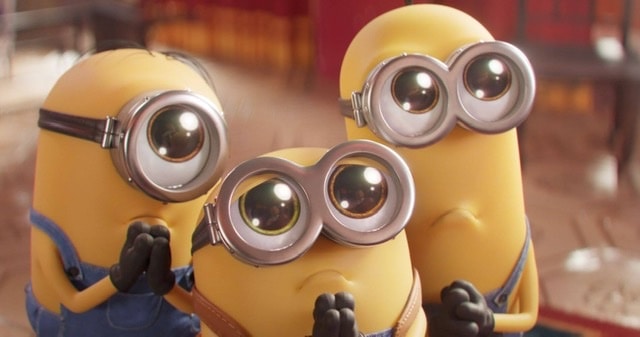 Teachable Moments:
While Gru has the opportunity to let his kidnapper die, he ends up saving him. Talk to your kids about compassion and doing the right thing even when you should want to seek revenge.
Additionally, Gru does some mean things – he acts like a bully – such as eating ice cream outside the window of a gym. As a Christian, why would this be something you shouldn't do?
My Review Recommendations:
Minions: The Rise of Gru is the most boring film I have seen in a long time. I actually nodded off in the theater, something I rarely do. I personally think this franchise is overdone, but my 17-year-old autistic son loved it and so did other kids in the theater.
Warning: The following is said tongue in cheek and should not be construed to be actually parenting advice. I am certain that this movie is just a compilation of a series of other movies with minions thrown in for good luck. Save yourself a lot of money, get old Despicable Me/minion movies from the library and let your kids watch those until they are super bored. Then when this comes out streaming, convince them that they already saw this movie! 
References to other movies:
Jaws is playing in the movie theater
Additionally, a man rides a motorcycle through Death Valley- Easy Rider
The opening song is very James Bond ish!
A very Indiana Jones-like heist
Star Wars: The Rise of Skywalker – is the title a play on that?
Mystery Machine van – Scooby-Doo
References to Actual Places:
San Francisco is prominent in this movie as is the Golden Gate Bridge.
Old St. Mary's Cathedral clock is featured.
Chinatown
Big Sur
Pacific Coast Highway
The Painted Ladies – row houses in San Francisco
Additional References: A Mad Max magazine from 1961 with Richard Nixon on the cover – before he was President.
The cast of Minions: The Rise of Gru – Christian Movie Review
Steve Carrell as Gru
Alan Arkin as Wild Knuckles
Taraji P. Henson as Belle Bottom
Michelle Yeoh as Master Chow
Julie Andrews as Gru's Mom
Russell Brand as Nefarious
Jean-Claude Van Damme as Jean-Clawed
Dollops Lundgren as Svengeance
Danny Trejo as Stronghold
Lucy Lawless as Nun-Chuck
Pierre Coffin as the Minions
Rating: PG
Release Date: July 1, 2022
Run Time: 87 minutes
Director: Kyle Balda
Co-Director: Brad Ableson
Jonathan del Val
Producers: Chris Meledandri
Janet Healy
Chris Renau
Frequently Asked Questions:
When Will this movie be released on DVD?
As of this point, the date of this has not been released yet.
Is this movie available for streaming?
Currently, this movie is not available on streaming on Netflix, Amazon, or any other service. It is only in theaters.
How Many Minion movies have there been?
Despicable Me (2010) – First film in the franchise
Despicable Me 2 (2013)
Minions (2015)
Despicable Me 3 (2017)
This post contains affiliate links. As an Amazon Affiliate, I do earn a small commission from qualifying purchases.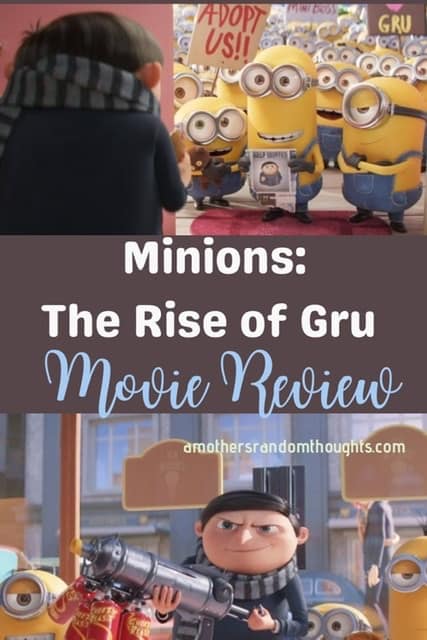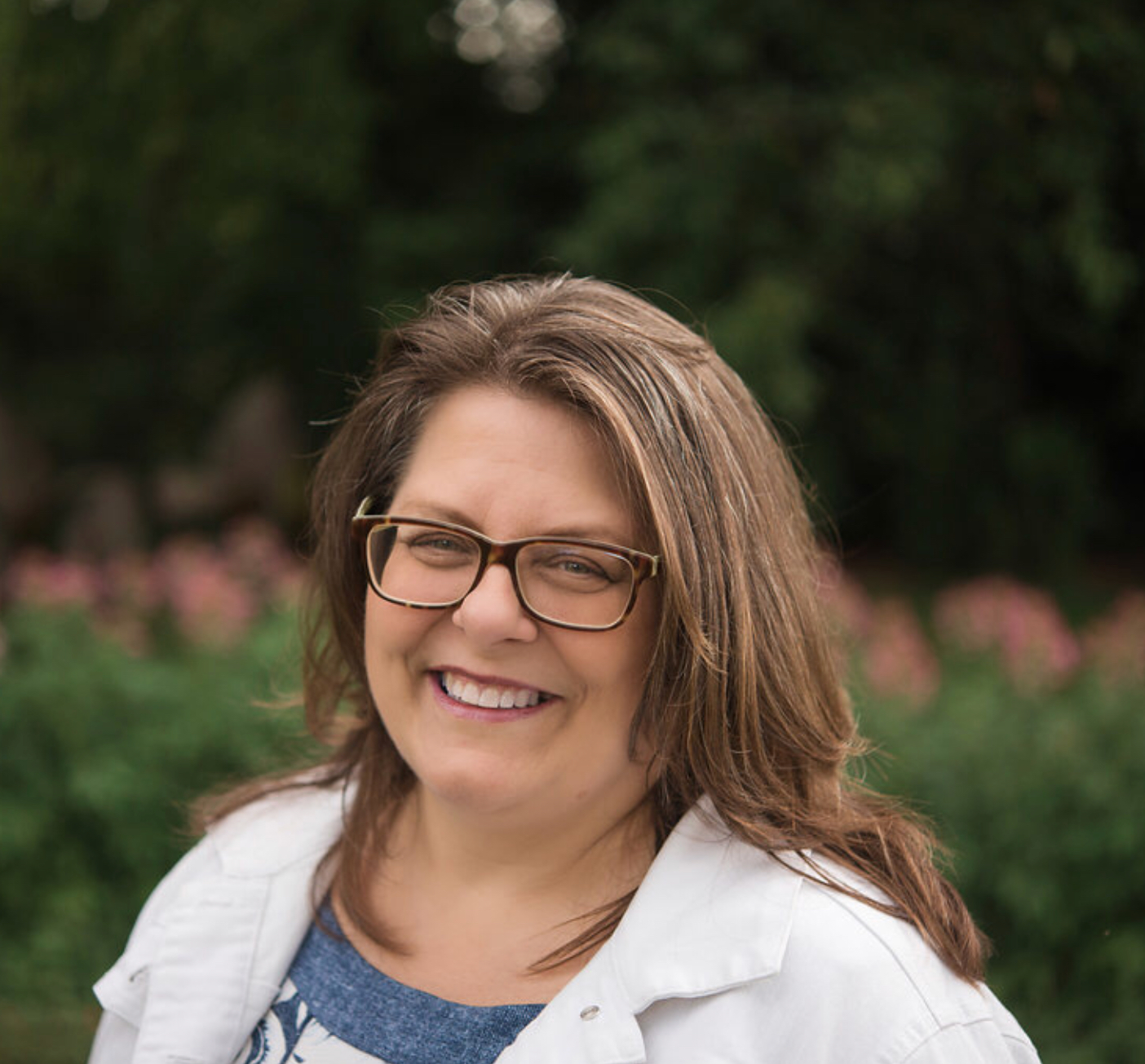 Homeschooling mom – 26 years and counting
Autism Mom
Movie reviewer/Travel blogger
Disney enthusiast