DIY Advent Wreath for Your Home
Years ago, I bought an Advent Wreath. It was beautiful, and I paid $$$ for it. It was used for years. We moved – it got mangled. I never replaced it. Every time I thought about getting another one, I remembered my beautiful one and the money I spent. I would always say, "next year." I finally thought I can make one – I challenged myself, "How to make an Advent Wreath for $10 or less" – can I do it?
WHY USE AN ADVENT WREATH?
The word Advent means "coming" in Latin. An Advent Wreath allows us to reflect on the Christmas season and what Christmas really means – the coming of our Savior. Each candle in the wreath represents a different theme: Week 1 – Hope; Week 2 – Peace; Week 3 – Joy; and Week 4 – Love. Each week as we light the candle and reflect on the Hope, Peace, Joy, and Love that Christ's birth brought to the world it helps us to focus on the real reason for Christmas.
HOW TO MAKE AN ADVENT WREATH FOR $10 OR LESS
So I went to the store, and I found a green wreath with the candle holders built-in, and Advent Candles (a box of 3 purple and 1 pink). These were both 50% off. And the price before tax was $10. But I didn't like the look of it. It isn't beautiful and it isn't even pretty. It is just blah! I didn't want to have to buy more to get it looking beautiful.
I started to look around the house and determined that I have more than enough supplies, dishes, candles, ribbon to make an Advent Wreath. Let's walk step-by-step through what you need.
HOW TO MAKE AN ADVENT WREATH – STEPS:
STEP 1: Gather "candle holders"
Look for jars, baby food jars, candle holders, votives or drinking glasses that would work. You will need 4 of one size and one larger one. I finally selected 4 Ball jelly jars and one large Ball mason jar. I had these at home! Cost out of pocket $0.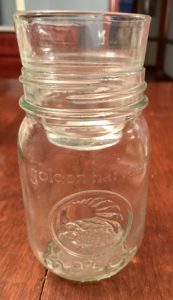 The votive holder in a mason jar is pretty, and you can add lights, ribbon, colored beads or sand to the jar.
STEP 2: Gather candles
Gather candles – votives, tealights, tapers, pillar candles. The Advent Wreath uses 3 purple, 1 pink, and 1 white candle. However, after playing around with different candle combinations I settled on white votives and a white taper candle. I owned all the candles I am using – cost out of pocket $0.
STEP 3: Gather containers – wreaths, platters, baskets
Making a wreath or wreath shaped – I gathered a couple of wreaths I had, platters, dishes, and cut a branch off of a white pine tree outside. You can try a rectangular basket or tray, a mirror, or a wooden cutting board. I even tried a rectangular dish which I loved, but eventually settled on a round platter with "greenery." I own the platter, and the greenery I settled on was the most expensive item (regular price $12.99) at 50% off – cost $6.49.
STEP 4: Find filler for the jars
Filler for the jars – sand, stones, glass beads, potpourri. I was leaning toward the sand almost the entire time, but while looking in the "candle cupboard" I found a box of very tiny wax beads that was in a Christmas gift last year. These gold beads were just what I wanted to put in the jelly jars. In the large mason jar, I did use sand.
STEP 5: Accessories
Do you want to wrap the jars or candles with ribbon, twine, or netting? I tried a combination but decided on twine around the jelly jars.
STEP 6: Additional Items
Since I wasn't using colored candles or ribbon to designate the candles, I decided to label my jars with Love, Peace, Joy, and Hope. These are the 4 virtues that we reflect on during the Advent Season. I used Kraft tags that I purchased – the package was $3.00. I could have made the tags, but I loved these, and I have more for additional crafts. Cost $3.00
I used stickers that I already owned. If I was crafty enough I could just draw a design on my tags, but alas, I was not given the drawing gene!
Total out-of-pocket cost for my wreath $9.49. I could have chosen one of the "wreaths"  below with items that I already owned and not incurred any cost, but I am thrilled with the finished product! Which is your favorite "wreath?"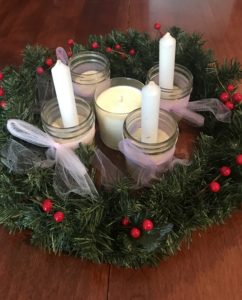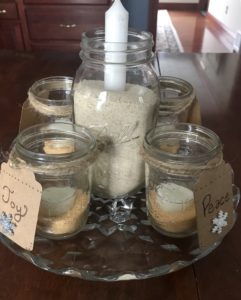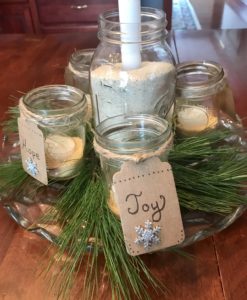 This post contains affiliate links. As an Amazon Affiliate, I do earn from qualifying purchases.
What do the candles of the Advent Wreath represent?
The four candles represent the 4 weeks of Advent. The advent season is a time to prepare our hearts for the coming of the Savior, Jesus Christ.
Each Sunday a different candle is lit. There are 5 candles traditionally, 3 purple candles, 1 pink candle (or a rose candle), and 1 white candle in the center of the wreath. The first week of advent is represented by a purple candle symbolizing hope. On the second week, another purple candle is lit signifying faith. The third Sunday is marked with the pink candle and it represents joy. On the fourth Sunday, we light the final purple candle symbolizing peace. The candle in the center of the Christmas wreath is white and it is lit on Christmas Eve. This candle represents purity. Some people opt for having all-white candles. While the tradition started within the Catholic faith, other Christian faiths have adopted it as a great way to prepare for the birth of Jesus.
What does the Wreath Represent?
The wreath (circle) represents continuous life having no beginning or no end. Some people opt for fresh greenery while others choose a pre-made wreath. Even the greenery chosen can represent different things. Pine or holly represents immortality, cedar – strength, and healing, and laurel is victory over persecution. Holly is seen in many Christmas wreaths and decorations and the prickly leaves remind us of the crown of thorns placed on Jesus' head before His crucifixion. Pine cones represent life and resurrection.
I have seen people use a small wreath or others who use a huge wreath. There is no one right way to count down the days of Advent. Each family can find a creative way to express themselves this season of Advent. Some people choose a book to read each evening while other families select a Bible passage. People have suggested reading a chapter a day from the book of Luke which contains 24 chapters. This takes you through the entire life of Jesus and ends at the ascension. However, other families choose to focus solely on the birth of Christ and read The Christmas story from Matthew, Mark, and Luke.
This year, Advent begins on November 28, 2021.
The History of the Advent Wreath
What is the meaning of the Advent wreath? Where did we get this tradition of the celebration of Advent? It is easy to see that candles signify light. Jesus is the light of the world. But where did this tradition start? In the dark days of winter, candles were necessary to light the way. It is said that before Christianity, in Scandanavia lighted candles were placed around a wheel to turn "the wheel of earth" back towards the sun during the long days of winter. Prayers were offered to the god of light.
It is believed that the first use of an Advent wreath began with Lutherans in Germany in the 16th century. Johann Hinrich Wichern (1808-1881) was a Protestant pastor and worked with the poor. He built a large wooden ring with 20 small red candles and 4 large white candles for the children of the mission school. Each day a small candle was lit and on Sunday's the large white candles were lit.
How did this pagan tradition become a symbol of Christianity?
Christians eventually adapted this winter tradition and it became a Christmas tradition sometime in the middle ages. By 1600, both Lutherans had adopted a wreath lighting leading up to Christmas Day. However, some Lutherans use all blue candles. Eventually, Catholics and other Christians picked up the tradition. Furthermore, Orthodox Christians use an Advent wreath for the 40 days before Christmas. They use six candles: one of each color red, green, blue, gold, white, and purple. However, I have seen people use all red candles.
The Advent wreath – no matter what type of wreath or color of candle has significance for Christians. Use these DIY Advent wreath ideas to craft a tradition with your family this holiday season. Have a great time teaching your children the different meanings of the traditional colors, but make them unique to your family.
Other Ideas for Advent Traditions:
While using the Advent wreath, play a different Christmas song each day (or week) and learn the history behind the traditional Christmas hymns which point us to Christ. Christmas music is a great way to usher in the season.
As you light the candle each night, pray and ask God to give you a person to minister to the next day. Each night share how you were able to show the love of God to a friend, relative, or stranger that day.
Discuss the miracles of Jesus each night as you light the candle starting with the miracle of His birth. Talk about the miracles that have happened in your own lives. We all have miracles, but we don't always recognize them. Teach your children to recognize the miracles every day.
Each night, make cards for children in the hospital this Christmas season.
Will you make your own Advent wreath or participate in some other Advent traditions – Advent calendar, random acts of kindness, The Giving Manger, or something else?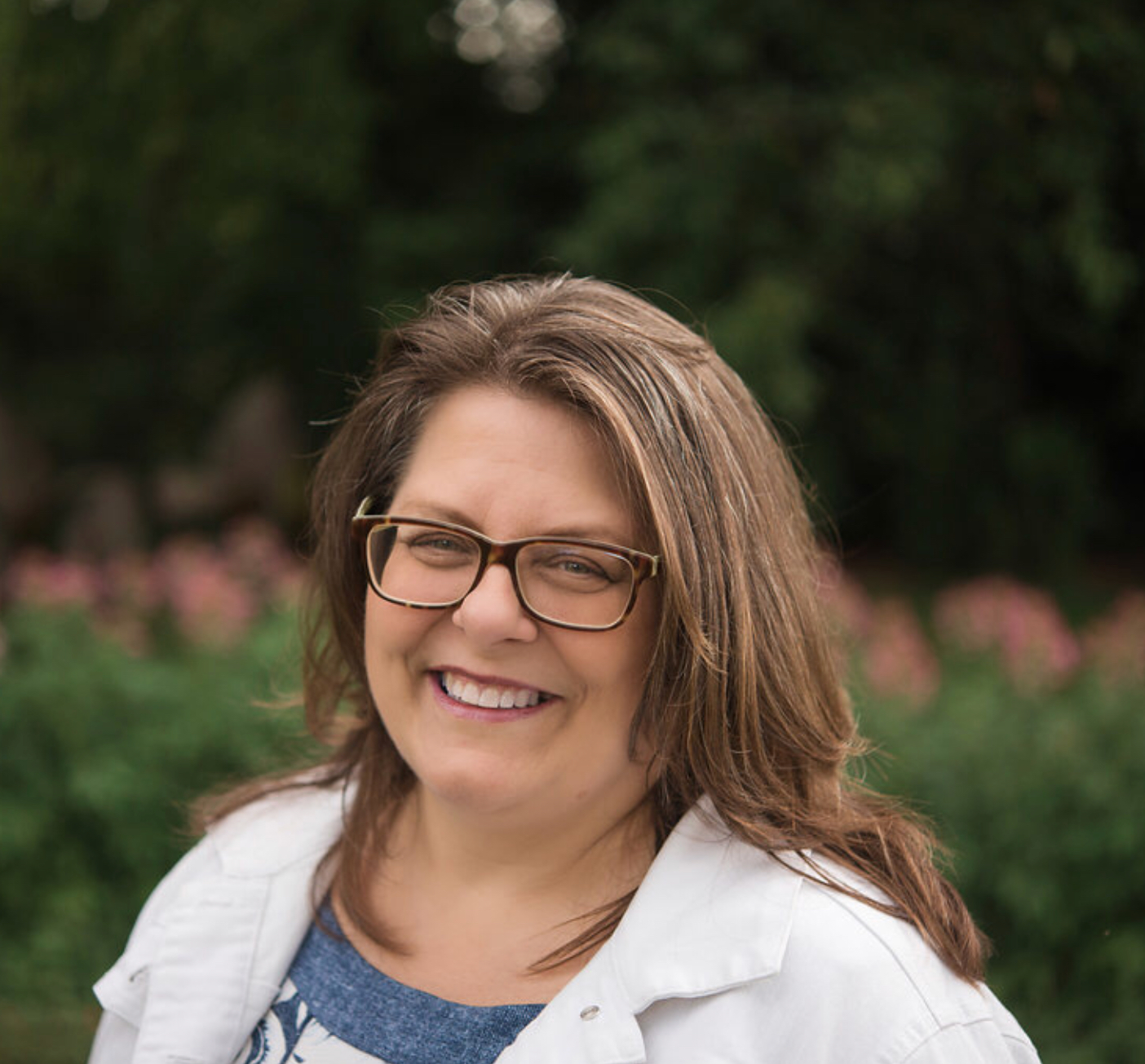 Homeschooling mom – 26 years and counting
Autism Mom
Movie reviewer/Travel blogger
Disney enthusiast