Camping is Wholesome Family Fun – What could Go Wrong?
Have you ever thought that if you could just unplug and get away that maybe, just maybe, your family could get on the right path and everyone (including you) would be happy? Sometimes our plans seem good on paper but rarely do our plans achieve the results we want. While Family Camp is a faith-based movie, this Christian Movie Review will tell you what you need to know before taking the entire family.
To find out my criteria for movie reviews, read here!
Family Camp Christian Movie Review Synopsis
From Roadside Attractions, K-LOVE Films, and Provident Films
"FAMILY CAMP, the first feature-length film from The Skit Guys, a renowned comedy act comprised of
Tommy Woodard and Eddie James, also stars Leigh-Allyn Baker ("Good Luck Charlie", "Will & Grace", "Charmed") and Gigi Orsillo (SLEEPER AGENT). The film portrays two seemingly polar-opposite families who are assigned to share the same cabin for a hilariously eventful week at church camp. The cast also includes Cece Kelly (HALT), Robert Amaya (COURAGEOUS, MOMS' NIGHT OUT), and social media phenomenon Heather Land" famous for "I Ain't Doin' It."
My Synopsis:
When Tom Ackerman (Tom Woodward) shows up at the end of Sunday service wearing golf cleats, his wife, Grace backs him into a corner. She makes him agree to a week at a family church camp tucked away from civilization. Will Camp Katokwah be the miracle to save her family?
When the family arrives at family camp, they are forced to share a Yurt with the Sander's family. On the surface, the Sander family appears to have it all.
Is Tom Ackerman capable of change? And what secrets are the Sanders -the "perfect godly family"- hiding from the world?
Family Camp – Christian Movie Review: What Parents May Want to Know:
The Good:
While Family Camp probably won't win any awards, it is a clean wholesome comedy. It has all the elements you would expect from a faith-based film. No language, cheesy jokes, and predictable characters.
If you have ever spent time at church camp, you will recognize the hallmarks of camp such as the campfire singalongs, the church camp romance, and the clean family puns and jokes.
Language:
While there is no foul language, there are a few instances of name-calling such as dummy and idiot. Additionally, siblings verbally fight during a car ride.
A woman begins to say, "Oh my" and you believe she will take God's name in vain, but she changes it to goodness.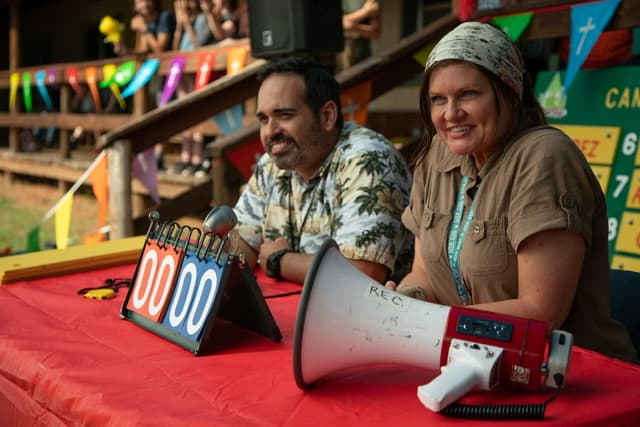 Violence:
A man drives aggressively. Two men have a physical fight.
A tranquilizer gun is used.
Some of the camp games get a little more aggressive. Additionally, two men are tied to a tree and left unattended overnight.
A chiropractor adjusts several people without their consent.
An animal is almost hit by a vehicle.
Spiritual Content:
This is a spiritual faith-based film involving a church camp so there are many Christian and Jesus references. People are shown praying.
A person says, "I prayed for a hedge of protection." Another person says, "Church camp is just so Jesus-y." A question is asked, "Is this feeling kinda cultish?"
A man walks in while a family is praying, and using oils to anoint. He asks if they are "sacrificing their children."
While participating in a camp game, a person asks, "What demon invented this game?"
WWJE – What would Jesus eat? is referenced. A joke is told, "When God closes a door, he opens a Chick-fil-A.
The movie makes fun of some Christian practices that probably look odd to outsiders looking in. It is all done in fun. A woman asks about praying in her prayer language. It is thought to be speaking in tongues, but she is really wanting to pray in Spanish.
Sexual Content:
A husband dips his wife and she makes a comment about the "kids" who are watching. He replies, "How do you think they got here?"
A man makes a comment about his "trophy wife."
A chiropractor comments on a woman's neck being lovely in a professional way.
A teenage girl meets a boy at camp. She spends time with him and her mother watches from a distance worried about what will take place. The boy tries to kiss the girl, but she rejects his advances and he says, "quit being such a tease."
An epi pen is used. The person injecting it is told to put it in the thigh or the buttocks.
Drugs/Alcohol & Other Content:
No drug or alcohol content.
An ATV is taken without permission. A man lies. A person vomits off-camera.
Teachable Moments: Family Camp
Ultimately Family Camp is about forgiveness and reconciliation. However, I think a deeper message is that when we try to be Holy Spirit in others' lives we usually make a mess of things.
Another great lesson in this movie is about setting boundaries. Tommy Ackerman does most of his work on his phone. With the advent of cell phones, we have seen a generation of people that have granted everyone access to them 24/7. How do you set boundaries? Do you turn off your phone? Do you leave work at work?
Viewing Recommendations: Family Camp Christian Movie Review
I have often said, we vote with our money. I believe we have great cinematic art in movies, but unfortunately, most of those movies lack any moral compass. Gone are the days you can take your children to a movie without first previewing it. Voting with our dollars means supporting faith-based movies. So while I think this movie is cheesy, I still recommend you see it.
While Family Camp has a horrible CGI beaver, it is meant to be horrible. This movie has all the earmarks of a tacky Christian film, but it is clean wholesome family fun. While the laughs are predictable, I didn't expect to cry. However, tears were shed!
And if the truth is told, it is entirely relatable. Some of the things that came out of Grace Ackerman's mouth have come out of my mouth.
I would recommend ages 8 and up due to the length of the movie. At almost 2 hours, children younger than that will have a hard time sitting through it.
What the Cast and Crew Have to Say:
"For over 20 years, we've dreamed about making a comedy feature film," said Eddie James of The Skit Guys. "Our goal is to always include humor, heart, and Him (God), and we were able to accomplish that in FAMILY CAMP."
"We believe humor helps break down barriers," said Tommy Woodard of The Skit Guys.
"I feel like there's a real hole in the movie world when it comes to family comedies. I mean, this is what used to drive the box office," said Leigh-Allyn Baker. "People, now more than ever, need to laugh. I'm really glad that people can laugh at this and laugh with us."
Christian Movie Review: Family Camp
About the Family Camp Movie
Rating: PG (A Faith-based Family Comedy)
Release Date: May 13, 2022 – limited
Runtime: 1 hour, 51 minutes
Director: Brian Cates
Producers: Jay Howver, Darren Moorman, Trey Reynolds, Justin Tolley
Writer: Brian Cates, Rene Gutteridege
Cast of Family Camp:
Tommy Ackerman: Tommy Woodard
Grace Ackerman: Leigh-Allyn Baker (Good Luck Charlie)
Hannah Ackerman: Cece Kelly
Henry Ackerman: Jacob M. Wade
Eddie Sanders: Eddie James
Victoria Sanders: Gigi Orsillo
Ed Sanders Jr.: Elias Kemuel
Barb Sanders: Keslee Blalock
Pastor Dave: Mark Christopher Lawrence (Big Mike in Chuck)
Joel: Robert Amaya
Cookie: Heather Land
Slim: Myke Holmes
Beef: Weston Vrooman
Bramberger: Brandon Potter
The Beaver: David Acuff
When will Family Camp be available for streaming?
Currently, Family Camp is available to watch in theaters. It is not on a streaming platform such as Pure Flix, Netflix or Amazon, and there is no available streaming release date.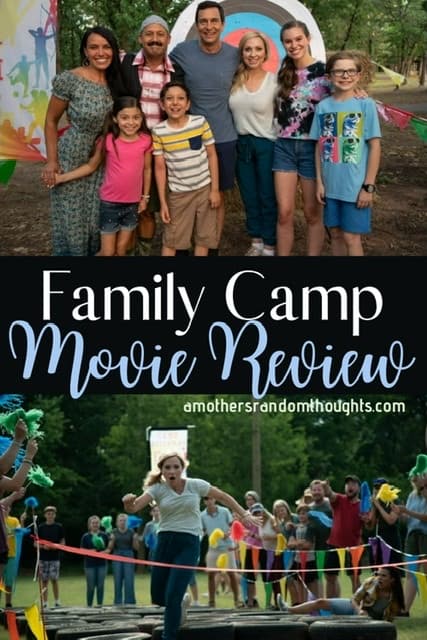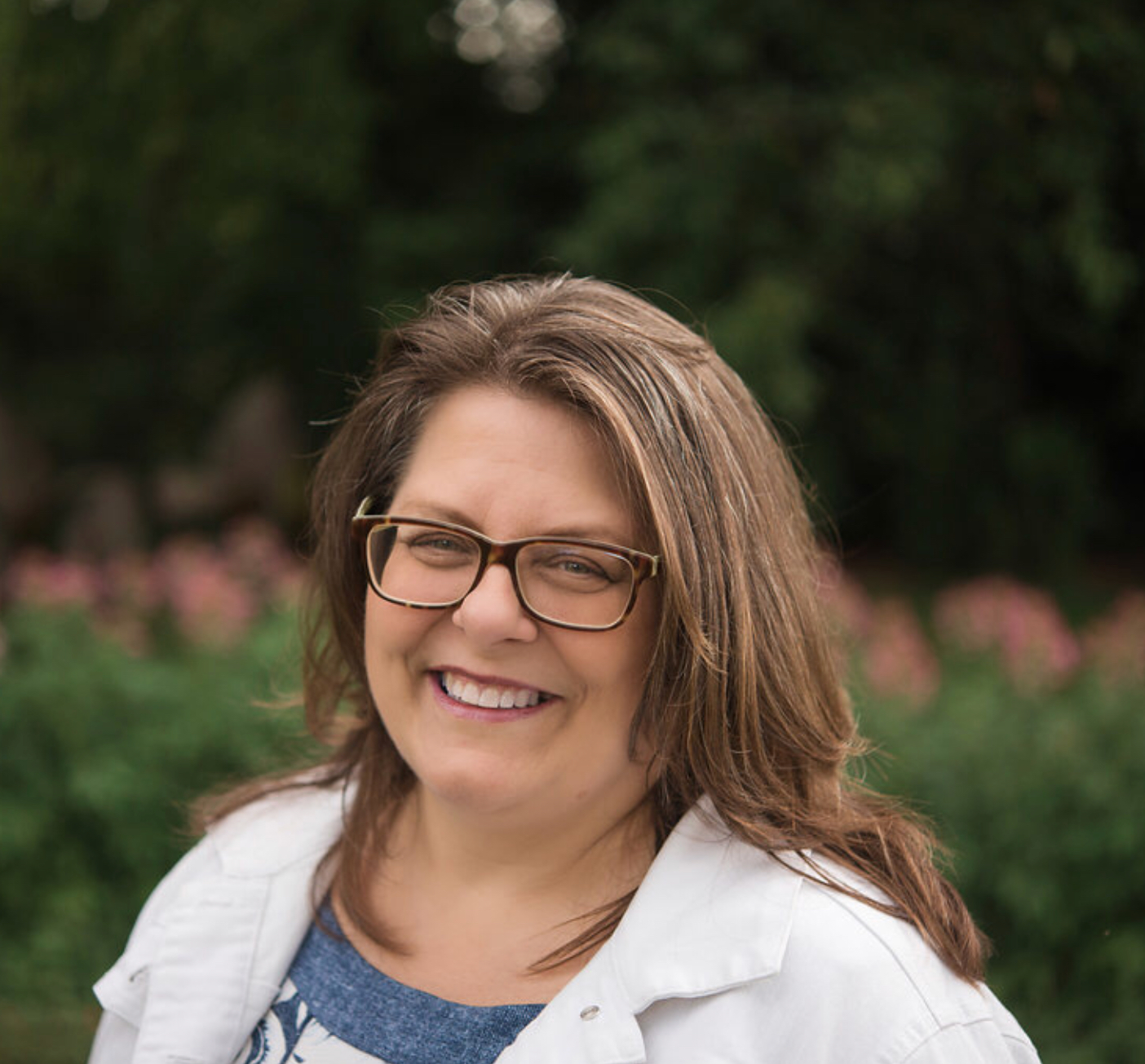 Homeschooling mom – 26 years and counting
Autism Mom
Movie reviewer/Travel blogger
Disney enthusiast