It doesn't matter if you love or hate Elf on the Shelf. He/She is going to want to come down your chimney and invade your house. At some point, your children will see him at someone else's house or hear about him from a classmate. And then, you will have an Elf on the Shelf. And then you will need Elf on the Shelf ideas for kids in your home.
While searching for magical ways to make your Elf move from day to day, you will find adult Elf on the Shelf suggestions that may make you blush. However, those ideas will not work for you. If you want to keep your Elf G-rated, you have come to the right place. Additionally, if you are looking to have your Elf help point your children to Jesus, I have some cute ideas.
We actually got our Elf on the Shelf years ago, and now when he comes out he rarely does anything fun and exciting. However, it would be nice to place him places for my grandkids. I decided to recycle some of my old ideas, and I started to look through old photos.
The reason the photos look old is because they are. I will update with newer photos as I take them, but my suggestions for your Elf will entertain you and your children!
MY BIGGEST PIECE OF ADVICE FOR USING ELF ON THE SHELF
Keep things simple. Use what you have and don't stress because your Elf on the Shelf ideas don't rival what you see on friends' timelines!
Many of my ideas center around what we do on a regular basis (homeschooling), and what we already have in our home. I don't want to add any extra cost at Christmas. However, because we use what we have at home, sometimes our Elf just blends in, and I forget to move him.
PUT A REMINDER IN YOUR PHONE TO MOVE THE ELF DAILY OR HE WILL FORGET TO MOVE!
Elf with His Adoption Certificate
Use this Elf on the Shelf idea for the first time you bring Elf into your home. Have him sitting out somewhere prominent that is easy for your kids to spot.
If for some reason you don't have an adoption certificate, feel free to download the one I have included HERE! This free printable Elf Adoption Certificate can be used to replace an old one. Additionally, if you don't add a name, you can let your kids name him/her.
ELF ON THE SHELF IDEAS FOR KIDS:
Elf with Donuts for Breakfast
These Donuts came from Dunkin', but the Elf donuts were painstakingly handmade by my daughter. Isn't she clever? These donuts are actually Cheerios that she put iced and put sprinkles on. Set the table for breakfast with donuts and hot chocolate and have the Elf waiting. Your children will love this treat!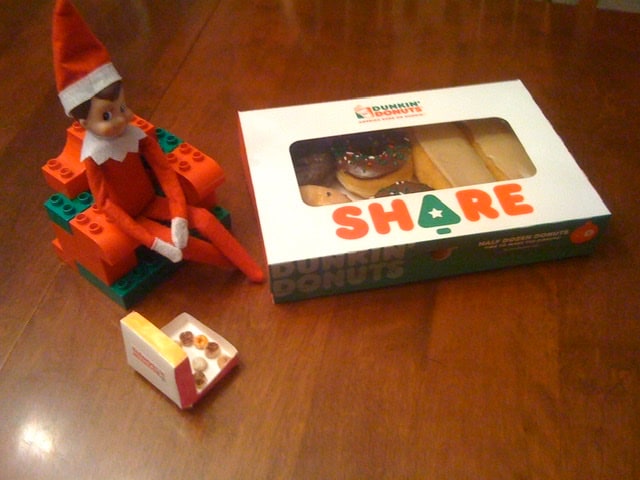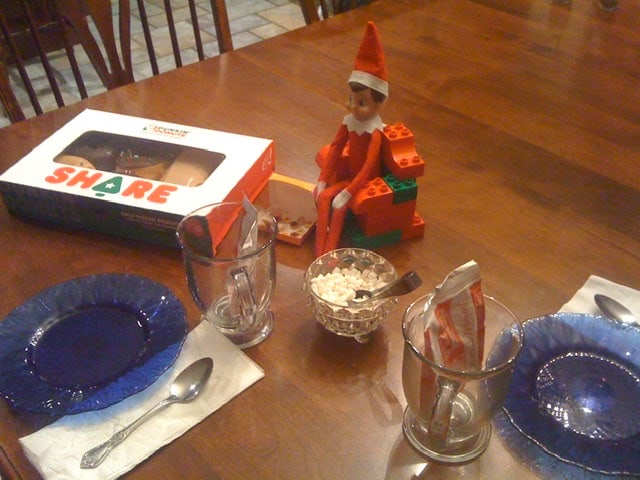 Elf in A Sunny Destination
This beach idea for your Elf on the Shelf is easy to set up. My kids really liked this one. We simply used a beach towel, suntan lotion, and a little sand. (We actually used brown sugar, but if you have sand that is probably preferable.)
Elf Mission Impossible
Our Elf makes a stealth appearance similar to Tom Cruise in Mission Impossible. He was trying to get to the M&M's without anyone noticing him. This is a great way to hang him above the candy dish. If you hang him a little lower, little hands won't be able to get into the candy!
While my kids didn't get the reference to the movie, they did enjoy seeing Elf hanging from the light fixture. Additionally, having your Elf pose in scenes from their favorite movies will be sure to delight your little ones.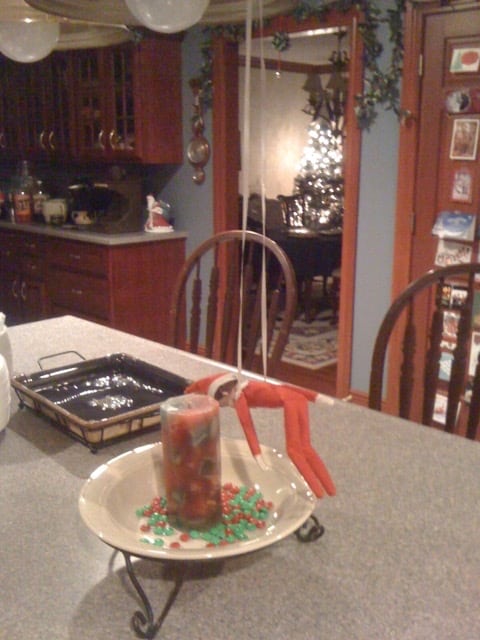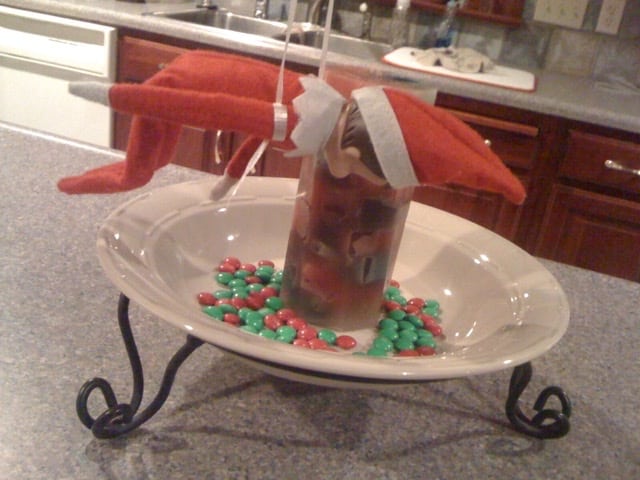 Elf In a Clock
Probably one of the easiest ways to display Elf and keep him out of the way of little hands. We placed him in the clock and wrote a little note! He oversaw my kids all day long.
Elf with the Nutcrackers
Our son Jack-Jack collects nutcrackers. He loved when Elf was hanging out with his collection, and this was a simple overnight move!
Elf Plays with the Christmas Smokers
Our Elf loves to interact with our Christmas decorations. This is my husband's Christmas smoker. Elf sat down and played a game of chess with the old men!
Elf Wraps Himself and Puts Himself Under the Tree
Our Elf on the Shelf hide as a present. These presents under the tree were for grandparents and other relatives. He snuck in and hide. The kids have a hard time finding him that day. This is what makes Elf so much fun – not what he is doing, but trying to find him each day!
Elf on the Shelf Dresses as a Snowman
Again, I use what we have. These are my Snow Buddies next to my fireplace. Elf dressed up to hang out with the Snow Buddies. This was simple and easy.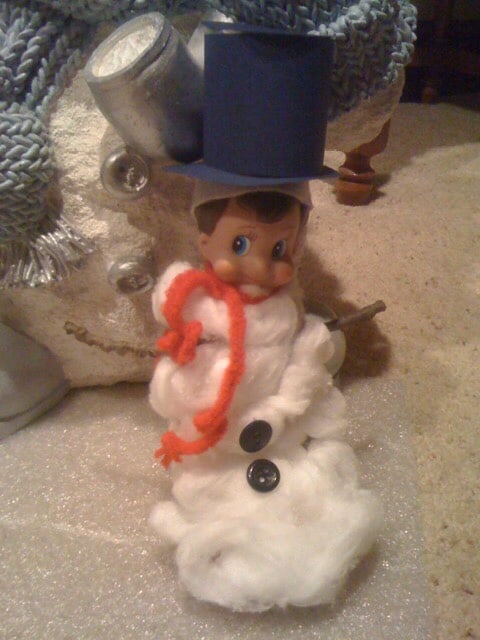 Elf Roasts Marshmallows in Front of the Fire
Another easy set-up. Just place Elf on a seat (we made ours from Duplo blocks), and have him hold a stick with a mini marshmallow. The fire wasn't going in the morning, and the anticipation of having a fire in the evening when Daddy came home was the highlight of this Elf on the Shelf Idea.
OUR MISCHIEVIOUS ELF ON THE SHELF IDEAS FOR KIDS:
Elf Hangs Upside Down from the Mistletoe
This would be a really cute way to have Elf and his girlfriend/wife Elf hang out together! Our Elf does a lot of hanging out, but that is because it is easy to keep little hands from touching him. Additionally, he has a birds eye view.
Elf on the Shelf Gets in the Baking Supplies
Elf made snow angels while the kids were sleeping! Flour and 2 minutes of your time. Do this one the day after you bake or you will have trouble moving Elf while the kids are up!
Elf Stole the Tooth Fairy Baggie from Under My Son's Pillow
My son woke up to find that Elf had taken the tooth left for the Tooth Fairy. The money inside the bag was left by Elf, but my son wouldn't get it until the next night! Elf hung upside down over the table to taunt my son all day!
Elf Slides down the Banister
We don't have a full banister, but our Elf was playing on the banister one night! While this may be something you tell your kids not to do, Elf usually has the ability to roam and do things that even the adults can't do.
IDEAS FOR USING ELF ON THE SHELF TO POINT YOUR KIDS TO JESUS
Elf Reads A Story
Our Elf read the story of Jesus' birth to the Pez dispensers! Cute and simply. Additionally, you can have Elf read the Bible. Or maybe have Elf pick out the story of the day. Simply place Elf in the area where you read to the kids with the book next to him.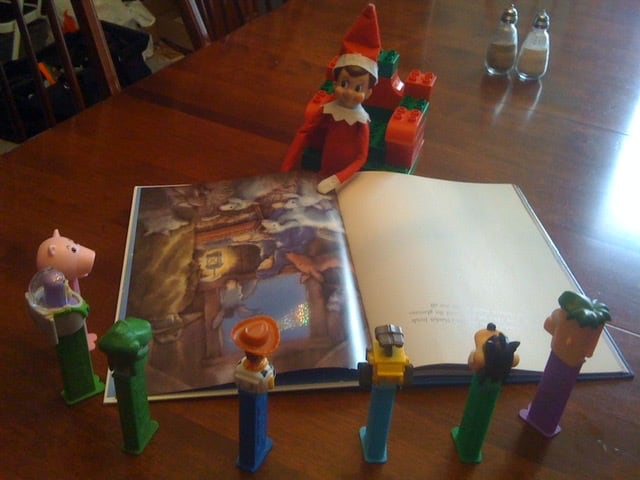 Elf Does School with the Kids
Our Elf helped our kids with their school many days. Here he is weighing Hershey Kisses out for the kids – math, Bible reading, and writing. He did all their subjects with them!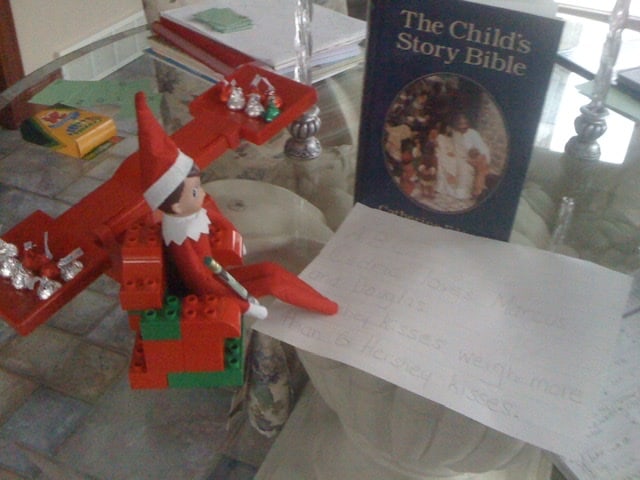 Elf Waits for Jesus' Birth
We never put Jesus in the manger until Christmas Eve after the kids have gone to bed. I will admit that as I get older, I forget to put Jesus in the manger, but my kids know where he is hiding until Christmas. Sometimes they help me out by getting him placed in the proper place before I can get to it!
This is another way to focus your children's eyes on Jesus while we await His birth.
DO MY KIDS BELIEVE IN SANTA?
We never made a big deal about Santa Claus. In fact, we never talked about Santa with our last 2 kids. One believed, one didn't. When my kids asked about Santa, we told them the truth. My oldest was 5 when he asked about Santa.
To me Elf on the Shelf has nothing to do with Santa and more about preparing for the birth of Jesus. The focus in your house will determine what your children grow up believing and enjoying. Make the Christmas season a time of joy and focus on Jesus' birth and the salvation that he brought! These moments will pass by too quickly, but the memories you make will last a lifetime!
Leave a Comment Below and Let Me know which idea is your favorite!
MORE CHRISTMAS POSTS: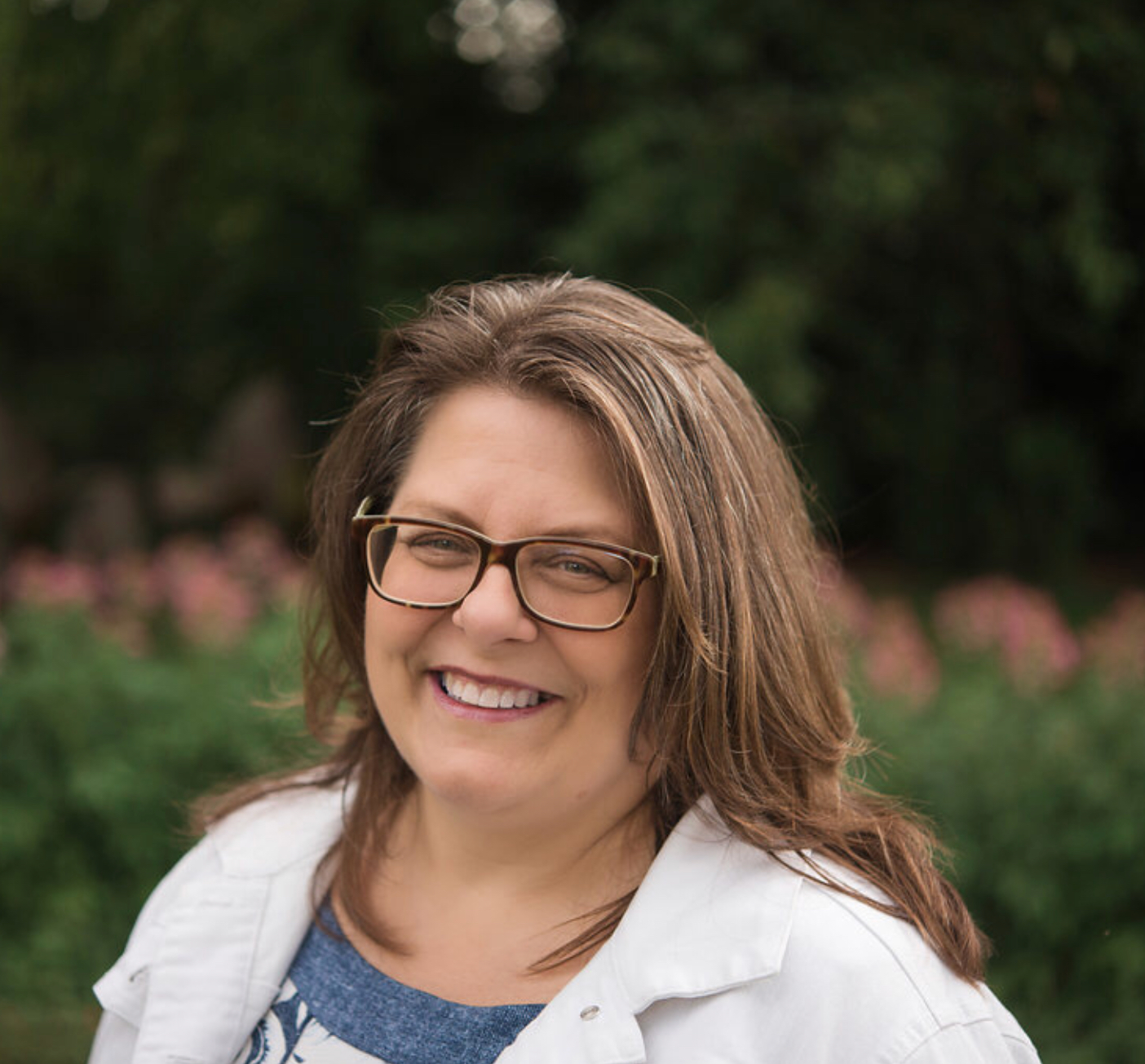 Homeschooling mom – 26 years and counting
Autism Mom
Movie reviewer/Travel blogger
Disney enthusiast