Second Star to the Right and Straight On Until Morning
Peter Pan is one of my favorite animated films. It is in my top ten list. Furthermore, I am not a fan of Disney's live-action remakes. However, I was pleasantly surprised at how much I did like the film. But that doesn't necessarily mean it is suitable for all children. Read my Peter Pan & Wendy Christian Movie Review before watching this film with your children.
Most children go through a phase where they are afraid of leaving their childhood behind and "growing up." Think about the Toys 'R Us commercial, "I don't want to grow up. I'm a Toys 'R Us kid." This coming-of-age film explores those feelings and emotions one has when forced with the reality of growing up and leaving childish things behind.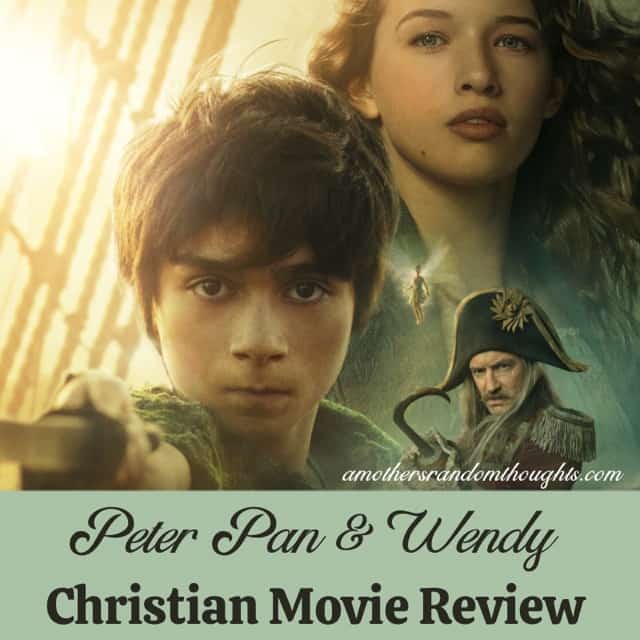 Peter Pan & Wendy Christian Movie Review Synopsis:
The animated Peter Pan, released by Walt Disney in 1953, told the adapted tale from J.M. Barrie of a lost boy named Peter Pan and his relationship with Wendy and her brothers. In this new live-action film, Wendy is about to leave for boarding school when Peter Pan and Tinker Bell take her and her brothers, Michael, his stuffed bear, and John, to Neverland.
Their adventures begin with flying through London, through Big Ben, and into Neverland. The Darling children meet the lost boys who chant, no rules, no schools, no growing up, no mother or father. To Wendy this seems ideal on the surface. They also meet Tiger Lily and have a clash with Captain Hook and his pirates.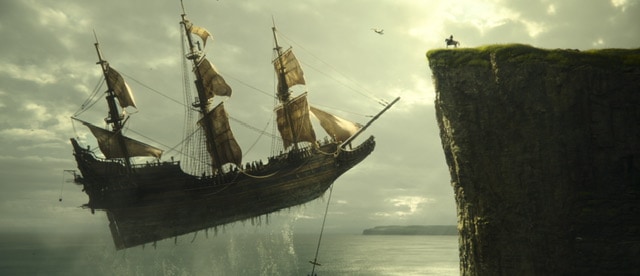 Synopsis from Studio:
"A Disney+ Original movie, "Peter Pan & Wendy" is a live-action reimagining of the J.M. Barrie novel and the 1953 animated classic, directed by David Lowery ("The Green Knight," "Pete's Dragon"), streaming 2023, only on Disney+. Directed by David Lowery ("The Green Knight," "Pete's Dragon"), the film introduces Wendy Darling, a young girl afraid to leave her childhood home behind who meets Peter Pan, a boy who refuses to grow up. Alongside her brothers and a tiny fairy, Tinker Bell, she travels with Peter to the magical world of Neverland. There, she encounters an evil pirate captain, Captain Hook, and embarks on a thrilling and dangerous adventure that will change her life forever.
The film stars Jude Law ("Fantastic Beasts: The Secrets of Dumbledore"), Alexander Molony ("The Reluctant Landlord"), Ever Anderson ("Resident Evil: The Final Chapter"), Yara Shahidi ("Grown-ish"), Alyssa Wapanatâhk, Joshua Pickering ("A Discovery of Witches"), Jacobi Jupe, Molly Parker ("House of Cards"), Alan Tudyk ("Rogue One: A Star Wars Story"), and Jim Gaffigan ("The Jim Gaffigan Show"). "Peter Pan and Wendy" is directed by David Lowery from a screenplay by David Lowery & Toby Halbrooks ("The Green Knight") based on the novel by J. M. Barrie and the animated film "Peter Pan." The producer is Jim Whitaker ("Pete's Dragon"), with Adam Borba ("A Wrinkle in Time"), Thomas M. Hammel ("Thor: Ragnarok"), and Toby Halbrooks serving as executive producers.
Peter Pan & Wendy Christian Movie Review: What Parents Want to Know:
This film is beautiful. However, it is a bit darker than the original. It is wonderfully executed. I love how they included most of the endearing elements from the original.
This newest version of Peter Pan is still set in Edwardian England. Nana the dog, a pocket watch, the tophat – Disney caught all the original film's charm and added new elements from the original book. Additionally, Disney attempted to fix some of the stereotypes in the original film.
The most powerful moments of the original classic animated film are included in this film. Including snippets of the original songs set to an orchestra makes me want to buy this soundtrack!
Content Parents May Want to Know About:
Language:
Captain Hook is an angry, evil man who says he will execute the children. There are references about being blown to bits and perishing.
Violence:
If you have watched the animated Peter Pan, it is very similar. However, this film is live-action, so viewing it may be scarier than an animated version. Even though this movie is not on a big screen at the theater, you may want to preview this before letting small children watch it. Captain Hook seems a little more evil than other versions.
Captain Hook uses Skull Island for executions and takes John and Michael there to kill them. While there, they see a skeleton, presumably from a past victim.
The clashing of real swords produces sparks. In one scene, it appears that Wendy is dead.
There is a chase scene involving the crocodile and the pirates. One pirate is eaten. The crocodile is scary and huge.
Wendy slaps Peter Pan.
Children are shown tied up. They are also shown in a cell in the ship. Captain Hook says to execute them.
One person is shown getting slashed with a sword and falling to his death. The body is shown laying on the ground. This scene is especially traumatic.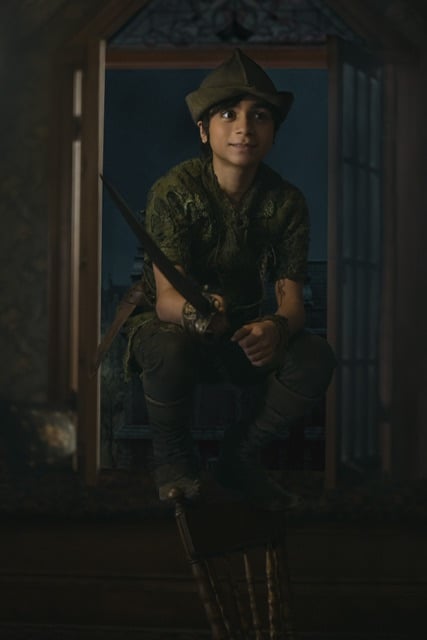 Other Content:
While it is insignificant, not all the "lost boys" are boys. Some people may be bothered by this or read more into it, but I didn't see any agenda besides just including some lost girls in the film, including a set of twin girls.
Positive Content:
Wendy's mother talks to her about being a good leader because her brothers look up to her. We rarely discuss this in today's society: the importance of being good role models to those younger ones.
There is a powerful scene where Wendy confronts Peter because he is boastful about how he always beats Captain Hook. Wendy points out the help he has from those around him.
Wendy talks to the lost boys about the lost boy's mothers and how they must miss their children.
I love the casting of Tiger Lily. She is actually a member of the Bigstone Cree First Nation Tribe and was born in Fort McMurray, Alberta.
In another great advancement for special needs actors, Slightly, one of the lost boys is a young man with Down Syndrome. Noah Matthews Matofsky is 15 years old and is being promoted as the first actor with Down Syndrome to land a major Disney role. Hard to believe that it took until 2023 to include this diversity in a Disney film. However, while his role is groundbreaking, it is not a major role.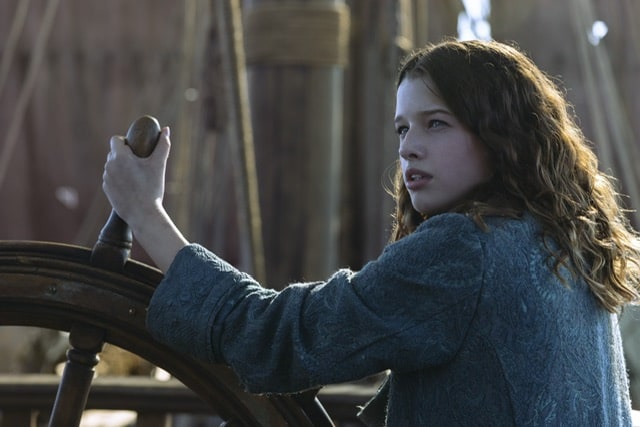 Peter Pan and Wendy Christian Review: My Viewing Recommendations
What parents want to know is if this film is suitable for young children. I would recommend 5-6 and up. While it isn't horribly graphic, it has some elements of violence. The language is what you would expect from a pirate film without any foul language. It is beautifully made and worthy of the Disney label. I am surprised by the decision to push this straight to Disney+ instead of coming out at the theaters. 
While I believe the animated Peter Pan was about a boy growing up, this film is more about Wendy's journey and how she comes to terms with leaving her childhood behind. See this film; watch the animated film. Compare the two. Enjoy Peter Pan & Wendy with your family.
About the movie:
Peter Pan & Wendy
Runtime: 1 hour, 46 mins
Rating: PG for violence, peril and thematic elements
Cast of Peter Pan & Wendy
Ever Anderson as Wendy Moira Angela Darling
Joshua Pickering as John Darling
Jacobi Jupe as Michael Darling
Alexander Molony as Peter Pan
Yara Shahidi as Tinker Bell
Jude Law as Captain Hook
Alyssa Wapanatahk as Tiger Lily
Jim Gaffigan as Mr. Smee
Molly Parker as Mary Darling
Alan Tudyk as George Darling
Noah Matthews Matofsky as Slightly
Sebastian Billingsley-Rodriguez as Nibs
Skyler and Kelsey Yates as Tudy and Rudy
Florence Bensberg as Curly
Caelan Edie as Tootles
Diana Tsoy as Birdie
Felix De Sousa as Bellweather
John DeSantis as Bill Jukes
Garfield Wilson as Gurley
Ian Tracey as Sallyport
Mark Acheson as Old Clemson
Jesse James Pierce as Skylight
Gemita Samarra as Mermaid
Cassie Van Wilde as Adult Wendy
Dee Bradley Baker as Tick-Tock the Crocodile
Nora Mcadam as Tiger Lily's Grandmother
Film Production Crew:
Director: David Lowery
Screenplay by David Lowery and Toby Halbrooks
Produced by Adam Borba, John Catron, Thomas Hammel, Jim Whitaker
Film Editing: Lisa Zeno Churgin
Cinematography: Bojan Bazelli
Music by: Daniel Hart
Captain Hook's Rules that are spoken during the movie:
Rule #1: Each pirate, upon first embarking, shall be entitled (not finished)
#37: No one shall say the boy's name
#38: No whistling
Rule #39: No clocks
Rule #44: No Children in Neverland
Quotes from Peter Pan & Wendy
I don't want to grow up.
I can fly!
Second star to the right and straight on till morning
Very bad form
Faith, trust, and pixie dust.
I think that to grow up, Why, it just might be the biggest adventure of all.
You can't stop time.
Tiger Lily says, "Hold the past in your heart, but know that where you go from here, it's up to you."
This is Neverland, where nothing ever changes.
Changes from the Disney animated film:
In the animated Peter Pan and the 1991 Hook starring Robin Williams, Captain Hook has his hook on his left hand. However, in this film, the hook appears on his right hand.
Captain Hook was once a lost boy and Peter's best friend. One day he leaves the lost boys and grows up. It turns out he was banished from Neverland by Peter Pan because he wanted to grow up.
Wendy's reason for leaving the nursery is different. Instead of leaving the nursery, Wendy is about to embark on a different adventure. She is going to be leaving for boarding school.
Tinkerbell is not "in love" with Peter. We meet a vastly different Tinkerbell. She is friends with Wendy, and Wendy understands and "hears" her.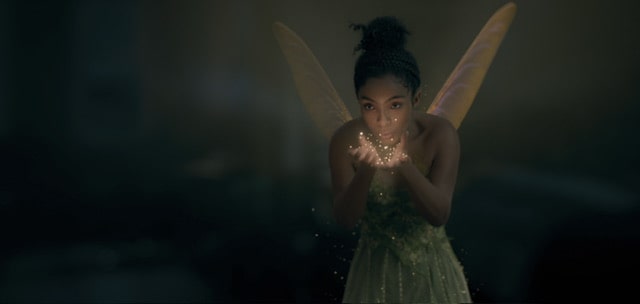 Relationship between Hook and Peter Pan
Hook is mean for a reason. He used to be a lost boy himself. Peter Pan and Hook were actually best friends at one time. However, Hook wanted to grow up.
Additionally, in the ending of the movie, Hook and Peter show signs of reconciliation.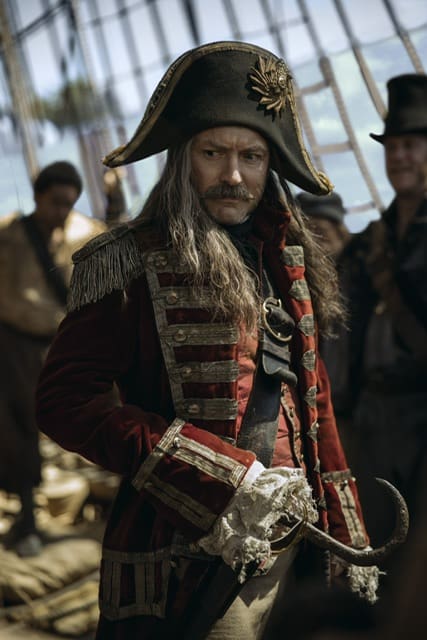 Native Americans versus "Red Man:"
Gone are the references to the red man and the now offensive depictions of the Native Americans. There is no pow-wow, references to Injun, Indians, or use of the word squaw. Instead, Tiger Lily is dressed in Native dress and speaks Cree. She is shown as a strong young lady.
Speaking of Tiger Lily: She is not the captive that needs rescuing. Instead, it is Michael and Jon that are captured. Tiger Lily actually helps rescue the brothers.
Mermaids:
The mermaids in Neverland are gone. However, when Wendy is flying to Neverland, she briefly sees mermaids.
Musical Score:
There are songs missing such as What Makes the Red-Man Red and Following the Leader. However, there are instrumental clips of some other songs that bring back the nostalgia of the original.
Why Did Peter go to Wendy's House:
There was a reason Peter Pan chose Wendy's house to visit other than he liked to hear the stories.
Who Saves Wendy?
Peter Pan saves Wendy in the original movie. However, in this live-action version, it is Tinkerbell who saves Wendy as she is walking the plank.
The Lost Boys:
At the end of the film, the lost boys are taken back to the Darling household, more in line with the original book.
Things to Think About: Christian Elements
At the beginning of the movie, Wendy's happy thoughts include all the things in her past that she holds dear, but later in the movie, her happy thoughts include her potential future. Do our thoughts influence our future? Can we change the course of our life with our thoughts? As a man thinks, so he is. Proverbs 23:7 What you think becomes the basis for who you are!
This adaptation teaches us more about Captain Hook and his friendship with Peter Pan. Peter Pan apologizes to Captain Hook. Peter tells Hook to think happy thoughts, and Hook responds, "Peter, I haven't got any." Do you think Hook's life experiences affected how he views the world? Discuss why some people have difficulty looking at things in a positive light.
Facts About the Book and Movies:
Captain Hook's ship is called the Sea Devil in the original story. Captain Hook captures the Jolly Roger. He has a black mustache. In this film, they choose not to use the traditional black stache, which appears almost comically today, but Captain Hook is much more sinister without that signature trait.
What is the kiss, and what does it symbolize? There is much theory and debate about what the kiss symbolizes. Wendy gives Peter Pan a thimble, and he in turn, gives her an acorn. The kiss itself was not given. A "thimble full of kisses" was used in literature and art in days gone-by.
Peter & Wendy by J.M. Barrie was published in 1904. You can read the book for free online at Project Gutenberg.
There have been numerous film and play adaptations. The Disney animated film was released in 1953. Hook, starring Robin Williams, was released in 1991.
The last live-action remake was Disney Pinocchio, released on September 8, 2022. This film has a 22% on Rotten Tomatoes.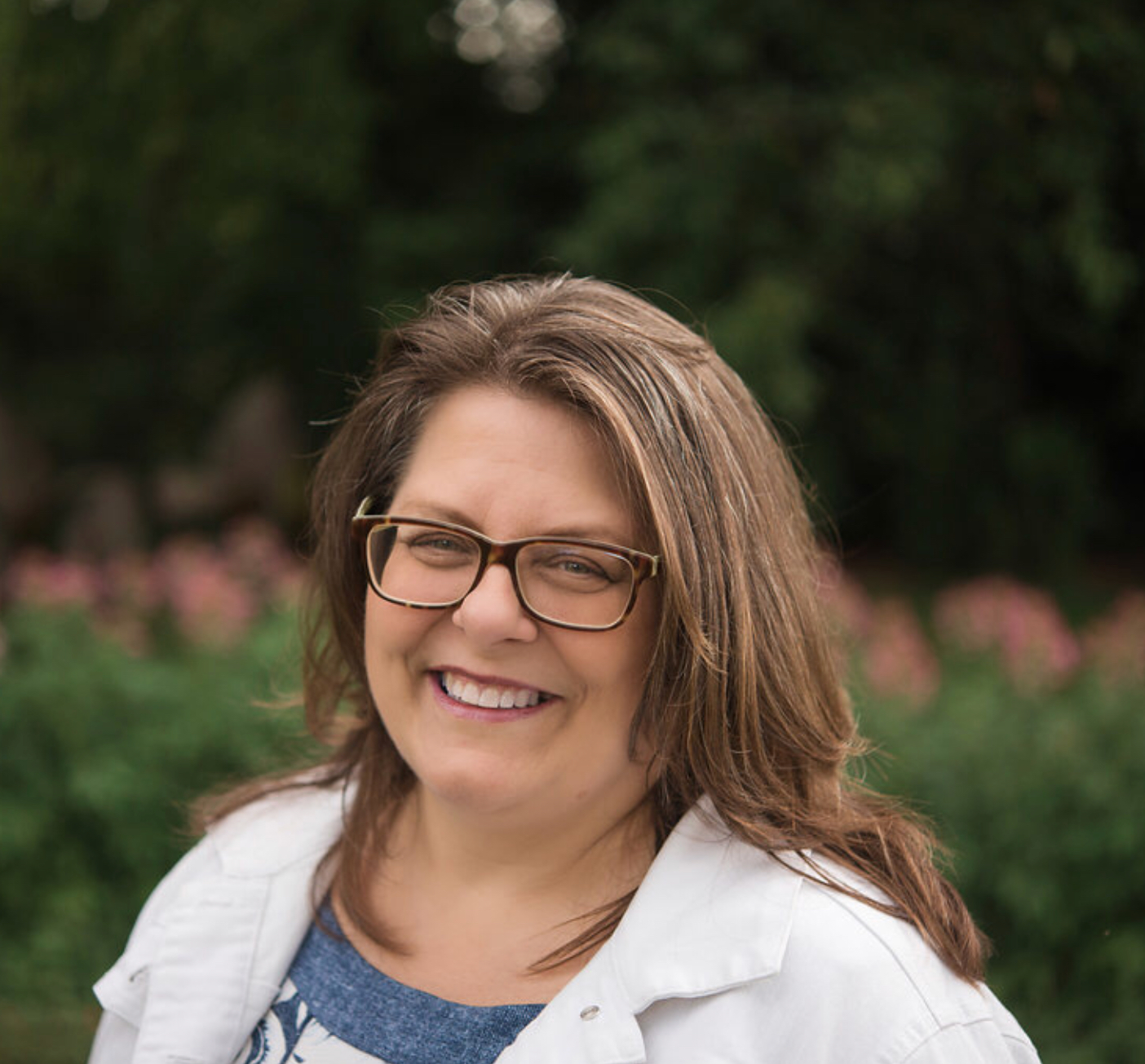 Homeschooling mom – 30 years and counting
Autism Mom
Movie reviewer/Travel blogger
Disney enthusiast