Can A Fairytale Life Exist after Marriage?
What could possibly go wrong when you make a wish for a fairy tale life? The long-awaited sequel to Enchanted is now streaming on Disney+. Disenchanted is a live-action musical comedy that begins ten years after we last saw Giselle and Robert. This Disney Disenchanted Christian Movie Review gives parents what they need to know before watching this film with their families. To read how I review movies, visit HERE!
It has been 15 years since Disney gave us Enchanted (2007), which was an enchanting tale that was both cute and entertaining. Can the sequel be a worthy contender in the land of movies that go straight to Disney+?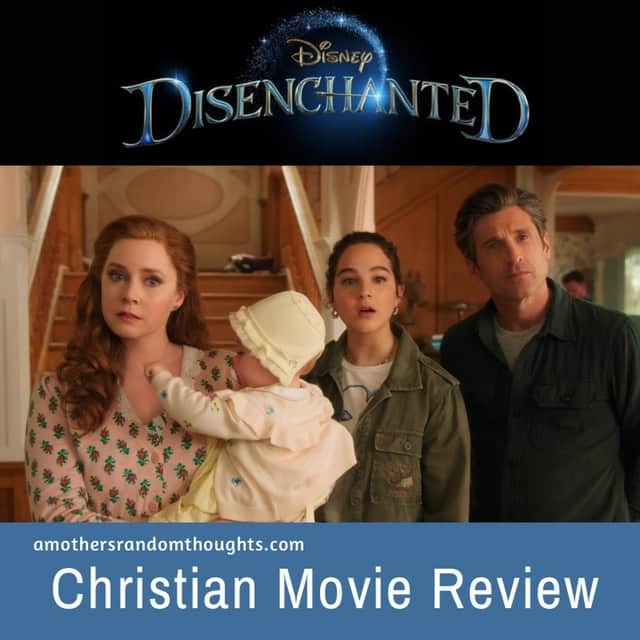 Disenchanted Christian Movie Review
SYNOPSIS
Giselle (Amy Adams) has been married for ten years to  Robert (Patrick Dempsey), but she is beginning to feel like her fairytale life is lacking. She decides that moving her family to suburbia is the answer to a charmed life. When life in Monroeville is less than expected, Giselle uses magic from Andalasia to turn the entire town into a fairytale world. But she soon discovers that what she wished for isn't the delightful experience she was hoping for.
Synopsis from Disney+ "An all-new live-action musical comedy, "Disenchanted" is a sequel to Disney's box office hit "Enchanted" featuring the original cast from the heart-warming story of the lovable maiden from the fairy tale world of Andalasia, who finally found her Prince Charming in the kingdom of New York City…Giselle has grown disillusioned with life in the city, so they move their growing family to the sleepy suburban community of Monroeville in search of a more fairy-tale life. Unfortunately, it isn't the quick fix she had hoped for. Suburbia has a whole new set of rules and a local queen bee, Malvina Monroe (Maya Rudolph), who makes Giselle feel more out of place than ever. The movie features songs with music by 8-time Oscar®-winning composer Alan Menken and lyrics by three-time Oscar-winning lyricist Stephen Schwartz, whose work on "Enchanted" garnered three Academy Award® nominations and a score by Alan Menken."
Disenchanted Christian Movie Review What Parents May Want to Know:
Since Disenchanted is rated PG, one would think it could be watched by most children, but a good parent's guide tells you what you need to know before watching. I detail content, both good and bad, and let you make the decision as a mom or dad.
Violence:
Most of the violence in Disenchanted is mild. There is no blood or actual "fights." However, there are magical battles and a few sword fights. There is also a giant and some battles with an unseen dragon.
Language:
One instance of h-ll. Plenty of insults, such as idiot and stupid. Additionally, "Oh my g-d", "what the heck," and phrases such as "teenagers are like this," and "one of us has to die" are littered throughout the movie. There is teenage sarcasm and disrespect.
Spiritual:
Disenchanted is filled with magic. Magic portals to other lands, good magic, bad magic, people being turned into toads, wishing wands, and a fight between evil-and-slightly evil. Overall, the magic is similar to the magic in the original Enchanted.
Other Content:
The movie is visually beautiful, with great costumes. However, it is overdone. The original Enchanted borrowed ideas and plots from other princess movies. However, Disenchanted is just constant movie references.
At times I was certain I was watching Cinderella down to the stepsister's dresses and evil stepmother, and the three fairies from Sleeping Beauty, and a sleeping spell. There were scenes with Idina Menzel that seemed she was reprising her role as Queen Elsa from Frozen. But the majority of the movie felt like a remake of Once Upon a Time, complete with a magic mirror. Wishing wells, clocks striking midnight, Rapunzel's tower, glowing lightning bugs (Princess & the Frog) – the list is endless.
Many people may call these "Easter Eggs," but it was just confusing storytelling. Imagine if someone tossed up the scripts from all the major fairytales and randomly grabbed pages off the floor. That is how disjointed and confusing this movie felt.
Like Enchanted, Disenchanted uses both live-action and animated sequences.
Additionally, the musical score is lacking. Most of the songs are disappointing, and the lyrics are hard to hear. The audio mixing is bad. 
Teaching Recommendations:
A movie like this is great for finding references to other movies. Since it is littered with references to every other fairy tale movie that has ever been made and even seems like there are scenes straight out of Harry Potter, your kids will love looking for all the references to other movies.
There is also a great lesson to be learned – "be careful what you wish for." Sometimes what we want is not what we need. While Giselle wanted to create a fairytale life, she soon learned about her own ability to be the "evil stepmother." 
Recommendation for Viewing Disenchanted:
While Disenchanted is not the worst movie I have watched, it is overdone and disappointing. There were moments that I smiled or chuckled, but the majority of the time I found myself rolling my eyes.
The musical score is pretty lackluster, with no noteworthy songs. Obviously, it was sent to Disney+ directly for a reason, and quite frankly, it is disappointing to see Amy Adams and Patrick Dempsey reprise their roles in this movie. However, if you have children, your family will probably still want to see the movie Enchanted 2.
Cast: 
Amy Adams reprises her role as Giselle
Patrick Dempsey is Robert
Maya Rudolph is Malvina Monroe
Gabriella Baldacchino is Morgan (Robert's daughter)
Yvette Nicole Brown is Rosaleen
Jayma Mays is Ruby
Idina Menzel is Nancy
James Marsden is Prince Edward
Kolton Stewart is Tyson
Oscar Nunez plays Edgar (Magic Mirror)
Alan Tudyk (voice) Scroll
Griffin Newman (voice) Pip
Brooke Josephson is Fairy
Director: Adam Shankman
Executive Producers:
Jo Burn
Sunil Perkash
Adam Shankman
Music by Alan Menken
Rating: PG for Mild peril
Release date: November 18, 2022, streaming on Disney+
Runtime: 1 hour, 58 mins.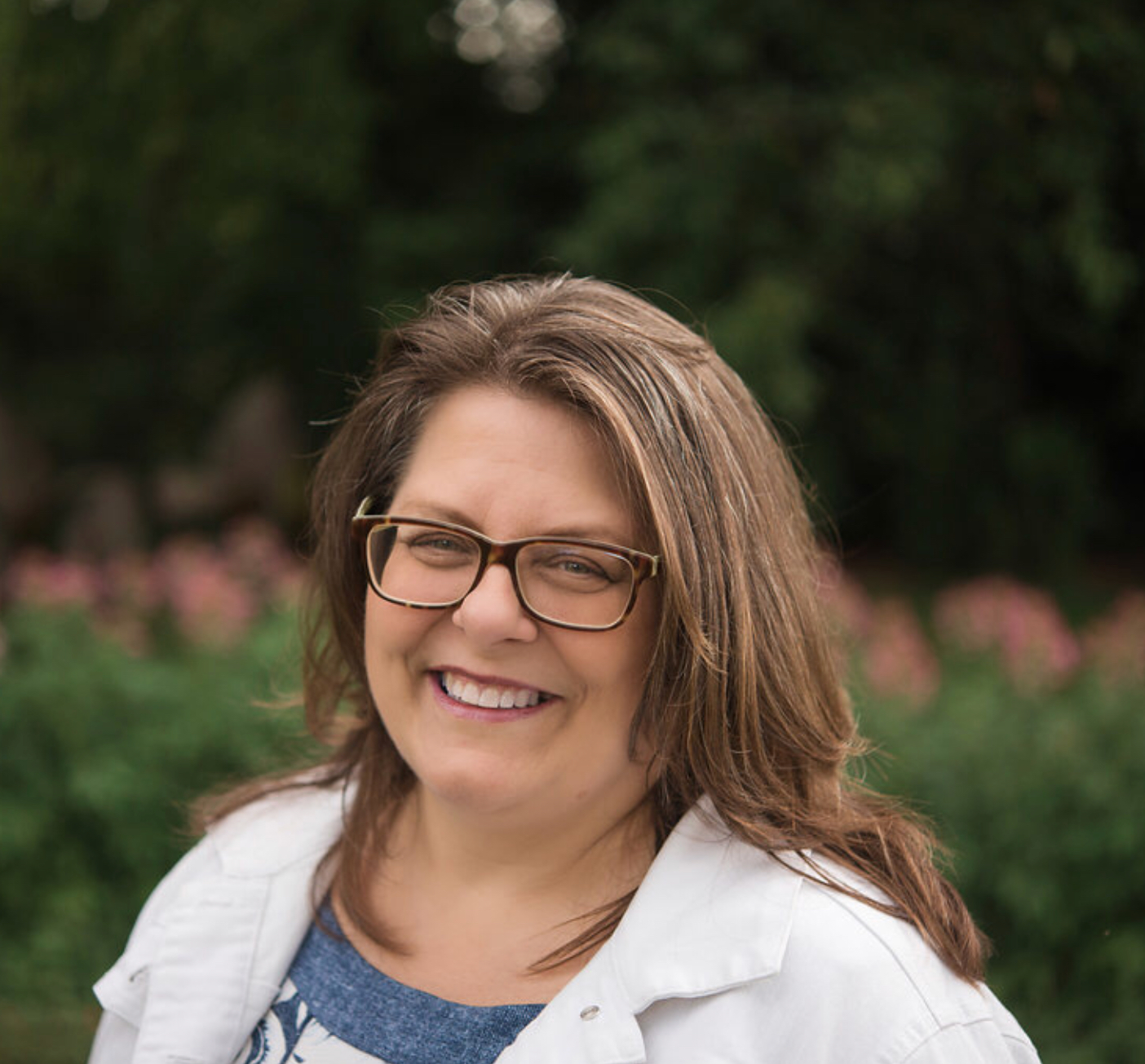 Homeschooling mom – 26 years and counting
Autism Mom
Movie reviewer/Travel blogger
Disney enthusiast