Branson Show:
Clay Cooper's Country Express at the Clay Cooper Theater
Wow! Exceptional! Amazing! These are just some of the words I use to describe the Branson shows we had the opportunity to see during our visit. If I had to pick my favorite show, it would be hard, but the Clay Cooper's Country Express Show at the Clay Cooper Theater is definitely a must-see when visiting Branson, Missouri.
Disclaimer: I was invited to a media event at Clay Cooper's Country Express at the Clay Cooper Theater, Branson, MO. All thoughts, opinions, and ideas are my own!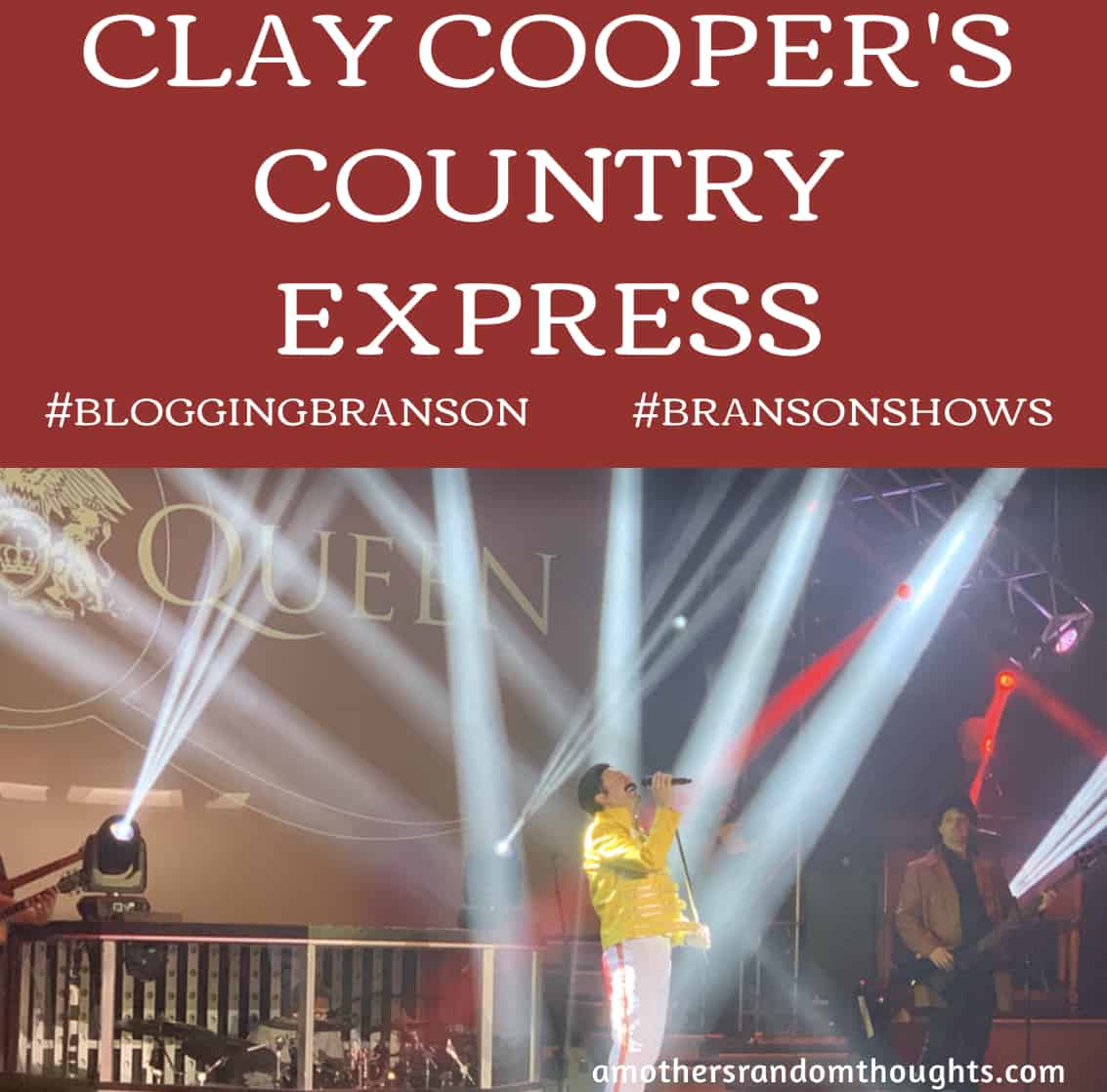 While there are many theaters and shows to choose from, Branson theaters encompass over 57,000 seats. Make sure you don't bypass Clay Cooper's show because you think it is "just a country show." This show literally has something for everyone, and you will definitely get your money's worth. Plus you will leave wanting to come back for more.
Before my husband and I got to the show, we felt like we already knew Clay Cooper intimately. Our hotel room at The Stone Castle Hotel & Conference Center was a themed room – The Clay Cooper Crib (more about that later).
About the Show at the Clay Cooper Theater
With 24 performers to entertain you, the talented cast of characters expertly execute hits from the 60's through present-day. And what a range they perform – rock n roll, Christian, patriotic, gospel, country, pop, and more.
This show is named for the host, Clay Cooper, who has been a performer all his life and started entertaining in Branson during his teen years. He opened the Clay Cooper Country Express in 2005. While he performs with his wife and children, one senses that the entire cast interacts as one big happy family.
Overview of the Clay Cooper Branson Show
While there are country songs in this live music Branson show, there are also other genres represented. In fact, there is literally something for everyone. Old, young and even middle-aged (like me) will enjoy this unique and upbeat variety performance.
When we arrived, we got popcorn and drinks! YAY! I hate attending shows where you can't eat snacks. The friendly and efficient employee serving us turned out to be a member of the show. And not just any member, but Clay's own son, Colt. After we were seated, we were treated to a pre-show skit which included members of the audience.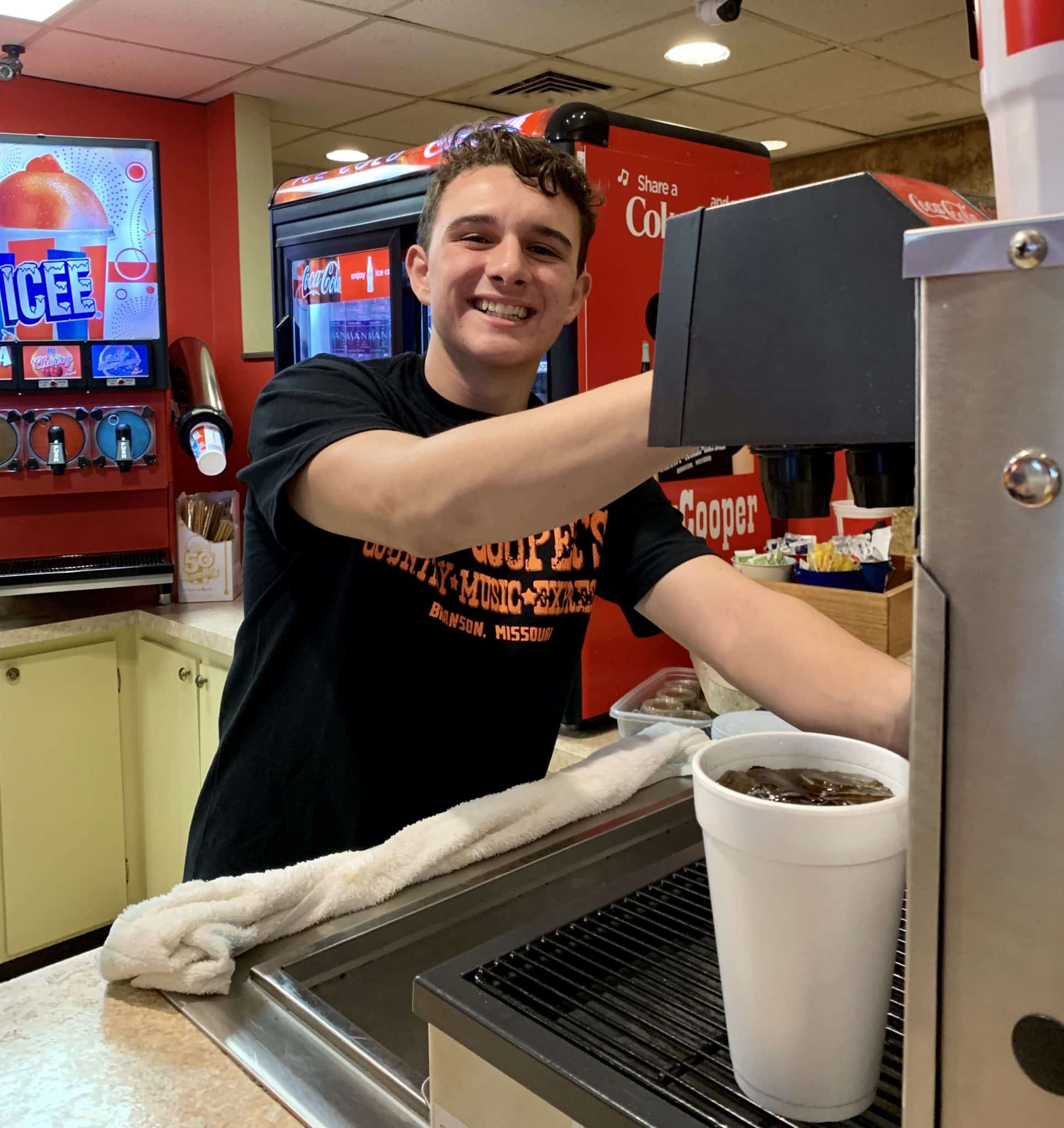 The Talent in the Clay Cooper Show:
What you will find in this particular Branson Show is a selection of acts ranging from dancing, comedy skits, to Christian songs. I went from laughing great big belly laughs to crying at Reckless Love. Clay and his wife, Tina, do a fantastic June and Johnny Cash. Freddie Mercury leaves you convinced Freddie has been reincarnated. 
Colt and Caden (Clay and Tina's sons) are both talented additions to the show. While Colt can serve popcorn and drinks with a smile, he also does comedy skits, sings, and dances. 
If the Cooper's were the only entertainers, this show would be spectacular, but remember I told you there are 24 performers? That means variety with impersonations that include: NSync, George Strait, Bruno Mars, and Ashley and Winona Judd to name just a few.
While singing is a big part of the show, there is also comedy. Clay keeps you laughing with his audience interactions from slow dancing with a participant, shaking hands with theatergoers, and even live questions and answers between audience members and Clay. He will make you laugh, put a smile on your face, and keep your toes tapping. 
Matt Gumm is another cast member that will have you in stitches. He reminds me of Jerry Lewis with his slapstick comedy and the faces he makes are priceless. You will laugh until you cry – make sure to bring tissues because you will also tear up with pride for our country. Their patriotic number puts a lump in your throat and a smile in your heart.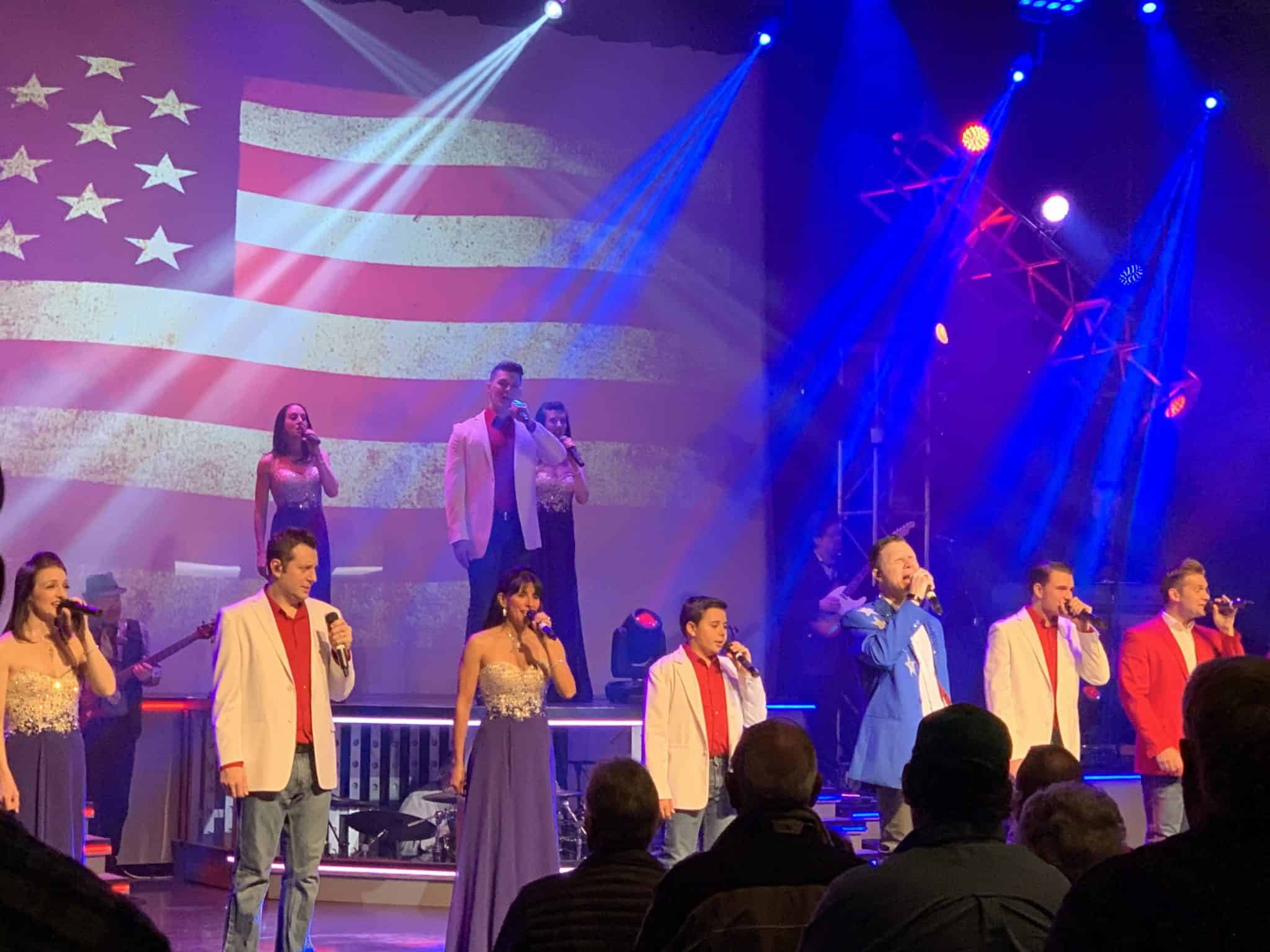 MY REVIEW: The Great
In the audience there were over 100 high school students who were just as entertained as the older generations. When I tell you this show has something for everyone, I am not exaggerating. I know my own children will be entertained as the oldest audience members to the youngest had a grand time.
The other thing that I value is entertainers who give you their time. These are humble people who understand that the audience is choosing to spend their time and money to see them. They do not take this lightly. Clay connects with the audience, and because each audience is different, each show will be unique. He also spends time greeting guests after the show, and he genuinely seems happy to meet his fans.
What Parents May Want to Know:
This is a clean, family friendly evening out. This Branson show does not include any foul language or items that parents would need to shield their children from. In fact, it is wholesome family entertainment. 
I always like to mention anything that children (or adults) with sensory issues may want to know beforehand:
Some children may have a hard time with the flashing lights, however, I did not feel the sound was excessively loud. I did include a small clip so you can see what to expect.
My Recommendation:
Find a way to get your family to Branson, and while you are there make sure to visit Clay Cooper's Country Express. Before my trip, I had a friend tell me that Branson was their favorite vacation. It was like Las Vegas, but clean entertainment. What they didn't tell me is how much I would love the people of Branson and the connection I would feel to them. 
The Clay Cooper Country Express is full of entertainers that do not treat you, the audience, lightly. They haven't forgotten their humble roots, and their love of God, country, and people. 
Remember I mentioned The Cooper Crib at the Stone Castle Hotel & Conference Center? Well, my husband and I found out that Clay & Tina actually decorated the room. Jay Wilson, General Manager of the hotel and Clay actually have a pretty cool YouTube video.
For more information about the show, visit Clay Cooper's Country Express at the Clay Cooper Theater.
Also make sure to book your stay at The Stone Castle Hotel & Conference Center either in Clay Cooper Crib, another themed room, or a regular hotel room.
Other attractions, restaurants, and places to visit in Branson, MO:
Dolly Parton's Stampede Dinner Attraction
Florentina's Restaurant
Fall Creek Steakhouse
Branson Imax
Branson Titanic Museum
Stone Castle Hotel & Conference Center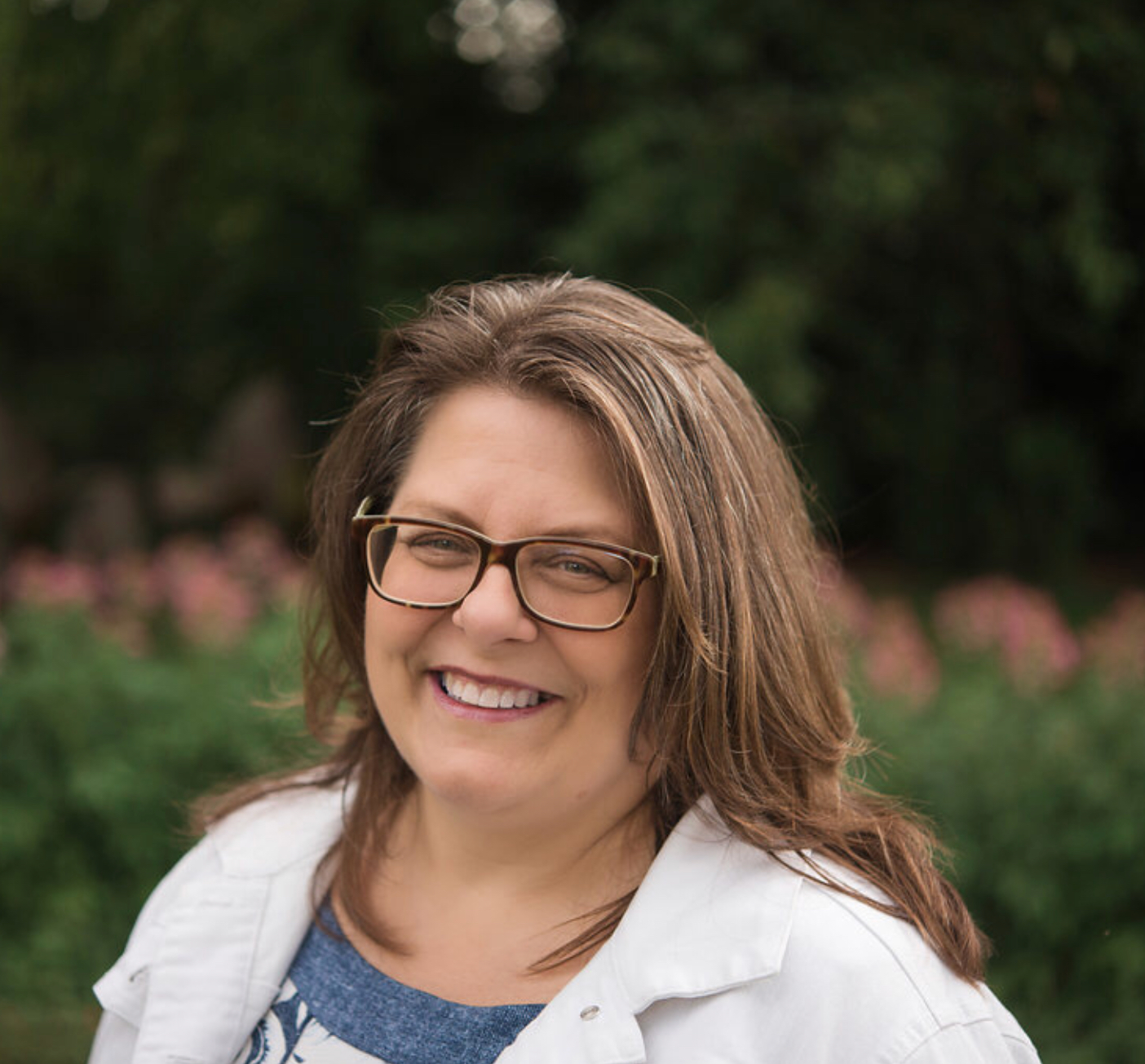 Homeschooling mom – 26 years and counting
Autism Mom
Movie reviewer/Travel blogger
Disney enthusiast