Best of Branson Shows:
The Hughes Music Show at The Hughes Brothers Theater
Visiting Branson? Looking for shows that will knock your socks off? I had the pleasure of visiting Branson and attending several shows. While there was something special about each of the shows I saw, The Hughes Music Show Born to Entertain! at the Hughes Brothers Theater offered such an exciting mix of genres and family entertainment that it clearly is a must-see of all the Branson shows.
Disclaimer: My husband and I attended a media event at The Hughes Brothers Theater, Branson, MO, as part of #BloggingBranson. All thoughts, opinions, and ideas are my own!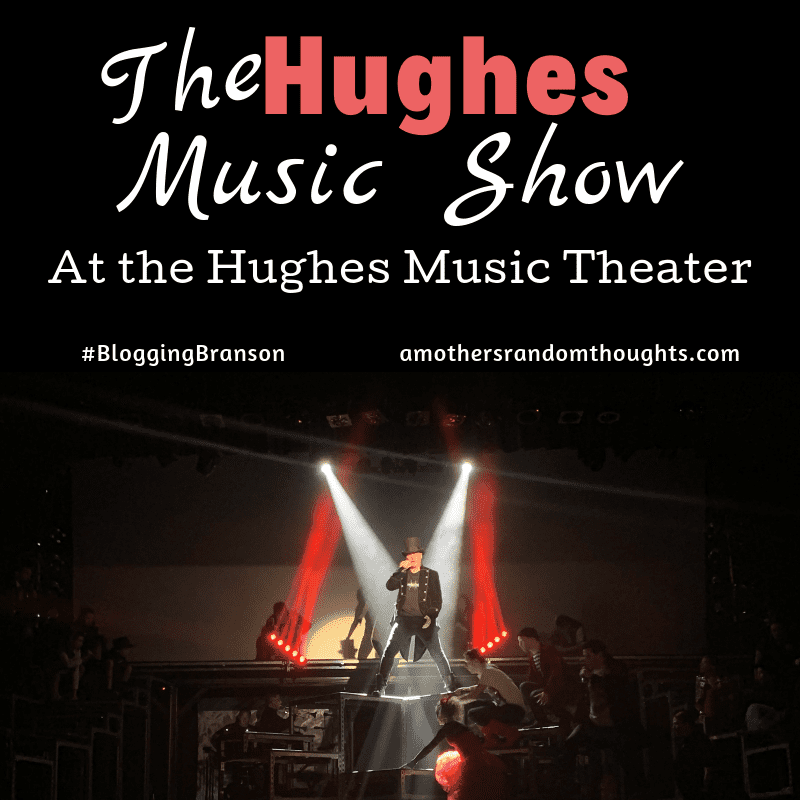 Best of Branson Shows
While there are many theaters and shows to choose from, Branson theaters encompass over 57,000 seats. I guess I never realized all that Branson had to offer, and so it was never on my family travel list. However, after spending a few days there, I know this is a destination that we will return to with our children. The activities for young and old, the shows, the restaurants, and especially the people of Branson make this a fantastic travel destination.
With the abundance of shows to select from, how do you know you are seeing the Best of Branson Shows? Ask yourself the following questions:
Do you want family entertainment

Do you want to support other families with wholesome values

Are you a God-fearing, patriotic family looking to pass those values on to your own children
If those are the qualities you are looking for in a show, then The Hughes Music Show is for you!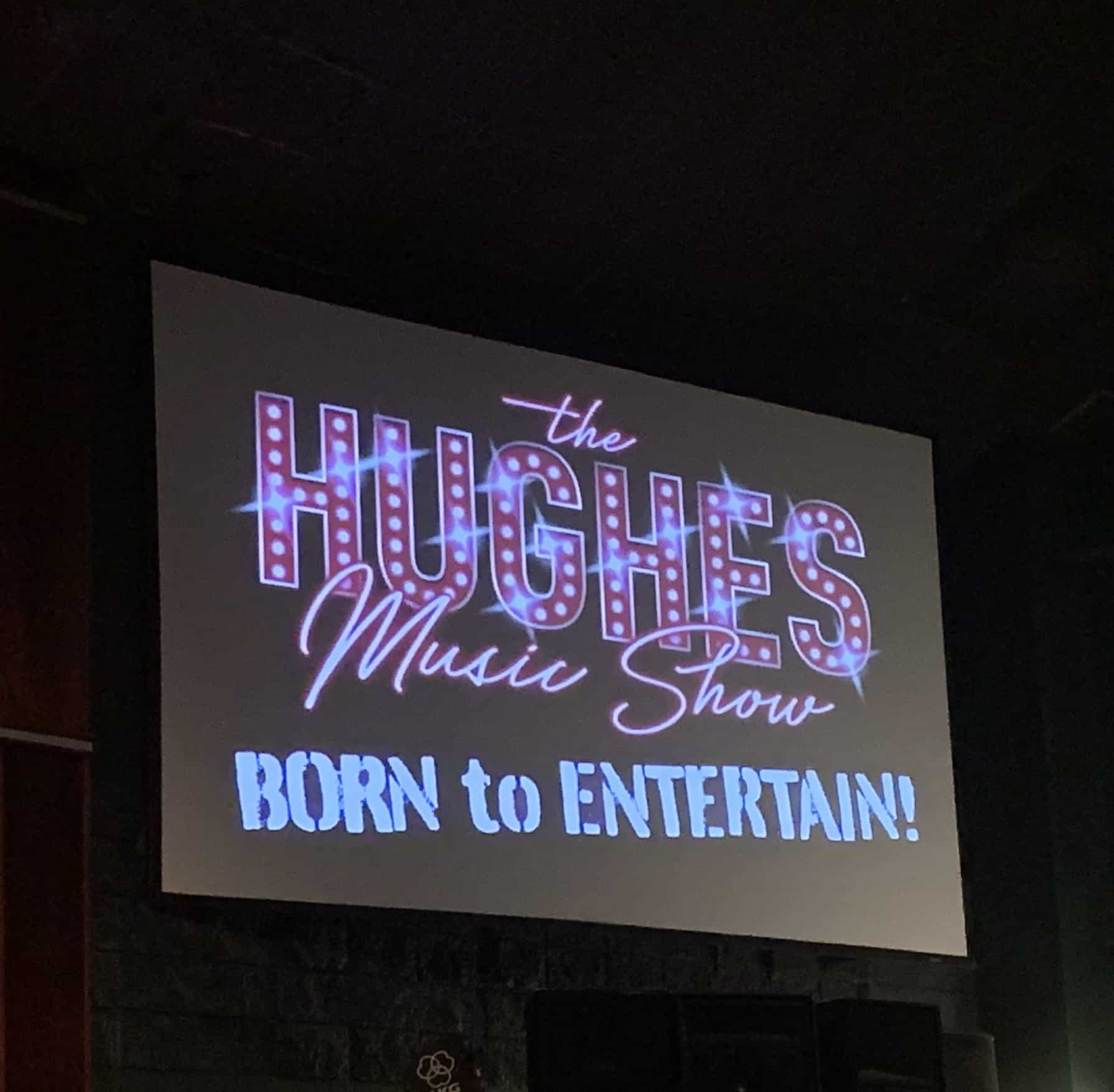 About the Branson Show – The Hughes Music Show – Born to Entertain!
The Hughes Music Show is performed by the Hughes family. Four amazingly talented brothers and their wives and children take the stage in a wide variety of musical numbers to delight and inspire you. Before my husband and I got to the show, we had already met Marty Hughes (one of the 4 brothers). Marty is the brains behind the sound, and as part of our attendance at Blogging Branson, we were treated to a session on podcasting by Marty.
The Hughes Brothers produce their own show. Marty, along with his brothers, wives, and children captivate you with a high-energy, lively, and inspiring performance.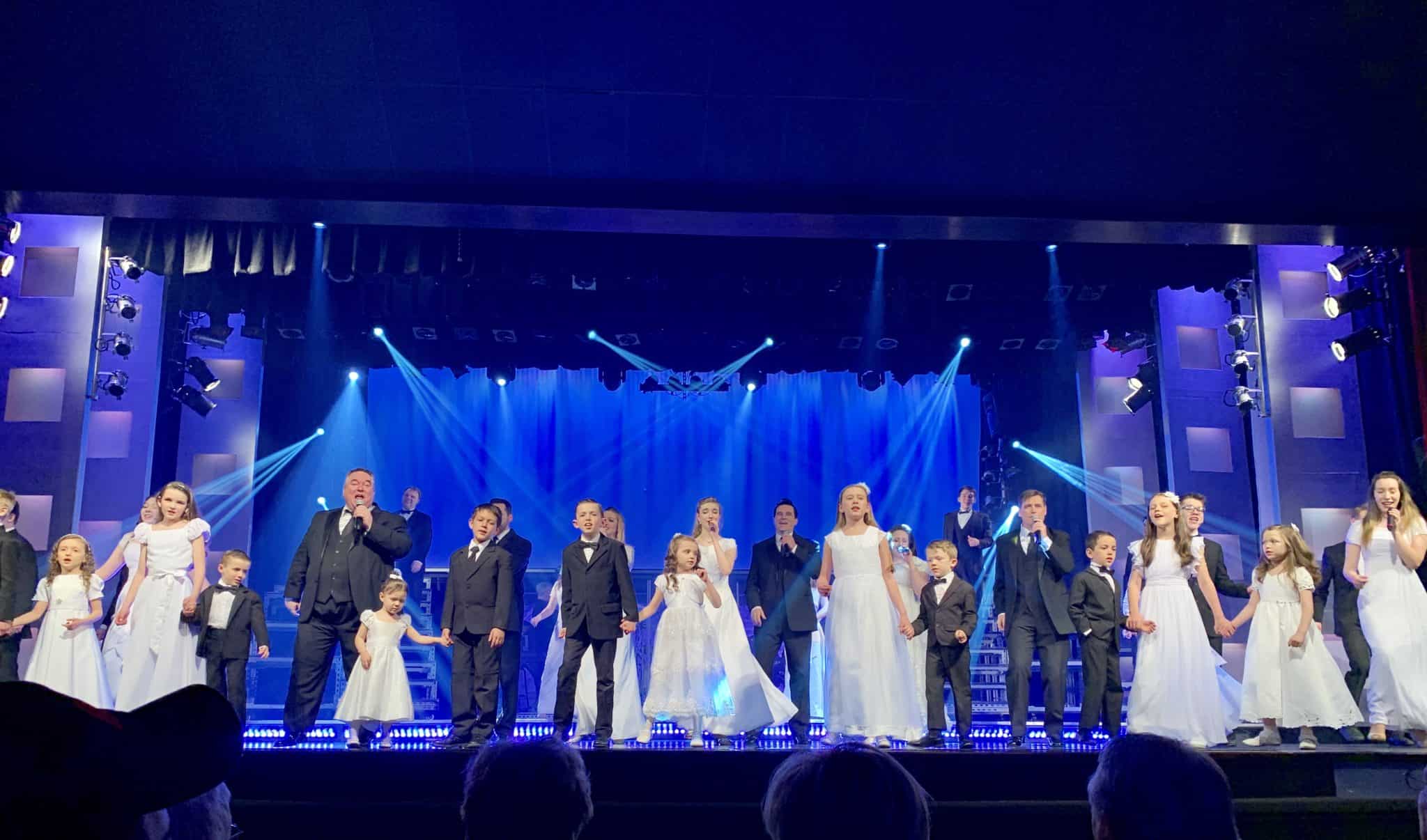 With over 35 performers to amaze you, the cast of characters expertly execute hits from the '60s through present-day. One of the things that makes this show so special is how well the family interacts together. In fact, it is so clearly evident that they have a genuine love for each other and for God. The Hughes Brothers have been performing together for more than 30 years. The Hughes family has 5 brothers (Marty, Jason, Adam, Ryan, and Andy), and at one time all the brothers performed together. Currently, four of them reside in Branson. The four brothers, along with their wives and children fill (AND WHEN I SAY FILL, I MEAN LITERALLY FILL) the stage with their talent and passion.
Overview of the Hughes Brothers Branson Show
Each family member contributes to the show in some manner. From the oldest Hughes to the youngest, they are certainly a talented group. One of my favorite memories of the show is when the littlest kids came out to perform. Additionally, the number of acts, wardrobe changes, and songs performed is amazing.
Songs such as The Greatest Show from The Greatest Showman and Greased Lightning from Grease, make this show so appealing. You will find yourself humming, toe-tapping and dancing in your seat. But my very favorite number was when they sang "In Christ Alone." This one produced tears streaming down my face!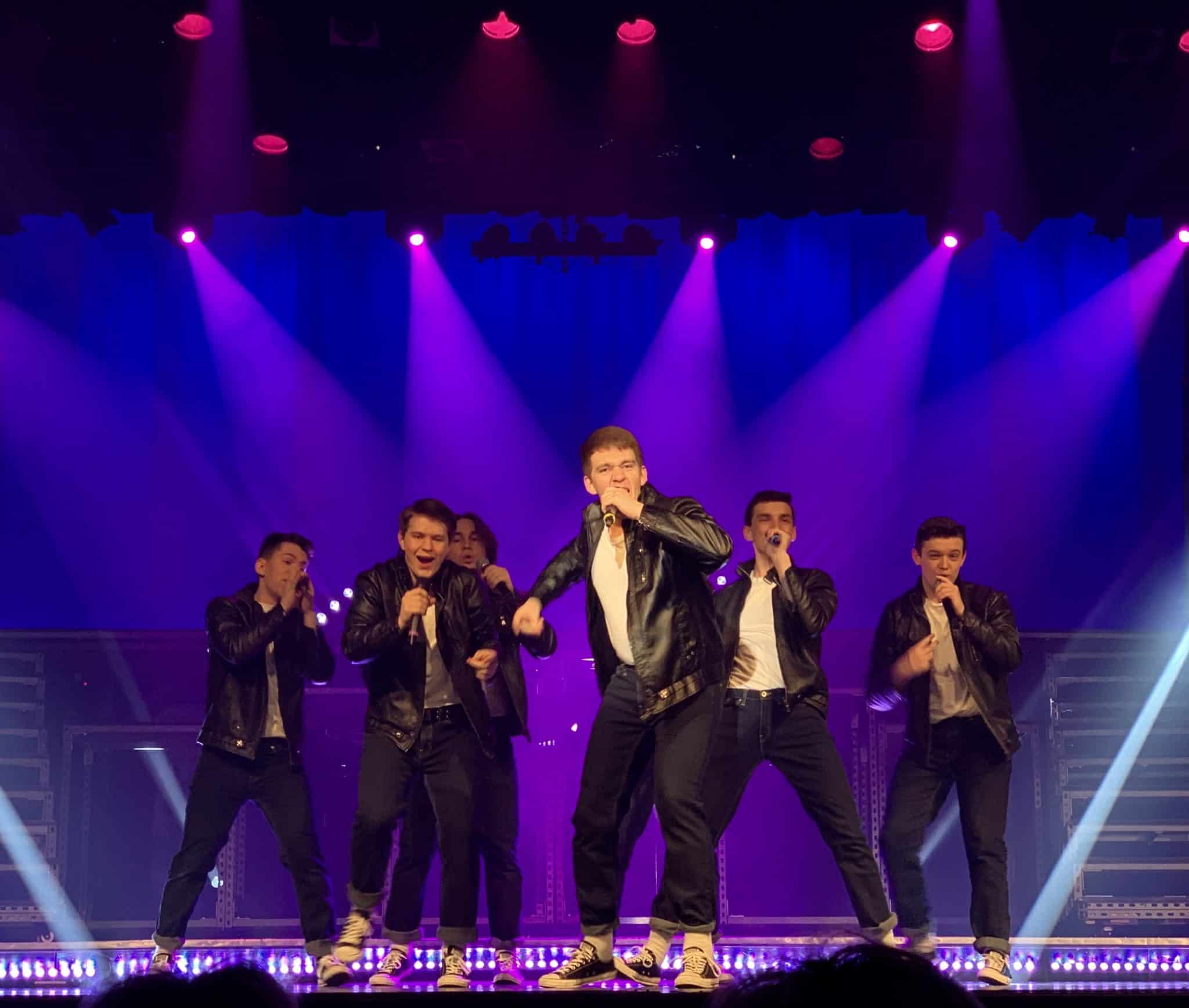 What Parents May Want to Know:
This is a clean, family friendly evening out. This Branson show does not include any foul language or items that parents would need to shield their children from. In fact, this is wholesome family fun.
I always like to mention anything that children (or adults) with sensory issues may want to know beforehand:
Some children may have a hard time with the flashing lights, however, I did not feel the sound was excessively loud.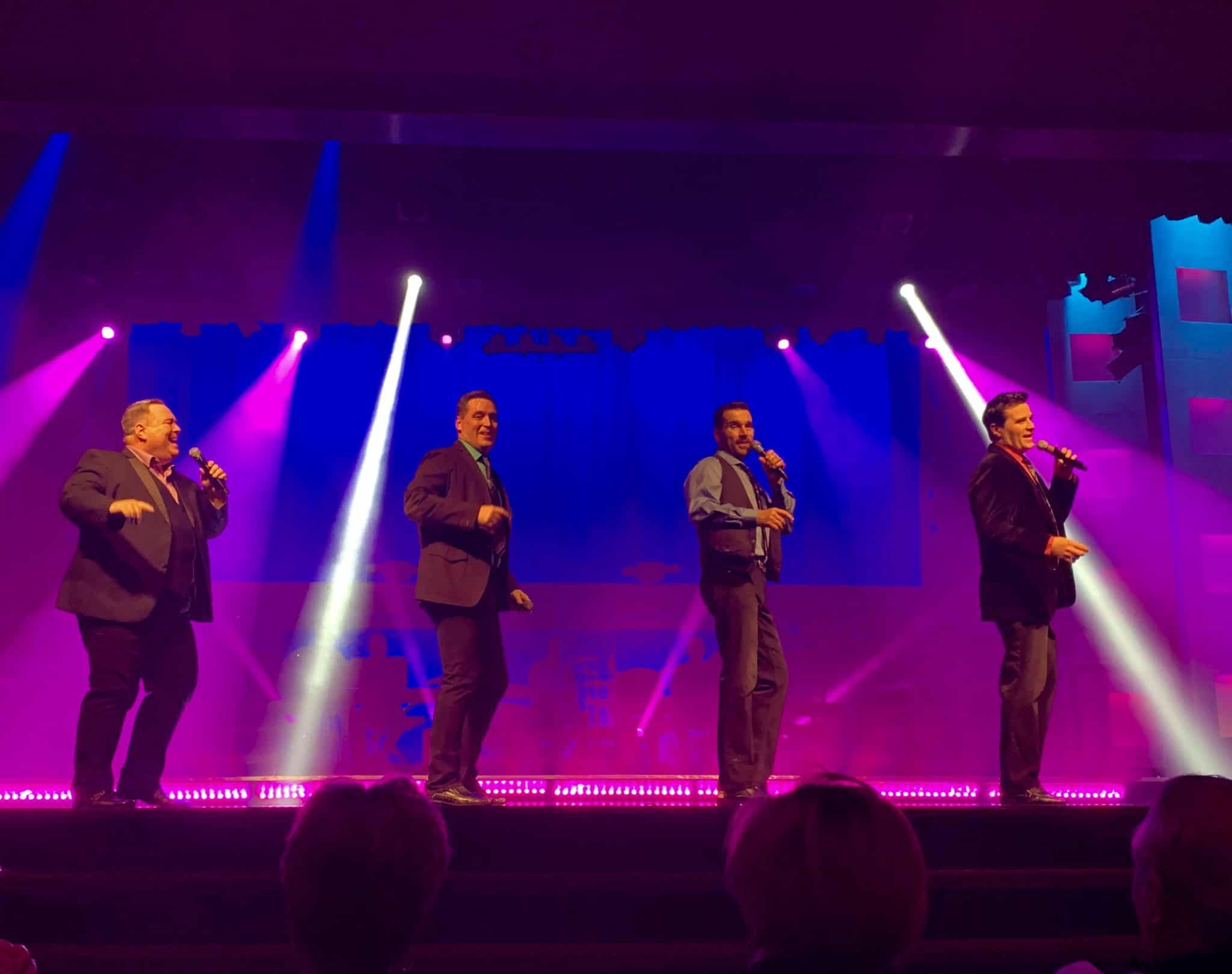 MY REVIEW of THE HUGHES MUSIC SHOW:
Born to Entertain! Performed by the Hughes Brothers is a must-see show. In the audience, there were people of all ages who were as mesmerized as I was. This show will amaze you and everyone in your party. The Hughes Brothers (and family) are performers who love God, and they love people. That is evident by every number they perform. These are humble people who see each audience as special, and they offer you their talent as a service.
Find a way to get your family to Branson, and while you are there make sure to visit The Hughes Music Show. Before my trip, I knew very little about Branson, but a friend told me that Branson was her favorite vacation. But I never expected the connection and love of Branson that I felt.

The Hughes Music Show is located at:
3425 W HWY 76
Branson, MO 65616
(417) 334-0076
WEBSITE: The Hughes Music Show
Branson Attractions and Restaurants:
Branson's Imax Entertainment Complex
Clay Cooper's Country Express at the Clay Cooper Theater
Dolly Parton's Stampede Dinner Attraction
Fall Creek Steak and Catfish House
Florentina's Ristorante Italiano
Also make sure to book your stay at The Stone Castle Hotel & Conference Center either in Clay Cooper Crib, another themed room, or a regular hotel room.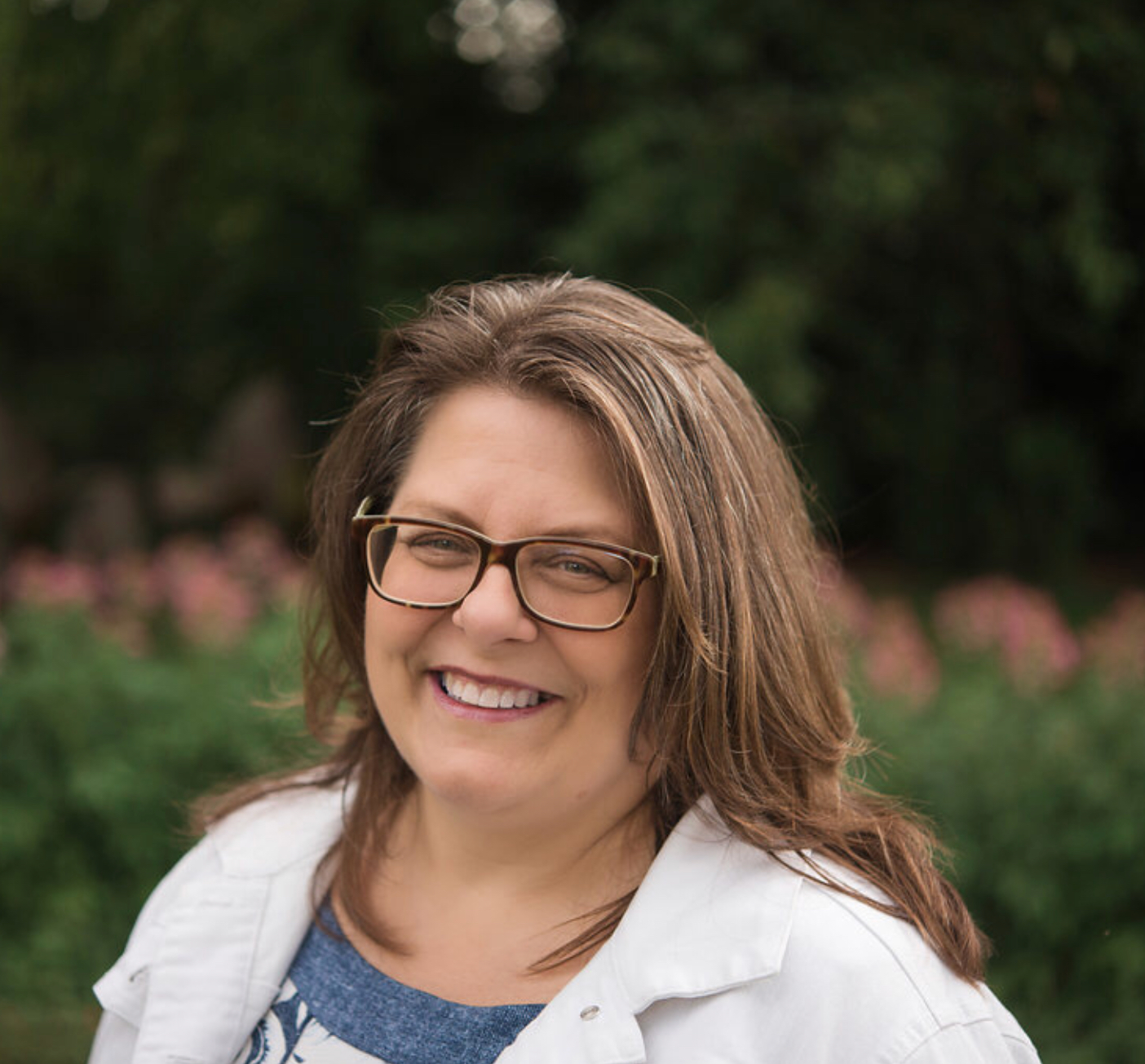 Homeschooling mom – 26 years and counting
Autism Mom
Movie reviewer/Travel blogger
Disney enthusiast