Destiny…It belongs to the underdogs!
I hate Football. So why is a movie about football my #1 pick for 2021? Did I happen to mention that I hate football. Not a little. A lot. However, when I first had the opportunity to see American Underdog, I went because Zachary Levi (Chuck and Shazam!) is my favorite actor. I went to see this movie a second time because it is just that good. But is it suitable for all audiences? In this American Underdog Christian Movie Review, I will give you the info you need to make viewing decisions for your family.
This is a story of hope, family, relationships, and faith. It is also a story of pursuing your dreams. When Kurt was trying out for the Rams he was considered "too old" to be a rookie. This is a lesson for all of us – you are never too old to follow your dreams. Additionally, Zachary Levi is the perfect actor to portray Kurt Warner. Levi is underutilized and one could call him the Underdog of Hollywood.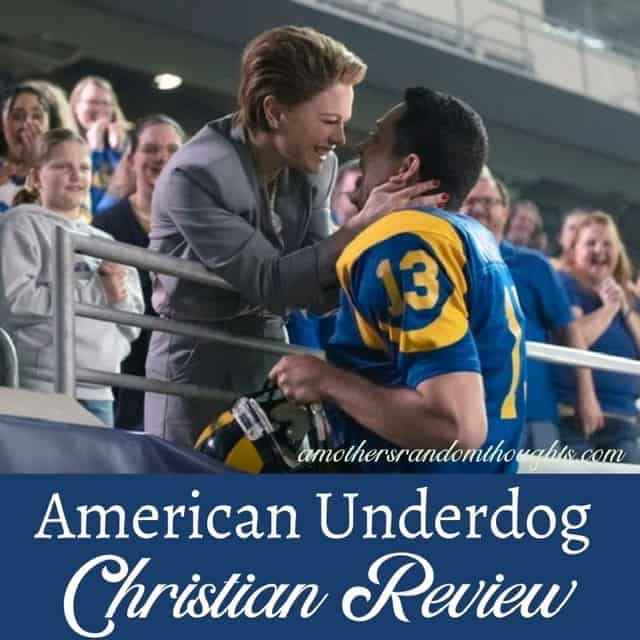 American Underdog Christian Movie Review Synopsis
Since Kurt Warner (Zachary Levi) was a young boy, he dreamed of playing pro football. When Kurt meets Brenda in a country bar, together they embark on a journey that leads to the Super Bowl and NFL MVP. The journey has not been easy or without tears, heartbreak, and desperation. This true story will inspire you to pursue your dreams, to hold onto hope when life seems bleak, and to encourage others through dark times.
Jon Erwin, director, and writer say, "Kurt and Brenda Warner's true story of faith and determination deeply inspired Andy (Erwin) and me. We can't wait for it to inspire audiences all over America this Christmas. It's the perfect time to come together as a family and have your dreams rekindled. If he can accomplish his dream, so can all of us."
There is one particularly poignant scene in this movie that touched my heart. Kurt Warner runs out of gas on a country road during a snowstorm. Brenda and her kids are in the vehicle and Kurt leaves to run to get gas at a station 2 miles back. This is a family struggling to make ends meet and clearing out their pockets and the cup holders in the vehicle to find stray change.
To anyone who has rolled pennies to pay for a couple of dollars of gas or added up the cost of the food at the grocery store and and had to put back items or taken jobs that seem less than your potential, this film inspires you to never give up.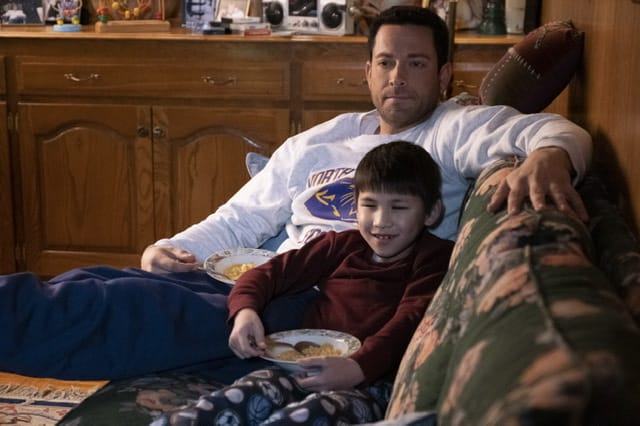 American Underdog Christian Movie Review – What Parents May Want to Know?
Overall, there is very little objectionable content.
Language: There are a few uses of the word d-mn and h-ll.
Zack (Brenda's son from a first marriage) is blind. Brenda tells Kurt how Zack became blind. Although, it is a short story within this film, it may be a hard for small children. If you would like to know how Zack becomes blind, see Frequently Asked Questions below.
Other Content:
Kurt and Brenda meet in a bar. Obviously, there is drinking in the establishment. Multiple times during the film people are shown drinking beer and mixed drinks.
In one scene, Kurt and Brenda are kissing on the couch. The implication is that more is going to happen as Brenda's t-shirt starts to be removed. The camera cuts out before anything is shown.
Kurt and Brenda live together before they are married.
A couple is killed in a tornado. It is not shown onscreen, but the after-effects of the tornado are shown.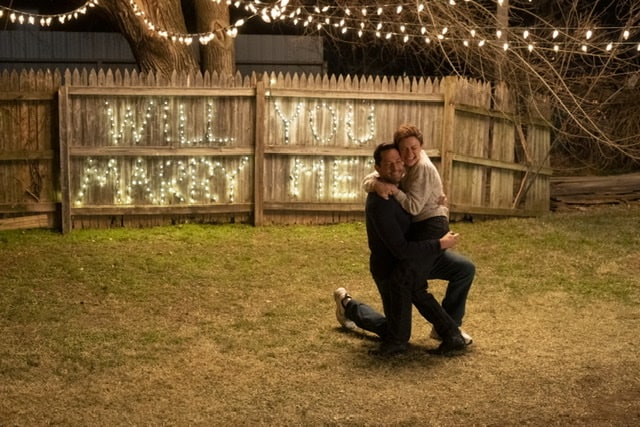 Recommendations for this Movie:
This movie will entertain football fans, but this movie is really made for the underdogs. If you know you were created for something great and are living a life that is less than you expect, this movie is for you!
If you are going to see a movie this holiday season, you can see one about a spider and be entertained, or you can see American Underdog and be entertained and forever changed!
Expect tears! Expect hope! And expect to be wowed by this film. However, due to the nature of the film, children may not sit through the movie. Additionally, this movie is almost two hours long. It may be too long for younger children.
While inspirational in nature, American Underdog highlights the faith of a couple and what that faith can accomplish. Brenda's relationship with God is what makes her different. Their relationship is what propels Kurt to greatness. And ultimately, Kurt really discovers his own personal relationship with Jesus Christ.
Mark Twain once said, "The two most important days in your life are the day you are born and the day you find out why." Kurt Warner knew why he was born from a young age. Some of us are on a journey to find out our why, but yet the drive for greatness is still there! Do you know your why? Whether you do or not, you were born for greatness!
Frequently Asked Questions:
Is American Underdog a true story?
Yes. American Underdog is the true story of Kurt Warner and his wife Brenda. Kurt went from stocking shelves at a supermarket in Iowa to playing NFL football for the St. Louis Rams.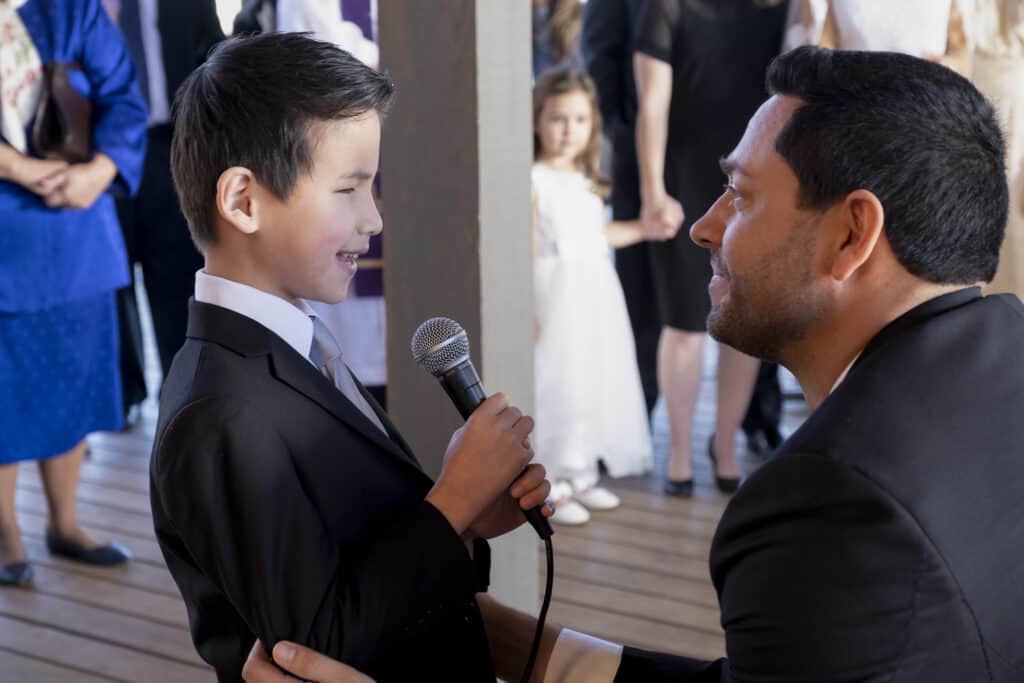 Filming took place in Atlanta and Oklahoma City. Additionally, actual film clips from the Super Bowl were used in the movie.
What teams did Kurt Warner play for?
High school football – Regis High School in Cedar Rapids, Iowa
University of Northern Iowa
Kurt was invited to try out for the Green Bay Packers in 1994 and released before the regular season began.
He played for the Iowa Barnstormers (Indoor Football League – Arena Football) from 1995-1997
Amsterdam Admirals (based in Amsterdam Netherlands) in 1998
St. Louis Rams (1998-2003)
New York Giants (2004)
Arizona Cardinals (2005-2009)
Which Super Bowl did Kurt win?
Kurt actually won Super Bowl 34 in 2000
He again played for the Rams in Super Bowl XXXVI in 2002, but they did not win the Super Bowl that year.
Kurt led the Arizona Cardinals to the Super Bowl in 2008, but they did not win.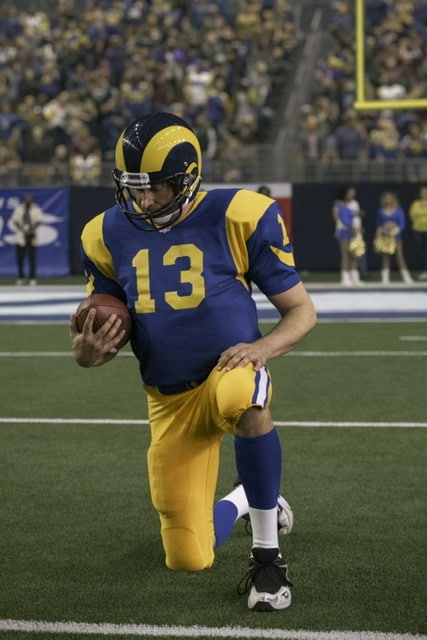 Did Kurt Warner really play Arena Football?
Yes. He played for the Iowa Barnstormers from 1995-1997.
Is American Underdog available for streaming?
American Underdog releases in theaters on December 25, 2021. It is currently streaming on Prime Video or VUDU.
When did Kurt and Brenda get married?
They married on October 11, 1997.
Are Kurt and Brenda Warner Christians?
Yes. They are devout evangelical Christians. Kurt really did acknowledge Jesus after the Super Bowl. "Well first things first, I've got to thank my Lord and Savior up above —-thank you, Jesus!"
How does Zack become nearly blind and disabled?
When Zack was 4 months old, he drops out of his birth father's hands and falls on his head in the bathtub. At the hospital, he doesn't tell the truth about what happened for over 24 hours. Brenda is told that he probably will not live through the night. Later she is told he will never walk. Brenda tells Kurt that Zack is a miracle.
Great Quotes from the movie:
Kurt: "I'm just wondering why God would give me a dream that's probably never going to come true because I just feel like that's cruel."
"Sometimes you got to do what you got to do while you're waiting to do what you want to do."
"Sometimes you find yourself in places that you are really not ready for yet."
Quote by me! Patty: "If you are going to see a movie this holiday season, you can see one about a spider and be entertained, or you can see American Underdog and be entertained and forever changed!"
Rating: PG
U.S. Release Date: December 25, 2021
Running Time: 1 hour, 52 mins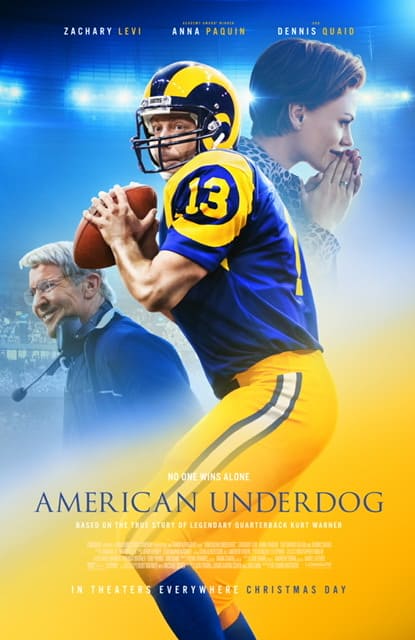 Cast of American Underdog:
Kurt Warner played by Zachary Levi
Brenda Warner played by Anna Paquin
Dick Vermeil played by Dennis Quaid
Terry Allen played by Adam Baldwin
Mike Martz played by Chance Kelly
Jim Foster played by Bruce McGill
Mike Hudnutt played by Ser'Darius Blain
Sue Warner played by Cindy Hogan
Hayden Zaller as Zack Warner
Cora Kate Wilkerson as Jesse Jo Warner (Kurt's mom)
Directed by: The Erwin Brothers – Jon Erwin and Andrew Erwin (I Can Only Imagine)
Screenplay by: Jon Erwin, David Aaron Cohen and Jon Gunn
Based on the book "All Things Possible" by Kurt Warner and Michael Silver
Produced by: Kevin Downes, Jon Erwin, Andrew Erwin, Mark Ciardi, Daryl Lefever
Executive Producers: Kurt Warner, Brenda Warner, Tony Young, Jon Gunn,Sean Devereaux
Music by John Debney
Song: Love Changes Everything by Vince Gill
Production Companies: Kingdom Story Company; Erwin Brothers Entertainment; City on a Hill Productions
American Underdog: Facebook Twitter Instagram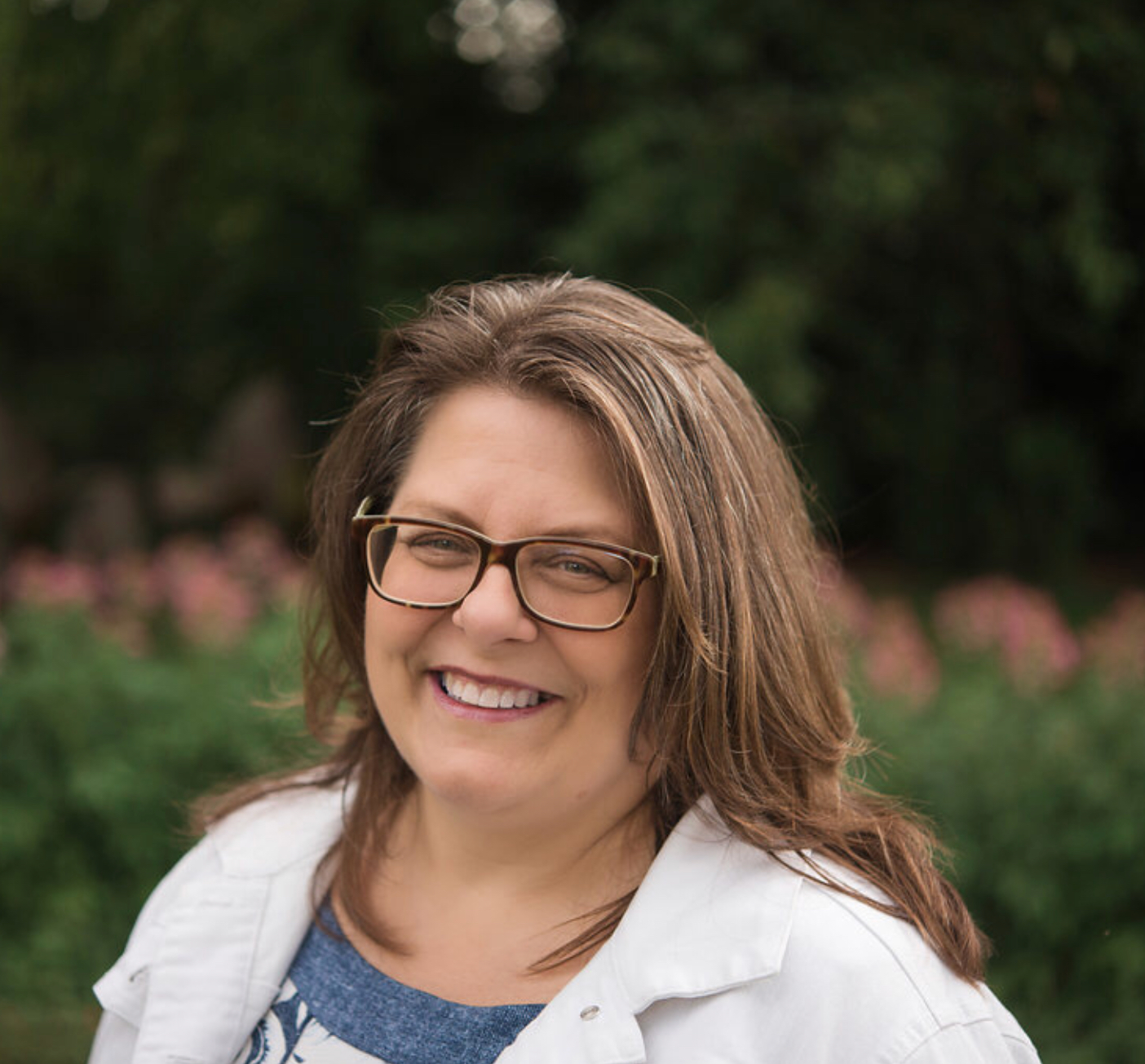 Homeschooling mom – 26 years and counting
Autism Mom
Movie reviewer/Travel blogger
Disney enthusiast