Nostalgia for the Holidays
Finally, Peter Billingsley is back as Ralphie in A Christmas Story Christmas. We first met Ralph in A Christmas Story – the iconic Christmas movie set in the 1940s. Although it has been 39 years since the original movie, A Christmas Story Christmas is set approximately 33 years after the first movie. A Christmas Story Christmas Christian movie review will tell you what you need to know before watching with your children.
A Christmas Story Christmas Christian Movie Review – Synopsis:
Clearly, Ralphie is grown and married. He is now a dad with two children of his own, and living in Chicago, IL. His wife and kids are anxiously awaiting the arrival of Ralph's parents to celebrate Christmas with them. Ralph has taken the last year off to write a novel. Hoping to get some news from a publisher before Christmas, Ralph is consumed with pitching his book.
Meanwhile, Ralph receives a phone call that his father has died. Ralph and his family drive to his childhood home to spend Christmas in Hohman, Indiana.
Synopsis from Warner Brothers:
"From Warner Bros. Pictures and HBO Max comes the family comedy "A Christmas Story Christmas," the long-awaited follow-up to annual holiday favorite, "A Christmas Story." This time, Ralphie is all grown up and must deal with Christmas and all that comes with it…as a dad. Peter Billingsley returns to the role that has made kids of all ages anticipate Christmas morning like no other.
Starring alongside Billingsley as Ralphie Parker are Erinn Hayes ("Bill & Ted Face the Music") as Ralphie's wife, Sandy; Julianna Layne ("Prodigal Son") as their daughter, Julie; River Drosche ("Miracle Workers") as son Mark; Scott Schwartz returning as Flick; RD Robb returning as Schwartz; Ian Petrella reprising his role as Ralphie's brother, Randy; Davis Murphy ("Looking for Dr. Love") as Delbert Bumpus; with Zack Ward returning as Scut Farkus; and Julie Hagerty ("Instant Family") as Ralphie's mom, Mrs. Parker.
Clay Kaytis ("The Christmas Chronicles") directed from a screenplay by Nick Schenk ("Cry Macho") and Kaytis, screen story by Schenk and Billingsley, based upon the book In God We Trust, All Others Pay Cash by Jean Shepherd. The film's producers are Irwin Zwilling, Marc Toberoff, Cale Boyter, Jay Ashenfelter, Billingsley and Vince Vaughn, with Mike Drake, Schenk and Peter Dodd serving as executive producers.
Warner Bros. Pictures and HBO MAX Present A Legendary Pictures / Wild West Picture Show / Toberoff Production, A Clay Kaytis Film, "A Christmas Story Christmas." The film will debut on HBO Max on November 17, 2022."
A Christmas Story Christmas Christian Movie Review:
What Parent's Want to Know
First, this is a funny movie. Next, it is a great sequel to the original A Christmas Story. Finally, it does carry a PG rating, but just like the original there are scenes that you may not want your children to view.
Language:
While the language is pretty much similar to the original movie, there is a lot of foul language. Oh my g-d is said several times as well as dear g-d, and Oh Lordy. There are plenty of other objectionable words such as h-ll, d-mnit, a-ss, son-of-a-b-tch. Additionally, there are slang terms for male body parts – "freeze our nuts off", p-ss, turds, moron.
There is also bullying as seen in the first movie.
Substances – Alcohol:
Ralph's friend now runs a tavern. Furthermore, several scenes occur inside the tavern with people drinking. Ralph's young son goes behind the bar and helps make a mixed drink.
While the kids decorate the Christmas tree, the adults drink wine.
A man has a hangover and is laying in bed after a night of heavy drinking.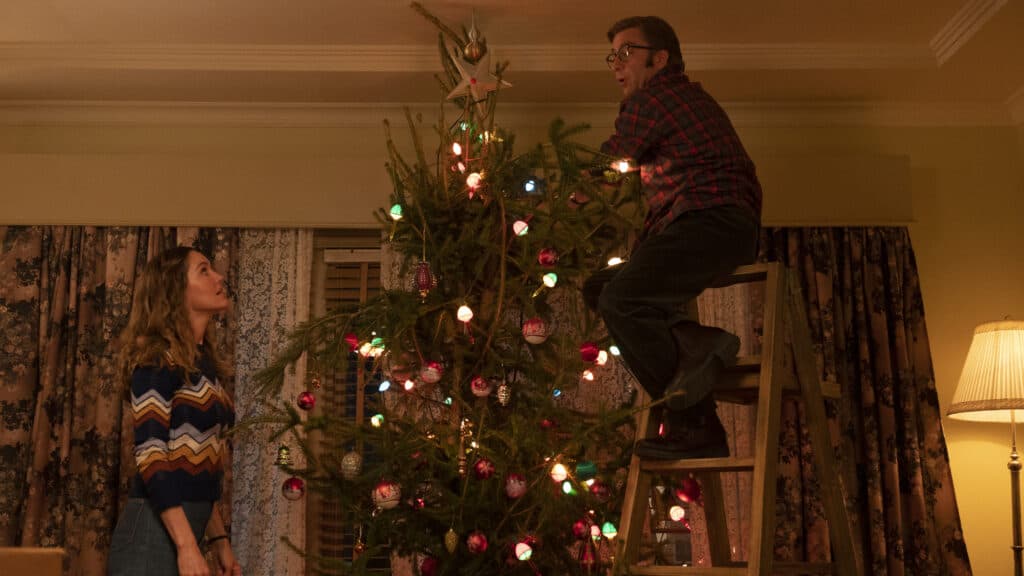 Sexual content:
A boy is shown going through a catalog and looking at the women in bras and underwear.
Violence:
There is plenty of "violence." The neighbor boys are bullies and attempt to intimidate Ralph's children and generally terrorize the neighborhood while riding their snowmobile.
A snowman is deliberately destroyed. A snowmobile is crashed. A boy breaks his arm. A girl is hit in the eye with a snowball and is taken to the ER. She is shown wearing an eyepatch.
An adult man sleds down a tall icy ramp. There are plenty of crashes during the sledding scene.
A woman falls and injures her ankle.
Spiritual:
The main theme of this movie is celebrating Christmas, but there it is not religious for the most part. There is a reference to a Christmas angel and a Christmas Star for the tree topper. Additionally, carolers sing "Silent Night" and "Come All Ye Faithful."
Other Content:
A central theme of this movie is the death of a parent. Ralph struggles to write an obituary for his father over the course of the movie. He calls his father "the old man," as he did in the original film, but he loved his father deeply.
Also, a boy vomits. However, you do not see the vomit. 
There is theft of a few items, including children's Christmas presents. A man breaks into a bar and steals something.
Lying is pretty common throughout the movie. In a funny scene, people hid in the home to escape Christmas carolers.
Positive Content:
There is also a scene of redemption in the movie. One man who was on a bad path as a young boy turned from his ways and became a productive member of society.
Family is a central theme in this movie. Ralph goes home to help his mom after the death of his father and he struggles with writing an obituary.
Additionally, the community comes together to bring meals after the death of Ralph's father. Everyone has brought casseroles. 
Teachable Moments in A Christmas Story Christmas:
There are so many teachable moments in this movie
Death of a loved one: Do you or your family help out other people after the death of a loved one? In this movie, the neighbors have brought over casseroles. Are these the best meals for a family meaning the loss of a loved one? Discuss helping others out, and if you have not taken a meal to someone in the past, make a meal and take it to a family just because.
The commandment, "Honor your mother and father so that your days will increase in the land that the Lord your God gives to you" Exodus 20:12. How did Ralph honor his father? There are several instances in the film. Discuss them.
Recommendations for Viewing with Children:
We loved this movie and felt that it was a great sequel that paid homage to the original in such a special way. This movie is rated PG, but the language is too much to watch with young children. My recommendation for viewing this movie is 10-12 and up. Keep in mind that children younger than that probably will not follow the storyline or be interested in the movie.
If you watch this movie, watch out for the Easter eggs from the first movie.
Frequently Asked Questions:
What year was the original A Christmas Story set?
It was 1940. Ralphie was nine years old at the time. It was released in 1983.
What was the toy Ralphie wanted for Christmas as a young boy?
A Christmas Story was set during the 1940s. Who can't forget the Red Ryder Carbine Action 200-shot range model BB Gun or the classic decoder ring?
What is the date of A Christmas Story Christmas?
It is set 33 years in the future – December 1973
What happened to Ralphie's dad?
The actor, Darren McGavin, who played his dad died in real life. Therefore, the movie has him die, and we see a series of flashbacks to pay homage to the life of Ralph's dad.
What is the name of the town in the movie?
The movie is set in Hohman, Indiana. However, everything I can find online suggests the town name in the first movie was Hammond.
Where was the movie filmed?
The movie was filmed in Cleveland, Ohio, and Toronto, Ontario. In fact, the film's interiors were filmed in Canada, while the filming of the exterior was done in Cleveland. 
The house (A Christmas Story House) from the movie is open for tours and is currently up for sale. 
The house is located at 3159 W. 11th Street, Cleveland, Ohio.
Why was Cleveland, Ohio selected?
The filming crew was looking for a town like Hammond, Indiana, but the ultimate decision was because Higbee's allowed filming of the movie inside the store. At this time the Higbee building still stands in downtown Cleveland. However, Higbee's (a department store) is no longer in business.
Are there other Christmas Story movies?
Yes. There are two other sequels. In 1988, the first sequel was a made-for-TV movie entitled Ollie Hopnoodle's Haven of Bliss. And 1994, My Summer Story released. Both were written by Jean Shepherd. 
My Summer Story was directed by Bob Clark, who was the original director of A Christmas Story.
What are some of the items in A Christmas Story Movie that you see in the first movie?
Briefly we see the leg lamp lampshade. However, the lamp is not shown.
Ralph's pink bunny suit is shown in a box. Ralph's Old Man's blue bowling ball, and the Red Ryder BB Gun.
The Chinese restaurant is still standing next to the tree lot.
Ralph brings a gift for a potential publisher just like he brought a "gift" for his teacher.
Furthermore, there is a "daydream" sequence similar to the first movie.
Ralph haggles for a Christmas tree like his father.
The neighbor still has dogs that torment Ralph and his family. If you recall the dogs ate the Christmas turkey at the end of A Christmas Story.
Flick "triple dog dares" Schwartz.
The family goes to visit Santa at Higbee's while Ralph and his wife shop for Christmas. The Santa visiting area is exactly the same.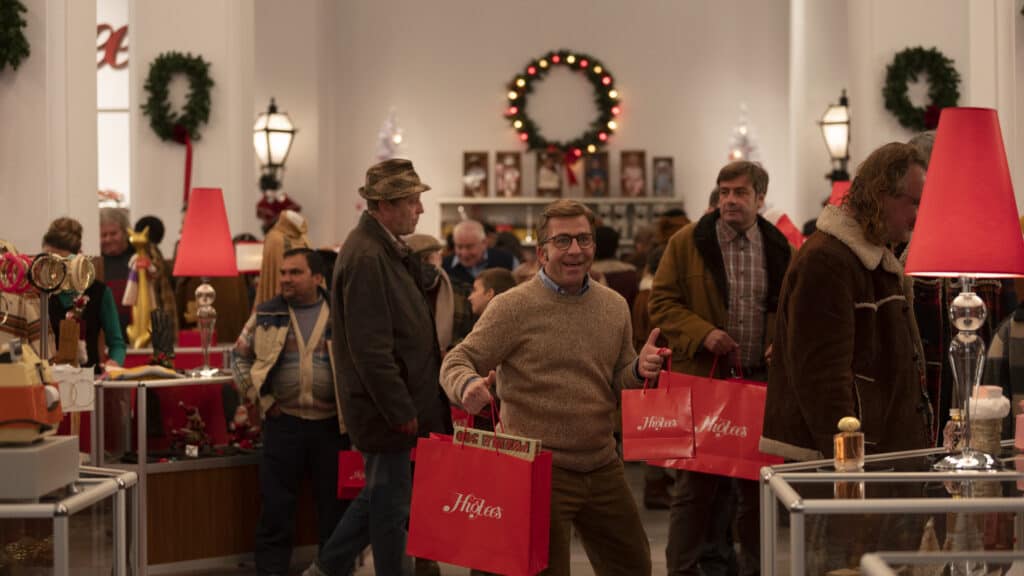 Fun Facts About A Christmas Story and A Christmas Story Christmas
In A Christmas Story, writer Jean Shepherd makes a cameo appearance. He is the man who tells Ralphie and Randy where the line starts to see Santa. Additionally, Shepherd is the narrator in the first movie.
There is a bronze statue honoring Jean Shepherd in Hammond, Indiana. Flick's tongue gets stuck on a flagpole.
This is such a big movie for Ohio. In fact, the Ohio State Fair had butter sculptures depicting scenes from A Christmas Story in 2018.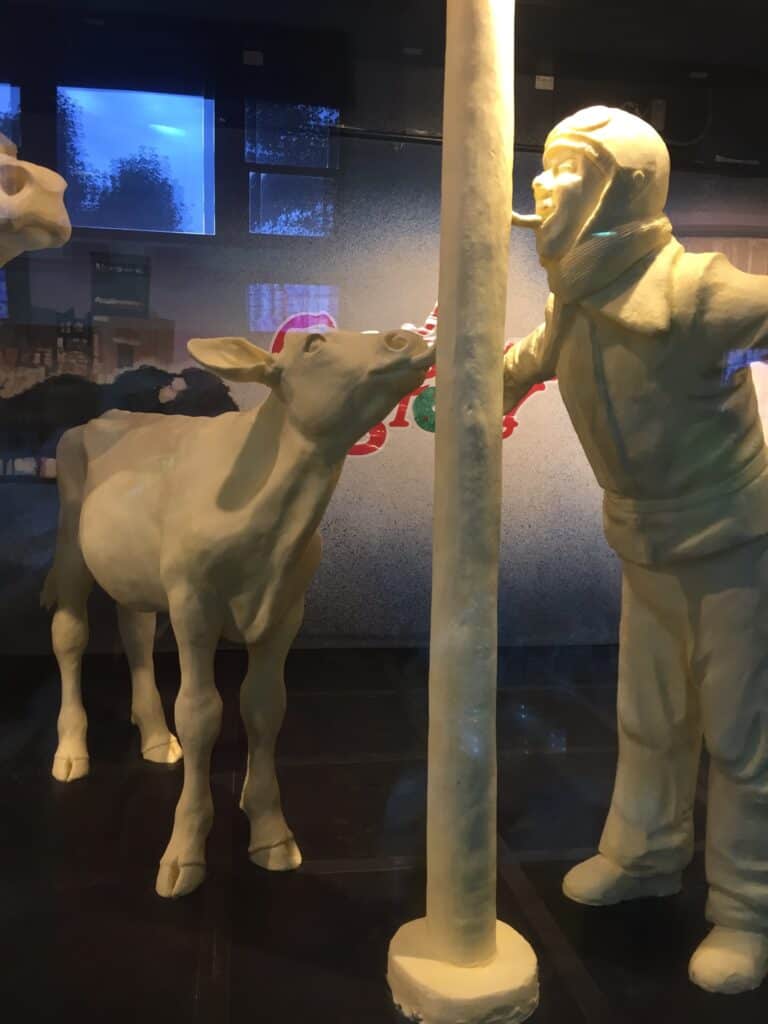 A Christmas Story Christmas Christian Movie Review: About the Movie
Rated: PG
Runtime: 1 hour, 28 mins.
Release Date: November 17, 2022
Distributed by Warner Bros. Pictures. Streaming on HBO Max.
Based on characters created by Jean Shepherd – Based on the book "In God We Trust. All Others Pay Cash"
Cast of A Christmas Story Christmas
Ralph Parker………Peter Billingsley
Sandy Parker……..Erin Hayes
Mark…………………..River Drosche
Julie……………………Julianna Layne
Mrs. Parker………….Julie Hagerty (Ralph's mom)
Flick…………………….Scott Schwartz
Schwartz……………..R.D. Robb
Publisher………………Ian Porter
Pulitzer Emcee……..Sam Parks
Office Scut Farkus..Zack Ward
Larry Novak………….Henry Miller
Delbert Bumpus……Davis Murphy
Randy……………………Ian Petrella
Lead Carole's………..Benjamin Noble
Ike…………………………Derek Morse
Director: Clay Kaytis
Producers:
Irwin Zwilling
Marc Toberoff
Cale Boyter
Jay Ashenfelter
Peter Billingsley
Vince Vaughn
For a List of the Worst Christmas Movies, visit here!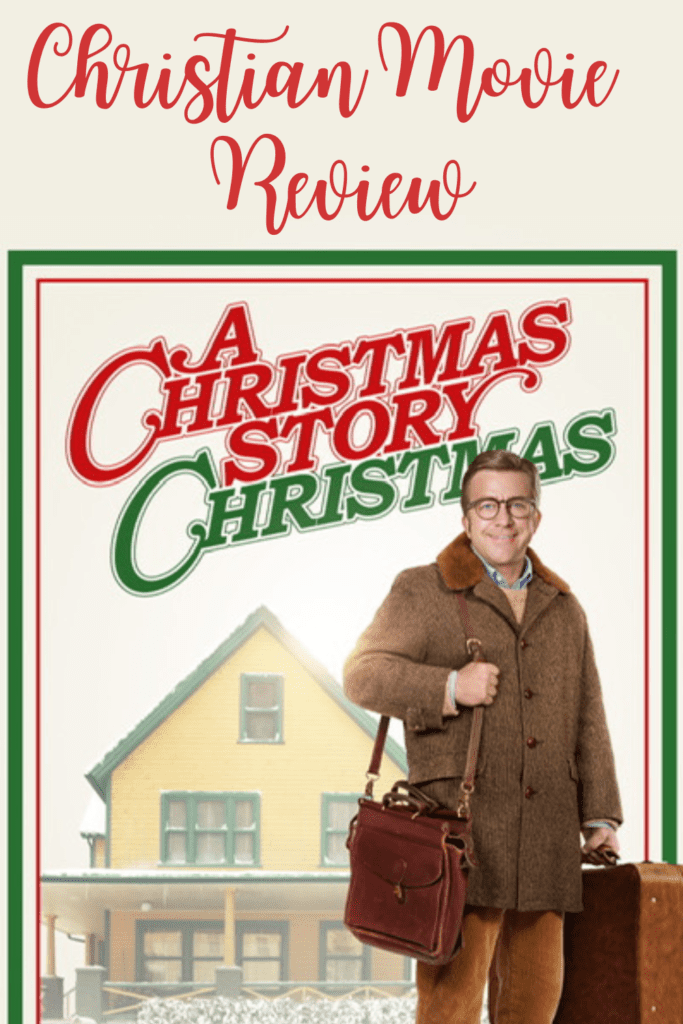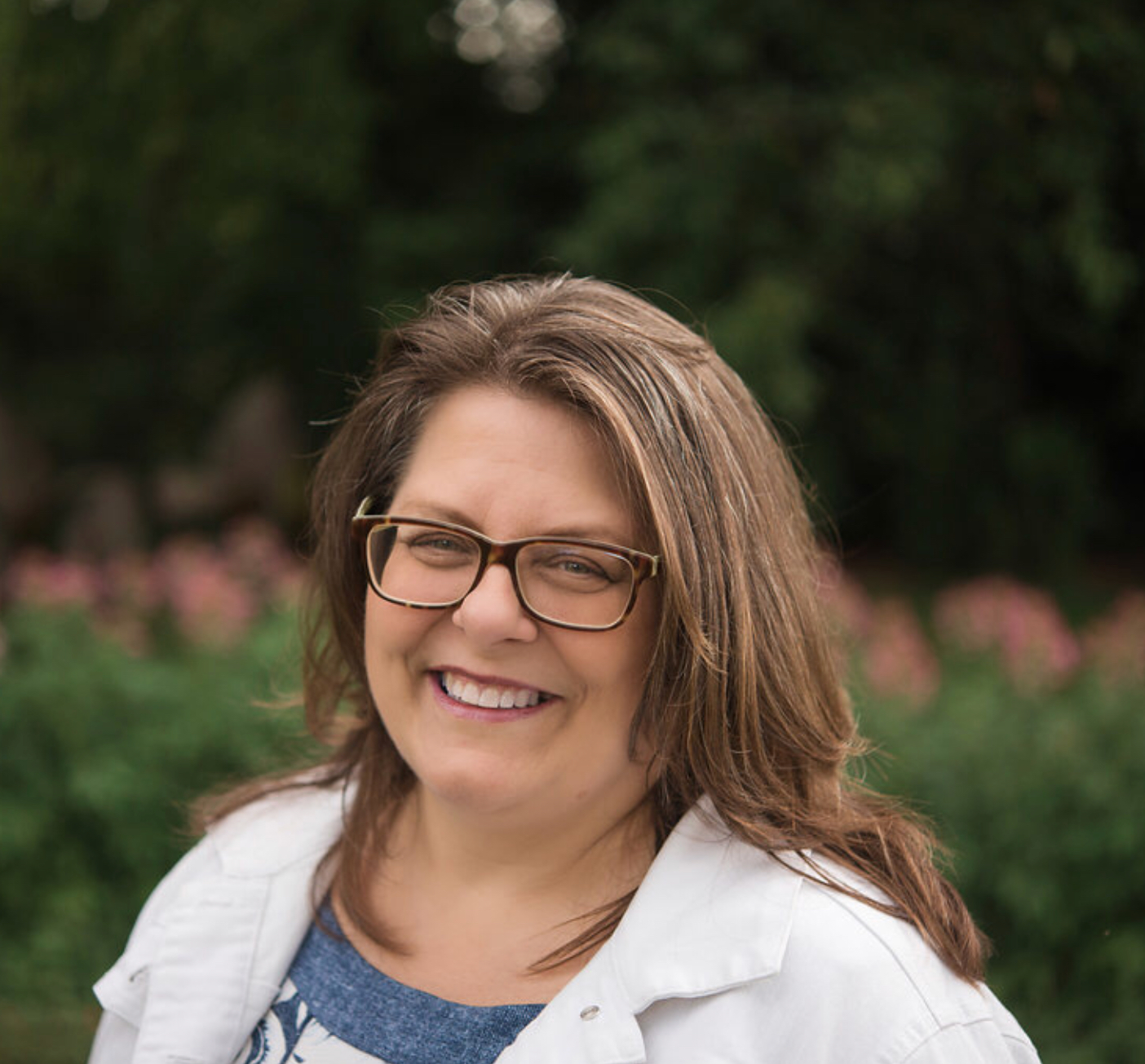 Homeschooling mom – 26 years and counting
Autism Mom
Movie reviewer/Travel blogger
Disney enthusiast