All movies reviewed by me are done so at my own expense unless otherwise stated.
Ferdinand is a big bull with an even bigger heart. He has always rejected the ways of the bulls and refuses to fight. He would rather sit under a tree and smell the flowers. Through a series of mishaps, he is captured and taken from his home, but he is determined to find his way back. Can he escape the life of a bullfighting bull?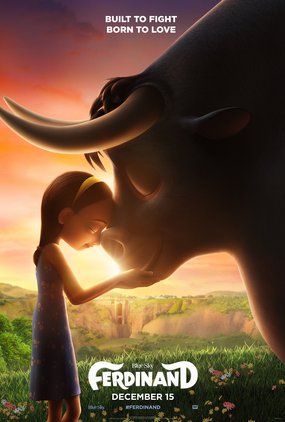 This movie is based on the classic picture book by Munro Leaf, The Story of Ferdinand (with drawings by Robert Lawson) was first published in 1936. It is a delightful book that is sure to entertain young and old. In 1938 Disney released an animated short based on the book which won an Academy Award for Best Short Subject (cartoon). The 7 minute film stayed true to the book and is a must watch.
Blue Sky Studios has realeased the 2017 Ferdinand production. Because I love the book so much, I eagerly anticipated this movie. And my son, Jack-Jack, has been asking about it for weeks.
POTENTIALLY OBJECTIONABLE CONTENT: This adorable film is short on objectionable content, but there are a few things that families may want to watch for. Ferdinand is a gentle bull and because of that, he is the subject of "bullying" by the other young bulls (which are actually called calves until they are grown.) Ferdinand is called "flower boy" and other derogatory names. When Ferdinand is stung by a bee, he accidentally destroys a town! This scene shows a baby being in danger and thrown in the air. The song Brick House is played. A goat makes some suggestive comments about Ferdinand's physique. A matador slashes the skin of a bull. There are bull horns mounted on a wall. Some bulls find themselves inside a "chop shop."
There are some cliche moments and sayings. At one point Ferdinand is "the bull in the china shop." 
POSITIVE MESSAGES: You are not a product of your environment. Ferdinand is expected to be a bullfighting bull, but he rejects violence. He changes his life by sticking to his convictions. He is a positive, upbeat and kind soul, and he is willing to sacrifice himself to save others.
MY RECOMMENDATION: This movie is rated PG, although it is one of the milder PG movies I have seen. I would recommend ages 4 and up. My son Jack-Jack who is 13 and autistic, loved this movie. The other people in the audience loved it. It is a charming movie, but be warned that there are downright stupid parts. There are horses with German accents that I actually think distracted from the movie. They could have been left out, and I would have enjoyed it so much more.
Ferdinand is adorable and has such a positive message of non-violence. The overarching theme is that your life is not already mapped out for you. Ferdinand was expected to be a bull that fights, but rejected that lifestyle and was able to change his life and the lives of those around him. Against all odds Ferdinand succeeded in bringing peace to his world.
Thanks for following along!
Patty @ A Mother's Random Thoughts