(We were given tickets to attend the Chicago Toy and Game Fair.)
Last year my family had the opportunity to attend ChiTag, and we LOVED it so much that we are going back again.
2017 ChiTAG Dates
November 17-18
at Navy Pier
Let's back up a minute and explain what ChiTag is! Last year when I registered to go, I was not entirely sure what ChiTag was and why I should go, but being the adventurous person that I am, I thought, "what do I have to lose by going?" So off we went.
ChiTag stands for Chicago Toy and Game Fair. This is their definition, "ChiTAG is North America's Biggest Toy & Game Fair Open to Kids of All Ages!. . .Preview, play with and test the hottest toys and games from around the world your family, friends and other attendees like Legos playsets, Build or Boom, Shark Bite, Catch the Fox, Rummikub Twist, Fish Food, all new Doggie Doo, Greedy Granny, Ultra Dash, Marbleocity, Automoblox, Magformers, Tileblox, Clicformers, Ice Cool, King Frog, Reef Route, Woo-Hoo, Flower Fairies, Peter Rabbit Secret Garden, 8-Bit Art Mario and many more! Meet Toy and Game Inventors, take your photo with Star Wars characters and Princess Etch, enjoy live Stage Events with The Good Time Kids and Élan Dance Company – catch Ben's Bubble Show, Mercy Magic, Contests, Giveaways, Ride-on Vehicles, Young Inventor Challenge, and so much more!"
One highlight of the weekend was meeting members of the 501st Legion, Midwest Garrison! My husband and children love Star Wars!
I was not prepared for what I actually found. My husband and children loved it. As a mom who thinks kids learn best through play, I was in heaven. As a homeschooling mom, I have been to plenty of conferences with awesome toys, but seldom do you get to interact with those toys. ChiTag gives you the ability to touch, play, and buy the newest, hottest and most popular toys that may not even be on store shelves.
Marcus' favorite part of ChiTag was meeting Mikkel Bertelsen  Inventor of Klask. Klask is little like air hockey without the air! It is fun and fast paced, and even young children can play. This is truly a family favorite.
Marcus won his game of Klask by winning the Klask competition. He was thrilled to meet inventor and talk with him. This is a unique experience that he will carry with him forever. Every time he pulls Klask out to play he has that memory of meeting Mikkel. In addition, this is something to tell his kids and grandkids. (And there are photos and a game signed by the inventor to prove it).
We also got to play the game of Otrio with the inventor, Brady Peterson. Otrio is another family favorite, and meeting and talking with Brady was another highlight. Brady shared with us his inspiration for the game – the pattern on his couch! 
Jack-Jack was drawn to certain toys. It was great to see what he wanted to play with in a convention center full of toys. For those who don't know, Jack-Jack is 13 years old, autistic, and doesn't often communicate his desires. We know when he is hungry or thirsty, but he seldom says, "I want super duper toy X for my birthday."  Attending ChiTag helped give us additional insight into his mind, how it works, and what he deems important. He kept wanting to go to the Lionel train display to smell the smoke from the engines. 
WHY SHOULD YOU ATTEND ChiTAG? One of the things I often say is that Play Matters. In fact, I believe it matters so much that I build play into our everyday lives. Having the benefit of  3 older children, I get to see first hand what they remember from their childhood, and what books, curriculum, experiences, and toys and games had the most impact.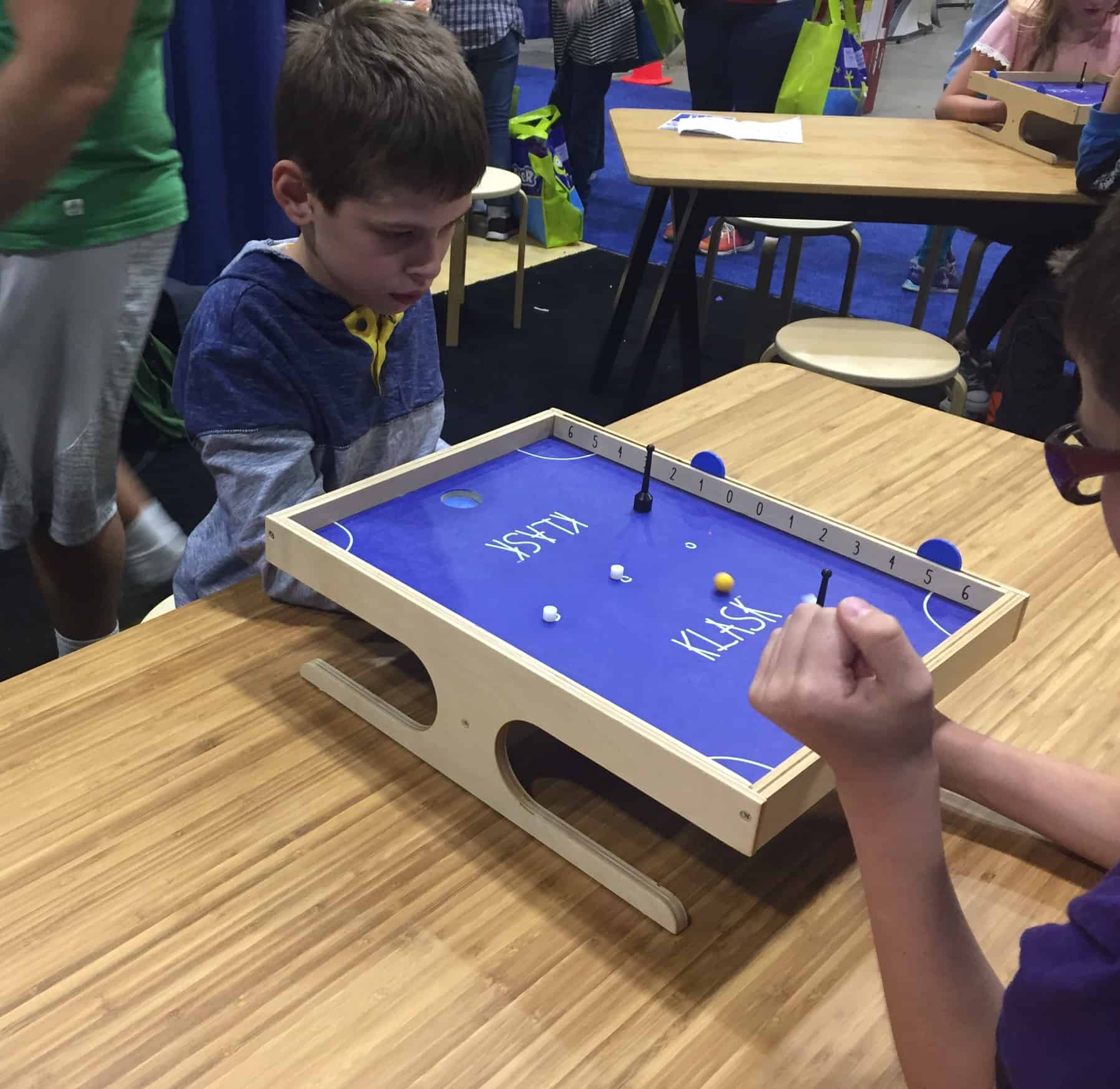 I have learned that my children remembered playing at a playground along the Beltway of DC, but forgot the museum we visited. The younger ones remember the cool new-to-them playground equipment that Dad was able to master, but they forgot the rest of that day. In fact, we stopped at the playground to pass some time on our way to. . .even I don't remember what we were on our way to.
As we were walking out of the Navy Pier last year, Marcus was truly thankful for attending. If you are interested in building lasting memories, helping your children learn, and having moments that truly are remarkable, the Chicago Toy and Game Fair is a must do. 
You will have the time of your life, and your family will thank you!