This shop has been compensated by Collective Bias, Inc. and its advertiser. All opinions are mine alone. #BackToSchoolSimple #CollectiveBias
When you think of back to school, you may think that life will get a little easier. You will have a free moment in your day. However, then you remember you have to prepare lunches every morning (or evening). What can you make that will keep your kids happy (and healthy)?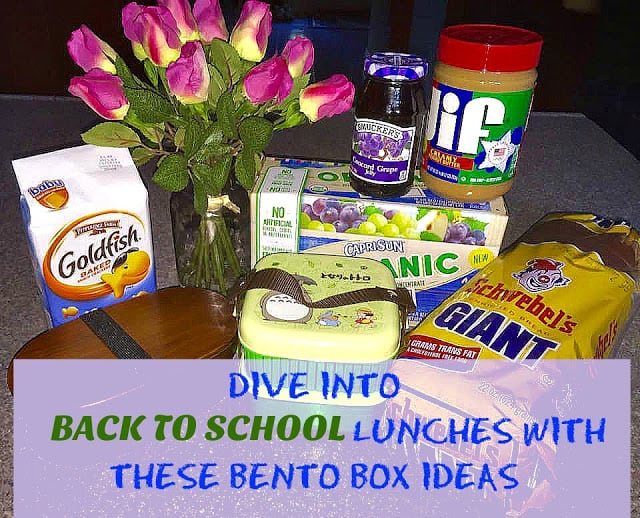 Most people think because I homeschool I somehow escape the dreaded "lunches," but we still have our lunchtime struggles. Most days I think I will just throw something together quickly in between math and history, but the reality of the situation is that when I open the bread box I realize I have failed to get all the necessary supplies for a nutritious lunch. By preparing the lunches the night before I can ensure that my children don't go hungry (or I am not making a lunchtime run to pick up needed items).

Let's face it, whether you are a working mom, stay-at-home-mom or work at home mom, we all want what's best for our kids. But getting them to eat healthy or a variety of foods can be challenging. This year I allowed my children to pick out their own Bento boxes hoping that would encourage them to try a variety of foods.

TO MAKE OUR BENTO LUNCHES I PURCHASED THE FOLLOWING:
Schwebel's bread 

Jif Peanut Butter

Smucker's Grape Jelly

Pepperidge Farm Goldfish Crackers

Capri Sun

Assorted fruits and vegetables
I decided to make a cute lunch for the first day. My kids know that not every day will be "cute." Some days it will just be lunch. I selected a ocean theme and found a cute shark outline online. I don't have a cookie cutter, but printing out the shark saves money, and I can change up the theme as often as I like.


I constructed my peanut butter and jelly sandwich, and then laid the outline of the shark on top of the sandwich. I cut around the shark and added a chocolate chip for the eye of the shark. I placed some goldfish in the sharks mouth for a more dramatic effect!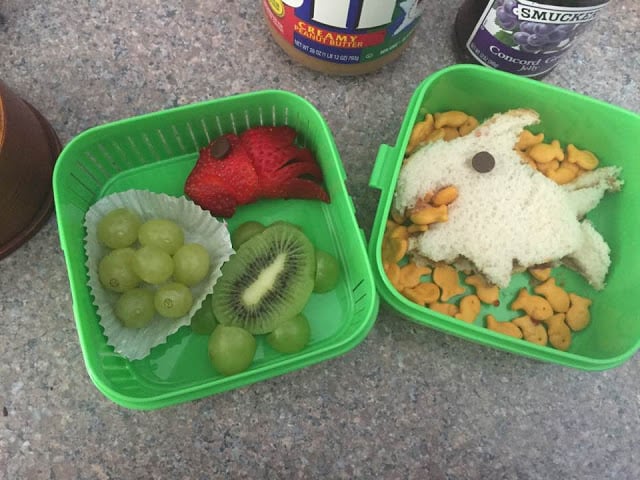 Arranging the Bento Box: All Bento boxes are not made equal, but most have some type of divider or multiple components. I selected the largest space for the sandwich, and added the goldfish crackers to look like the shark was eating the fish. I know my kids will find this amusing.

I made a turtle out of a kiwi slice and grapes, and a squid out of a strawberry. If your children don't like certain components of this meal, it is quite easy to swap out a squid for an orange octopus or an octopus made out of Giant Eagle string cheese. My Bento boxes were topped with a Capri Sun. 

SQUID STRAWBERRY: This is very easy to make.


Cut off the tops of two strawberries!
To make the tentacles, make very thin slices 3/4 of the way down the strawberry. Do not slice all the way through.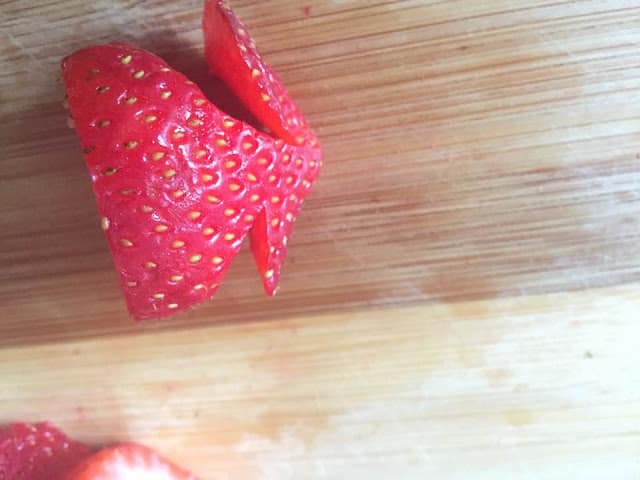 For the head, make two slits near the base of the strawberry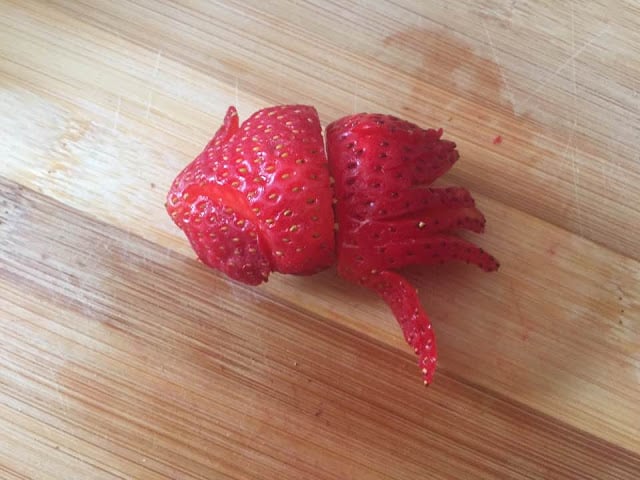 Assemble the squid with a toothpick or just place it in a cupcake liner. Insert (I pushed it into the strawberry) a chocolate chip for the eye!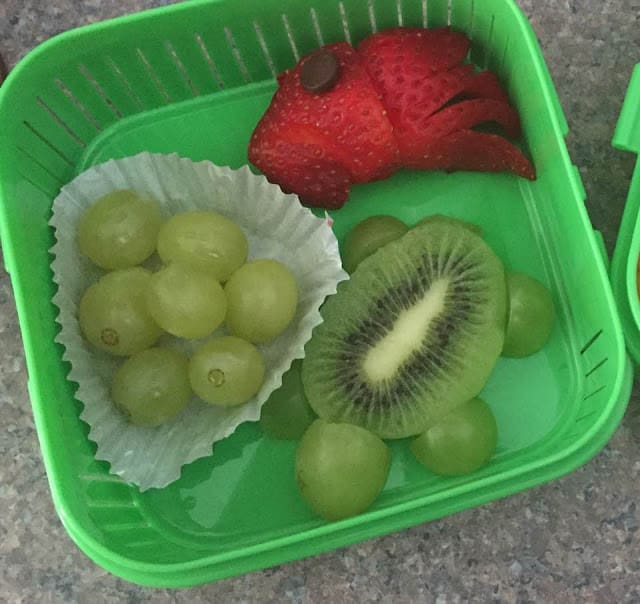 For the Kiwi Turtles use thick slices of the center of the kiwi for the body. The legs are a quarter of a grape. The head is a whole grape with a slice off the base so it sits without rolling around, and the tail is just a little slice.

Getting children to eat healthy can be a challenge, but with Bento boxes and a little creativity your children will be eager to eat.