SUMMER, GRILLING
AND EASY RECIPES
DISCLOSURE: I was compensated by Collective Bias, Inc. and its advertisers. All opinions are mine alone. #SummerOfGrilling #CollectiveBias

I love summer and grilling, but I don't love spending time shopping and then the rest of the the day in the kitchen preparing foods. That is why Giant Eagle (link to store site) is my go-to one-stop shop for all my grilling needs. I can quickly navigate the store purchasing all the necessary items to have a fun and yummy summer cook-out.

I make sure to make my Giant Eagle shopping list by aisle so I can quickly make my way through the store. With my list in hand (this is key to making sure you don't forget anything) I can be in and out in no time at all.

In addition to the food, Giant Eagle has plates, napkins, and cups. I also found grilling utensils, and even pool toys and goggles. I also love the fact that if I don't have time to make all the food, there is a full service bakery and prepared foods, so I can make some of my food, and purchase what I don't have time to make.

I love to entertain, and I love to serve tasty, home-cooked meals. But what is very important to me is having fresh ingredients and healthy food choices. But I hate all the time involved in some of the recipes I see online. I'll let you in on a little secret! I have learned how to make quick, fresh, and delicious foods with minimal preparation (and my guests don't even realize it).

For my dinner I planned the following menu:

Market District Gourmet Seasoned Beef Burgers Certified Angus Beef with a Pepsi 1893 Cola/Heinz Barbecue Glaze served on Pepperidge Farm Hamburger Buns. These tasty burgers can be found in the Meat Market section of Giant Eagle (Market District) It is located at the rear of the store along the back wall. The staff is helpful and pleasant. There are a wide range of pre-made burgers to choose from, and I selected the Steakburgers and the Cheddar Bacon Burgers (who doesn't love a burger with the cheese and bacon already built in).
For the Steakburgers I prepared a glaze using equal parts Pepsi 1893 Cola and Heinz Barbecue Sauce. Make sure to wait to brush on the glaze so the sugar doesn't burn while the burgers are cooking. Serve on buns with condiments. I make sure to have plenty of lettuce, tomatoes, onions, Hellman's Mayonnaise, Nature's Basket Ketchup, and Vlasic Pickles on hand.

Oscar Mayer Hot Dogs (found at the back aisle of the store) with Heinz Bbq sauce wrapped in Gluten Free Tortillas and topped with Spicy Peach Salsa (Recipe below).
Coleslaw with Hellmann's Mayonnaise

Pepsi 1893 Ginger Cola Punch made with Pepsi 1893 Ginger Cola (found at the front of the store near the registers), Schweppes Ginger Ale, and Fresh Mint Leaves. Pepsi 1893 is made with real cane sugar, and we loved the taste.

Gluten Free Chocolate Lava Cake (recipe below) served hot with Breyer's Ice Cream

These fresh and tasty flavors all work in harmony to make the meal taste like you spent hours preparing it, but only you will know that it was a breeze. And everything was purchased at Giant Eagle, my grilling headquarters!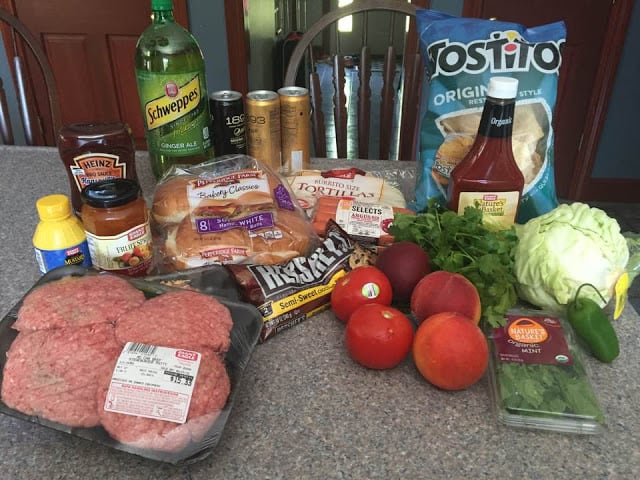 Not everyone in my family wants a burger, so for a second meat, I picked Oscar Mayer Hot Dogs wrapped in a gluten-free tortilla. Before wrapping squirt a little barbecue sauce on the hot dog. Top with Spicy Peach Salsa (recipe found below).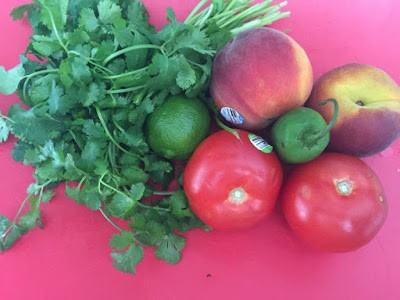 Fresh ingredients for my Peach Salsa
print recipe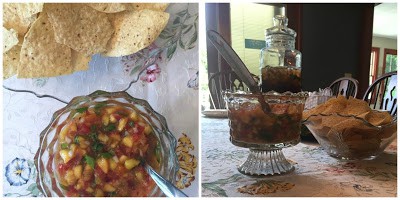 2

Diced Peaches

1

Jalepeno, seeded and diced

2

Tomatoes, seeded and diced

juice

Lime

Cilantro

2 Tablespoons

Apricot Preserves
Instructions
Diced and Mix ingredients all ingredients except cilantro and apricot preserves. If spicier salsa is wanted, don't remove seeds from the jalepenos. Add Cilantro and Apricot Preserves. Refrigerate for 1 hour. Serve with tortilla chips (or over your favorite burger or hot dogs.
Details
Prep time: Cook time: Total time: Yield: 3 cups



We all enjoyed our dinner, and the Gluten Free Chocolate Lava Cake (recipe below) was fantastic too!
print recipe
Ingredients
1 1/2 cups

Hershey's Semi-Sweet Chocolate Chips

1/2 cup +extra for cupcake tin

Butter

2 Tablespoons

Hershey's Cocoa Powder

4

eggs

1/4 cup

sugar

1 Tablespoon

vanilla extract

1 cup

Hershey's Dark Chocolate Chips
Instructions
1. Preheat oven to 400 degrees. Grease cupcake tin with butter and sprinkle small amount of sugar in tins. Shake out excess sugar.
2. Over low heat (or a double boiler), melt butter and semi-sweet chocolate chips.
3. Remove the melted butter and chocolate chips from heat and stir in cocoa powder.
4. In a mixing bowl, beat eggs, sugar and vanilla. Until smooth.
5. Add melted chocolate mixture to the egg mixture and mix until smooth.
6. Fill cupcake tins 3/4 of the way full.
7. Bake in heated oven for no more than 10 minutes. The lava cakes are done when the tops begin to crack.
8. Cool for a few minutes and then remove from tin. You may need to run a knife around the outside edge to help loosen from tin.
9. With a small spoon, carefully scoop out about 1 teaspoon of chocolate from the center of the lava cake. Add 8-10 Hershey's Dark Chocolate Chips to the center and place scooped cake back on top.
Serve with side of Breyer's vanilla ice cream.
Details
Prep time: Cook time: Total time: Yield: 12 servings
With Giant Eagle as your one-stop shop you don't have to spend the day shopping and preparing food for your #SummerOfGrilling (link to Giant Eagle Summer of Grilling), but it will look and taste like you did!