In Part One, I discussed some of the things we do before we leave for a trip to Walt Disney World. Once we get there we continue some of the same tactics that we used at home, but we employ some other tactics to keep everything running smoothly.
Up to this point in our travels, we have not utilized the Disability Access Service Card mainly because we have been going to Walt Disney World since Jack-Jack was a baby. He understood waiting in line because we had always done it with him. Granted it was not always easy, but since he was the youngest, we had plenty of other hands to help keep him amused. We are probably going to utilize the DASC in the future after an incident on our last trip. While Jack-Jack "looks normal" people expect his behavior to be normal. However, sometimes he does not enter or disembark from rides in a timely manner. Cast members need to know he is not just being unruly, and I need to prevent another incident.
Know the Layout of the Parks: It is important to know where things are – Guest Services, bathrooms, food, drink, and the Baby Care Centers. If Jack-Jack becomes separated from us, he will be taken to the Baby Care Center to await our arrival. Furthermore, knowing the layout of the park helps us navigate without looking at maps constantly. We need our eyes and hands free to keep our attention on Jack-Jack.
Clothing: I tend to dress my family in coordinating outfits. Yes, I am that mom! This helps me to remember what everyone has on in case we are separated. If I have my denim shorts and red shirt on, I know that Jack-Jack has on his denim shorts and grey shirt with the red Mickey Mouse. I also can spot my family easier because we stand out!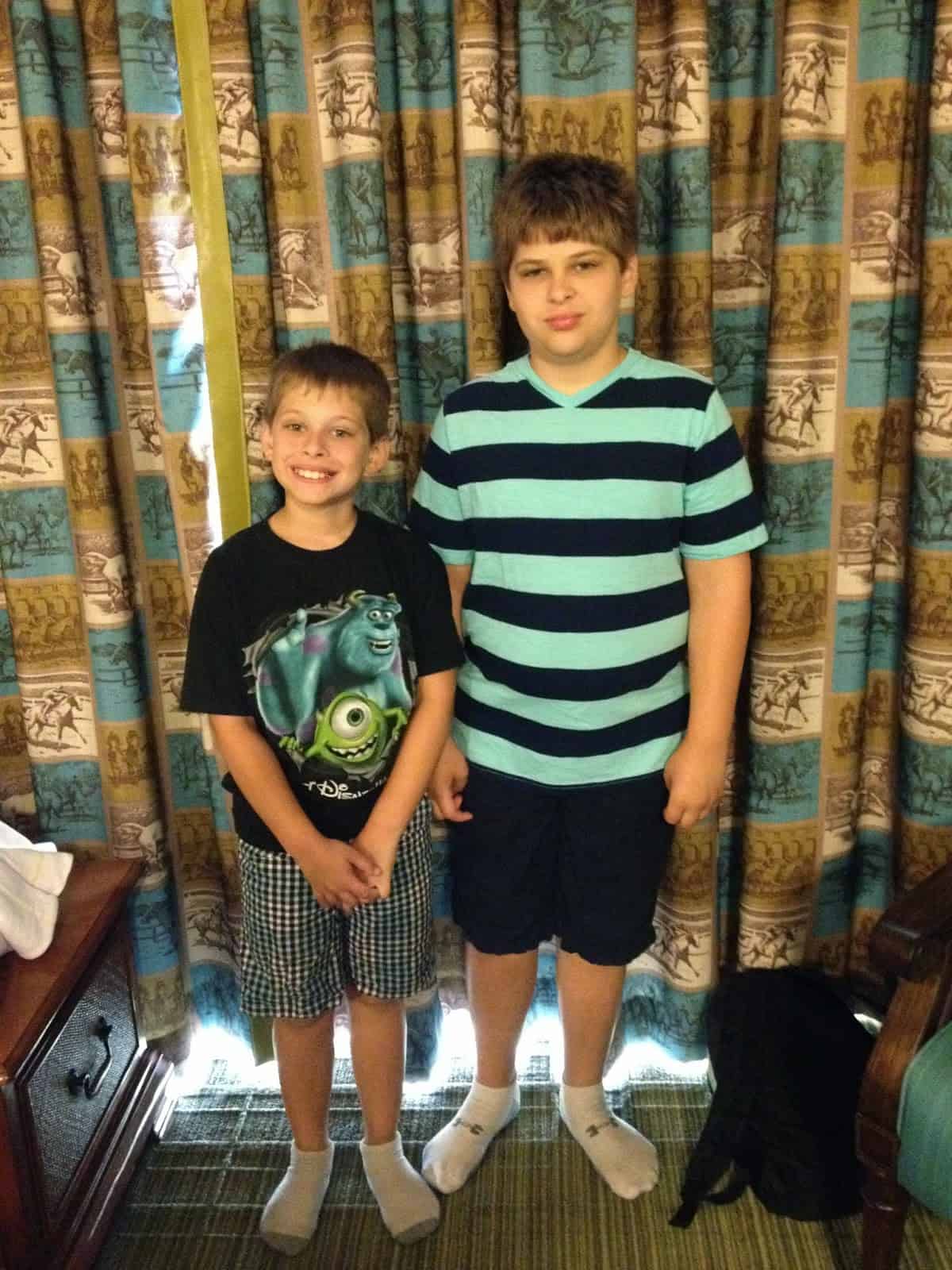 Jack-Jack and Dash in co-ordinating outfits
My photograph before we leave the room for the day
Take a Photograph: I also take a photo of my children with my iPhone before we head to the park for the day. If Jack-Jack becomes separated from us, which to this point has not occurred, I can pull out my phone and say, "This is what he looks like, and this is what he is wearing." This is probably a good habit to adopt with or without a disabled child!
Strollers/Harnesses: Jack-Jack was the child riding in the strollers at age 8. Even if he didn't sit in it for most of the day, it was somewhere he could go when he needed to get away from noise and the sun. When he wasn't in the stroller, Jack-Jack was wearing his monkey harness. When we first got the monkey and put it on, Jack-Jack immediately unclipped it and walked away. We solved that problem by putting it on backwards and having the monkey in the front. We told Jack-Jack the monkey was his friend and wanted to see him. The Monkey was an integral part of our lives. Eventually Jack-Jack gave up the monkey, but he was a lifesaver for years!

Calendar: When traveling to WDW the calendar, with the poorly drawn park icons, comes with us. This helps Jack-Jack keep a visual of how much longer we are staying, and he now knows to speak up before our last day if there is anything he wants to do. Almost every night Jack-Jack looks at the calendar and says things like, "Tomorrow we are going to Magic Kingdom, and then Epcot, and. . ." This prevents that last day meltdown. I have written in the past about a meltdown that Jack-Jack had as we were boarding the bus to go back to the Ticket and Transportation Center. Jack-Jack had very limited speech, and it took us a while to figure out that he wanted to go Animal Kingdom. It was a short trip, and we hadn't planned to visit all four parks. Jack-Jack didn't understand that, and when he realized we weren't visiting Animal Kingdom, there was a full blown meltdown.
Snacks and Water: Since Jack-Jack doesn't ask for much, I have to be the one to remember to give him plenty of water and to bring snacks along. Sometimes it is hard to find something quick to munch on with his finicky palate. I make sure to pack fruit snacks, crackers, carrots, celery and water.
When Jack-Jack was younger, waiting in line to board a ride always involved food – Teddy Grahams, popcorn, and plenty to drink. We knew if the line was 20 minutes or longer, it was essential to have something to snack on. This helped to keep Jack-Jack entertained with a longer wait.
Waiting at the Parks: We have always played games while waiting. With all of my other children, the game "I See Something" was a favorite. This was a game that Jack-Jack would never play, but there were other things that we could do to help him pass the time. There is plenty in the parks to encourage learning – colors, noises, sounds and music. Many of the newer queues have interactive components which help keep everyone amused. Jack-Jack loves the Winnie-the-Pooh queue. Most of these queues are bypassed if we use a FastPass+.
While we have ridden most of the rides with Jack-Jack, we have seen very few parades. He is capable of waiting in line, but he isn't always capable of sitting in the same spot for a long period of time. On our last trip I took Jack-Jack for a walk, while my husband and older son waited at our spot for the parade to start. Because we weren't there to wait with him, it was hard to "hold our spot" for us. We selected a spot right next to a trash can which ensured that at least on one side of us there were no people. This helped to insulate Jack-Jack from some of the crowd.
Be Prepared to Change the Agenda or Leave an Attraction: Even when we have done all the advanced planning, and Jack-Jack has watched YouTube videos, there are times when he doesn't cooperate. In many attractions, the sounds are louder or the visuals are more extreme than what we see on our computer. There are rides and attractions we know to avoid, but sometimes Jack-Jack decides a ride that he has always ridden is now a "NO," such as the Barnstormer. He rode it once and decided he didn't like "crashing through a barn." On his 10th birthday, he rode the Seven Dwarfs Mine Train Ride which is a roller coaster ride. For him the scariest part on that ride is the witch at the end. There are other rides and attractions that he refuses to go on. Once he rode Splash Mountain, but now at the very mention of it, he screams NO. On our last trip, we utilized the Rider Switch Service. We all waited in line, and when we got close to the boarding area, the Cast Member gave my husband a pass to return. I rode first, and then my husband was able to ride without waiting in line again.
Jack-Jack has never ridden Tower of Terror, Space Mountain, Expedition Everest, or Dinosaur. One of his favorites rides, Mickey's Philharmagic, is a 4-D movie show. He used to take his glasses off all the time, but he still wanted to see it. There is one scene in the show where he drops to the ground and hides. If we try to stop him, I know he will not want to see the movie anymore. We allow him the freedom to cover his eyes, take off the 3D glasses and hide. We also allow him to say he doesn't want to go on a certain ride even though he has gone on them before.

Visit the Quieter Areas of the Parks: In Magic Kingdom, we can head over to Tom Sawyer Island. It is cooler, and most of the time relaxing. Jack-Jack can play and explore the hidden caves. It is a nice place to go to unwind. Magic Kingdom has other little corners that we can head to for quiet time. In Tomorrowland, the area around Carousel of Progress is peaceful. For more ideas, the Walt Disney World News has an article that lists the Quiet Corners of the Parks.

Allow for Down Time:  Jack-Jack is very physical and quite capable of staying in the parks all day. We rarely go back to the resort during the day, however, I do schedule a sit down meal each day. Jack-Jack loves to sit and eat, and he is usually the last to finish his meal. This is his unwinding time.
When figuring out our daily schedule, we tend to schedule resort days. If we are staying for 7 days, we might get a 4 day pass. Our schedule might look like this: Day 1 (Arrival Day) – Traveling is difficult for even adults so we plan a Resort Day; Day 2 – Magic Kingdom Day; Day 3 – Epcot Day; Day 4 – Resort Day; Day 5 – Animal Kingdom/Resort Day, since Animal Kingdom usually closes earlier; Day 6 – Hollywood Studios Day; and our final day is Downtown Disney Day. On our Resort Days, we might play miniature golf, swim, and visit another resort for dinner. We are still at Jack-Jack's "Happiest Place On Earth," but we relax a little bit.

Bring Support Materials: Before Jack-Jack was packing his backpack himself, we would make sure to bring his favorite toys, blanket, books, or an item that helped to calm him. Sometimes we even brought some of these items into the parks. Now he is content to just leave the bag in the room. Disney World is Jack-Jack's happy place, and he really is a much calmer person when we are there. Rarely does he ask to play with my iPhone when we are at the parks, but every once in a while he still asks for it if he becomes overwhelmed. If your child needs something to help with sensory issues, you want it to be available when it is needed.
Communication: When Jack-Jack was non-verbal, I would talk to him, but since he was my fifth child, many times I would forget to communicate with him about what was going on. Even if he didn't understand everything I was saying, I know that he stayed calmer with us talking to him about where we were going and what to expect. When traveling it is harder to maintain a normal schedule, and it also seems we forget to talk about what rides we are going on next, when we are eating, and any specific plans we have. When we waltz past one of Jack-Jack's favorite rides because we have a FastPass+ for it later in the day, he can become anxious. Communication is the key to keeping meltdowns to a minimum.
On our trip last month, a couple of days before it was time to head home, I asked, "Is there anything you still want to do, ride, treat to get, souvenir?" Jack-Jack mentioned that he wanted to go to Downtown Disney to play in the splash pad. So even though the temps were in the high 60's, we worked it into the trip. He went home a happy little boy!
Ask for Help or Advice: Disney knows how to do almost everything better than we could imagine. With a child (or adult) that has special dietary needs, they go above and beyond expectations to meet those needs. Jack-Jack is over the age of 9, but Disney still allows him to order off the children's menu, and will even modify items for him. If there are other accommodations that are needed, just ask. Disney wants make your vacation magical!
I referenced an incident on our last trip. When Jack-Jack was disembarking from a ride, my husband tried to help him. Jack-Jack is OCD, and if things don't go the way his mind thinks they should, he needs to "redo it." So Jack-Jack jumped back on the ride. A Cast Member yelled at him to get off the ride. Jack-Jack complied, but I was upset. I had never in all my travels heard a Cast Member raise their voice about anything! On the next ride, I asked another Cast Member if it was ever okay to "yell" at a little boy. She apologized and asked for the Cast Members name. When we were disembarking from that ride, she was there waiting for us. She asked if we would like to ride again (cutting out a 60 minute wait), and then gave us a Fast Pass to use on any ride that day! She said she had talked to her supervisor and the Cast Member would be dealt with.  I could have left the park angry, but one Cast Member cared enough to listen, and went above and beyond to say that the Disney way is to make our trip special.
MOST IMPORTANTLY:  Have fun, relax, and look for the magic!
Thanks for Visiting, 
Patty