When I heard that a movie called Paddington was being released, I was excited. However, when I viewed the preview that excitement waned. I still felt compelled to see the movie because I had read the book years ago as a child and fell in love with the character. He is delightful and whimsical, and it is truly worth reading the books. My children wanted to see this movie, and it wasn't difficult to convince my husband to take us. Opening night proved to be the perfect time to view it. My husband often jokes when we are the only ones in the theater that "I rented out the theater for you," and besides one other couple, we had the theater to ourselves.
The movie begins with a old film clip from the darkest Peru. An explorer has found a rare bear specimen and lives with them for a time. The explorer introduces the bears to marmalade and British culture. When he leaves, he tells them if they are ever in London to visit him and that London is a friendly town that welcomes all. Years later, Paddington is living with his aunt and uncle and circumstances force him to leave Peru. He heads to London by boat, and eventually finds himself in Paddington Station where he is discovered by the Brown family.

The family takes him home until they can find a suitable place for him to live. Eventually the Browns come to love him as one of their own, but not before there are numerous mishaps, misunderstandings and dangerous situations. This movie employs several techniques and scenes adopted from other films. I won't give away the references here as some reviewers might, but watch for them.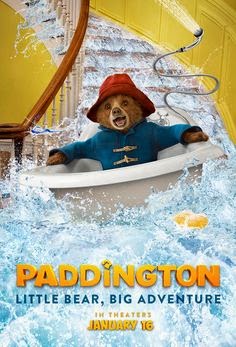 As the end credits were rolling, my ten year old stood up and loudly announced, "That was a good movie." Surprisingly, my husband, my 12 year old son and I felt the same way. Paddington (the movie) is indeed whimsical and captures the essence of the bear in the book. We laughed throughout the movie, but we also sat on the edge of our seats in anticipation. There was the right blend of humor and intrigue to keep one interested.
There were a couple scenes that one might find objectionable. Mr. Brown dresses as cleaning lady to gain entrance into a restricted area of a museum. A security guard flirts with the cleaning lady and uses suggestive innuendos (Mr. Brown says it is "unusually hot," and the guard replies, "Just like you.") The guard also makes a reference to the cleaning lady being sexy. Mr. and Mrs. Brown exchange a passionate kiss. Judy Brown has a boy in her bedroom. Paddington is hunted by a villain who is trying to shoot him with a tranquilizer gun. Mrs. Bird challenges a security guard to a drinking match and both become drunk.
Overall, I loved this movie. The book and the movie are wonderfully different, but I intend to utilize this movie along with the book to teach my children in school. There are plenty of fantastic scenes in both to use as jumping off points for further learning. I especially love the line "families stick together." This is a message that I hope my children understand and embrace. Too often, families become estranged due to misunderstandings or differences. And even though Paddington isn't "family," he becomes family to the Browns. We should welcome others into our family and treat them as family as long as they need us.
Go to this movie with family – and maybe invite a friend or two who need a family to call their own!