MY TOP PICKS
AWESOME GAMES and TOYS 
FOR GIFTS (OR FOR YOURSELF)
All of these toys have been tested by my family and have made it to our favorites list.


MY TOY AND GAME PICKS OF THE YEAR:
AGES 8 AND UP:

1. PINBOX 3000 CARDBOARD PINBALL GAME 

(Ages 7+)
This is a pinball game, but also a construction set. This cardboard pinball machine comes in a cardboard box. It is a series of cardboard pieces, rubber bands, and metal balls. No tools are required for assembly, and it is customizable. The company sells overlays, but you can create your own deck with items from around your home.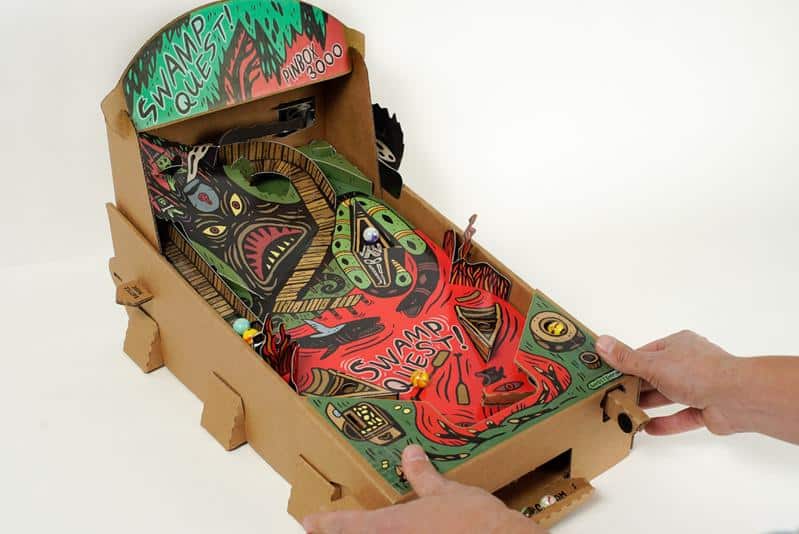 Get creative and make it your own creation. 
There was always a crowd around this booth, and in fact, it was my husband's top pick. He kept going back to play. . . I MEANT have the kids play!
We also had the pleasure of meeting Ben and Pete. They are delightful, witty and remind me of my husband and his best friend who used to play pinball in grade school and high school. I am wondering when my husband will ask to have Dave over for a game of pinball!
KLASK:

(Ages 8+)

 
What is Klask? Klask is a cross between air hockey and Foosball. Klask is hours of fun for the whole family. Everyone in the family plays. My autistic son loves the game because there aren't a lot of rules to memorize, but it is definitely a game of skill.  
We first saw this game at ChiTAG (Chicago Toy and Game Fair 2016) and we got to actually meet the inventor. My kids played over and over. They played with other kids and adults. Marcus (my 14 year old) won Klask in a tournament that weekend. He brought his game home and has continued to play with his siblings, parents and anyone who will play with him. To purchase this game, visit Amazon.


BOHANAZA CARD GAME AKA The Bean Game:
IF YOUR FAMILY DOES NOT OWN THIS GAME, STOP WHAT YOU ARE DOING RIGHT NOW AND BUY IT!!!!
(The manufacturer's age range is 10-14. After playing this game over and over for years, I would say the age range is 10-100+). My family was introduced to this fascinating game by good friends years ago. My household loves this game and anyone we play with loves it too. 2-7 Players can have fun at the same time. 

From the manufacturer: Ever imagine you were a bean farmer. Sure who hasn't. You got your red beans, your green beans, your black-eyed beans, your coffee beans. But where to plant them. In this card game, smart sowing reaps big rewards. Plant the beans you want, trade the beans you don't to other players. The one who ends up with the most money at the end of the game wins. 
OTRIO:

 

(Ages 8+) 
A 2-4 player game that is exciting, challenging, and requires strategy. The rules of Otrio are simple: get three of your circular pieces in a row while blocking other players from doing the same. My son and I had the privilege of meeting the inventor of this game and playing with him and his wife. It was a great time; I came home wanting to buy this game now, but I resisted the urge and put it on the Christmas list.
NERF GUNS: 

(Ages 8+)
My oldest kids loved Nerf Guns, and I don't think they have ever gone out of style. This year is another great year for Nerf Guns. These new generation guns are awesome for that ultimate battle.
SPIROGRAPH DELUXE SET: 

(Ages 8+)
The same Spirograph you loved as a child is back. It was relaunched in 2012 and is bringing joy and fun to children once again. I wanted my older children to enjoy Spirograph the way that I had as a child. I found one online about 10 years ago, and paid way more for it because the demand for this toy exceeded the supply. Mine did not come with a pen and I had to search and find the pen separately. Now you can get it at a reasonable price complete with pens. Sold at Amazon.
AGES 5 AND UP:



OSMO:

(Ages 6+)
The moment I saw Osmo, I knew this would be ideal for Jack-Jack. He is very visual and this works with the iPad. Time magazine rated Osmo one of the top inventions of 2014. You will love it, and your child will love it. The Genius Kit includes the following 5 apps
Newton

Words

Tangram

Masterpiece

Numbers
ICE COOL BOARD GAME: 

(Ages 6+):
This is another find from the Chicago Toy and Game Fair. This board game comes from Latvia. The creator was at the toy and game fair, and they hosted a tournament. Marcus and my husband both entered, and my husband was the winner! He won this game along with a stack of other ones (plus this awesome trophy).
Flick the "penguin pieces" and try to collect all your fish before you opponents do. 
THE ORIGINAL SLINKY:

 (Ages 5+)
This toy has been around for 70 years. A few years ago we got one for Jack-Jack (out 12 year old). He never gets tired of it. One day he played for hours having it walk down the steps. He would start it at the top of the basement steps and watch it walk down the steps, run down the steps to retrieve it and start the process all over again. This toy brings hours of fun to young and old. Sold at Amazon. 
RACE TO THE TREASURE:

 

(Ages 5+)
This cooperative game by Peaceable Kingdom has all players working together to collect 3 keys to unlock the treasure chest. But beware of the ogres who try to beat you there! My family loved playing this game and we are sure to play again. 
Sold at AMAZON.
YETI IN MY SPAGHETTI:

(Ages 4+):
Okay, this one is rated ages 4 and up, but last night my adult children played this game for several rounds. (I may or may not have played along). The Yeti is adorable, and the game is simple enough to play. The object of the game is to remove strands of spaghetti without the Yeti falling into the spaghetti bowl. We all loved this game and will continue to play it. Heck, we might even let the kids take a turn! Yeti in My Spaghetti is made by PlayMonster. It is on sale on Amazon now.
AGES 3 AND up:

SOGGY DOGGY by SpinMaster: 

(Ages 4+)
This is our top pick for this year! Jack-Jack got the opportunity to play with a life size version, and he couldn't wait to get the game version. This is one that gets played with every day! Roll the die and either push the shower button and wet the doggy, or turn the dial. Every so often the doggy shakes getting you wet.
We play this on our kitchen table with a towel underneath. There is minimal water that gets out of the tub.
DOGGIE DOO:

(Ages 4+)
This fun doggie game is for 2-5 players. Feed your doggy, and then "take him for a walk." Spin the spinner and squeeze the leash. Your dog will make some "farting noises," but eventually he will poop. Collect the poo and get a token. Collect 3 tokens and win the game.
SQUIGZ: 

(Ages 3+) and

 PIPSquigz (

Ages 6 months and up)
This toy is so versatile that even my older kids love it. And by older kids I mean my adult children. Squigz are bendable and stick to each other and most flat, non-porous surfaces. My children use Squigz to build with, play darts – throw at the windows and see how many you can get to stick, bend, twist, and turn. What can you build with Squigz? Sold at AMAZON.
WILLY'S WIGGLY WEB:

 

(Ages 3-6)
2-4 players. This delightful game is by Peaceable Kingdom. It is a cooperative game; you work together to free the spiders from Willy's Wiggly Web. A pair of child safety scissors are included. In the simplest game, on your turn, you make 3 cuts to the web and try to free a bug from Willy's web without knocking Willy to the ground. 50 paper webs are included and Peaceable Kingdom replaces them for free when you need refills. I wanted this game for Jack-Jack to work on his cutting skills, but we all enjoyed playing! Buy now on Amazon.


TEETER POPPER
(Ages 3+):
This is another one of those ageless toys as long as you are under the weight limit. (110 lbs.) Toddlers will enjoy sitting in it and rocking. My youngest son (age 12)  loves to stand on it and rock back and forth. Whether they are sitting, standing, rocking, or balancing this is a great balance toy, but it also a fantastic activity for those wiggly ones. It is excellent to work on balance, build up leg muscles and core strength. When you put it on tile the suction cups on the bottom stick and as you rock they make a popping sound. Perfect toy for those fidgety children. This toy is sold on Amazon.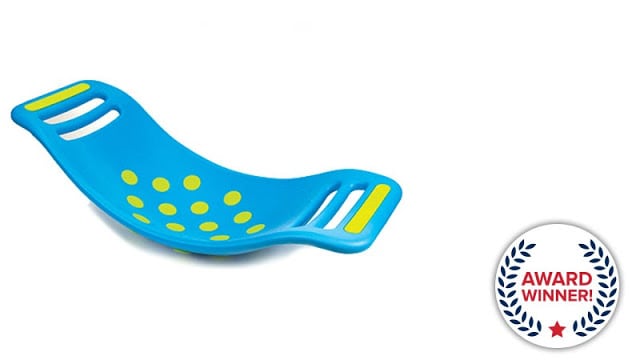 Jack-Jack and his Teeter-Popper. He makes it look so easy to balance!
PLAY-DOH FUN FACTORY:
(Age 3+):
Before you say, "I hate Play-Doh," think back to all the fun you had when you were a kid. I simply throw down a big beach towel on the kitchen floor, and allow my kiddos to play to their hearts content. When done, I shake the beach towel outside and clean up is done. The retro-packaging is a throughback to the 1960s, and the toy allows you to extrude shapes like spaghetti, triangles, and concrete block shapes. Set includes 8 different colors of Play-Doh, the Fun-Factory extruder, 12 shape plates, 1 trimming knife, a playmat, and instructions. Currently the best price is on Amazon.
MAGFORMERS:
(Ages 3+):
My children has loved playing with magnet sets through the years. At the recent Chicago Toy and Game Fair, my kids (and most of the other children there) were drawn to Magformers. These bright, colorful pieces can be used to make so many creations. Best of all, they are BPA-free. There are many different kits to choose from. Sold at AMAZON.
This site contains affiliate links which means I make a small percentage off of your sale. This helps me to keep my site up and running and continue to bring you awesome products.