Disclosure: I received a copy of this workbook to review, and a copy to give away to my readers. All opinions expressed in this review my own, and I do not receive anything from the sale of these books.
CURRICULUM REVIEW: A Pirate's Guide t' th' Grammar of Story
What was the last curriculum choice you made that you were certain as a hit before you ever had it in your hands? I never do curriculum reviews of items that I haven't used. But A Pirate's Guide t' th' Grammar of Story is different. This is not your run of the mill creative writing guide.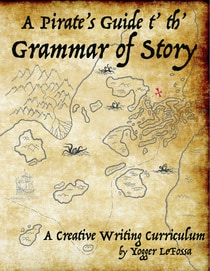 AGES 11 and Up – Homeschool Creative Writing Curriculum
This guide is recommended for ages 11 and up to be used independently, but obviously a parent needs to check the work to make sure the work is getting done. With creative writing there is not just one correct answer, but children still require guidance. The book can be used with children ages 8-11 alongside a parent. The workbook is broken down into 26 exercises (about 1 a week), and each exercise may take several days (or longer). Allow your child to work at their own pace. Creativity cannot be rushed!
The workbook also has a story woven throughout the pages. Do not let your children read ahead in the story. It is designed to be read along with the exercises.
The teacher and parent guide is at the end of the book (make sure to look for it!).
Written by a story designer with over a decade of experience in training story tellers. Adults and children alike are sure to love the format. Personally, I can't wait to use it alongside my sons.
My Recommendation:
Unique, engaging and fun way to teach creative writing. This is a must for my household this year! Purchase this from the Publisher's website and save!