Disclaimer: The following post contains affiliate links. This means that if you click on the link and purchase the item, I receive a small percentage to help fund this website! All opinions are my own.
Once when my oldest was 6 or 7, I drove thru the bank to make a house payment. I wrote the check for an amount over the actual payment like I did every month, but this particular bank teller told me I needed to write two separate checks – one for the regular payment and one for the amount that was over. I knew I didn't need to do this,  but rather than arguing with the teller, I told her that I didn't have any other checks with me. After making several other stops including lunch, I went to a department store. As I was writing the check for my purchase, my little son said, "Mom, you told the bank teller that you didn't have any checks left." I thought I was being kind to the teller, but instead I ended up teaching my son another lesson entirely. One that I didn't want him to learn.
Do you wonder how to teach kindness to your children? While we know that values are caught and not taught, and children watch what we do and model our behavior, sometimes modeling good behavior is much harder to do.  And any negative behaviors we see in our children are often magnifications of our bad behaviors and words.  If you want your child to have good behavior, you need take action.
Negative behaviors we see in our children are often magnifications of our bad behaviors and words. Click To Tweet
That day with my son was a defining moment in my life. I understood how important it was for our words to line up with our actions, and even if we don't think children are listening, they are watching our every move.
But outside of working on our own actions and words, we can also read literature and picture books that help our children be kind and model good behavior. And the added bonus of reading aloud to our children is that it helps our behaviors match up with our beliefs too!
Below are books that help teach kindness and empathy. The recommended age ranges are those by the publishers. I usually find that books have a greater age range than those mentioned.
MY FAVORITE BOOKS TO TEACH KINDNESS AND MANNERS TO CHILDREN:
1) RICHARD SCARRY'S PLEASE AND THANK YOU BOOK
This book talks about good manners, helping others, waiting your turn, how to behave in the classroom, safety rules and so much more. Huckle, Lowly and the rest of the Richard Scarry characters have delighted children for decades. Ages 3-7.
2) THE INVISIBLE BOY:
So many children that are loners say that nobody ever talked to them or noticed them. Life happened around them, but not to them. THE INVISIBLE BOY addresses this in a way that makes other children seem to notice. The boy in the story (Brian) feels invisible. The first half of this book Brian is printed in gray and white to depict those awful feelings one experiences when no one seems to notice or care. As Brian goes about his day he appears to be insignificant. But Brian has an active imagination and draws delightful pictures. One day a new boy (Justin) comes to school, and he isn't just ignored, he is bullied and made fun of. But Brian reaches out to Justin, and Brian very slowly becomes colorful. While this book portrays what should happen, sadly it rarely does. This book includes discussion questions. Recommend Ages PreK-Grade 2
3) YOU ARE SPECIAL:
God created each of us unique and special. Helping our children to understand that is a unique role we are given as parents. All to often children are unkind to others because of how they feel about themselves. You Are Special helps children understand that exterior things do not make a person special. Each day the Wemmicks (small wooden people) place gold stars or gray dots on one another. The pretty or talented ones get the gold stars. But the ones with chipped paint or with "no talent" get gray dots. Punchinello gets gray dots. But Eli the woodcarver helps him to understand he is special, no matter what others think. Recommended Ages 4-7.
4) HORTON HEARS A WHO:
This classic Dr. Seuss tale tells the story of a brave elephant named Horton who manages to save an entire village located on a dust speck. Horton undergoes persecution to do the right thing.  Recommended ages 5-9.
BOOKS BY MARIA DISMONDY:
On Kindness:  
5) THE JELLY DONUT DIFFERENCE: SHARING KINDNESS WITH THE WORLD by Maria Dismondy. This is a cute story about a brother and sister who don't get along. Recommended age Preschool-Grade 6.
Purchase book HERE!
Having Courage to Be You:
6) SPAGHETTI IN A HOT DOG BUN by Maria Dismondy Teaches children to do the right thing even when you don't feel like it. Recommended ages 4-11.
Purchase Book HERE!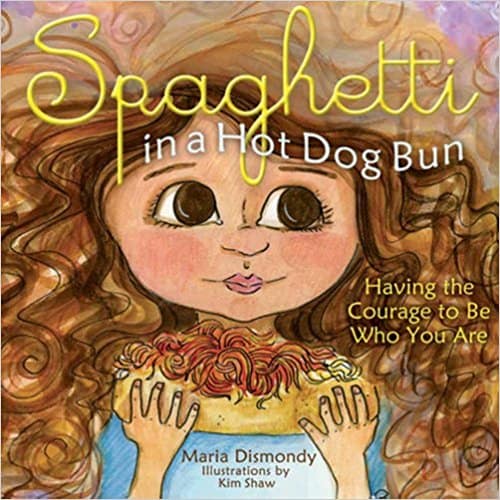 Helping Children Stand Up For Others:
7) JUICE BOX BULLY by Maria Dismondy Most of the time children know that bullying is wrong, but they are not equipped with how to stand up to a bully. This book teaches children to stand up for others. Recommended ages 4-12.
Purchase Book HERE!
Teaching Empathy and Kindness:
8) CHOCOLATE MILK, POR FAVOR by Maria Dismondy. Gabe is the new boy at school, but he doesn't speak English. This book shows that kindness is a universal language. Recommended ages 4-11.
Purchase Book HERE!
9) Kindness Counts by Bryan Smith
Cade and his family have the ice cream paid for by a random stranger, and they pay it forward. Follow along on their kindness journey as Cade finds out that sometimes kindness isn't as easy as he thought. AGES Preschool-Grade 2.
Purchase Book HERE!
10) HANDS ARE NOT FOR HITTING by Martine Agassi. This toddler board book has simple photos and short sentences, but packs a powerful message that violence is not the answer. Children learn hands are for loving. Other books in this same series include: Teeth are Not for Biting, and Feet are not for Kicking. Recommended ages 1-4.
Purchase this book HERE!
Do you have a favorite book that teaches some aspect of kindness? I am always on the lookout for new books. Drop me a comment below.
FOR MORE INFORMATION ON TEACHING KINDNESS, SEE "TEACHING CHILDREN TO BE KIND TO ONE ANOTHER"