(Disclosure: The FTC requires me to disclose that I received free products in exchange for hosting a #DisneyKids Preschool Play date. All opinions expressed are my own.)
Parties, Kids, Quick and Easy – Yes, those words can be used together!
Do you ever find yourself saying to your kids, "We can have a play date when. . ?" If I could give any advice from the trial and error of party planning over the past 29 years of being a mother, hosting parties, and cleaning up afterwards, it would be to plan to keep things simple. Mothers tend to make things more complicated than they need to be. Kids just want to have fun, eat food, and spend time together.
I used to be that mother that made enough food to feed an army. Just ask my family about the 900 graduation meatballs of 2006. We were eating pasta and meatballs for 6 months after the graduation party.  I would never want to run out of food at a graduation party, and there are times to overplan, and then there are times to just keep it simple.
When I was selected to host a Disney Kids Preschool Playdate my family thought I was crazy. April and May were extra busy months. My mom was having hip replacement surgery; we had numerous birthday events; and I was on a committee for a major fundraising event. I assured my family that I would keep the Playdate planning to a manageable level.
THEMING AND DECORATIONS: I decided to go with a classic Mickey theme. Most of the content of my DisneyKids Kit was Mickey Mouse, and all the children love him. There was plenty in my box to decorate, but I did purchase a few extras. I bought additional plates, cups and napkins. I also bought a few black and red tablecloths.
We created Mickey and Minnie heads out of paper plates and ribbon for the inside and outside of the front door. I reused a few items that I had from previous parties – my Mickey kitchen sink from Beaches and Cream and my Mickey-inspired clay pot
(Food item should not be placed in clay pots without the use of a liner).
INVITATIONS and PARTY LIST: This party was perfect for a simple Facebook Invite event with a follow-up by phone, email or in-person. My list consisted of my granddaughters – I am now up to 5. I also invited a few other relatives and some family friends. If you just need to print and send invitations, HP offers a fantastic Invitation Kit that makes the process quick and easy.
PARTY FOOD: Since most of the children attending were not reading, I also decided against food signs. I kept the food simple: Hot Dogs, Pizza with Mickey Head Pepperoni, Fruit, Veggies and Dip, and Pasta Salad. For drinks we had Punch and Fruit (Orange and lemon) water, and Coffee for the adults. For dessert I made pre-sliced sugar cookies and cupcakes.
Cookies: The package said to cook for 12-14 minutes. After 10 minutes I opened the oven and used my Mickey Head and Mickey Hand mini cutters to stamp on the cookies, but not cut through. I finished baking for 2 more minutes. This made an impression that the children could decorate. I made a cookie station using the unfrosted sugar cookies. I had 2 piping bags of frosting (which was icing from the cupcakes that I thinned with sugar) and a host of sprinkles, colored sugar, and decorating candies to create a special cookie.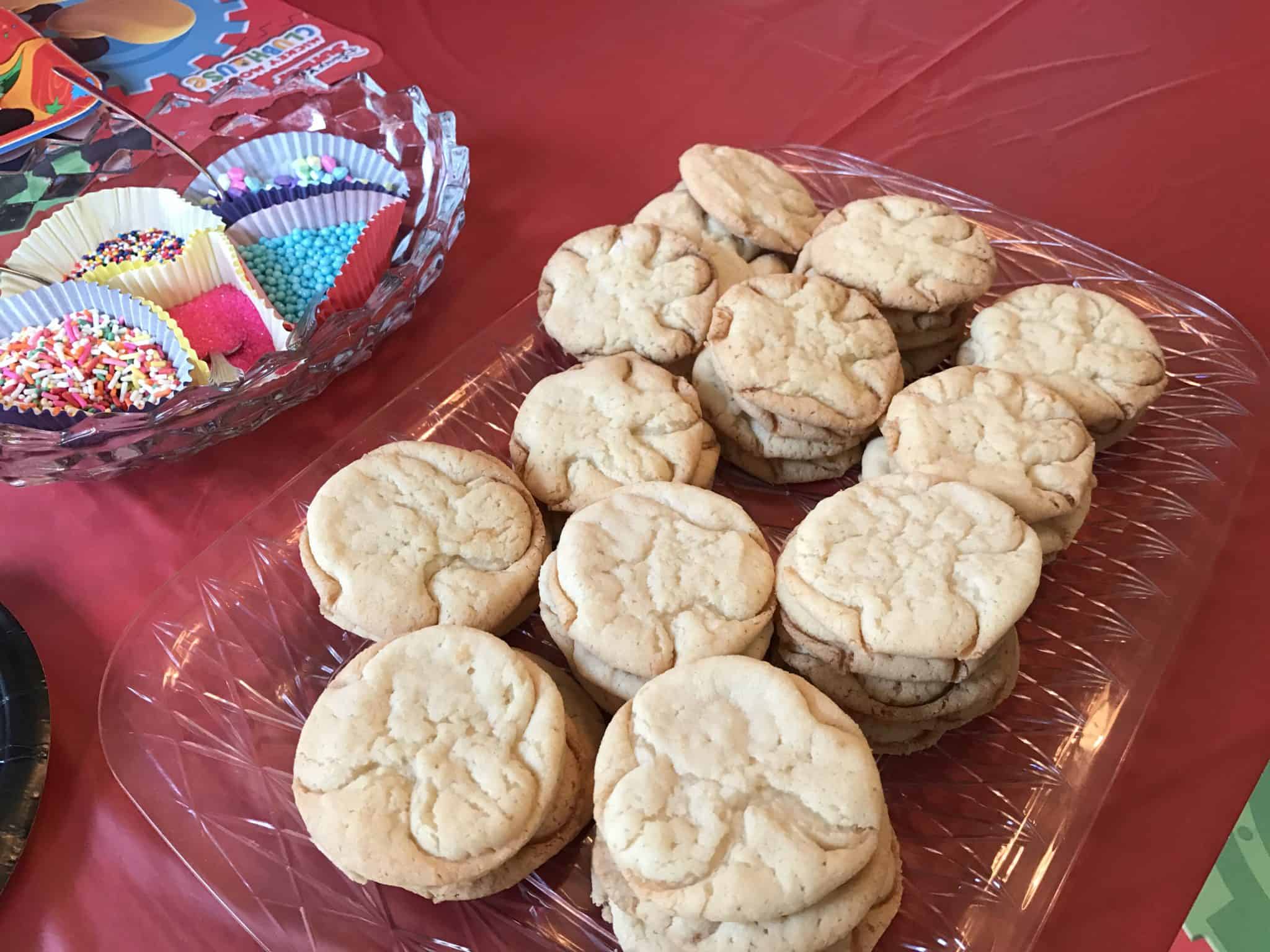 GAMES: My party pack came with a host of great games. The kids loved the hidden Mickey game. We also played with matching game. But my favorite was decorating the hats to look like Sorcerer Mickey. I used my sunroom as a craft and Game Center. In one corner 3 different sized Mickey Plates and bean bags became a tossing game. The table was set with crafts. This beautiful princess foam craft was purchased at Michael's Crafts.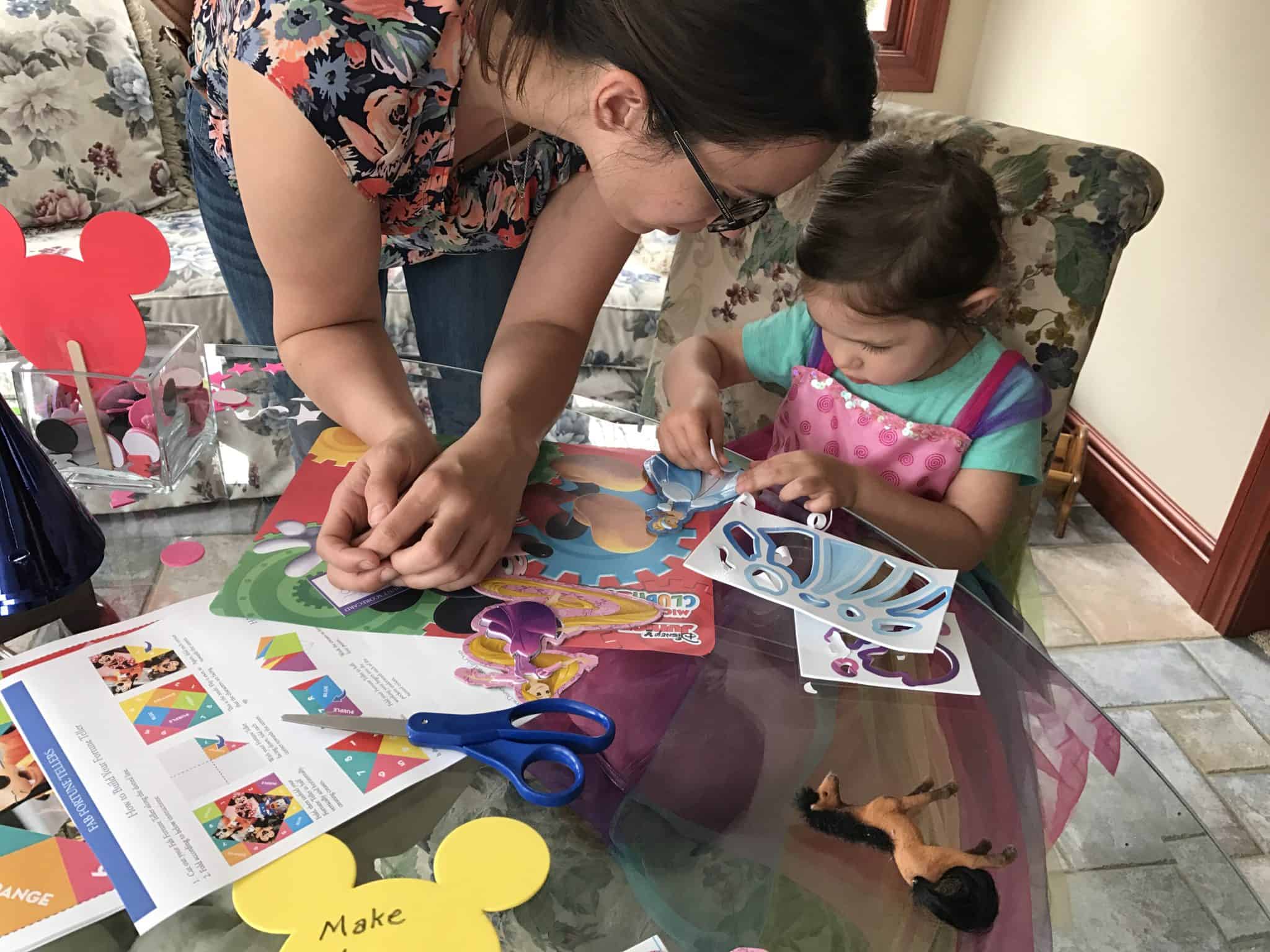 WHAT I WOULD DO AGAIN: The cookies were a definite hit for young and old. I would make sugar cookie icing as it would hold up better. But the cookie station was fun and entertaining.
I also loved the HP Social Media Snapshot Sticky Paper. It is quick and easy to print photos right from your phone, and the sticky back makes them easy to put in a journal or photo album. Plus the captions are right on the photo!
WHAT I WOULD CHANGE: I loved the games and crafts, but most of the children were young (ages 2 and 3) that it was hard for them to do the games and crafts by themselves. I would plan a few more simple games for the kids.
And I wish I would have had food signs, but I know they weren't missed by the children.
I loved the simplicity of the party, and how easy it was to pull together.  I'm already thinking of my next Disney get together. I am leaning towards a Beauty and the Beast or Moana themed party. Which would you choose?
Thank you to Disney, American Tourister, Pop Secret, Softsoap, Pillow Pets, HP and My Printly for sponsoring the goodie box that was sent to me!