What do you want people to say about you at the end of your life? What do you want to be remembered for? 




The Bible says that our days are numbered. In Job 14:5 it says: 
A person's days are determined, you have decreed the number of his months and set limits he cannot exceed.
There is nothing we can do to add a single day to our lives. And when we die, our loved ones gather to mourn our passing. Most pastors and priest will say something like, "Today we gather to Celebrate the Life of. . ." Because at the end of our life we leave behind a legacy.


What is a Celebration of Life? 
How do we really celebrate Life?
On the day I found out I was pregnant, I celebrated
On the day I got married, I celebrated
On the day my children were born, I celebrated
On the day my grandchildren were born, I celebrated
I have celebrated with family, friends, 
and acquaintances for lives well lived
We celebrate life on birthdays, graduations, baptisms, new jobs, promotions, retirements and at the end of an earthly life.
Two years ago today, April 30, 2015, my husband had a cardiac arrest. He was "dead" for 12-15 minutes. But today he still lives. It was called a miracle. He shouldn't be alive, or at the very least, he should have some brain damage or damage to his heart. He has neither. The people that were with him that day say they saw God raise a man from the dead. And so today, April 30, 2016, on the one year anniversary of his death, we celebrate his life and the lives of those with him. (TO READ THE INCREDIBLE STORY OF THE MIRACLE THAT OUR FAMILY EXPERIENCED, CLICK HERE).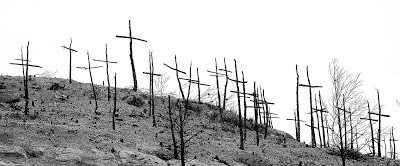 In high school we did a writing exercise in class that had us write our own obituary. This was designed to help you "look back" at your life and decide what you wanted it to look like. I put something like: (Please remember that I was 16 when I wrote this.)
Patty Moliterno (because at the time I was madly in love with the man that I eventually married) 
Age: 86 (because I determined the man I was marrying should die at 84 and we are two years apart in age which means we would die about the same time)
6 children, named – Jeffrey, Michelle, Gina, and 3 more. 25 grandchildren, a few great-grandchildren.

Some random stuff about living a life taking care of my family.

Loved cooking, baking, Sunday dinners with her family, traveling, reading books.

I created the life I wanted. And then at the end of my days, I died with loved ones surrounding me. The only problem is that we don't know when we will die.

So today as we gather to Celebrate Life – all life, ours and the lives of those who have gone before us, and the lives that help to shape us into who we are. We know that life is fleeting. We know that God is the author of life, and someday my husband will die. I don't know if I will still be on this earth at that time. But I do know that until that time, we will gather to Celebrate Life.
Stone Altars

In the Bible, God commands His people to create an altar of stones. In Deuteronomy God says: 
"In the future when your descendants ask their parents, "What do these stones mean?' tell them, "Israel crossed the Jordon on dry ground." For the Lord your God dried up the Jordan before you until you had crossed over. . . . He did this so that all the people of the earth might know that the hand of the Lord is powerful and so that you might always fear the Lord your God."
You see, God had performed a miracle in their midst, and he didn't want them to forget. We are a forgetful people. We need lists to help us remember to buy milk, butter, and eggs at the store. We need calendars to help us to remember to keep appointments and special events. We need stones to help us remember.

And so I have written in stone the dates that are worthy of celebrating. You know, those days that God has blessed me – the days of miracles. The days I can say, "I saw the hand of God."  But everyday I should stop and see God's handiwork. It is all around us. You see it in the mountaintops, in the ocean, in your backyard, in the face of a loved one. Everyday I should have a Celebration of Life because everyday life is worth celebrating.


How will you celebrate life today?