My trip was in conjunction with Disney Social Media Moms Celebration–an invite-only event held by Walt Disney World and Disney Cruise Line. I was given a media rate to attend.
I have never been on a cruise. There always seemed to be something else to do. Since I have planned the majority of the vacations we have taken over the years, I certainly could have planned a cruise vacation. I just didn't. Maybe I was secretly scared of being on the water. Maybe the one time we went on a whale watching cruise 15 years ago scared me enough to decide never to want to do that again.
And then we had Jack-Jack. We have never even flown with him. If we can't drive, we haven't gone. And while driving he has been known to get motion sickness. I have also avoided certain situations because we don't know how he will react. Since I have never been on a cruise, there were too many uncertainties. Would he be okay in the cabin? Would the motion of the ship bother him? What about. . .? And the questions were endless.
Then back in November, I received an invite for the Disney Social Media Moms Celebration scheduled for February 2017. It was the first ever land and sea event for the Social Media Celebration that is now in its 8th year. A 3-day cruise seemed just the right length to get my feet wet.
The conference began on Tuesday at Walt Disney World Resort. On Thursday afternoon our group boarded The Disney Wonder docked at Port Canaveral. Pulling into the parking lot, the Wonder is a beautiful boat. Disney Cruise Line does an excellent job of keeping their ships in tip top shape.
The Disney Wonder was built in 1999. In 2016 The Wonder was drydocked for refurbishment, and returned to the seas in November 2016.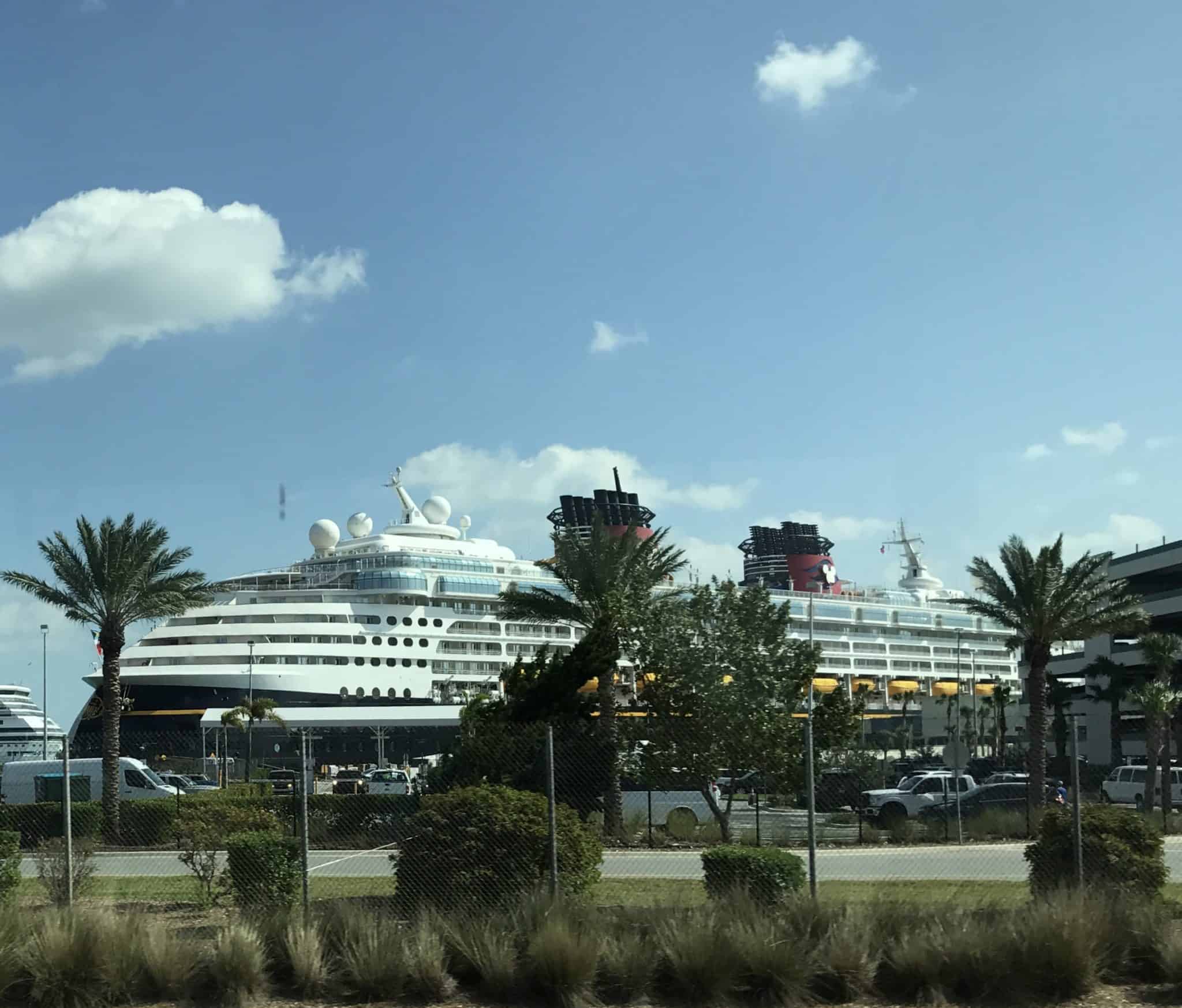 As you enter the terminal, you pass through security scanners and then check-in. This process was quick and easy. When you board the ship, you are "announced." Welcome to the Moliterno family." The welcoming committee claps and cheers for you. It is truly a Disney welcome.
A special luncheon was held at Animator's Palate for the Celebration attendees. Our families were free to explore the ship and have lunch at Cabana's – full buffet – great food – lots of it. My thoughts on the Animator's Palate: AWESOME. Great food! Great Entertainment. We were treated to a special show of our own creations.
I learned a lot about the Disney Cruise Line aboard the wonder.
Here is what I wish I knew years ago:
1) THERE IS PLENTY TO DO ABOARD A DISNEY CRUISE:
Entertainment is endless. I learned about Fish Extenders, magnets for your cabin door, the wonderful kid's clubs. Endless Eating. And Did I mention entertainment?
There are four sit-down restaurants aboard the Disney Wonder. The main three restaurants are Tiana's, Animator's Palate, and Triton's. The fourth dining room is Palo's, an adult only restaurant.
2) WHAT'S INCLUDED:
Your Stateroom
All food and drink (except alcohol and bottled water) in the main dining rooms. If you choose to eat at Palo's that is an additional charge.
Buffet, drinks, and desserts on Castaway Cay
Mickey Ice Cream Bars
Room Service
Most food and drink at Cabana's (Breakfast and Lunch Buffet which was open for Breakfast and Lunch and Dinner).
Food and Drink at various Quick Service locations throughout the ship which included a 24 hour beverage station, an all you can eat ice cream station.
On-Board and Castaway Cay Parties which included a Adventures Away Party, Pirate Party, Dance parties, Bingo, Karoake parties and more.
Entertainment – entertainment – entertainment
WHAT'S NOT INCLUDED:
Alcohol and Speciality Drinks
Bottled and sparkling water
Nursery for ages 6 months – 35 months
Dining at Palo's
Popcorn, candy and drinks at theater locations
Speciality coffee and juices
Spa and Salon services
Bibbidi Bobbidi Boutique and Pirate League
Official Disney Photos
Souvenirs
Shore Excursions
Wifi
Gratuities
3) DID I SAY THERE IS PLENTY OF INCLUDED ENTERTAINMENT:
Movies all day long – These movies included titles that had not been released on Dvd/Blu-ray
Broadway-level shows – on our 3 day cruise, we got to experience 3 Broadway style shows which included The Golden Mickeys, Dreams: An Enchanted Classic, and Frozen Musical Spectacular.
Character Appearances and Princess Meet and Greets
Kid's Clubs for ages 3-17
Lounge's and Entertainment in the lounges
4) AND THINGS I DIDN'T EXPECT:
I didn't expect Castaway Cay to be so beautiful. I have never been further south than Vero Beach and have never seen tropical water up close and personal.
The size of the pools was much smaller than I expected. But there are 3 pools (1 adult only pool), and a giant slide.
I expected to lay on lounge chairs and read – that never happened.
I wanted to sit outside my balcony at night and relax with a cup of coffee – that didn't happen either.
I didn't expect to be so incredibly tired at the end of the day that I just crawled in my bed and fell asleep faster than my children.
I didn't expect to want to stay on the boat when we went to Castaway Cay. There were still activities and movies happening while were were docked that I was torn between getting off and staying on.
I didn't expect the water at Castaway Cay to be so cold. (I know it was February).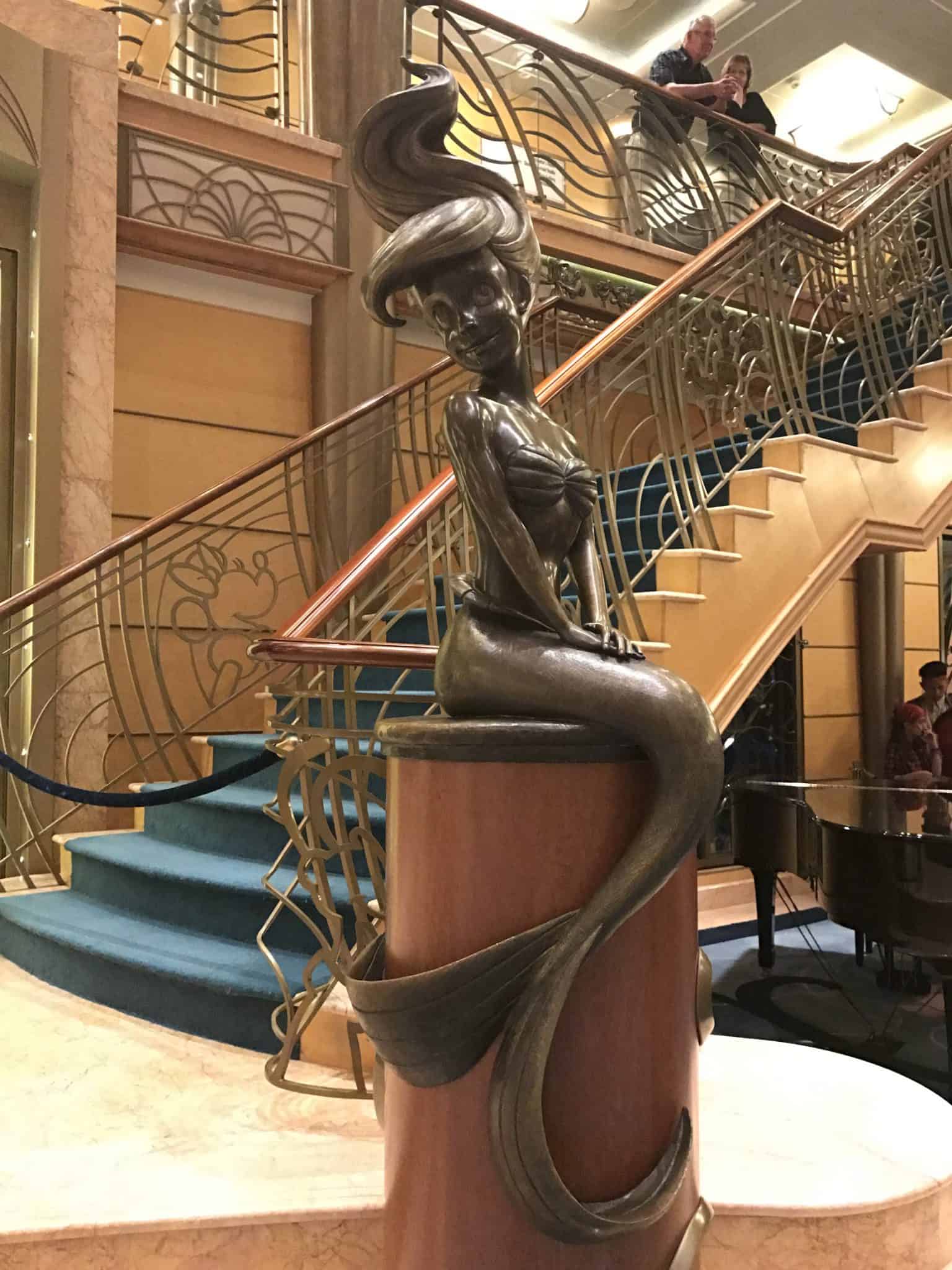 5) THINGS I WOULD DO DIFFERENTLY:
I would find time to sit and read on the decks.
I would do the Fish Extenders. Once you book your cruise, you can find a Facebook group associated with the cruise. Once in that group they can put you in a Fish Extender group. Here are some good resources to learn more about the Fish Extenders:
6) JACK-JACK AND AUTISM ON THE CRUISE:
I really don't know why I worried so much beforehand. Jack-Jack loves Disney and The Disney Wonder was great for him. There was plenty to entertain him. He loved the shows, the kid's club, the dining, and getting Mickey Ice Cream Bars. We saw Moana onboard. We dressed up like pirates. We watched fireworks on Deck after the Pirate party. He swam and went down the big slide. He got to see some of his favorite characters.
We did a lot of social situation planning beforehand. We did watch videos of cruise ships and read books beforehand. I know Jack-Jack was hoping to get to do the AquaDuck, but it is not a feature on the Disney Wonder.
WOULD WE CRUISE AGAIN?
My dream cruise would be a Mediterranean Cruise. That probably isn't happening soon. We still haven't attempting flying. I would like to do a slightly longer cruise aboard another Disney cruise ship. We are looking at different options for next year, but I probably would do a 4 or 5 day cruise next. I want to cruise aboard the Disney Dream. While we were onboard, Disney Cruise Line announced that they will have a Beauty and the Beast show debuting in November 2017.
The Moliterno family was pleased with our first cruise. While I didn't participate in Fish Extenders and the gifts with them, I would definitely do that next cruise.