HOW DO YOU KEEP TRACK OF TIME? 
This post was sponsored by Jord Wood Watches

.
We measure time in minutes, hours, days, and years. And while these times are the same for everyone I finally understand why people say that as you get older, time goes faster! This year we celebrated our 32nd anniversary. It seems like we just got married a few years ago, and now we have 5 children, 4 grandkids, and not enough time to get everything done we need to. But keeping track of time is more than having a great timepiece; it is also a reminder to "Wear Time Well." And at the end of day, I want to know that my time that day was well spent.


My husband, Jeff, hasn't had a watch in years. Several months ago our son asked him if he wanted a watch. I thought he was happy using his phone as a watch and all was good. It turns out that his watch had seen better days, and he was just making do. Making do is not wearing time well. Every time he removes his cellphone from his pocket, it is a reminder to check his emails, catch up on work, etc.  He has used a cell phone for work for the past 22 years. The cell phone is a symbol of the 24/7 "always on call" demands of his job. And sometimes he just needs to live in the moment and wear his time well.

When the good folks at Jord asked me if I would represent their product, I was over the moon excited. You see, Jord Watches was on my short list of companies I wanted to work with. Their hand-crafted timepieces are gorgeous. I have seen so many of their designs that I was drooling over. But I can't wear watches. I knew this would be the perfect opportunity to get a watch for my darling husband and give it to him for our anniversary. I knew that this watch would be a reminder to him to "wear his time well." 



But time keeps ticking on, and the thoughts in my head about the perfect time and setting to give him the watch didn't ever materialize. My schedule, his schedule, the kids schedules, . .just keep drowning out the moments that seem perfect. And then I realized there would never be a perfect moment. The moments I play in my head rarely work out like I think they should. 

I promise to tell you how I finally gave him the watch below, if you promise to read a little bit about this amazing company and enter the giveaway to win a e-gift card!


About Jord: They are a company that makes both men's and women's watches. They are "focused on creating timepieces that are modeled after a modern liftestyle. We value sustainability, efficiency, and experiential living. We make our watches for people who don't just have somewhere to be, they have somewhere to go." and frankly, I love the fact that even though my moments don't play out like I think they should, Jord says, "the value of a watch is not in being able to tell how much time has passed, but in being aware of the need to make that time count. Moments are bigger than minutes. . ."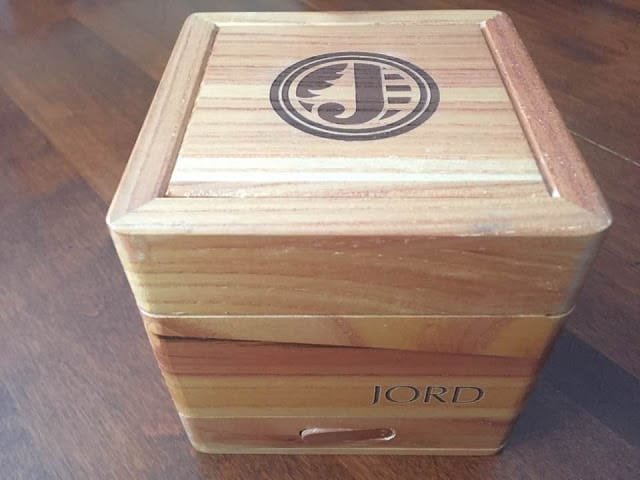 Each Jord timepiece comes in a wooden box making this gift even more special.
Jord crafts watches from the following woods: Ebony, Koa, Purpleheart, Zebrawood, Rosewood, Sandalwood, Maple and Bamboo. For my husband, I chose a watch in the Dover Series. It is made of Koa wood which is native to Hawaii. It is softer than other wood species, but it has a beautiful natural sheen. Its tones range from medium gold to reddish brown.
THE GIVEAWAY:

 You can enter to win a $75 e-voucher, and everyone who enters gets a $20.00 e-gift card excluding the winner.  The giveaway ends Sunday, October 30, 2016. ENTER HERE! 
SO HOW DID I GIVE HIM HIS WATCH?
It's taken me a few decades to realize that the moments we plan are never as good as the moments that just happen. Rarely do our plans turn out as expected, and since this watch is so simply stunning I decided to just give it to him. Nothing special was planned. I just handed him the Jord box. Because a watch like this is the perfect