ERIC CARLE ART AND LITERATURE STUDY

When I say the name Eric Carle most people automatically think of a Hungry Caterpillar. And I know he wrote and illustrated so many more books than that, but on a recent trip to my library I found a gem that was published in 2015 (yes this man is still writing books!) called The Nonsense Show. After reading that one, I decided to do something that may seem strange, but to those that know me, it is just a day in the life of Patty!



I sat down with the Wikipedia List of Eric Carle's Books and requested most of them from my local library. I have a few books in my own collection, but unfortunately, even with the awesome Search Ohio function, there were several books that I was unable to get. (I am also making my way through all Disney's movies in order of release date!) I am afraid that making my way through Lists is a bit of an obsession.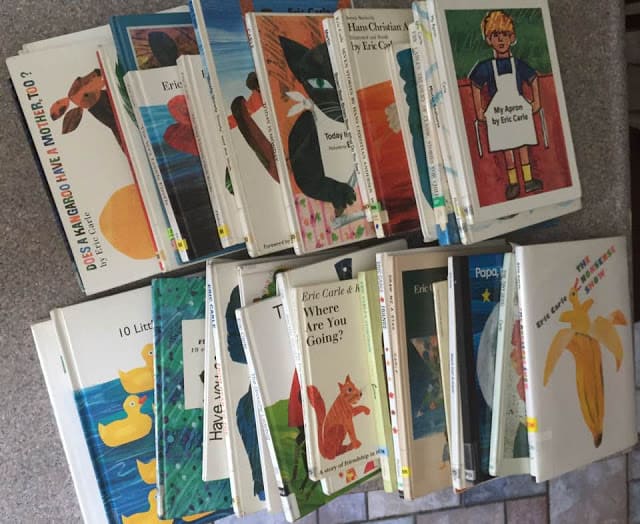 This week I went and picked up my 30+ books all written (or illustrated) by Eric Carle. In all, he has written/illustrated over 83 books.

And we started in. We have read such classics as, Brown Bear, Brown Bear, What Do You See? (affiliate) that Eric Carle Illustrated. And 1, 2, 3 To the Zoo. (affiliate)

These books are not just for little kids either. I did the following activity with both my 11 year old autistic son, and my 13 year old son. It is a delightful art lesson that helps children to feel music and art together.

We "read" Eric's book entitled I See A Song. This book has no words. As we went through the book I had my son hum to the pictures. And then the fun began. I selected 3 songs, but did not tell either of my sons what the songs were, and I had them paint to the music.

I like to use Prang Watercolors (affiliate link) (and so do my kids).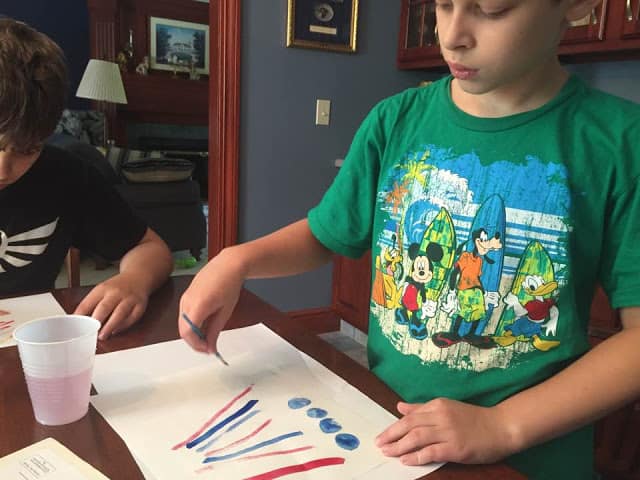 For the first one I played some classical music by Bach. Apparently my son felt like circles! LOL
Painting to Bach
11 year old's on top
For the second song, I selected Start a Fire by Unspoken. You can clearly see "fire" in my 13 year olds painting.
Start a Fire by Unspoken
My older son's is on the bottom. I see some crosses and fire.
For our final song I selected Disney's Let It Go.
Let It Go
I really enjoyed watching them paint, and they enjoyed this activity. I am a firm believer that art and music help with science and math!
A couple of weeks ago we read The Artist Who Painted a Blue Horse. I had my son select an animal before the book, and he picked a goat. He has a goat and that probably steered his decision. He decided to paint it green which is his favorite color.
Green Goat by Jack-Jack
Watch for more Eric Carle books and activities in the upcoming weeks. And i
f you do this activity I would love to see your paintings!
This article does include some affiliate links. I receive a small percentage of your purchase which allows me to continue to make improvements to my blog. THANK YOU!