MEMORY BOXES WILL HELP KIDS REMEMBER GREAT MOMENTS

Disclosure: This shop has been compensated by Collective Bias, Inc. and it's advertiser. All opinions are mine alone. #ShareYourMiracles #CollectiveBias

Life is hard sometimes. And sometimes we forget how to overcome the hard times. We lose our faith. And during the hard times we forget about the great moments. If we forget how can we help our children to remember the good times and overcome the bad moments? In this post, I will share with you a practical reminder woven in with a great craft to help your children through those moments.



Last year my husband experienced a sudden cardiac arrest and was dead for 15 minutes. Two great men from his softball team performed CPR to keep him going until the EMT arrived while the rest of the team prayed. He was shocked back to life, had a quadruple bypass, and is doing exceedingly well. Everyone said he was a classic cardiac arrest. You drop and don't get back up again. It is truly a miracle that he is alive. To read more about our experience, click here. While life has gone back to "a new normal," I wanted to give my children something to remember the good moments when life seems bad.

I personally have started a Stones of Remembrance Jar. This jar sits in my family room with flowers. The jar has stones with dates from when we got married, our children's birth dates, our grandchildren's birth dates, the day my husband started his business, the day of my husband's cardiac arrest, and other memorable moments. These moments remind us of the good times when things don't look so good. I wanted to craft something similar with my two youngest sons.




My husband and I had a recent date night, and we stopped at Wal-Mart to pick up a couple things. We purchased Miracles from Heaven which is a movie based on the true events of the Beam family. Jeff and I saw this movie at the theater, but our children had not. We wanted to share this movie and the positive messages expressed by the Beam family. Like our family experience, the Beams not only lived through a serious medical diagnosis, but also a horrendous accident. On the other side of all of that, they came out with a strengthened faith and trust in God that I want to teach my children.

We found the movie easy enough in the Entertainment section at Wal-Mart. It was conveniently located on the end cap of the movie aisle. To find out more about the movie, visit the Miracles from Heaven website.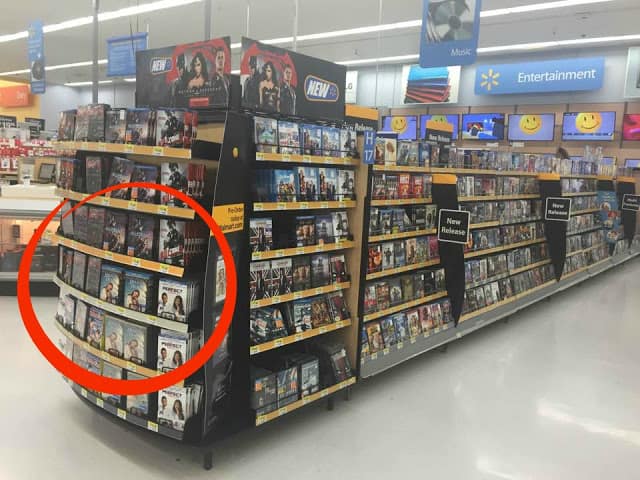 After the experience with my husband, I have found that the sentiments expressed by Christy Beam (the mom) in the movie ring true. It is all important to recognize the miracles in the everyday. We get so complacent with our lives that we fail to see what is right in front of us. There are miracles all around us!

We decided to watch the movie with our children and create a memory box with my sons.

TUTORIAL FOR THE MEMORY JAR OR BOX:

Talk with your child about the memory jar or box. Explain why you are creating this item and how this item is unique to the individual. Allow your children to select, design and craft a "one-of-a-kind" item. The lessons of remembering the past and having physical reminders of great moments are important to pass on to our children.

You can select a jar and add river stones. The jar can be decorated with ribbons, bows, stickers, etc. Because I was slightly worried about glass jars with my boys, I opted to create memory boxes. This is a quick and easy activity. I allowed my sons to pick premade "boxes" from the craft store, and they were automatically drawn to these little treasure chests. We selected wooden "coins" for treasures. There are paper mache boxes in all shapes and sizes, wooden boxes with lids, and even predecorated options to choose from.

Next I had them pick out paint colors for their boxes. It didn't surprise me that Jack-Jack picked green and Dash picked red and blue. They have been selecting these colors for everything from toys they play with to cups to drink from since before they could talk.



We watched the movie and discussed remembering the miraculous moments that happen around us. It is important to me to keep "reminding" Jack-Jack about moments in his life. Jack-Jack is autistic, and he is now 11. When he was 4 years old he was still not talking. We prayed and prayed for him to talk. Today Jack-Jack talks. It is different from you and I, but he can communicate his wants and needs. But he still has difficulty remembering almost everything. He needs more visual reminders than most people. The more time I spend with Jack-Jack, the more I realize that visual reminders are good for all of us.



After painting their coins and boxes I used a paint marker to write a date on one side and the event on the other side. For both boys I wrote their birth dates because I want them to understand that birth is a miracle and a great moment. On another coin I wrote April 30, 2015, which is the day of my husband's cardiac arrest. My children were at the hospital and know that on this date something miraculous occurred.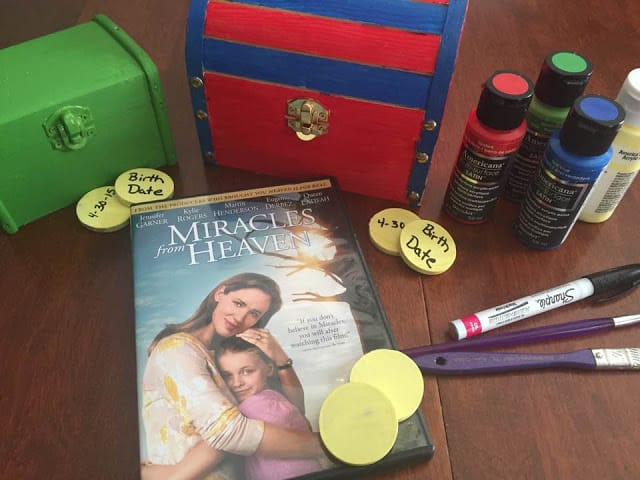 Not only did I get to share time with my children watching the movie, but we talked about why we were making boxes. We will continue to spend time updating our boxes with special moments for years to come. In the future, I expect that Jack-Jack's box will be filled with dates from vacations, when we went to get ice cream, his sister's wedding, going to the zoo, and getting a new toy. But Dash's box will only have a few very special dates. Each boy is uniquely different and that is part of the miracle of life.

There are dates I am missing from my Stones of Remembrance Jar. Last night as I snuggled with Jack-Jack I thought, "I wish I would have made a stone for when Jack-Jack first talked." I shared with him how we prayed for him to talk. I want him to understand that for us his voice is a miracle. Miracles happen in the every day normal. We just don't see them unless we are looking.

I encourage you to watch Miracles from Heaven with your children. It is a movie full of faith and love and will touch your heart in ways you can't imagine. With each movie purchase, $1 is donated to The Children's Miracle Network. After watching the movie make a Jar of Remembrance or Memory Box with your children, and drop me a line or send me a photo of your jars.