Have you ever made plans to visit somewhere and then wondered, "What was I thinking?" The last several days as Jack-Jack (11 year old son with autism) has been looking over his calendar, he has been less than enthusiastic about visiting Hershey. We started to watch some YouTube videos and Jack-Jack came to me with his calendar crying, "You forgot about Disney." Usually after visiting Walt Disney World Resort, we put our next trip on his calendar even if we won't be going for a year or more. This helps Jack-Jack learn about the passage of time and helps him to deal with his anxiety.




At the urging of other family members, I had planned a short trip to Hershey, Pennsylvania. It is good for Jack-Jack to have other adventures, and Hershey is about 5 hours from our home. Jack-Jack was not really on-board with our visit. "When are we going to Disney?" "Promise me we will go to Disney." "Are we going to Disney on the way to Hershey?" were just some of his musings.



On our first day in the famous chocolate town, my family had the wonderful opportunity to visit Hershey Gardens (link to website) in Hershey PA. Hershey Gardens is home to several themed gardens plus a brand new conservatory. The conservatory has just opened as the main entrance to the gardens and houses an awesome Welcome Pavilion which is home to beautiful stained glass butterflies. The butterflies hang high above your head with three sizes – small, medium and large. A local artesian handcrafted the butterflies which were "sold" to patrons to help build the facility.




When the sun shines through the glass ceiling of the conservatory it reflects through the butterflies projecting colorful shadows on the walls and floor. In the Welcome Pavilion there is also a gift shop featuring items for young and old alike. Jack-Jack selected a squishy frog which is great for his sensory needs. I almost purchased an umbrella. How many umbrellas do you think are necessary for one person? For some reason three seems like too many.

The Educational and Horticultural Wing has hands-on learning tools and will feature rotating plants and flower exhibits.

The final wing of the conservatory is a butterfly atrium which is scheduled to open July 1, 2016. My family and I were fortunate enough to get a "sneak peak" inside with their great variety of butterflies. They will have 600-800 butterflies when they are at capacity. When we were there, they had about 300 butterflies.
I did have a tour-guide who enabled me to ask tons of questions. Here are some facts I found out while there:


Dash with a Blue Morpho on his face!

It is hard to take a photo of a butterfly on a person's face! They flutter only for a moment before moving on!


The reason there are two sets of doors for a butterfly exhibit is because they cannot allow any butterflies into the environment. These butterflies (especially non-native varieties) may destroy the ecosystem. 

Even native butterflies should not be released in the environment. You know the awesome butterfly kits where you watch the butterflies hatch? DO NOT RELEASE THOSE BUTTERFLIES into your back yard!

Taken from the North American Butterfly Association website regarding releasing butterflies:
This well-meaning but misguided practice spreads diseases to natural populations, inappropriately mixes genetically distinct populations of the same species, may disrupt migratory behavior of native butterflies, confuses scientific studies of butterfly migrations, and usually results in the untimely death of the butterflies released.
Even in a butterfly exhibit, they do not breed butterflies. The breeding of butterflies is restricted by the USDA. These restrictions are to help prevent the destruction of ecosystems. When you and I look at a little butterfly, we just see something beautiful, but that beautiful butterfly can wreak havoc in an area.
There is a chrysalis exhibit which allows you to see all the various stages. If you have never seen a butterfly that has just emerged, it should be on your bucket list!

So onto the Gardens – in my hometown we have a wonderful 12-acre garden which is free to the public with a beautiful rose garden. The gardens overlook a lake on one side and the great metropolis of Youngstown, Ohio on the other. In the center is a rose garden. So when I hear the word garden and pay to enter, I think twice. I am so glad that we visited Hershey Gardens!



My family only covered about 1/2 of those 23 acres. We spent a considerable amount of time there, and I wish we had planned to be there longer. The kids were getting hungry, and it was nearing closing time for Hershey Gardens. 



The Children's Garden is FANTASTIC! We loved, loved, loved it. I want to shout this from the rooftop. So many people think there are just a bunch of flowers, but this is so much more! This is a must-do when visiting Hershey!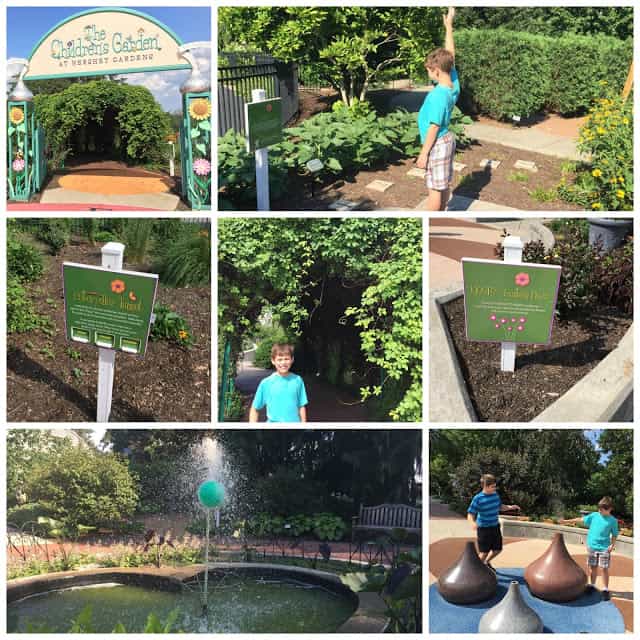 There are "Hershey Kisses" that squirt out water in the Children's Garden
Hershey Gardens was started in June 1936 when plans were drawn up and construction began. The first rose bushes were planted in November of that year. In June 1937 Hershey Rose Garden opened to the public. By May 1939 the Rose garden covered 6 acres. Through the years the Rose Garden continued to grow, but it wasn't until February 1979 that the gardens name was changed to Hershey Gardens. Ten years later the Gardens were placed under the ownership and operation of The M.S. Hershey Foundation. Ground was broken for the Milton & Catherine Hershey Conservatory in April 2015 and is scheduled to open July 1, 2016. The Gardens now encompass 23 acres.

Hershey Gardens is an amazing experience. Most people know Hershey for the chocolate and the amusement park, but I would make sure to add Hershey Gardens to my list of places to visit while in Hershey!



By the Way: There is real chocolate in the Gift Shop at Hershey Gardens! And there is evidence of Hershey chocolate throughout the gardens, but I have only given you a small taste of what Hershey Gardens has to offer. Now go and experience it for yourself.

Watch for my review of Hershey Park and The Hershey Story coming soon! And if you are visiting Hershey, make sure to buy the combo ticket for Hershey Gardens and The Hershey Story. 

(Disclosure: The FTC requires me to say that I was given admission tickets to tour Hershey Gardens. But because I have a relationship with Jesus Christ I am bound to tell the truth, the whole truth and nothing but the truth. In other words my opinions cannot be bought with free tickets, and therefore, the thoughts and opinions expressed on this blog are entirely mine.)