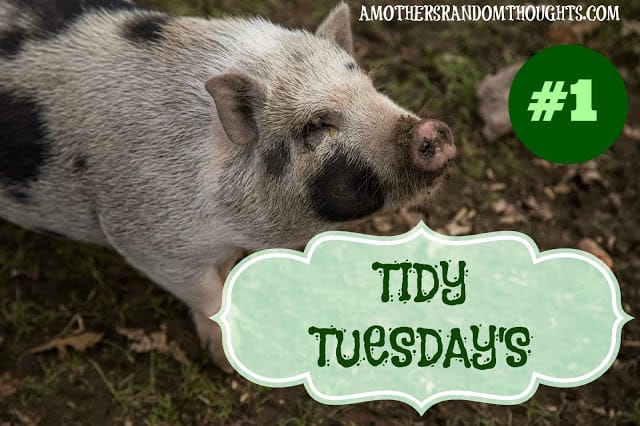 As promised I have a tip for keeping your home tidy today. I am a firm believer in saving time. I look for ways to reduce the need to clean. That means that I try to prevent the mess before it is made. With five children and 3 grandchildren, this isn't always easy, but if I spend a few moments in instruction, I can save time weekly.
MY TIP IS BEACH TOWELS
Do you dread the kids playing with Playdoh? If you are like me, you shudder at the thought of the mess and dried up playdoh on the floor. I hated having to scrape it out of the grout on my tile floor.

But my kids love playing with it and it keeps them entertained for hours. I am all about saving time cleaning up. If I can find a way to save time on the back-end, I will. People suggested a disposable plastic tablecloth. You can buy them at the dollar store. BUT. . .the kids hated it. The tile floor is already cold and the tablecloth is slippery under little feet. It never stayed in one place and since it slipped it also left Playdoh underneath.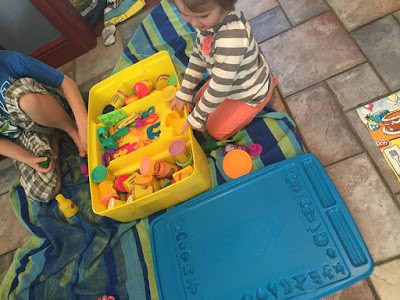 Even the littlest ones stay on the towel when playing with Play-Doh
About 10 years ago I started using a super sized beach towel. It keeps little feet and bodies warm, doesn't slip, and more importantly, clean up is a breeze. I simply fold it up, take it outside, shake and wash. Playdoh is gone. Kids are happy; mama is happy!

The benefits of beach towels are they are easy to wash; they are super absorbent; they are colorful and hid stains; you can use them at the beach too!

I purchase my towels at the end of summer when they are super cheap! If you need a supersize beach towel I recommend at least a 40″ X 70″ or larger. The one above is 70″ X 59″ and is super absorbent.
BEACH TOWELS CAN ALSO BE USED FOR THE FOLLOWING: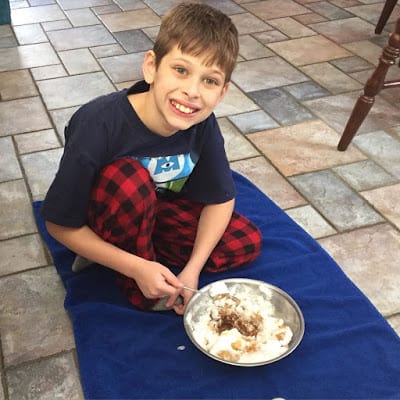 Jack-Jack eating snow with soda pop. Sometimes he plays with the snow
and other times he wants to have a "slushy."
Guest coming over – throw one near the front door for shoes. If you put a pair of shoes on it, when people come in they know to take their shoes off which will help keep dirt at bay.

Movie night – throw a few on the family room floor for popcorn and snacks.

Playing with snow in the house – my youngest loves to play with bowls of snow in the winter. I throw a big towl down and it saves me time cleaning up later.

Coloring Easter eggs. The dye doesn't affect the towels like it would a tablecloth and it is much more absorbent.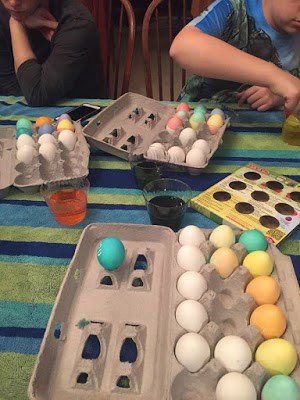 BEACH TOWELS – WHO KNEW?

Join me next week for another exciting Tidy Tuesdays!

(This page does have affiliate links. That means if you click on them and make a purchase, I receive a very small percentage of that purchase. I use that money to help keep my site running.)