UPDATE: A Year Ago I wrote the following article about our life with Jack-Jack. I will post an update at the end of the article. I think it is important to revisit past articles (especially concerning Jack-Jack) so I see progress. Sometimes progress is so slow that it actually seems as if time is standing still.

I also think it is important to note that for years I cried and worried; If I could go back and visit myself 5-8 years ago, I would say, "Enjoy the moments you have with Jack-Jack. He will grow and develop at his own pace. He will be fine, and even if he isn't "fine," find ways to hold onto the good. Embrace the uniqueness and quirkiness that is Jack-Jack." But the chaos and problems encountered 5-8 years ago were truly overwhelming. Life looked bleak. I often hear from people why their situation is different, or why they can't do (Fill in the blank) with their child as if Jack-Jack is somehow easier. In some respects, he is easier, because of the great big hugs we have have always gotten, but believe me when I say that life isn't easy. He is a little boy with all the challenges that a little boy brings into your home, and he has autism. The picture you see below is a good moment. We don't take pictures of the bad moments because we are busy diffusing, coping and living the moment.


THE NORMALCY OF CHAOS:
Violet: Normal? What do you know about normal? What does anyone in this family know about normal? Helen: Now wait a minute, young lady…Violet: We act normal, mom! I want to be normal! The only normal one is Jack-Jack". (Movie lines taken from Imdb: Walt Disney's The Incredibles)
Cast of Characters:
Jack-Jack is a 10-year old little boy with autism
Helen: Me
Violet: 21-year old sister
Dash: 12-year old brother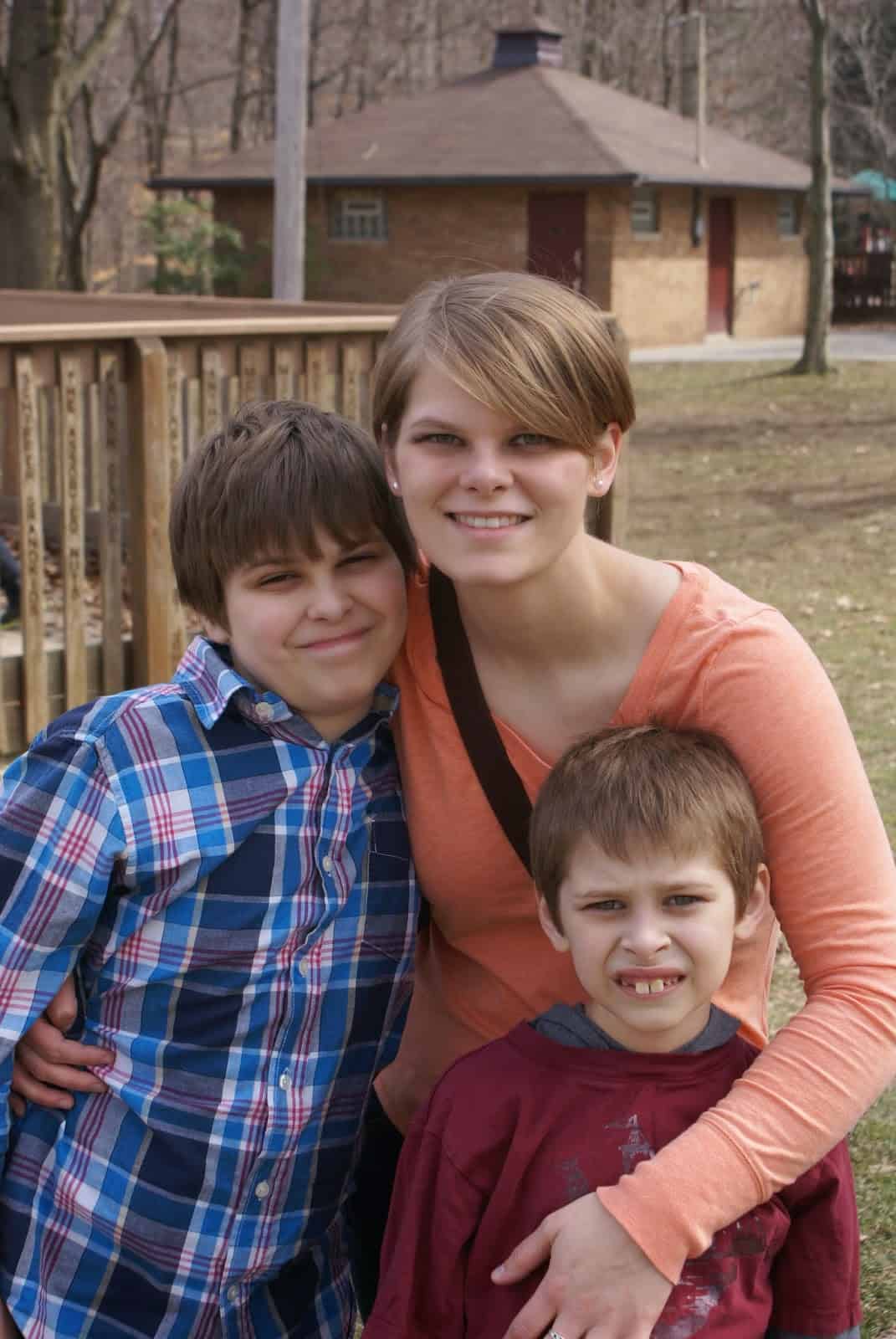 Violet, Dash and Jack-Jack
"What does anyone in this family know about normal?" What is normal anyway? Jack-Jack turned 10! He looks normal on the outside, and from time to time he acts normal. But most days we live with pandemonium. Granted, the chaos is less than it used to be. I'm not sure if we learned how to minimize the meltdowns, or he is acquiring skills to live with us.
He developed in a regular manner. He crawled, walked, jumped, dressed himself, and ate at the typical ages. But, he wouldn't talk. And as long as he was in the safety of his home, everything appeared natural. But there were signs that we weren't in Kansas anymore. He was an escape artist, and if given the chance, he would run and not look back. The rest of us became fearful of open spaces. I became too tired to attend the other sibling's baseball games or soccer games. I was 40-something and couldn't manage the stress of taking him certain places. It was easier to stay home. Church…it was hard to hide that we weren't normal. Plus the meltdowns afterwards were too awful. Well-meaning people touched him, or said "trigger" words. I didn't blame them, but I couldn't continue to go and deal with the aftermath.
If it was just words, it would be easier. As he ages, he has learned what a few of his trigger words really mean and they don't affect him anymore. But any words dealing with anger, pain, death, sickness, injury, or doctor, we circumvent. We spell them or use other phrases. The good news is that he is beginning to spell. The bad news is he is beginning to spell.
Not only is he learning to spell. He is learning to read. He is learning to respond. Sometimes those responses are movie lines, and sometimes they are little-boy generated responses. With those responses, he makes us laugh, and sometimes he makes us cry!
The damage done by the squirrel.
When he didn't talk, we had to guess why there was a meltdown. At about age 4, he started saying nouns. Eventually, he started saying verbs, too. Unfortunately, there was no conversation. The great news is Jack-Jack now converses with us. As I sit here typing, a squirrel is eating our fall decorations on the front porch. He is talking to the squirrel. "Go squirrel. Stop eating all the corn. I'm chasing the squirrel. Hey, Mom, does the squirrel eat the pieces of the corn outside?", and I respond and smile. Life is normal for a brief moment in time.
I remember after he started talking, but there wasn't conversation, there were just words. A floodgate of words opened up and spewed out of him. We were trying to conduct a 4-H meeting and he wouldn't stop. He just continued to regurgitate words. I call it regurgitate because he mainly said phrases he heard in movies. All I could think to say at that moment was, "We prayed for him to talk." We pray a great deal around here. It keeps us sane, humble and thankful for what we do possess.
Prayer is absolutely the only thing that enables us to live through a day filled with repetition. When we start something, we keep doing it………….forever!!!! I say, "I love you, Jack-Jack" and he responds "I love you more". If you have ever enjoyed the movie, Tangled, you would know that my response has to be "I love you the most". I did it once, and now it is forever. The forever thing, it actually isn't; it just seems that way. We call them stages. Just when it seems like you can't handle repeating the same phrase, or doing the same thing, or watching the same movie, over and over and over and over, he is in a new process of development and each phase takes us into a new level of normalcy or chaos.
As a result of looking normal, well-meaning people who see us and witness a melt-down will say, "You should…" Fill in the blank with your thoughts when you see a child misbehave…Punish him, take away a privilege, not let him play video games, etc. Frequently, the thing people think should be removed is literally the thing holding this crazy life together. For instance, sometimes (really a lot of the time) he plays with my cell phone when we are out. It is a coping mechanism for him. He can tune out noises and lights and people. I know if you are reading this and a Jack-Jack lives in your house, you understand. And because Jack-Jack looks normal, outsiders don't understand.
Jack-Jack
There are clear advantages to looking and sounding normal. People treat him just like any other child. However, the clear disadvantage to looking normal is that people treat him normally. We can't have normal with dogs and cats. We've owned dogs, and we have always had goats, chickens, and pigs. Family members have always had dogs and cats. At some point, he became terrified of animals. Did a dog knock him over? Did he watch something on TV that scared him? Did he finally develop enough fears? There is even thankfulness with the development of fears. That same anxiety prevents him from running out in the street or taking off at a baseball game.
It is real terror for him when he spies a cat or dog. He screams, "Kill the cat", or "lock up the dog", when we walk into a house with pets. Family and close friends know and put their animals away. I am forever thankful and grateful for them. It removes one more layer of craziness.
However, Violet and Dash want a dog. Violet has convinced Jack-Jack that he wants a dog, and Helen knows that Violet will help Jack-Jack face his fear of dogs. Helen isn't too sure about bringing more chaos into the house. I expect Violet and Dash will win–they deserve normalcy. Jack-Jack will learn to live with a dog. Helen will learn to live with a new type of chaos.
UPDATE: On some occasions Jack-Jack has been able to sit in church for the whole sermon. This is a small miracle given the amount of times his trigger words are said in church – death, dying, blood, etc. Sometimes Sunday mornings are just so difficult that I am on edge, and Jack-Jack senses this. I am incredibly thankful for the friends that are patient with him (and me).
Jack-Jack continues to spell, and sometimes he spells so quickly that even I have trouble with what he is spelling, and sometimes he spells words that he can't read. I fully don't understand this, and it truly is marvelous how his brain works. He also has become a walking thesaurus. He asks word definitions all day long, "Mom what does ow mean? or What does lie mean? What does lovely mean? What does fun mean?" – all day long. The good news is that he is learning words at a rapid pace.
Many times when he talks he still responds with movie lines, but he has the ability to change the line to fit the situation. There are movies that I have conveniently "lost" because they affect him so negatively. Many of the offending movies just happen to be Dreamworks movies. If I could talk to the people at Dreamworks I would tell them, "STOP making movies with so much screaming in them." Over The Hedge, Shrek, and Kung Fu Panda are a few of the offending movies. When your child acts out movies all day long or plays the same scene over and over again, you start to realize how much screaming goes on in some movies. If I could get the producers of those movies in a room, I think I might just strap them down and play the same scene over and over again until they collapse!
Prayer continues to be my biggest saving grace, but I have found my prayers changing over time. I pray a little less for "healing" and a little more for "direction." Jack-Jack is incredibly smart and I want to be able to help him develop into a successful adult. When you ask him what he wants to be when he grows up, he says, "I want to grow up and take my kids to Disney." I want to help him achieve that goal, and I know we have a long way to go before we can get there. I read an interesting article about how just by believing that someone can succeed, even when it was unspoken, helped them to achieve more. I definitely believe in Jack-Jack, and I believe the sky's the limit for him.
Jack-Jack continues to say, "I love you more" every time someone says, "I love you." To his future wife, "I am sorry."
Violet has quit asking for a dog. I don't know if that is because she has a boyfriend or if she realizes that a dog will push me completely over the edge. Jack-Jack still gets anxious around dogs and cats, but there is definitely progress there.
Jack-Jack still loves Disney, and asks to go everyday. Unfortunately, given the distance between us and Walt Disney World, going everyday is out of the question.