Snow White (Me) and Piglet (My daughter)
I am a hostess by nature. Entertaining and decorating for parties is something I was born to do. So when I heard about the Disney Side @ Home Celebrations, I applied. Disney, BSM Media and the wonderful people behind both groups selected me to host one of their multi-generational parties. As a hostess, I received a box of party supplies, giveaways and hostess items, and I was ready to begin planning.
Usually I spend time crafting a very special invitation, but often the invitation is thrown out and the only people who save them are me and the party recipient. For this party I decided to call my guests or invite them when I saw them and save the time for planning and implementation. Guests did not need to dress "Disney," but I did mention that my daughter, Melissa, and I were Disney Bounding which is simply using real clothes to mimic Disney characters.
My friend The Evil Queen (Kim), her daughters, Minnie Mouse (Karissa), and Mr. Smee (Mikaela)

Next, I selected a theme, and I decided to go with the "MAGIC KINGDOM" because there is something for everyone in that magical park. After selecting Magic Kingdom, I decided I would section off my house into Tomorrowland, Fantasyland, Adventureland, and Frontierland. I wanted to capture the essence of each area of the park, and have food for key rides. When I started to work on decorations and a menu, Fantasyland was easy. I could have doubled what I accomplished for Fantasyland and still been able to come up with more ideas. Frontierland was hardest to tie food to rides, so I finally settled on just an overall theme of Frontierland and forced the rides into the food I selected.
Since I tend to involve the whole family, there was plenty of "brainstorming" that occurred in the last 6 weeks in my household. When discussing the Jungle Cruise, one idea was to serve  shrunken heads, and while I am sure I could have come up with some food to represent the shrunken heads, I really didn't think that was a viable idea. My son, who I refer to as Dash on social media, came up with a Seven Dwarfs Mining Game. He suggested using a box (for a mine area), and putting in something that the children could dig through and get prizes. Jack-Jack (my youngest) painted our box, I placed it under the phone stand in my kitchen. My husband piled in the sand and "hid" the prizes (wrapped Ring Pops).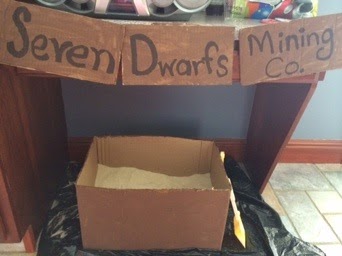 Seven Dwarfs Mining Game
Jack-Jack "digging for diamonds"
The other item Dash came up with was "It's a Small World Cupcakes" designed to look like "little worlds".
When I started to think of decorations, three items really caught my eye. I found a rocket ship on Pinterest, and my engineer husband managed to improve the design. This is definitely a pizza display we will be using for years to come! Instead of using aluminum flashing and worrying about sharp edges, my husband used scrapbooking paper and painted it silver. ***Disclaimer: My husband has years of model rocket building experience and is a perfectionist.
The second decoration I knew I wanted was the Small World wall. I pinned it, and then sent it to my crafty, talented daughter. Melissa is 21, and has years of experience with crafts and posters. She managed to create an even better than imagined poster that I will be framing and displaying in Jack-Jack's room.
The final thing I knew I wanted was "Saving for Disney" jars. I saw a Minnie and Mickey Mouse one, but when I showed Melissa she took it to a new level. Melissa created different characters using Mason jars, metal rings and acrylic paints. My husband then sealed them with a clear matte spray paint to ensure the paint doesn't flake off. THEY WERE THE PERFECT TOUCH. We allowed each family to select a jar as they were leaving.
After I set the menu, decided on some key decorating ideas, and planned the date, I then started to work on the details. Things have a way of just falling into place, but I still tend to over plan and have to remind myself that I cannot possibly pull off everything I want even if I started 6 months in advance. I prioritize the order of everything I want to accomplish, and everything I need to accomplish. That way I am not disappointed when some low level items are not checked off my list. I also plan items into the meal that I probably would not do, but if someone asks if they can bring something I will select one off of that list. If they end up not being able to come or can't bring the item, I will not be disappointed that one of the major items is missing. For my Magic Kingdom party, I had guests bring candied apples, apples with caramel sauce, and popcorn. These were perfect add-ons to Fantasyland. My son, David, and daughter-in-law, Becca, made Mike and Sulley cupcakes, and my daughter-in-law, Natalie, made chocolate chip cookies.
Although I had grand plans for food signs, I didn't get the time to make cute signs for each and every item. It was Saturday night that I finally decided to just hand write some of them out, and I made peace with that decision.
PARTY DAY:
Walkway sign, outside front door, inside front door and favor bags.
The weather has been so bad, and we were out of town for a couple of weeks, that when we returned the sidewalk was packed with ice and snow. My husband managed to chip off the steps, but he suggested a Frozen Sign to warn guests of the danger. Outside front door had a Mickey head with a quote from Walt Disney, "I only hope that we never lose sight of one thing. . .that it was all started by a mouse."
The food was ready to go as guests were arriving. Since there was food in all the themed areas, I think people took a while to wander and see what they wanted.
TOMORROWLAND:
Frontierland Menu: Splash Mountain Coleslaw, Br'er Patch Baked Beans, Big Thunder Mountain Railroad Cornbread with Honey/Cinnamon Butter, and Country Bear Jamboree Pork.
One of my favorite sights after coming off Splash Mountain is walking by the Character Meet and Greet and seeing Woody and Jessie signing autographs. We just had to have Woody and Jessie on the table. Jessie is an original Toy Story 2 doll and belongs to my daughter Melissa.
FANTASYLAND:
Fantasyland Menu: Small World Cupcakes, The Grey Stuff, Tigger Tales, Rabbit's Vegetable Garden (vegetables) and Dip, Dumbo Circus Popcorn, Peanuts, and Candy Apples, Snow White Poisoned Apples with Caramel Sauce.  I made both the Small World Cupcakes and The Grey Stuff gluten free. The Tigger Tales were pretzel rods with tinted white chocolate and milk chocolate drizzles.
ADVENTURELAND:
Adventureland Menu: Orange/Lemon/Lime Ale (Infused Water), Aladdin Magic Carpet Pita Chips and Hummus, Swiss (Cheese) Family Robinson Tree House with Crackers, Tortuga Tavern Taco Salad Layered Dip with Chips and Salsa, and Mickey Head Pineapple.
Adventureland was the only place where I had a Pinterest fail. I had tried to make Pineapple Dole Whips. They didn't come out as expected, but I had enough other food that I didn't even put them out. I guess you have to save some of the magic for a trip to Disney!
We ended up with a total of 33 people. In addition, there were two families that had three generations present. We also had a wide range of ages from under 1 year old to people who don't talk about their age! Almost everyone got involved in game time. We played Pin the Mouth on Mickey, Disney Trivia, Disney Bingo, and Match the quote to the Disney Attraction/Movie. Prizes were won by old and young alike.
I was so happy to have been given the opportunity to plan this event. In Northeast Ohio where the sun doesn't shine often enough and there is way too much snow this winter, it gave the party guests a magical distraction during these cold winter days. In fact, more than one guest mentioned that the party managed to capture the magic of Disney. At one point, I walked into my family room, and most of the younger children were talking and playing while the television played Mickey Mouse cartoons. I felt as if I had just walked into a Disney resort with the kids around the television set waiting for their parents to check-in. I smiled at the image in my mind and felt like "I had come home."
Thanks to Leanne and Jamie at Disney and Maria at BSM Media. Also thank you to the following sponsors: HP, Soy Vay, All, Snuggle, Wish, Twinings Tea, and Duff Goldman by Gartner Studios.
Hosting a Disney Side party is fun and helps bring magical thoughts and fun to your day. You can recreate the magic of Disney with just a few of these ideas. Check out my Pinterest board, and follow me on Facebook. Looking forward to creating more magic in the days to come!
I received free products in order to host a Disney Side @Home Celebration. The opinions expressed here are my own.'
Thanks, Patty @ A Mother's Random Thoughts