My family with Khalil Kinsey at the Winter 2015 Disney Student Seminars
I am the descendant of Slovak immigrants, Janos and Anna Maro. John arrived in America at the turn of the century. He was single at the time, and he eventually made at least one more trip back to his birth country. On May 10, 1909, he arrived on the shores of the free world for a final time. He found himself in West Virginia, working as a lumberjack. Never settling for the status quo, he rose to the level of foreman of the lumber camp. On November 10, 1909, Anna Maro and her infant son, John, arrived on the shores of New York to join my grandfather. They lived for a period of time in West Virginia before finally settling in East Youngstown. My grandfather worked for the Campbell Works of the Youngstown Sheet and Tube and rose to the level of foreman. My grandmother had 6 children and worked as a cook in a swank restaurant catering to the elite of Youngstown.
Both my grandfather and grandmother valued education and  helping those less fortunate. My father told stories of inviting friends home for a meal during the Great Depression. My grandparents were not rich, but believed in sharing what they did have. My father followed in their footsteps. They did not amass a collection of artifacts or treasures to share with the world, but they amassed a family of 6 children, 19 grandchildren, and 37 great grandchildren. Through these two brave and kind souls, the world became a nicer place. This little story just touches upon where I came from, but the important question that must be asked is, "Do You Know Where You Came From?"
Khalil Kinsey encouraged attendees of the February 5, 2015, Homeschool Days at Walt Disney World to know your history and heritage.  Walt Disney World offers Student Seminars twice a year, once in the winter and once in the fall. We had the wonderful pleasure of listening to Khalil, curator of the Kinsey Collection, speak on African American History and the contributions made by some famous and some unheard of African Americans to American art, culture, inventions, government and more. More importantly, Khalil stressed  the need to embrace your personal heritage and to find out more about your ancestors.

Khalil during his speech (Slide of his mom and dad)
Khalil Kinsey oversees the collection of African-American art that his parents, Bernard and Shirley Kinsey, have collected over the years. Currently, The Kinsey Collection houses artifacts at Epcot in The American Adventure Pavilion entitled "Rediscovering America: Family Treasures." The collection in Epcot will remain for the next 3 years with pieces rotating in and out about every 4-6 months.
Additional artifacts have been on tour since 2007 and have been exhibited in multiple locations throughout the United States including the Smithsonian Institute. There is also a traveling collection that is available to schools and educational institutions.
Khalil's inspirational message is one of hope and encouragement. Afterwards, I had the pleasure of speaking with Khalil personally. I asked him which piece in the Epcot collection was his favorite. His current favorite piece is "my great grandma's sewing machine. My mom was raised by her grandma. Everyone made their own clothes. They couldn't go and try on clothes, or purchase clothes and return them. The sewing machine was also a way to provide. My great grandma made clothes for other people."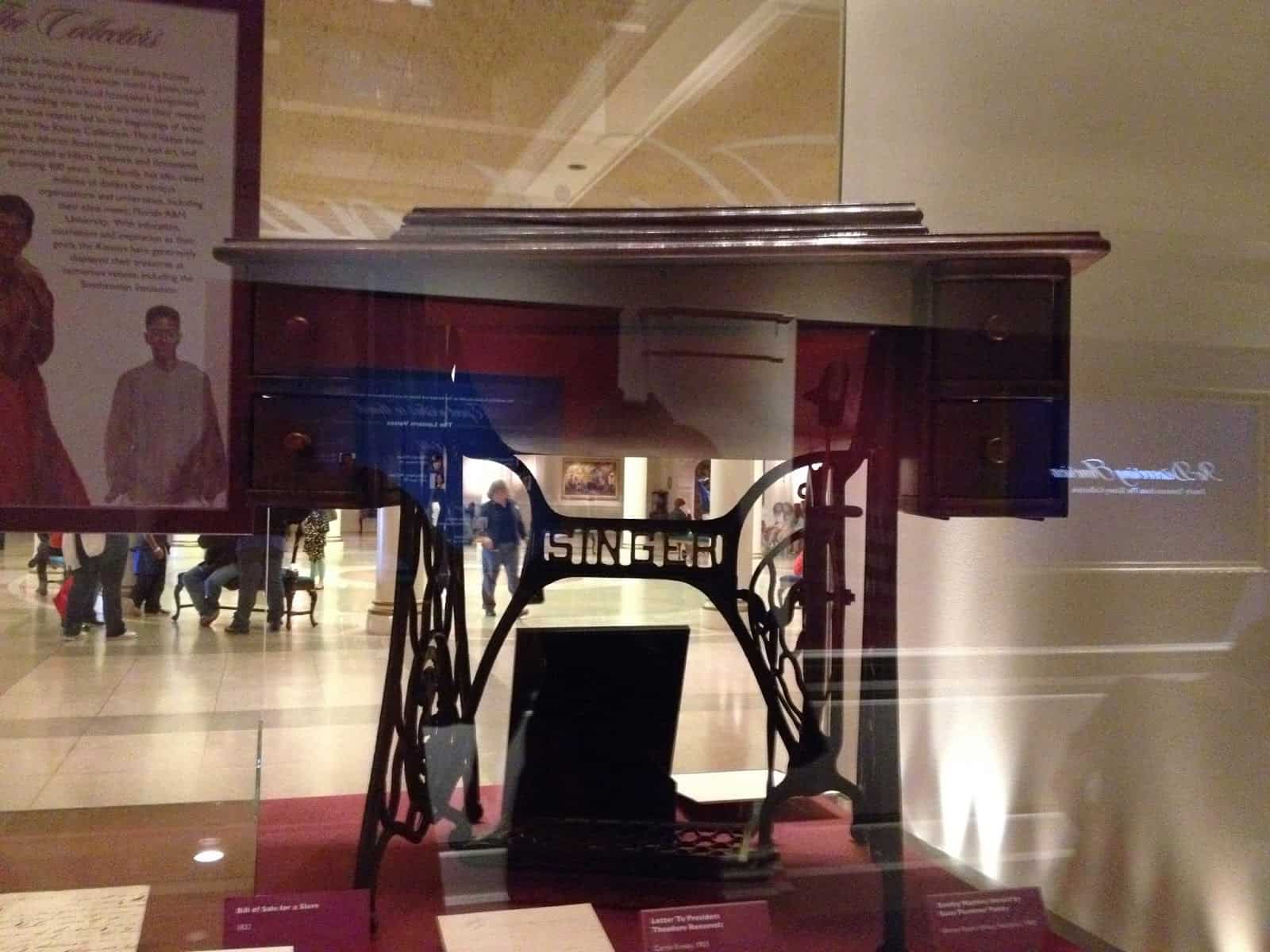 Sewing machine from the Kinsey Collection
My husband mentioned that he could have listened to Khalil speak for hours, but I was most impressed with what Khalil said off the stage. After speaking with him personally, I was gathering my belongings.  I watched his interaction with some of the youth that had traveled to see him. As a young man approached him, he encouraged the boy with words of instruction, "When you approach someone, extend your hand to shake theirs, and introduce yourself." The greatest gift the Kinsey's have given isn't their art collection, it is the legacy of great character, and their encouragement given to others to find out how you can be the best America has to offer.
Khalil Kinsey is an American who happens to have more melatonin than I. He wants an America that embraces everyone's heritage. He stated that he believes African American History should not just be taught in February, but would like to see an American History that teaches the heritage of all its contributors all year long. As Martin Luther King, Jr. said,  "I have a dream that my four little children will one day live in a nation where they will not be judged by the color of their skin, but by the content of their character." As a nation, we should be teaching the great achievements of our citizens irrespective of color.
At the closing of Khalil's speech, the participants were treated to a special presentation of "The American Adventure." The lyrics from the song Golden Dreams state,"America you must keep dreaming now, Dreaming the promised vow of your pioneers. America, keep on flying now. Keep your spirit free, facing new frontiers." On the inside walls of the American Adventure Pavilion the following quote by Walt Disney reads, "The greatest natural resource is the minds of our children." Walt believed those words and dreamed. He left a legacy that continues to inspire millions of people through his movies and theme parks. Bernard and Shirley Kinsey dreamed, and they have left a legacy of African American art to inspire children around the world to know their heritage and to ensure the world will not forget the contributions of great African Americans. John and Anna Maro dreamed, and they have left a legacy of helping those they come in contact with, and striving for a better life for their families.
Whether or not your family has a collection to pass on, you can make a positive impact on your world by knowing your history. Building upon what your ancestors did or taking an entirely different path and forging ahead to build a legacy for your children is what the American Spirit is all about. Where did you come from, and what is your dream for your descendants?
Thanks, Patty @ A Mother's Random Thoughts
Sources:
www.theKinseyCollection.com