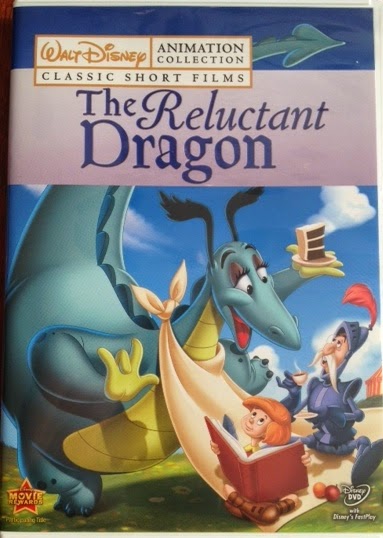 Photo cover of The Reluctant Dragon DVD
Storytellers have the ability to take any story, good or bad, and make them unforgettable. Walt Disney was that kind of raconteur. He could take a bad story, a mediocre story, a good story or a great story and weave it into something better. He even had the ability to take music, arrange it with a story and make it magnificent.
The Reluctant Dragon is a splendid children's story that Walt made into a first-class film. The Reluctant Dragon was written by Kenneth Grahame who also authored The Wind in the Willows.  When reading the book, make sure you get the unabridged version so you don't miss any of the wonderful little details.
In the storybook, Charlotte and her brother find tracks in the snow. While investigating those tracks, they come across the house of a circus-man who invites them in for tea and a delightful discussion about beasts. It begins to get dark so the circus-man walks them home and tells them a story about a young boy who befriends a dragon. He finds that the dragon doesn't want to fight anyone, but just wants to read and recite poetry. The townspeople want a dragon fight and call St. George to battle the "fierce" dragon. St. George begs the dragon to fight, but the dragon won't budge. The young boy finds a compromise for both St. George and the dragon that makes the townspeople happy too.
Walt Disney's version of The Reluctant Dragon was released on June 20, 1941, and combined live-action and animation. Walt Disney carved this story into a short cartoon and included a rare sight inside The Walt Disney Studios in California. The movie begins in black-and-white, but parts also employed the use of Technicolor.
In the opening scene, Robert Benchley is playing in his pool while his wife reads The Reluctant Dragon. She wants him to sell the rights of the book to Walt Disney and he is reluctant. Eventually, his wife drives him over to Walt Disney Studios and drops him off while she goes shopping. He is escorted by a studio guide named Humphrey who is taking him to see Walt.
Robert manages to escape his guide and takes his own private little tour of the studio. He heads into a door labeled "Art Class" thinking he will see a live model. In fact, he does encounter a live elephant and artists sketching "Dumbo-like" caricatures.
Robert next encounters a voice recording studio that includes Donald Duck and Clara Cluck. He heads into a sound stage where sounds for Casey Jr. are being recorded. The film shows footage from Casey and the techniques used to produce those sounds. Robert's next stop is a camera room and he watches as they transform black-and-white film into Technicolor. Next up is the paint department where he watches as paint is mixed to produce different shades of color. He is given a cel from Bambi and then goes into the maquette department where they design statues of different characters. Viewing a 3-dimensional model helps animators drawing their sketches. The audience glimpses figures from Fantasia, Lady and the Tramp, Peter Pan and more. Robert continues to evade Humphrey by ducking into a Storyboard Room where a group of men are working on a cartoon called Baby Weems. He also visits the animators and watches a short starring Goofy entitled How to Ride A Horse. Humphrey finally catches up with Robert Benchley and delivers him to Walt in the projection room. Walt is screening a new cartoon and invites Robert to sit and watch. As the cartoon begins the title screen reads "The Reluctant Dragon."
In Disney's version, St. George is replaced by Sir Giles. Sir Giles is very Don Quixote-like and doesn't want to fight anymore than the dragon. It is also very abridged from the original story and starts right into the story of a boy and a dragon.
THEME PARKS:
D23 Members (Official Disney Fan Club) have the opportunity to tour Walt Disney Studios and Archives in California. However, there is currently nothing like the tour given in the movie.
Disney's Hollywood Studios, Florida, used to have an impressive tour that was cut short and then completely eliminated this year. Over the years, Hollywood Studios hosted a back-lot tour.
At The Magic of Disney Animation, they currently show a 9-minute film which depicts how characters are made. After the film, guests are welcome to experience a hands-on area that includes animation, sound, digital paint and ink, and tour and animation gallery.
The Lights, Motors, Action! Extreme Stunt Show reveals some of the magic of stunts witnessed in movies.
Disney's Art of Animation Resort, Florida, offers drawing classes taught by animators. Learn to draw your favorite characters such as Mickey, Minnie and Goofy. Although, geared towards children, adults are welcome to participate!
Art class at The Art of Animation Resort, Florida
EDUCATIONAL/HOMESCHOOL TIE-INS:
Character Training: Robert tries to evade and hide from his studio guide and while doing so a woman lies for him.
When talking about Walt Disney Studios, Robert's wife tells him, "They are always open to new ideas."  In an ever changing culture, we need to be open to new ideas and concepts. Have your children come up with some "new" inventions.

Geography: Walt Disney Studios is located in Burbank, California. Kenneth Grahame was from Scotland. Find both locations. How far is Disneyland from where you live?

History: Learn about dragons and the history of St. George and the dragon. Research movie making from the earliest days without sound. Learn about the introduction of talking movies and what happened to silent film stars. Watch some silent movies (Charlie Chaplin) and some of Walt Disney's original silent cartoons.

English: Read The Reluctant Dragon by Kenneth Grahame. Read about St. George and the Dragon. Ask your child, "Do you believe dragons existed?" Depending on their age and answer, have them present a persuasive argument or paper representing the other side.

Music/Sound: Record various sounds to try to imitate sounds in movies such as thunder, horses running, doors opening and shutting, people walking, etc. Watch your favorite movie and try to imitate the sounds.
How are Sound Effects Made? Find out at the Wonderopolis website.
Art: Teach about color mixing using this adorable craft by Babble Dabble Do.
To teach simple animation, make a thaumatrope with instructions by Slurpy Studios.
Watch a flipbook in action on YouTube. Have child make their own simple flip book.
Purchase cello sheets and have child draw picture using permanent markers. For younger children, outline their favorite character and allow the child to color it in.

Snack: Peanut butter, chocolate and bugle dragon nails courtesy of The Mandatory Mooch.
Almost Unschoolers teach you how to make a healthy dragon head made with pears.
Have a magical time learning with your children!
Thanks, Patty @ A Mother's Random Thoughts
Next up: Dumbo
Sources: Wikipedia and DisneyWikia.com