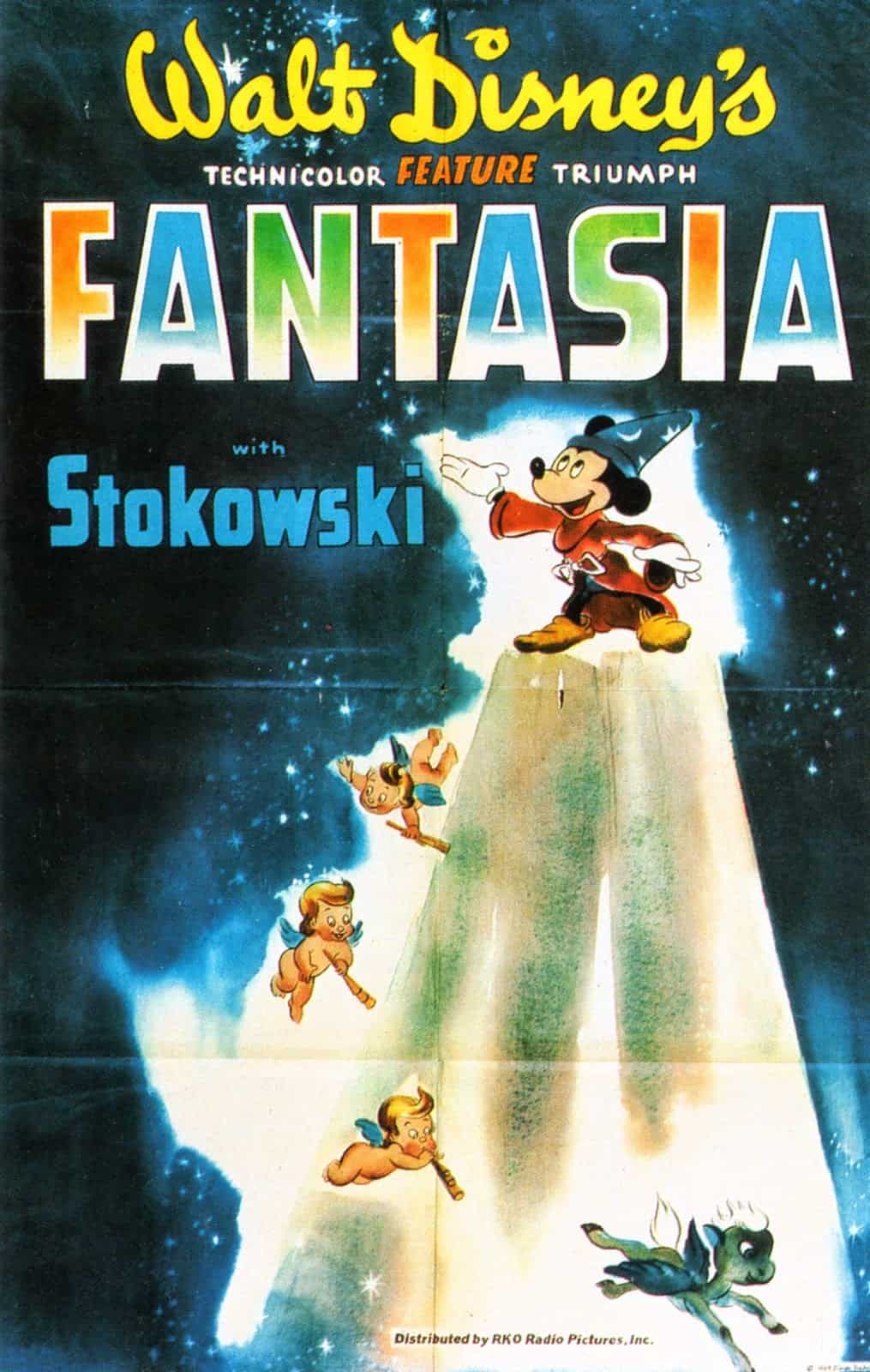 Walt Disney's Fantasia movie poster
Walt Disney's Fantasia was released in 1940 and was a unique approach to animation. The animators involved in this work took classical music and interpreted those pieces into animation. Leopold Stokowski conducted the music performed by the Philadelphia Orchestra.
Fantasia involves 8 classical pieces and many different themes throughout the film. For the purpose of this review, I am breaking this into 2 postings because of the wealth of topics covered.
Before each segment, Deems Taylor acting as Master of Ceremonies gives a background of the music. You see shadows of a conductor, and the orchestra tuning their instruments. The orchestra filmed between the segments is not the Philadelphia Orchestra. Disney used local musicians and Disney employees to film those segments. The animations of each segment are artists' interpretations and are not the interpretations of the actual composers. Some of the segments are shortened from their original compositions.

Theme Parks:
Walt Disney World Resort in Florida has several attractions based on Fantasia.  Fantasia Gardens offers two 18-hole miniature golf courses.
The Fantasmic Show, at Hollywood Studios, is a nighttime fireworks and water show featuring Mickey as the Sorcerer's Apprentice.
Mickey's Philharmagic, at Magic Kingdom, is a 4-D film featuring Mickey and Donald with scenes from movies such as Beauty and the Beast and Aladdin.
At Hollywood Studios, the iconic Sorcerer's Hat has been in place since 2001 and is scheduled for removal in early 2015.
Educational ideas relating to the orchestra: This film deals with classical music and the orchestra. In between each segment you can see the musicians tuning their instruments. Study the orchestra, the arrangement of the instruments and the types of instruments (brass, woodwinds, percussion and strings).
Our family has a fantastic toy that everyone  loves to use.  It is called Symphony in B Orchestra. It plays 13 different pieces of music and you can control which instruments are used. The age range says 3 to 13, but old and young alike will play with it for hours.
Make instruments – A soda pop bottle trumpet, glass xylophone, outdoor music wall, and drums.  Plan to attend a symphony.  Many symphonies offer children's viewings for a reduced price. If you have older children, they may be able to volunteer as ushers for an event.
1) Toccata and Fugue in D Minor by Johann Sebastian Bach: This segment features abstract images set to Bach's music. The animation includes lines, geometric shapes and clouds.
Educational/Homeschool Tie-Ins:
Art:  Listen to the music before watching the segment. While listening, have your child paint a picture based on their interpretation. After painting their picture, have them watch the segment.
Color: Upcycle plastic bottle caps to make a color wheel. Here is a unique color wheel picture or download this free color wheel to color or paint.
Study an abstract artist such as Pablo Picasso or Georgia O'Keefe, and have your child paint/color an abstract picture.
Study art terminology and visit an art museum.
Music: Study the life of Johann Sebastian Bach. Listen to other pieces by Bach.
Geography: Johann Sebastian Bach was from Eisenach, Germany.
Math: Lines and Geometric shapes – flat shapes versus solid shapes, i.e. cones versus triangles. Make pictures using geometric shapes. This is an activity that all ages and skill levels can do. For smaller children, keep it simple, but for the older child, they can create complex patterns using geometric shapes.
Science: Color and emotions: Study how color influences your emotions and how businesses use color to influence purchases.  Study the use of colors in your home/bedroom.
Study music and emotions. In 1997, David Merrell conducted an experiment using mice and music. Find the results of his experiment here.
English: Write a paper (sentence, paragraph – depending on the age of the child) discussing how music and color can influence emotions.
Snack: Cut and arrange slices of cheese, meat, and vegetables in abstract patterns.
2) Nutcracker Suite by Pytor Illyich Tchaikovsky: This segment is a selection of pieces from Tchaikovsky's Nutcracker. Disney's interpretation depicts the changing of the seasons.
Dance of the Sugarplum Fairies is performed by tiny fairies who sprinkle dew on flowers and stems.
Chinese Dance is performed by mushrooms.
Dance of the Flutes is performed by blossoms.
Arab Dance is performed by goldfish.
Russian Dance is performed by Cossack thistles and orchids dressed like peasant girls.
Waltz of the Flowers is performed by fairies who color everything brown and gold and finally frost fairies touch everything with their frost wands and snowflakes fall.
Educational/Homeschool Tie-Ins:
Art: Make a 4 panel picture depicting each season. Have a season tree and decorate it for each season.
Make a Cherry Blossom picture – Beautiful and easy activity using a 2 liter pop bottle.
Make a bubble art picture. Young and old enjoy bubbles. We recently were at a science museum that had a bubble area and everyone was participating.
Music: Study the life of Tchaikovsky. Listen to other pieces by Tchaikovsky.
Find a live performance of the Nutcracker Suite, either performed as a ballet or on ice, or watch the Nutcracker on DVD.
Dance: Watch or attend a ballet. Study the dances of different cultures. Study and learn to waltz.
Geography: Tchaikovsky was born in Russia.
The mushrooms are dressed in Chinese robes and hats.
The goldfish perform to the Arab Dance.
The thistles and orchids are from Russia.
For a geography study, find out how far each country is from your hometown. Study music, art and Christmas customs of each country.
Math: Study patterns. For younger grades, patterns can be as simple as using M&M's and doing red, yellow, red, yellow, red – finish the pattern. Counting by 2's, 5's, 10s.
For an older child, study the Fibonacci numbers. This website explains Fibonacci numbers and has great resources to consider.
Use a Spirograph.
Science: Study the seasons. Study flowers and parts of the flower. Study mushrooms (fungus). Study patterns in nature – leaves, animals, flowers, snowflakes.
English: Anthropomorphism is making inanimate objects or animals appear human as the mushrooms appear to be people in the Nutcracker Suite. Read a book that illustrates this concept such as Arthur, Thomas the Train, or The Wind in the Willows. There are several instances in the Bible where this concept is used such as Psalm 98:7-8 "Let the sea roar, and all that fills it; the world and those who dwell in it! Let the rivers clap their hands; let the hills sing for joy together" and Isaiah 55:12b "the mountains and the hills before you shall break forth into singing, and all the trees of the fields shall clap their hands".
Discuss animals/plants and their true characteristics.
Write a paper (paragraph or sentence) about your favorite season and why you selected that season.
Snacks: Blow bubbles in chocolate milk.
Make snowflakes using miniature marshmallows and toothpicks.
Other: Play with bubbles.
Physical activity: Patterns in movement – Walk 3 steps, hop 3 steps, repeat.
3) The Sorcerer's Apprentice musical piece is a symphonic poem by French composer, Paul Dukas. The Sorcerer's Apprentice was originally a poem by Goethe.
This Disney segment tells the story of a sorcerer's apprentice who decides to try his hand at magic without being ready for the task. This is probably the best known of all the works in Fantasia.
Educational/Homeschool Tie-Ins:
Character Development: Consequences of actions – Mickey Mouse is supposed to do a chore. He is lazy and instead tries to take the "easy" way out and creates a mess.
Proverbs 14:23 "All hard work brings profit, but mere talk leads only to poverty".
Physical Education: March up and down the steps in time to the music. Do a repetitive chore to the music such as sweeping, folding laundry, setting the table.
History: Study apprentices, their ages and jobs they performed. Read The Apprentice
by Pilar Molina Llorente. Research and find out what jobs are still available for modern day apprentices.  If possible, find an apprentice job that you can shadow or talk to someone who is working as an apprentice. Many trades such as carpentry, pottery, brick laying, electrical work, and plumbing still do apprenticeships.
Geography: Composer Paul Dukas was from France. Goethe (the author of the poem) was from Germany.
English: Read the story The Sorcerer's Apprentice by Wanda Gag.  Read Goethe's poem. The Sorcerer's Apprentice. How closely does the movie follow the poem?
Science: Study water and the different states of water – solid, liquid, gas. Discuss the water cycle. For older children, study the chemical composition of water.
Water play is always fun. Pouring water from larger containers into smaller containers, measuring, mixing, etc.
Build a water wheel found at this website "How to Make a Water Wheel".
Math: When Mickey tries to get rid of the broom, it splits in two, and then each of those split in two. Using some food item (M&M's, marshmallows, cheese crackers, pretzel sticks) or toothpicks, place a number of them (easy for your child to understand) in a small dixie cup. Example: 12 fish – if they split into 2 cups (6 in each cup), and then those cups split in two more cups (3 in each cup).  If you use pretzel sticks, you can have a bundle of sticks like the mop and then those split into two mops, and so on.
Snack: Brooms made with string cheese and pretzel sticks.
Brooms made with shredded phyllo dough and pretzel sticks.
Thanks Patty @ A Mother's Random Thoughts
Sources: Disney.wikia.com Fantasia