VHS Cover of Dumbo movie
Bullying – Name Calling – Abuse – Gossip – Prison – Fighting – Drinking/Smoking – Hallucinations.  Hard to believe that all of these are in a Disney G-rated movie. Walt Disney's Dumbo was delivered to audiences on October 23, 1941, and poor Dumbo endured much more than other little elephants. He was born different, and the lesson he teaches us is to make the best of the hand we have been dealt.
This Disney movie was based on a scroll-like item called a Roll-A-Book by Helen Aberson Pearl. There are no known Roll-A-Books in existence today and I am sure if someone has one, they are sitting on a pile of money!
In 1941, after Walt Disney's Dumbo was already in production, a book was released by Helen Aberson and Harold Pearl. You can see copies of the pages at this website here. In the book version, Dumbo's friend is a bird. There are black and white illustrations throughout the book, and Dumbo looks like the very same Dumbo that we all know and love.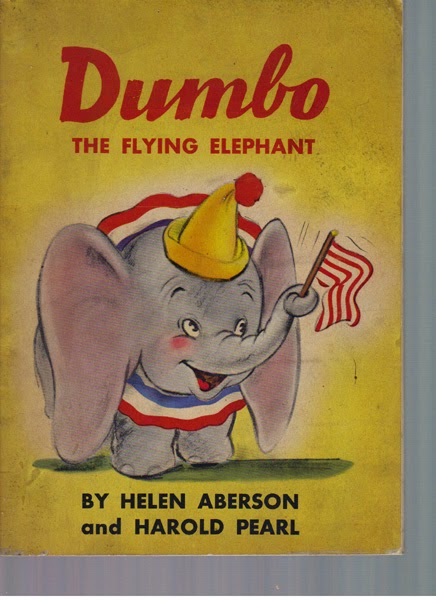 Cover of Dumbo book circa 1941
from
Michael Barrier website
Since the book is very short, there are many differences between the book and the movie. As the Walt Disney movie opens, storks are delivering babies to all the circus animals. Mrs. Jumbo anxiously awaits her package, but the circus train leaves before she gets her bundle of joy. Eventually, her delivery comes, and he is adorable. However, as soon as his ears unfold, Jumbo Jr. becomes the ridicule of all the other elephants. They nickname him Dumbo. If you have never watched the movie, it is both sad and entertaining. Many people think this is one of the saddest Disney movies due to the fact that Dumbo and his mother are separated. Dumbo never talks in the movie, although, in the book he does have some dialogue. Dumbo gets his happy ending and is eventually reunited with his mother!
THEME PARKS: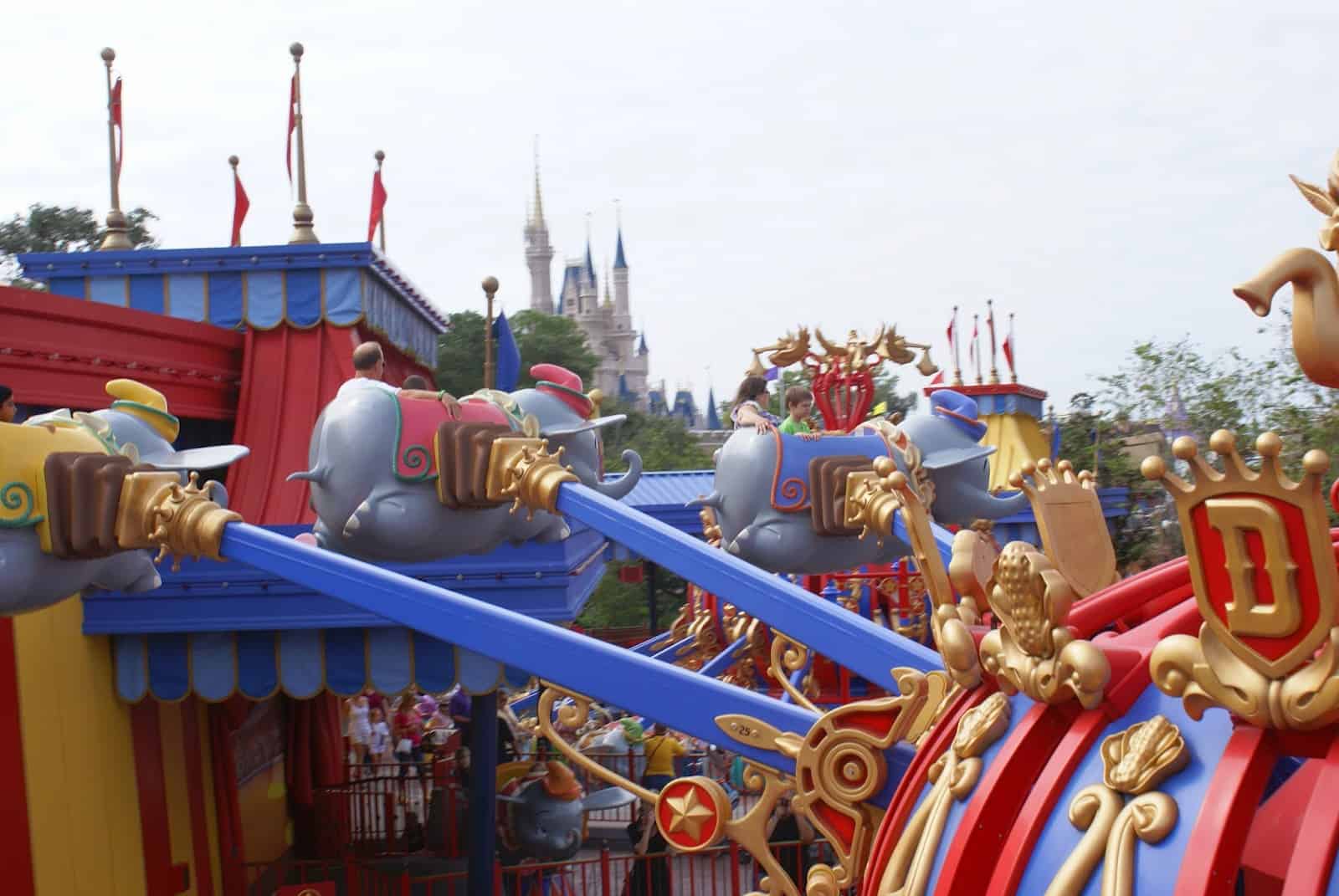 Flying view of the Dumbo ride in Fantasyland,
Walt Disney World Resort, Florida
Fantasyland in both The Magic Kingdom Park at the Walt Disney World Resort in Florida and Disneyland, CA, have Dumbo rides. In 2012, a new section of Fantasyland at Walt Disney World Resort in Florida opened with a circus theme and now has two Dumbo rides and a Big Top Tent. Make sure you look down and see the circus peanuts in the pavement. Disney never fails to amaze and wow their guests! There is also an area where children can play while waiting to board the ride. When entering the queue, ask for a pager so you don't lose your place in line.
One of the early elephants from Disneyland, CA, can be viewed in the
Smithsonian at the National Museum of American History, Washington, D.C.

EDUCATIONAL/HOMESCHOOL TIE-INS:
To find links to most of the activities and crafts, visit my Pinterest board. Make sure to like my page on Facebook to keep up with the latest movie reviews and Disney announcements. Watch for free giveaways on Facebook.

Character Training: There are several items to discuss with your children. Smoking and drinking are obvious ones, but bullying is also a big theme in this film.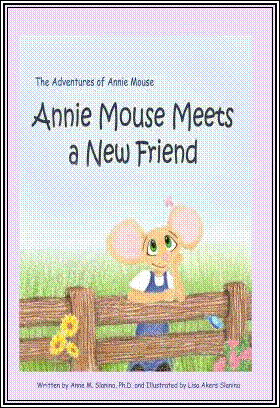 Annie Mouse Meets a New
Friend by Anne Slanina, Ph.D.
What do you do if your child is the victim of bullying? Dumbo eventually embraces his uniqueness, and it becomes his strength. Use books such as Annie Mouse Meets a New Friend by Anne Slanina. In this installment of Annie Mouse, she befriends someone who is different and risks losing her old friends.
Check out the book Spaghetti in a Hot Dog Bun: Having the Courage to Be You, by Maria Dismondy, to illustrate how to turn your uniqueness into a strength.
In the Bible, Psalm 139:14 says, "I praise you, for I am fearfully and wonderfully made. Wonderful are your works; my soul knows it very well." God made us all unique and we are to honor God with our differences.
There are numerous movies about being different: Rudolph-the-Red Nose Reindeer (his nose), Forest Gump, Nemo (his fin), and Sky High (Will has no super powers).
History: Learn about the history of the circus. David Rivera is a carnival historian, and you can find his Pinterest board here.
If you have the opportunity, attend a circus. Many times, if you visit the site the day before, you can watch them setting up. How is the set-up different in Dumbo compared to today's circuses?
Discuss the history of storks delivering babies. Today I Found Out has an excellent article about the origins of the stork myth.
English: Based on the original Roll-A-Book, make your own version using a cereal box and paper towel rolls. Have your child write the story to go with their illustrations.
Write about the job of a ringmaster.
Science: Elephants belong to a class of animals called pachyderms, and include elephants, rhinos, and hippos.  Discuss the differences in elephants – Asian versus African.  Thomason Safaris does an excellent job of dissecting the diversity of elephants, and even attempts to answer the question about Dumbo's differences.
Animals are used for work all around. ListDose.com has a list of animals that perform work for humans.
While setting up for the circus, pulleys and ropes are shown being used to move items and to life the big-top tent. Give a lesson on simple machines and make pulleys to illustrate how much easier work becomes using them. Suggestions can be found on my Pinterest board.
Casey Junior, the train, is seen going over a trestle bridge. Research different types of bridges. Build a bridge. Various levels of science activities involving bridges can be found here.
Health: Discuss storks and the delivery of babies.
Music/Sound: Watch Walt Disney's The Reluctant Dragon. In the movie, there are clips of how the sounds were created for Casey Junior train. Create similar sounds using things around the house (talking into boxes, canisters, whistling, etc.).
To make a horn instrument like an elephant's trunk, check out this Pinterest board.

Art: Just because – an elephant painting here on YouTube. This elephant is truly amazing and worth watching. She paints a picture of an elephant!
Krokatak has a stork to make out of white paper plates.
Make a circus train or an accordion clown. Both can be found on my Pinterest board.
How to Draw Dumbo at DragoArt.com.
Snack: The snacks for this movie are easy! Popcorn, peanuts, lemon shakes, cotton candy and even healthy snacks on my Pinterest board.
Our next wildlife adventure is Bambi!
Thanks, Patty @ A Mother's Random Thoughts